OUR TOP PICK

---

EDITORS CHOICE

---
A good skiing watch is much more than just a way to tell time – it's also able to calculate altitude, give you direction, or track your activities among other things. With all the modern tech that is available, it's now possible to have immediate access to all this information right there on your wrist.
Given the weather conditions that we encounter on the slopes, it becomes obvious that not every watch can be used for skiing. The best watch for skiing is tough, durable, waterproof and resistant to low temperature. It's also equipped with the technology you need (barometric sensor, compass, GPS) so you can get the most of it.
Finding such a watch might seem a bit overwhelming – with a large number of models and manufacturers, it's not always easy to choose. Our buying guide is designed to give you pointers on how to find the best watch for skiing more easily. Also, the models on our list are carefully selected based on the criteria from the guide, so be sure to check them out too.
How To Choose A Watch For Skiing – Buying Guide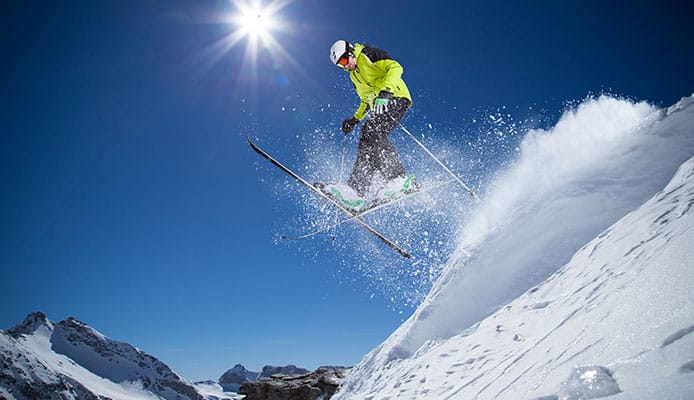 To give you the best experience on the slopes, a watch needs to check a few boxes regarding build quality and the technology it uses. The best watch for skiers is durable, water-resistant and shows you information about altitude, direction, position, speed, and many other things. Take a look at some of the key considerations when buying a watch for skiing.
Durability
Since you'll be using your watch on the snow, it must be able to live through those harsh conditions. Skiing and snowboarding also include falling or tumbling, and there is no use of having a watch that will crack as soon as it touches something. High-quality ski watches must be able to withstand shocks and bumps, whether you hit it on the ground, a tree, or your ski boot.
The materials used are responsible for durability, with stainless steel probably being the best choice. However, some people find it heavy, and it also adds to the price. A good alternative is resin, which has the necessary strength. Also, the watch glass should be strong and not easily scratched. Sapphire and mineral glass are the best choices, but they can be pretty costly (especially sapphire).
Waterproof Rating
It makes sense that skiing watches should be waterproof – after all, you'll be on the snow all day. Even though you won't go swimming or diving, you want to avoid melted snow damaging the watch. All the watches we featured in our reviews are waterproof, but not to the same extent (which is why we put the waterproof rating in the specs of each watch).
The waterproof rating ranges somewhere between 30 and 100 meters for most skiing watches. A watch that is rated up to 30m gives you basic water protection – it won't get damaged from splashing or a smaller amount of water. This is great if your skiing watch is covered. However, if you wear it over your ski jacket, you might want to get a watch with a higher rating as it will often be covered with snow.
Temperature Resistance
Temperatures on the slopes can be pretty low and most ordinary watches don't have the ability to endure these conditions. On the other hand, ski watches are designed to handle low temperatures without getting damaged.
While looking for the best watch for skiers, you'll even come across some models that are rated up to -20°C (-4°F) that can work in sub-zero temperatures without trouble. If you expect very low temperatures on your ski runs, make sure to check the temp rating before you buy it.
GPS
A large number of modern ski watches are GPS-enabled, and the number will become even larger in the future. The reason for this is that GPS offers many benefits to skiers – it allows the watch to set your position, calculate distance and speed, and analyze the data.
Also, GPS is particularly useful to skiers who like to explore, as it allows you to plan your own routes. Some models are even preloaded with topographic maps so you can easily see the surrounding terrain. It can also help you find your way if you get lost. Because of all this, a watch for GPS skiing is a great item to have on your backcountry ski gear list.
But how does it work? The watch picks up the GPS signal from the satellites, and based on the information it calculates your location and tracks your movement. We want to add that the best watch for skiing models work with several different navigation systems (GPS, GLONASS, and others) to give you more accurate information.
ABC (Altimeter, Barometer, Compass)
Watches for skiing and other outdoor activities come with special sensors, which is probably the main difference compared to everyday watches. The ABC you always see when browsing stands for Altimeter, Barometer, and Compass. One could even argue that having these on a ski watch is essential.
The barometer (barometric sensor) detects changes in air pressure (pressure is lower on higher altitudes). Based on these pressure changes, the altimeter is able to show your current altitude, as well as the change in altitude (top and bottom of the slope for example). This on-screen data can also be very helpful when adjusting to the altitude.
The information you get is very accurate and more reliable compared to the altitude info you get from the GPS. However, the barometric altimeter is only able to detect vertical changes. Some of the more sophisticated models combine GPS with the barometric altimeter to give you the best and most reliable information. You should look for a model like this if you need a watch for cross country skiing.
Let's not forget the C in our ABC – the compass. If you buy a model without GPS, a compass is very handy to have. It will show you the direction if you go off-piste and keep you from getting lost. Like most compass watches, ski watches also use a 3-axis compass that gives you accurate direction in every situation.
Weather Forecasting
Using the barometric sensor, some skier watches are able to detect upcoming weather changes. The watch is able to detect a sudden change in air pressure and give you information about it (a sudden pressure drop means a storm is coming). You're warned on time and have enough time to get off the piste and find shelter.
One of the models equipped with a weather alarm is the Suunto Core watch. This is a great feature since you will no longer have to rely on your skill of predicting the weather with clouds.
Display and Readability
The readability and display type are easy to overlook when shopping because we concentrate on other things. However, these are very important when skiing. Whether it's a sunny day or a cloudy one with lots of snow, you want to be able to see the information on your watch. It's also neat to be able to read the info easily with your ski goggles on.
As you had the chance to see, most watches for skiing come with digital displays. The reason for this is that they are much better at displaying everything you need. However, there are still significant differences between them. While some people don't like wearing a large watch, it has a larger display that is easier to see. Also, a color display is often more intuitive than a monochrome one.
In addition to this, a good backlight on your ski watch will make it more visible in low light conditions or when night skiing. On the other hand, it's a big plus if the watch has enough brightness to be easily visible in direct sunlight too. We also want to mention one more advantage that smart ski watches have – they allow you to switch between screens with different information instead of having all the info crammed on one screen.
You might also like: Perfect Ski And Snowboard Tuning Vises 
Other Features
Depending on the model you get, it can be equipped with numerous additional features to make your activity even more enjoyable. For example, the Garmin ski watches we featured all come with an integrated heart rate monitor that allows you to control the heart rate without wearing a chest strap. This makes it easy to monitor your health and also to keep track of the calories burned while skiing.
Many newer watches for skiing come with workout programs that allow you to time intervals and easily track all your activities on the slopes. They also have statistics afterward making it easier to track progress over time. Furthermore, some models can be connected online so you can download skiing apps and customize the watch to your liking.
One of the things that also needs to be mentioned is the battery. Most of the watches we featured have a rechargeable battery, and its life depends on how you use it (GPS drains the battery quickly). However, one of the ski watches we featured (Casio Pathfinder) is a true solar watch. It comes with a solar battery that charges itself when exposed to light, which might be useful for those of you who always forget to plug your devices.
FAQs
Q: Why Do I Need A Ski Watch?
A:
You need a ski watch to easily keep track of your ski runs. Sure, your phone can do some of these things, but constantly taking it out of your pocket while on the snow is very inconvenient (especially when wearing ski gloves). The best watch for skiers sits on your wrist and has the info ready for you.
Q: What Watch Do Professional Skiers Wear?
A:
Professional skiers wear watches that are proven to be reliable and offer the most information about ski conditions and ski runs. It's not just about showing altitude and weather, but it must also have chronograph functions to time the runs properly. Garmin Fenix models are fantastic for this, but the Casio performs really well too.
Q: What Is The Best Watch For Mountaineering?
A:
The best watch for mountaineering is the one that shows you accurate changes in altitude, temperature and overall weather. As we've mentioned earlier, you'll get the most from a watch that combines GPS with a barometric sensor as it will give you the best info on altitude, distance, and many other things.
Globo Surf Overview
Getting a ski watch before the new ski season starts might be one of the best decisions you'll make. If you haven't used a watch on the slopes before, you'll be surprised by how useful it can be. It will make your ski sessions more fun and allow you to enjoy all the benefits of skiing. We hope that our guide has helped you find a model that suits you so you can take your skiing experience to a higher level.
More Snow Ski Gear Reviews: