From your first experience putting your head under water and snorkeling to that time you take to the water and see all the beauty below the surface you will want to make those memories last forever. Taking to underwater photography will help you to bring all the beauty of the sea to dry land. As any diver will know the light underwater isn't always ideal, especially when diving through wrecks or going into deeper waters. That is why it is best to have the best underwater flash with you to make sure all those beautiful sights are captured perfectly.
We have compiled a list of the best underwater strobes on the market to ensure you will get the perfect photo every time.
QUICK ANSWER: THE BEST UNDERWATER STROBES IN 2018
Best Underwater Strobes
Underwater Strobes Reviews
1. SEA&SEA SS-03112 YS-01 Strobe
  Check Price Now
What Makes This Strobe Stand Out:
Lightweight
Fiber optic cable port
Wide angle of light
Model & Accessory Specs:
Powered By: 4x AA Batteries
Weight: 1.3 pounds
Dimensions: 4.5 x 5.5 x 6 inches
Being able to see underwater is crucial, especially for night dives. This SEA option has ten levels to make sure you can increase your visibility no matter what the underwater conditions are. Coming in at just over a pound this light will allow you to dive for hours without straining your body. This small, compact offering features a full one year warranty which showcases its superior build quality. Have a high tech camera? Connect this with a fiber optic cable to ensure the best connection. Being able to run off double A batteries allows you the versatility to take this strobe with you no matter where you are diving. The wide 100-degree angle of light ensures that everything you want to be visible will be just that. This is a high-quality strobe that will impress you for years to come.
2. Sea and Sea YS-D2 Underwater Strobe Flash
What Makes This Strobe Stand Out:
Two diffusers and red filter included
EV control
2 steps
Model & Accessory Specs:
Powered By: 4x AA Batteries
Weight: 2.2 pounds
Dimensions: 6 x 6 x 8 inches
The YS-D2 underwater flash from Sea and Sea is a full featured option that is designed to impress. This is a larger flash but this company fits a long list of features into it which makes up for the weight. With a full EV control, you can step the amount of light depending on the amount you need. A range of -2.0 to +2.0 you will always have the perfect amount with this camera. Unlike other options, this comes with two diffusers and a red filter included. The diffusers can increase the beam angle up to 100° and disperses the light to create a natural look even in complete darkness. The red filter gives you the ability to take photos of creatures that are not used to natural light. It won't startle them and allow you to take multiple photos. All of this is easy to see with controls that are easy to maneuver even when you're wearing gloves. Attaching this to your camera is as simple as tightening a bolt. The wing nut connectors are simple to adjust even while underwater. This is a top tier underwater camera strobe.
3. Sea & Sea YS-03 Universal Lighting System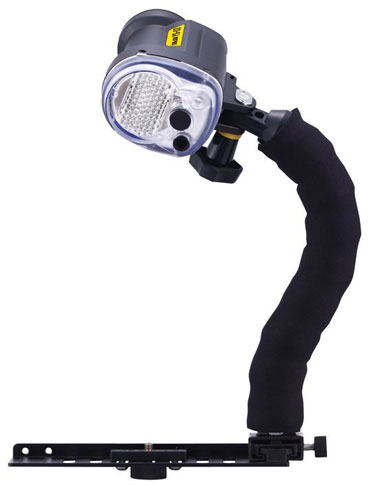 What Makes This Strobe Stand Out:
Diffuser comes standard
Affordable
Simple controls
Model & Accessory Specs:
Powered By: 4x AA Batteries
Weight: 1 pound
Dimensions: 10 x 8 x 8 inches
The YS-03 is a more affordable version of the above YD- D2. Just like its bigger brother this lighting system comes with a diffuser as part of the package. This strobe still has high-end features that will give your photos a more natural even distribution of light. Just like its older brother the controls are exceptionally simple and easy to use. A simple flick of your finger and you're in a different mode. If you are looking for a strobe that has extra attachments this is the strobe for you. It comes with a bendable arm so it gives you the freedom to turn it at whatever angle you want. This is also one of the more affordable strobes on our list which makes it ideal for people who are just getting into underwater photography. Use this strobe with any camera and setup while attaching it with the included metal plate. This makes it incredibly easy to interchange when you upgrade your camera or are sharing this strobe.
4. INON Z-240 Underwater Flash

What Makes This Strobe Stand Out:
High shots per battery
Compact design
180 lumens
Model & Accessory Specs:
Powered By: 4x AA Batteries
Weight: 1.2 pounds
Dimensions: 5 x 4 x 4 inches
One of the top underwater strobe lights on the market today, INON makes a great underwater flash with this product. A high intensity 180 lumen LED light turns automatically off with the camera shutter giving you the perfect photo every time. This is a very quick strobe that is able to refresh after only 1.6 seconds even at full power giving you the ability to rapid fire your shots. Compatible with the full Nikon slew of cameras this strobe will ensure you can switch it out when you upgrade your camera. A full 24 steps of control will give you the flexibility to choose the exact brightness you require. The 100° circular beam will spray light on everything you want in your shot and allow you to get the even light distribution your shots require. Also, the 100 meter (328 feet) maximum depth allows you to see in places you never thought possible.
5. INON S-2000 Underwater Flash
What Makes This Strobe Stand Out:
320 flash on full battery
Small package
Lightweight
Model & Accessory Specs:
Powered By: 4x AA Batteries
Weight: 1.3 pounds
Dimensions: 5 x 4 x 4 inches
The INON S-2000 underwater flash is a superior setup. A single round of batteries will provide up to 320 flashes – one of the highest numbers we've seen. Coming with a diffuser and red light filter your photos will turn out just like they appear at the bottom of the ocean. This small package comes with  13 step manual power settings and can connect to your camera via an optical cable or a regular sync cable. The 180 lumen light will light up a great deal of your environment. The 100° angle beam will ensure that the object will be illuminated from every angle that matters.
(Hey! You May Also Like: Snorkel Gear Packages)
What to look for in an Underwater Strobes
There are many factors to think about when purchasing the perfect pair of water shoes. These features should all be considered when deciding on your perfect water boot.
How it is powered
All of the strobes on our list are powered by AA batteries. With that being said, these batteries are not all made the same. It is recommended that you invest in a NiMH version of the battery. This is a high-quality power pack that comes in a rechargeable option. This will allow you to not have to keep forking out money to keep your light powered. The range of strobes per battery should be between 100 and 300 depending on the strength of the flash.
Look of the light
You do not want your photographs to look unnatural. Diffusers and filters will create a life-like look without washing out your subjects. The colors will be soft and pleasing while capturing the environment as if you were looking at it. Filters, like a red light filter, can not only increase the quality of your photos but also not disturb the wildlife. Some animals are sensitive to the harsh light emitted by these strobes but this feature softens the effects.
Recycle Rate
This is the time it takes for the strobe to be ready to fire again. The power of the strobe will affect the refresh time. Also, this is important for comparing strobes. If one says it has a longer refresh time it may be because it was a stronger setting. Lower power strobes will allow you to keep snapping quicker while higher intensity flashes will slow you down. This range is typically between 1 and 3 seconds.
Globo Surf Overview
When looking for the best strobe, we recommend paying close attention to the underwater camera flash reviews. Hearing how other divers liked the flash will help you choose the best product for your needs. Underwater photography makes for exceptionally beautiful and unique photos. From shipwrecks to an encounter with a whale, being able to document your findings will allow you to enjoy the many memories for years to come. Getting the best diving strobes for photography will ensure that you are never left with photos that are too dark, even during night dives.
AA batteries, Energizer
LED Lights, Energy Star
Do you enjoy taking photos underwater? If so, what kind of flash do you find works best for you? Get in on the conversation in the comment section below.
Globo Surf Underwater Strobes Review
★★★★★
"
Looking for go into some photography underwater. Needed some strobes to see a bit better. Great selection.
"