EDITORS CHOICE

---

BEST VALUE

---
Having fun on the beach is fantastic, but too much sun exposure can ruin your day. By providing shelter and shielding you from UV rays, the most excellent beach tent allows you to fully enjoy every minute you spend on the sand.
When choosing a beach tent, aspects like size, design, and ease of use are very important if you want to get the most out of it. In this article, we will show you how to pick the best beach tents and talk about some of the top products in detail to make your choice easier.
How To Choose The Best Beach Tent – Buying Guide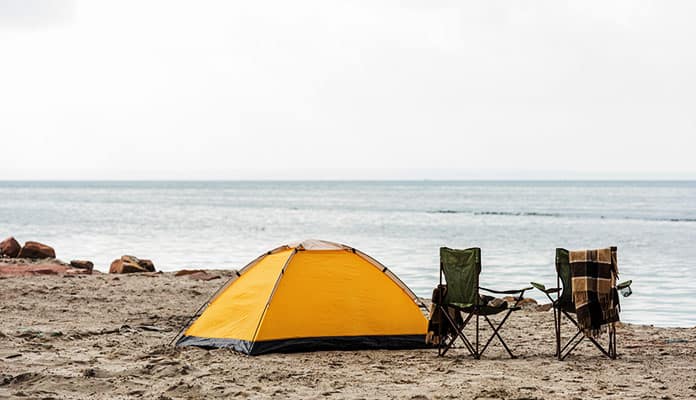 A well-made outdoor beach tent makes the time you spend on the beach a lot more enjoyable. Not only will it provide shelter where you can lay down and relax, but a summer beach tent will also filter out UV rays and protect you from sunburns. Take a quick look at everything you need to consider when picking out a portable beach tent.
Materials (Fabric and Frame)
Material quality is responsible for the performance your new tent has on the beach – whether it can protect you from the sun, resist punctures, or hold its own in the wind. However, it's also important that the materials are not too heavy so the tent remains portable.
Shell: Two materials are generally used for making tent walls – polyester and nylon. Both of these fabrics are excellent at creating shade and providing water-resistance. Still, there are small differences between the two. Polyester is lighter and more breathable, while nylon is stronger and gives better sun protection.
Frame: A well-made frame will ensure that your beach tent won't break in the strong wind. There are usually three options here – fiberglass, aluminum, and steel. Fiberglass is the most common, as it's the lightest and can bend significantly before breaking. 
Steel is the strongest but also the heaviest, while aluminum places in the middle. If you live in a windy area, we advise that you get a beach canopy with a tougher frame.
Floor Size and Height
Both the floor size and the height of your beach canopy directly influence the comfort you'll get while using it. With this said, most beach shelters are designed to fit a family of two adults and a couple of children.
Rather than just considering the floor space when buying, the beach tent should be tall enough that you don't have to bend your head while sitting. Also, keep in mind that your children likely won't sit still but rather need an area to explore and play. For this reason, it's a good idea to get a tall beach tent where small children can stand up and move around freely.
In addition, different styles of beach tents offer different amounts of usable space. We particularly like the models with fully open fronts so you can easily stretch your towel or place a beach chair in the shade. And, if you have a very large family, a gazebo-style beach tent will provide all the space you need.
Weight and Portability
In most situations, you won't be able to get your car right next to the beach. This means that you'll have to carry both the tent and the rest of your gear from the car to the spot by the water. Because of this, choosing a lightweight beach tent is a good idea.
Polyester tents with fiberglass frames usually have the lowest weight. However, these are also the least durable in harsher conditions. Because of this, it's best to find a balance and think about where you'll be using the tent before buying it.
Most beach tents weigh anywhere between 2 and 10 pounds (with hardware included). To make carrying them even easier, many manufacturers pack them in their own carrying cases. These are tough and have shoulder straps so carrying even a heavier tent when going to the beach won't be a problem.
Color and Appearance
When talking about color, it mostly comes down to your own preference. As you've had the chance to see, most beach tents come in fun and bright summer colors. Still, there are a couple of things to considerer here.
First, darker-colored beach tents heat up in the sun faster, so the temperature inside them might be even higher. And, secondly, a brightly-colored beach tent will be easier to spot on the beach.
Ease Of Use (Assembly)
Once you finally reach the water, you don't want to lose a lot of time setting up the beach tent – you want to have your sun shelter ready as soon as possible. For this reason, we advise that you get a model that offers fast and easy assembly.
In this regard, a pop-up tent is probably the easiest to set up – you just take it out of the bag and it 'pops up' on its own. We paid a lot of attention to this when choosing the products for our list, so all the beach tents here are possible to set up and take down in minutes. 
Price
As with any other purchase, you usually get what you pay for. This isn't to say that lower-priced beach tents won't do a good job, but they usually have fewer features and are less durable in windy conditions.
Also, the price also depends on the style and the size of the beach tent – pop-ups are often the cheapest, but they are also the smallest. Our list features products in every price range, so you shouldn't have difficulties finding one that fits into your budget.
Advantages of Owning a Beach Tent/Canopy
Bringing a tent with you to the beach has countless benefits, in terms of both protection and comfort. They are also very versatile, so you can even use them outside the beach too. Here are a few reasons why getting a beach shelter is a good idea:
Safe Spot for Kids To Play

: Inside the tent, your child will be fully protected against UV rays and sunburn. They're getting a place where they can play, have a snack, or take a nap while gathering the energy for water activities.

Great Stash for Valuables

: Placing your valuables in a pocket inside the tent is much better than keeping them in a bag on the sand. Many beach tents come with pockets that are ideal for stashing your camera, phone, or keys.

Weather Protection

: At the beach, you are completely exposed to the elements. This includes sun, saltwater, sand, and even rain on occasion. A

tent shelter

keeps you protected throughout the day regardless of the conditions.

Privacy on the Beach

: Getting some privacy on the beach is usually difficult, but a tent can provide it. This way, you can change your clothes, take a nap, or take some time to unwind and relax.

Storage for Snacks and Drinks

: Beach tents also provide lots of shade, making them a great place to keep your cooler. By staying out of the sun, the cooler can maintain temperature longer so you have ice-cold beverages throughout the day. Also, the tent floor protects everything from the sand.

Fast and Easy Setup

: Unlike most other tents, beach-specific models are one of the easiest to set up. The tent usually unfolds on its own and only requires you to snap some clips onto the frame and stake it down. All in all, the entire process will take less than 10 minutes.
Type Of Beach Tent
Many different types of tents can be used at the beach. Some are designed as a beach canopy, while others look more like a real camping tent (has a ground sheet between you and the sand).
Most beach-specific tents have three sides to protect you from sun and wind, while one is fully open to give you easy access. Take a quick look at all the styles you can use on the beach.
Beach Canopy

: A

canopy beach tent

is perfect for gatherings on the beach, as it provides enough shade for a lot of people. It great for beach parties because everyone can find their spot in the shade. However, a

beach canopy cover

doesn't give you privacy or wind protection.

Gazebo

: This is one of the most robust beach tent styles on the market. Similar to the

beach canopy style

, the construction of these tents is much heavier and less likely to fly away if winds pick up. On the other hand, they are heavier to carry and take a longer time to set up.

Baby Tents

: These are perfect for your little ones on the beach. Baby tents are small and compact to pack, while providing a sun shelter for your baby or toddler. As a bonus, they can also be used as a play spot in your backyard or living room.

Cabana

:

Cabana tent

s are usually large enough for a regular-sized family, and provide protection from the sun, wind, and rain. They usually have three sides and often feature pockets, windows, and ground sheet extensions for improved comfort.
Pop-Up: Pop up tents for the beach are designed with easy setup in mind – all you have to do is take them out of their bag and they will do the rest. The folded frame is usually spring-loaded, so the tent easily snaps into place. Much like setting up, pop up beach tents are equally easy to take down.
FAQs
Globo Surf Overview
From fully enclosed models to umbrella hybrids, beach tents can offer something to everyone. We hope that you can find something you like in our best beach tents reviews, so both you and your family can enjoy your days on the beach while staying safe and protected.
More Beach Reviews:
New to Beach Tent or have a Beach Tent on our list? Let us know how you like it in the comment section below.