See Customer Owner Feedback >>
See Customer Owner Feedback >>
Summers are meant for long lazy days in the great outdoors. Whether you are at the beach, packing a picnic in the park, or just spending the day in your own backyard, prolonged periods in the sun can leave you feeling tired and dehydrated, or even sunburnt! This is especially important for those with families or with incredibly fair skin. Being able to escape into the best beach tent will ensure that you don't have to sacrifice your prime spot near the water in order to keep your family safe. This will help you to get the most out of summer and spend long days on the beach without having to leave to go find shade.
Below we have listed the best beach tents on the market this year. These come in at an affordable price point with technology that keeps your family safe and cool all summer long!
How To Choose The Best Beach Tent – Buying Guide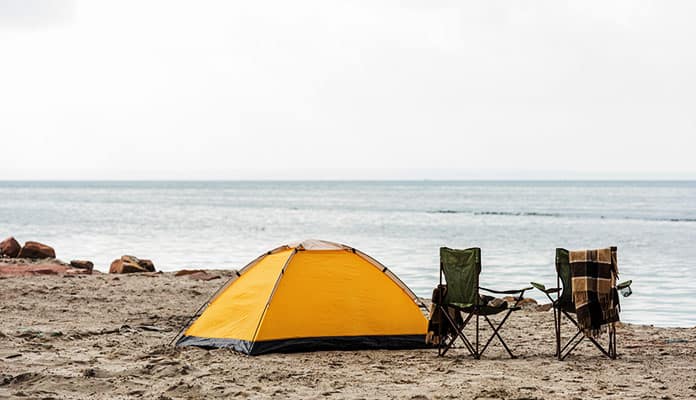 Your love for the beach doesn't have to change when you have kids. While there will need to be more planning, being outdoors is important to you and it should be treated as so. Having an outdoor beach tent can allow you to spend much more time outdoors. From the beach to the soccer field to a happy family picnic, being able to bring some needed shade with a nice beach tent with you will help you to better enjoy those hot summer months. A portable beach tent is a great way to keep your experience outdoor fun and safe by providing protection from the harsh elements.
These tents have many uses which makes them incredibly ideal for the whole summer season. A great investment, a summer beach tent will help encourage outdoor play with your children and work to reduce indoor screen time. In order to find the best tent for your family, be sure to look for the following main features.
Material
There are a few different types of materials companies use for beach tents outer shell. The two main types are polyester and nylon. Both of these fabrics are excellent at creating shade while also being water resistant and long lasting. Some of these tents will also have openings that you can close when the wind picks up. This option gives you even more protection against wind and even bugs while you eat lunch. Being able to close your tent will also add an extra layer of security to your belongings when you're in the water.
The frame of your tent will be made from a lightweight yet strong and durable material. This is usually seen in an aluminum or steel construction which also allows them to be used in saltwater situations without seeing the effects of rust or corrosion. You will also love that you can easily carry your tent to your spot on the beach. A beach carrier will help you move your stuff in one trip, but you won't have to rely on it to get your beach canopy there.
The only consideration is the wind. An aluminum frame will be better for beaches that don't have strong winds. It is one of the lighter options which makes it OutdoorsmanLab. Steel, although heavier, is more ideal for windy conditions.
The Size
You will want to consider how many people you are wanting to fit comfortably under your tent. Most beach tents are designed to fit a family of two adults aand a couple of children. Rather than just considering seated space, you will want to keep in mind that your children will likely not want to sit still and rather will need some area to explore and play. Some tents are large enough to even fit a few beach chairs and a table. Paying attention to the size  of the tent that works best for your family is important.
Color
Many tents come in a variety of different fun summer colors. This allows you to pick and choose the colors that you like best for your tent. Often times tents come in a variety of bright summer colors. Choosing bright colors are ideal as your tent will be most easy to spot at the beach. With so many options you are sure to find your favorite color tent amongst the mix.
Ease Of Use
This is infinitely important, especially with little ones in tow. You will want a tent that is easy to transport to and from the beach. Keep in mind that you are likely to have your hands full with coolers, towels, chairs and your child. Having a tent that is lightweight and compact will help to make it easier to move around.
Once you have your tent at the beach, you will want something that you can set up relatively quickly and easily. You want to limit direct sun exposure so having your tent set up and functional quickly is incredibly important.
Advantages of Owning a Beach Tent/Canopy
While they may be called a beach tent, you will likely get a lot more use out of these. Going much further than simply beach use you can bring your beach towel and beach tent with you almost everywhere to help make the most of summertime.
A Safety Spot for Valuables
Having a spot to keep a few of your valuables is important. Many beach tents come with pockets that are ideal for housing your waterproof camera, phone, and keys. You will be able to throw your towels, water bottles, and coolers under the beach tent as well to help protect your gear and keep it cooler.
A safe home tent for your valuables will help to keep them out of direct view for people who may have wandering eyes while you are on the beach. This adds an added layer of privacy which can be quite welcomed. These pockets in your tent can also help to preserve the life of your gear. Keeping it up and out of the salt and sand will help to keep your gear working like new.
A Protective Place
At the beach, you are completely exposed to the elements. More than just the sun you will be exposed to the wind as well as salt and sand sprays. Having a tent shelter can work to make your family much happier and having fun. Take it to a rainy sports game and enjoy from the sidelines while keeping your family dry.
Privacy
You are incredibly exposed at the beach to more than just the elements. Gain some privacy with the help of a beach tent. This will allow you to change in privacy, take a nap or simply unwind.
Storage Place for Food
A great place to store your snacks and coolers tents provide much-needed shade that will keep your food fresh. This will prolong the ice and cool packs in your cooler. Additionally, you can keep your water cool and your food from sweating. As many tents have floors you will be able to have your food clean and free of sand. This can go a long way especially with children who are picky eaters.
Safe for Kids
Beach tents are the perfect accessories for families as they provide endless benefits to kids. More than just an issue for the harsh sun, the sand can get hot which makes providing shade even more important. Tents can make your day in the outdoors much more fun by giving your little one a safe place to nap, enjoy some milk or just take a break from the hot sun in your tent.
Ease Of Assembly
Setting these beach tents up is one of the easiest things you can do. A tent will usually just fold out from themselves and require you to snap some clips onto the frame. All in all, they will take less than 10 minutes to set up your tent.
What to Look for When Buying a Beach Canopy?
When you are looking for your next beach canopy, you will want to pay attention to a few different features. Knowing what to look for in a tent before you make the purchase will ensure that you get the most of your purchase.
Type Of Beach Tent
There are many different types of beach tents. It may look similar to a beach canopy but these have a few differences that make them better suited for their use. Just like a camping tent, the beach tents will have a piece of material that creates a barrier between your gear and the ground. This will not only keep sand out but protect your feet from the hot sand.
Most of these specialized tents will have at least three sides – while some have four. This will give you shade and protect you from wind and rain. The last side gives you an easy to access doorway. One of the drawbacks to a traditional tent is that it's hard to enter and exit, but you won't have that issue with this style.
Beach Canopy
This hybrid style covering merges the best beach cabana and a beach tent. Canopies are often incredibly easy to set up using a pop-up style installation. These durable shade coverages are quite lightweight and compact making them ideal for beach use. Typically this beach canopy style is anchored using sand pockets which contribute to the ease and lightweight design and make them quite sturdy. This style of beach canopy cover is ideal as they are typically larger than tents and create a more spacious shaded area that more and more people will enjoy.
Gazebo
This is one of the most robust beach tents of the market. With that being said, they also take a longer time to set up and transport. You will find that the materials used in this tent's construction make it heavier and less likely to fly away when the winds pick up.
Dimensions
Sun shelters come in many different sizes and shapes. The size of your tent shelter will be determined by the size of your family. A family that has 5 members will need a much larger tent shelter than a family of even 3 people. Different style beach tents will also be more open which allow more people and gear to spread out. A gazebo-style tent, for example, will give the space larger families need.
Another key aspect you should consider is the height of the beach tent. It should be high enough for you to at least sit on the floor without having to bend your head.
Weight
You will want to place serious importance on getting a beach canopy that is lightweight and compact. Luckily, most companies go out of their way to ensure that their tents carry this lightweight design which will make it easier for you. You will want to ensure your tent gear is easy to set up and take down as well.
You will want to make sure your beach tent has a carry case, a lightweight design, and a shoulder strap. This makes the tent easiest for transportation.
Price
As with any other purchase, you make it is important to make a budget for your beach tent. Knowing how much you are willing to spend before you make your purchase is incredibly important. This will help to limit your options as well as make you feel much happier with the beach tent you choose. It is best to take a look through the market so that you can get an idea of the realm of prices that these beach tents typically go for.
There are many different styles of tents to choose from. Some tents offer maximum shade while others can be used to create shade in the water.
Beach Canopy
A canopy beach tent is perfect for gatherings on the beach. This beach canopy will provide enough shade for a lot of people. Bring this along for beach parties or family reunions on the beach and know that you will be sitting in shade. They are not that hard to set up and are ready in a matter of minutes.
Baby Tents
The whole family should be able to enjoy the beach. This includes your babies. These tents are small as they only need to create shade for the smallest people. Since these beach tents are for small children they are made out of high-quality material and can be used in more situations than just the beach. They are even perfect for the backyard to keep your children safe from the sun.
Cabana
These are large tents that protect your family from not only the sun but also other elements, like wind and rain. Cabana tents are large enough for a regular sized family to all have a seat in protection. They can feature pockets, even pet doors to make life more comfortable at the beach. Some even come with a zippered wall that allows you to change into your bathing suit with complete privacy.
Pop-Up
This style tent has been designed with easy setup in mind. All you have to do in order to set this tent up is take it out of its bag. There is usually a spring that snaps this tent into place. Not only are they super easy to set up, but also takedown.
FAQs
Q: What's The Best Beach Tent For Babies?
A:
Going to the beach with a child requires a lot more planning, preparation, and gear than a solo trip. As they have such sensitive skin, providing UV protection is so important as their delicate skin can become easily burned.
Choosing the best beach tent for your family comes down to a personal choice. This should be based on the climate you live in, how many people in the family and personal preference. Every parent knows how hard it can be to keep your child still. This is why we recommend a bigger tent so your toddler has room to explore while still being protected.
You will also want a beach canopy tent that can stand up to your climate. This includes tolerance to wind, waterproofing features and a strong enough UV coverage. Looking for key features to your tent is important. This includes a lightweight tent design that is easy to set up and take down.
All of the tents on our list should work quite well in order to provide adequate safety protection for your family. We especially like the Pacific Breeze Easy Up Beach Tent as it has a large surface area of 50+ SPF protection. It is made using waterproof material which makes it ideal for a variety of different weather conditions.
Q: How To Anchor A Beach Canopy?
A:
Most often beach tents will come with stakes that help you to secure it into the ground. You will find that there are pockets near the bottom of the canopy. If you are on a sandy beach you can simply move some sand into the pockets which adds weight to the beach tent thus anchoring it to the ground. If you are on a more rocky shore filling the tent pockets with rocks will have the same effect.
Some other tents include stakes that you have to put into the ground. The trick with these is, when you're on a sandy beach, to dig a small hole and use the stake in the wet sand. It will stay longer and create a better anchor for your tent than in the dry sand.
Q: How Much Are Beach Tents?
A:
The price of beach tents can vary significantly. This can be affected by the size, materials and even the company who makes it. A standard beach tent can range from $150 to $450. But with that being said, you don't have to spend a fortune to have a great time on the beach.
Q: How To Keep A Beach Canopy From Blowing Away?
A:
Companies have gotten smarter about keeping their beach tents from flying away. Most beach canopies have pockets that you can fill will sand or rocks that act as anchors that keep them secured to the ground.
If your beach tent doesn't have these pockets you can easily secure it to the ground. This can be done by adding rocks to the tent legs that rest on the ground. If you are bringing drinking water for the day you can put it in gallon milk jugs and then attach these to the legs also. This will combat even strong winds ensuring you have the protection from the sun you need.
Q: How To Refold Beach Tents?
A:
When you are taking your beach canopy out of the package look at how the company folded it. Some tents will have a bendable frame that makes refolding it easy. Others will have to have the fabric part separated from the frame to be able to be refolded. If you see how your tent has been folded by the manufacturer you will have a better understanding of how the tent will fit back into its package.
Q: How Well Do Tents Work On The Beach?
A:
When set up properly, beach tents work well. They give you the shade you need without being as flimsy as a beach umbrella. You won't have to worry about angling an umbrella when the sun moves across the sky or how the wind will affect it.
The shade and shelter you get from the elements with your beach tent are second to none. There is almost no other way of getting this much protection from the sun and wind – besides sitting under a large tree, but these can be hard to find on the beach.
Globo Surf Overview
From umbrella shaped to enclosed rooms, all of these beach tents offer something different. Beach shelter reviews agree that no matter which one you choose you will be protected from not only the sun but also other inclement weather. These pop up sun shelters are easy to set up and takedown while being lightweight enough to take anywhere. By using these best beach tent reviews you will be able to make the best decision for your family.
More Beach Reviews:
New to Beach Tent or have a Beach Tent on our list? Let us know how you like it in the comment section below.
Globo Surf Beach Tents Review
; ; ;
★★★★★
"
Looking for a new beach tent for my family and I. Came across your review. Didnt know their were so many options. Thanks
"