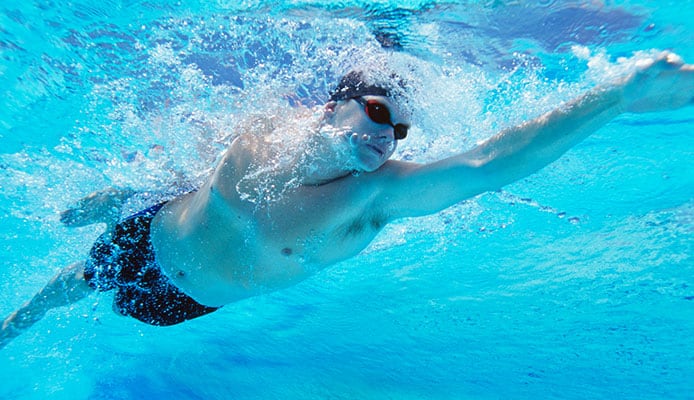 OUR TOP PICK

---

EDITORS CHOICE

---

BEST VALUE

---
Swim jammers offer comfort, coverage, performance, and style. Wearing the best swim jammers will enable you to swim faster. The tight fit allows for easy movement and reduces the movement of muscle in the water reducing drag. The water repellent surface reduces friction in the water. Wearing jammers, you will feel sleek in the water and glide forward smoothly. This is why jammers are popular racing swimsuits. You too can enjoy these benefits and reach your best speed with any of the ten best jammers for swimming reviewed below.
How To Choose A Swim Jammer – Buying Guide

As long as you're looking at top rated jammers for swimming like the ten reviewed here, you can rest assured you will make a great choice. Below are the factors that really matter when it comes to picking the right jammer swimsuit:
Size
Good jammers that are too baggy or too tight are useless. It is, therefore, very important to get the right size. Jammer swimsuits work by waist size. Measure your waist and refer to a product's sizing information to determine the perfect size for you. Check swim jammers reviews to find out if a jammer is a true fit or runs big or small.
Fit
Competition jammers should be compressive and form fitting but not uncomfortably tight. The snug fit allows for easy movement in the water and compresses leg muscles enabling peak speed. Swim jammers should also flex for an easy fit and have a drawcord at the waist for optimal fit. Make sure you order a pair that will be a good fit for you.
You might also like: Perfect Swim Diapers
Durability
Saltwater or chlorinated pool water is pretty tough on swimsuits. You need a durable jammer that will resist fading, sagging, bagging, and quick disintegration. Swim jammers made with UV and chlorine-resistant polyester have superior durability. 
Material
Swim jammers made of a combination of nylon and lycra/spandex are lightweight, water resistant, quick drying and fit comfortably. Those made of polyester have superior durability but don't yield the best speed. They are ideal for training. A thick material at the crotch is essential for modesty. 
Performance
The material, cut, fit, and compression of a jammer swimsuit all contribute to its performance. Ensure the swimsuit you pick has the ability to help you reach your peak performance whether you want to swim faster freestyle or breaststroke. A water repellent fabric, compression, and a stretchy fit are essential. Bonded seams are faster than stitched seams. 
FAQs

Q: What Are Swimming Jammers?
A:
A jammer is a type of men's swimsuit that is form fitting, knee length and doesn't go above the waist. Because of their speed advantages, jammers are some of the best competition swimsuits for men.
Q: What Are The Benefits Of Wearing A Swimming Jammers?
A:
Wearing swimming jammers yields speed benefits. Competition jammers reduce drag and give a springy effect to the legs increasing the efficiency of the forward motion and boosting speed. The water repellent fabric and snug fit reduce water friction. The compression supports muscles, minimizing fatigue and promoting recovery. The stretchy fit makes movement in the water easier. The swimmer faces less resistance in the water and glides smoothly and at high speed. Other ways to swim faster include training with swim paddles and pull buoys.
Q: How To Care For My Swimming Jammers So They Last Longer?
A:
First of all, it is important to avoid contact with abrasive surfaces and follow the care instructions on the tag. After each session, rinse them out thoroughly in a lot of fresh water. It is best to hand wash jammers in cold water and hang or lay them flat to dry.
Globo Surf Overview
Whether you swim for the health benefits or are a competitive swimmer, you're most likely to reach peak performance wearing the best swim jammers. They are so much better than swim trunks or briefs, as they provide support and coverage and boost speed. 
More Watergear Swim Reviews:
How about you? Which jammer swimsuit is your favorite and why?  Let us know in the comment box below!