OUR TOP PICK

---

EDITORS CHOICE

---

BEST VALUE

---
You know the feeling of exiting the pool, drying yourself with a towel and then having your hair stick to your neck and release little cold drops of water down your neck, back, arms, shoulders and the entire general area at the back of your head? Yeah, we hate it too. That's why you should go on and pick out a swim cap you can find. This necessary part of every professional swimmer's equipment can really affect your swimming experience, whether you're a professional or recreational swimmer.
First thing you should know is that no cap will keep your hair completely dry. So, while you shouldn't count on that, there are many other benefits that the best swim caps offer, like limiting the amount of water that reaches under it, and with that the chlorine damage it causes to your hair, as well as the fact that it helps swimmers move faster, keeping the hairlocks off their face and eyes. Add to that the super beneficial quality of not smelling like a walking pool wherever you go and you've got yourself a must-have accessory for all those days spent by the pool. We'll help you pick out the best swimming cap for you.
OUR TOP PICK
Aegend Waterproof
See Customer Owner Feedback >>
Stand Out Features - Why We Love It

3D Ergonomic Design

Large Ear Protection Pocket

Good elasticity & No Deformation

Thicker Curved Edge
EDITORS CHOICE
Speedo Silicone Solid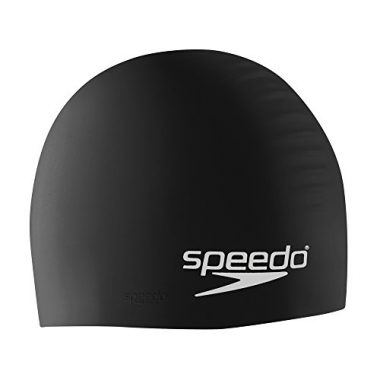 See Customer Owner Feedback >>
Stand Out Features - Why We Love It

Man made materials

Amazing stretch and comfort

Extremely durable, resistant to tearing

Easy to take off without snagging hair
BEST VALUE
TYR La Vengadora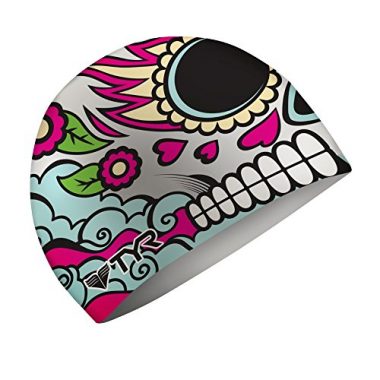 See Customer Owner Feedback >>
Stand Out Features - Why We Love It

100% silicone

Attractive design

Durable material

Hypoallergenic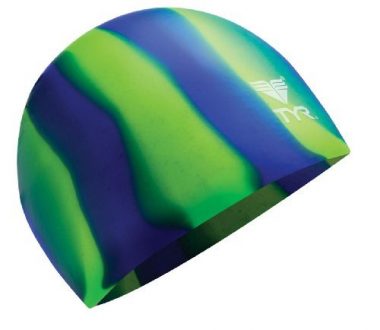 See Customer Owner Feedback >>
Stand Out Features - Why We Love It

Made using the highest quality materials

Non-slip interior

Tear resistant

Vertical design

Easy to put on
See Customer Owner Feedback >>
Stand Out Features - Why We Love It

Silicone material

Tear resistant

Easy to take off and on without snagging hair

American flag print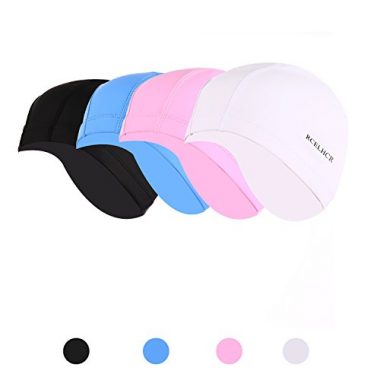 See Customer Owner Feedback >>
Stand Out Features - Why We Love It

Made of PU material

Durable and deformation resistant

Produced in many colors
The Friendly Swede Silicone Long Hair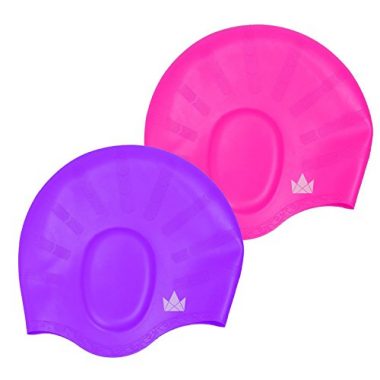 See Customer Owner Feedback >>
Stand Out Features - Why We Love It

Made of 100% premium quality silicone

Suitable for men and women, adults and children

Comfortable ergonomic ear pockets

Wrinkle-free design
View More By The Friendly Swede »
See Customer Owner Feedback >>
Stand Out Features - Why We Love It

Soft Spandex Fabric

Keeps hair pulled away from your eyes, face and neck

Elastic edge

Elastic edge
Speedo Silicone Long Hair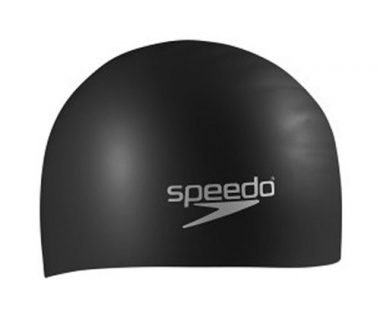 See Customer Owner Feedback >>
Stand Out Features - Why We Love It

Made of lightweight, latex-free silicone

Easy on-and-off design

Extra space to tuck your long hair inside
See Customer Owner Feedback >>
Stand Out Features - Why We Love It

Hydrodynamic swim cap for elite performance

Multi density design reduces drag by 5%

Ergonomic fit around the base of the head
How To Choose The Best Swim Cap – Buying Guide

If you're a newbie when it comes to buying the best swim caps, you might think that just any swim cap will do and that all of them are snug, tight and basically – will do the job. However, there are many aspects that you should take into consideration when buying such an important part of any swimmer's equipment. When choosing your swim cap, remember that it is something which will directly affect your performance, and with that in mind, keep in mind the following aspects.
Material
When it comes to the most excellent swim caps, material is probably one of the most important features you should pay attention to. The most common materials you'll come across are silicone, latex, and lycra/spandex swim caps, but you may also run into caps made of rubber, neoprene, and polyurethane. Of these, silicone is the most commonly used material in swim caps, and it is also extremely durable, but many people prefer other materials too.
Nylon
Nylon made swimwear is generally stretchy and very easy to put on. If body movement flexibility and feeling comfortable is what you're after when you're in the waters than you should choose nylon swimwear.
Latex
When it comes to choosing your swimming equipment, there are two types of people: those who opt for latex best swim caps and those who prefer silicone ones. In this clash of silicone vs. latex swim cap, you should generally ask yourself what it is that you're looking for and then based on your preferences choose the one that works for you. Latex swimwear tends to stretch more easily and therefore hits the category one size fits most.  Also, if you don't have a full head of hair, your best option would be a latex cap.
Silicone
On the other hand, silicone caps are known to keep everything in place, and if you have long hair that keeps bugging you while you swim, you should probably turn to a silicone cap. They are also more durable than latex caps and can be stretched and used all the time and yet remain intact for a long time.
Thermal Caps
There are also thermal caps which are made specifically for swimming in colder waters. They are usually made of silicone, but with a PU coating which as a result provides you with warmth and insulates your head completely while you're out in the cold waters.
Why You Should Wear a Swim Cap
From more simple reasons like keeping your hair dry if you're just a recreational users, to more complex reasons like reducing drag when you swim, keeping your hair in control so it doesn't bother you while you're swimming and the most important one – the fact it offers your hair and your ears protection from chlorine and bacteria.
Protection
We all know the feeling of having our hair smell of pool water all the live long day after spending a few hours bathing in a public pool. However, this is not the worst thing that can happen to your hair due to your exposure to chlorine – your hair can get damaged, and if you dye your hair blonde, it can even turn green.  As mentioned at the beginning of this article, there are no swim caps that keep hair dry – or at least not ones that can keep it completely dry, but while this is the case, using a swim cap can definitely limit the access of chlorine to your hair.
Ouch! Swimming Caps That Won't Pull Hair
Generally speaking, the excellent swim caps made from fabrics like Lycra and neoprene won't pull your hair at all, but then again, they're not the best materials for reducing drag. Silicone caps are, also a good choice as, compared to latex or nylon, they cause minimal damage to your hair; and while you're at it – make sure that you chose a thicker silicone cap that is stiffer and won't stick to your hair as much. If you have to swim with hair-non friendly materials, try using baby power, talcum powder, or corn starch in the cap while they're in storage.
You might also like: Perfect Swimming Gloves
Understand the Frequency of Use
When choosing a swim cap, you should also know that not all of the best swim caps are used for the same purpose. For instance, if you're a recreational user and are just looking for a cap to use while on vacation, opt for a latex cap – it's less expensive and will meet your needs. But if you're looking for a swim cap for everyday use, choose a lycra, silicone or neoprene cap. They're mostly durable and will last for a long time, even after the stretching, pulling and washing.
Sizing
Now, when it comes to the size of your cap, you should take into consideration two things: the size of your head and the length of your hair. For instance, there are caps for many types of hair – curly hair, dreadlocks, long hair, etc. If you've had experiences with caps not being able to contain your hair, opt for one with extra space for hair in its upper part. Most swim cap reviews contain complaints about caps being too small, so if you've been known to have problems with this, this chart might help you:
Small 20 ½ to 21 5/8 inches
Medium 22 to 22 3/8 inches
Large 22 ¾ to 23 1/8 inches
Design
This aspect is completely up to you. There are virtually endless possibilities when it comes to your swim cap design. Most of them are plain, simple and monochromatic, but there are many colorful ones, with flowers, stripes, flags, letters, whatever you desire. Many people actually list the cap's design as one of the features that lead them to buy it.
Caring for Your Swim Cap
Like with anything else, the deal with the most excellent swim caps is that you have to take care of them. After all, they're an important part of your equipment, and after all the pulling, tugging, stretching and chlorine and light exposure, you can't expect them to last forever. That's why it's important that you take care of them, in order to extend their life.  After every swim session, rinse your cap in non-chlorinated water, and then dry it gently with a towel or leave to air dry. You can also sprinkle baby powder on the inside of the cap to absorb moisture evenly. Between uses, keep your cap away from any sharp objects.
How Water Temperature Can Affect Swim Caps
Keep in mind that silicone and neoprene are materials that tend to hold heat, even though they're very durable and generally recommendable materials. If you're swimming in water that is 80 degrees or warmer, a swim cap made of neoprene could lead you to overheat quickly. In this case, a better choice would be a latex cap. The thinner material will not hold heat like neoprene, so you'll swim more comfortably.  
FAQs

Q: How do I put on a swimming cap?
A:
Rule number one when putting on your swim cap, is to keep it as far away from sharp things as possible. This applies to your nails and your jewelry, like rings that may catch your cap and rip it. If you have long hair, you'll have to pull your hair up in a bun and tie with a hair band. Then, once you do that, hold the swim cap wide open with both hands making sure your fingers are on the inside of the cap and your thumbs are on the outside. Starting from your forehead, pull the cap over your hair and pull it down towards your neck. Your cap should fit you snuggly yet feel comfortable on your head. If you see any stray hairs, tuck them under the cap.
Q: What if I want a swim cap that covers my ears?
A:
Swimmer's ear is a serious condition characterized by itching, redness, discomfort or drainage in the ear canal. It's only natural that you'll want to protect your ears, especially if you're going swimming day to day. You can always buy a swim cap designed with ear pockets. This kind of cap is designed specifically for the purpose to protect your ears and prevent problems swimmers have with water and bacteria entering their ear canals. It stands a much better chance of covering your ears than a regular swim cap as it stays put over your ears and forms a watertight seal.
Q: Why should I wear a swim cap?
A:
There are many benefits to wearing a swim cap, most of the related to the overall well-being of human body and its professional performance in swimming. Some studies have shown that constant exposure to chlorine causes substantial damage to human hair, making it weak, lifeless and bad-smelling. Human ears are also susceptible to inflammations due to bacteria that can be found in the water. Swimming cap is the solution to both these problems. Not to mention the improved performance in swimming because it helps keep your stray hair off your face!
Q: Why do swimmers wear to swim caps?
A:
There are a couple of reasons for this. The first reason is that the double cap ensures that their goggles stay on. Swimmers put on the first cap, then their goggles, and then add one more cap make sure the goggles won't budge. The other reason is that wearing two caps of specific materials helps reduce drag, the resistance the body encounters while moving through water. Usually, the first cap is made of latex, so stays on the head firmly, while the second cap is usually made of silicone.
Q: What are swim caps for?
A:
Initially, swim caps are for preventing the water from reaching your hair, and though it can never keep water completely out of your hair, these caps are very important in keeping your hair chlorine-free. The caps also serve for improving the speed of swimmers, and keeping their ears safe from bacteria.
Globo Surf Overview
Finding the best swimming cap isn't an easy task. If you're going on a swimming session, be it recreational or professional, and you want your performance to be top notch, you can't really be doing it with your hair flailing all around you. On of the best swimming caps on our list will solve all the problems with your hair. So take a look at your personal needs when it comes to your the best swim caps and choose one that works best for you!
More Watergear Swim Reviews: