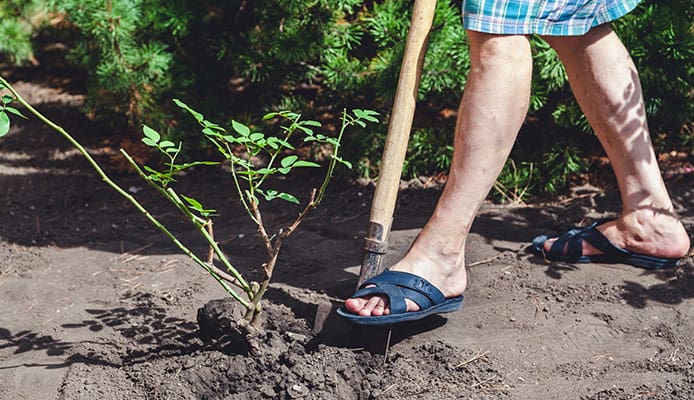 OUR TOP PICK

---

EDITORS CHOICE

---

BEST VALUE

---
When it comes to footwear, comfort is one of the most important things. This is especially true during certain periods of the year – when it's warm outside and we want to avoid wearing shoes or sneakers. We need something more appropriate and lighter, which allows our feet to breathe. Of course, several types of footwear fall into this category – sandals, flip-flops and slides among others. There are several advantages slides have over other types we mentioned. For example, they are more convenient to use in some situations while still giving you the same level of comfort.
Like all footwear, not all slides are the same in terms of design and overall quality. We strongly believe that it's worth investing in a good pair even if it costs a bit more. In order to help you find the best slides, we've selected some great products to make your choice a bit easier. Furthermore, we've compiled a buying guide to discuss the features you should look for when buying, so take a look.
OUR TOP PICK
Nike Benassi Just Do It Athletic

See Customer Owner Feedback >>
Stand Out Features - Why We Love It

Numerous color choices and patterns

Soft foam midsole

Flex grooves

Very large sizes available
EDITORS CHOICE
Under Armour Ignite V Sandal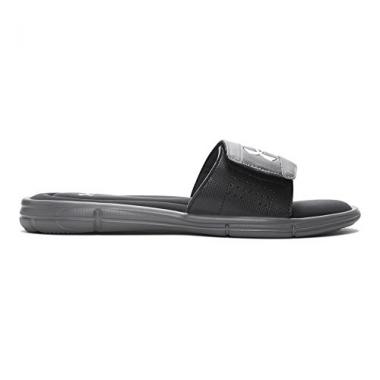 See Customer Owner Feedback >>
Stand Out Features - Why We Love It

Adjustable Velcro strap

Stylish

Anatomical contours

Memory foam footbed
View More By Under Armour »
BEST VALUE
Adidas Adissage Sandal

See Customer Owner Feedback >>
Stand Out Features - Why We Love It

Adjustable upper with Velcro straps

Massage nubs on footbed

Flexible sole

See Customer Owner Feedback >>
Stand Out Features - Why We Love It

Stylish and recognizable

Quick-dry lining

Coated upper
View More By adidas Originals »
Adidas Original Adilette Shower Sandal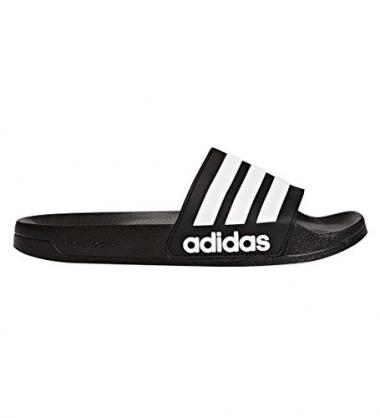 See Customer Owner Feedback >>
Stand Out Features - Why We Love It

Suede sole

Quick-dry footbed

EVA outsole
Under Armour Locker III Sandal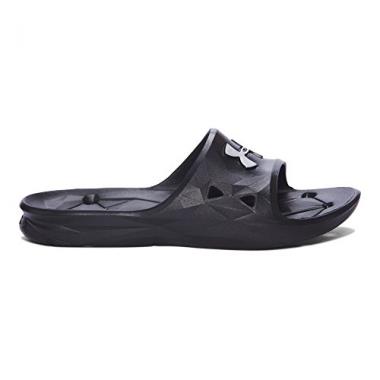 See Customer Owner Feedback >>
Stand Out Features - Why We Love It

Made as a single piece

Specially molded

Drain holes in sole

Excellent shower slide
View More By Under Armour »
NIKE Benassi Solarsoft Sandal

See Customer Owner Feedback >>
Stand Out Features - Why We Love It

Interesting designs available

Dual-density foam midsole

Padded strap (upper)

Good traction pattern
Adidas Adilette Comfort Sandal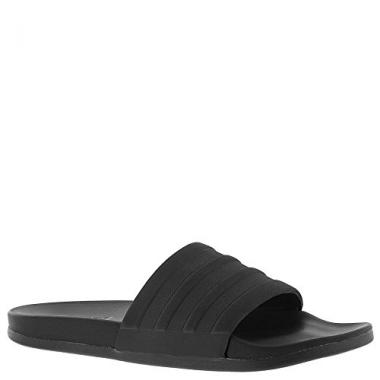 See Customer Owner Feedback >>
Stand Out Features - Why We Love It

Fantastic comfort

Great looks

Very soft footbed
Adidas Performance Superstar 3G Sandal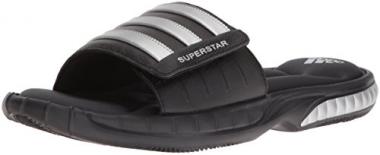 See Customer Owner Feedback >>
Stand Out Features - Why We Love It

Adjustable upper

Visco-elastic foam footbed

EVA outsole
NIKE Solarsoft Comfort Sandal

See Customer Owner Feedback >>
Stand Out Features - Why We Love It

Very breathable

Adjustable strap

Solid support

Hexagonal traction pattern
How To Choose Slides – Buying Guide

Buying footwear is not always an easy task. We're not talking just about size – there are more factors that need to be considered. Your new slides need to have the right fit and be comfortable. Also, they should be made from strong materials so they don't tear while you're wearing them. We're going to break down all this criteria and more, so you can find a pair you will gladly put in your swim bag along with other swim essentials when going to the pool.
Size
When talking about size, slides usually only come in whole numbers. Luckily, as you had the chance to see in the reviews, they is a really wide array of sizes too choose from – including very small and very large. However, whether the specified size is going to fit you depends on the particular manufacturer. It's well known that the same size from two different suppliers isn't always going to fit the same, and it's no different with slides.
If you have previous experience with a brand and know their sizing, then it's recommended to get the same size you usually get. Still, we can't be familiar with all products, and the fact that there are no half sizes complicates things a bit. So, when unsure, always go one size up. The reason for this is that your foot will be positioned better even if there is some spare space. On the other hand, if the size is too small you may find the slides constricting and uncomfortable, especially in the upper area.
In addition, don't forget about the width either – if your foot is wider than usual you should consider going with a bigger pair. There are sizing charts and guidelines available for many products we featured, so you can measure your foot at home and get the proper size. Customer reviews can also be helpful, because you will read first-hand user experience and see how the slides you like compare to regular footwear. Finally, it can really help if the slides are adjustable, which we'll talk about later.
Fit
This is closely related to size, but it also has to do with slide design. They need to have a snug fit around your foot, especially since there is only the upper that holds it (unlike sandals which have support around the ankle too). The best slide sandals offer enough room for your foot to slip in and find its place, but once your foot settles the slide isn't loose around it.
In addition to positioning and tightness of the upper, the shape of slide footbed contributes greatly to the fit. The right arch in the middle of your sole as well as a good heel cup stabilize the foot and make you feel like the slides were specifically molded for your feet. Pay attention to this, because nobody wants a new pair of slides that will come off constantly or even present a risk of turning your ankle and injuring yourself.
Style
Slide design if pretty straightforward – there is a sole with an upper connected to it, which covers the instep of your foot. This being said, you'll be able to find many different styles on the market. The sole can be flat or contoured to follow the sole of your foot. The slides can also have a flat heel or a heel which is slightly elevated. As for the upper, it can be a single piece or multiple pieces (straps, bands) in different positions. Perhaps the most important thing when talking about styles is the adjustability.
You will come across slides that have an elastic upper and those that allow you to adjust the tightness with buckles or Velcro straps. Elastic uppers are probably the most common. The material stretches around your foot so it remains snug and give it a good fit. However, some products can be too tight, especially if your feel swell a lot. In this case, the upper can cut into your foot causing great discomfort. In addition, elastic uppers do tent to stretch too much over time (especially on lower quality products), making your slides loose and useless.
If you want to get a pair which you can adjust, you have two options – Velcro or buckles. Velcro straps give you a high level of adjustability, and you can do it quickly too. If you feet are swollen from walking or standing, or if you want to wear socks with your slides, just detach the strap and stick it again. On the other hand, it has some downsides too. It becomes weaker over time, and tends to collect dirt which can't always be removed from it (decreases the efficiency). Finally, buckles are more durable but less convenient to use. They also don't have the precision of Velcro straps because the holes are in pre-made positions.
Comfort
Comfort and convenience are some of the main reasons people choose to wear slides in the first place. You foot should simply "slide" inside and you should feel nice having them on. The cushion under your foot needs to be soft and  flexible so it mimics the movement when walking. Some products even have memory foam footbeds to give you the best experience possible. It's also a big plus if the lining on both the footbed and the upper wicks sweat. Alternately, some products have special holes created to drain sweat and water. Nobody feels comfortable when their feet are wet for a long time, and this helps them dry faster.
Support is closely related to comfort, and we can even say it contributes to it. You will certainly feel more comfortable if the slides support your foot in the right places. Check whether the footbed is ergonomically shaped – it can stabilize your foot both from underneath and from the sides. This and the materials used help absorb the shock when walking, giving you a feeling that you're treading on a soft surface.
Material
The choice of materials really determines whether a pair slides is excellent or subpar. A few boxes need to be checked when selecting material combination in order to make a really good product. First off, the slides need to be gentle on your feet. They should never cause blisters, chafing or any type of irritation to the foot. This goes for the material, as well as seams which should be hidden and not sitting against your foot. The upper is often made of synthetics, breathable mesh, or some other type of fabric (regular or knitted) and in some cases even artificial leather.
The footbed should be soft from underneath but with firm support at the same time, so it's good if it's made of EVA (ethylene vinyl acetate), memory foam or some type of gel. On the other hand, slides mustn't deteriorate quickly when walking on hard surfaces – this is why the outsole is made of tough materials. These is most commonly hard rubber or some other synthetic material which can withstand daily grinding without wearing off quickly.
Durability
Your new pair of slides should last a while – it goes without saying they shouldn't tear quickly no matter how much or little you paid for them. Some products can go for years without many signs of wear and tear on them. They even become more comfortable over time. However, we aren't always sure how to recognize such a product. It helps that certain brand names keep their products up to a certain standard so you know what you can expect.
We aren't saying that you should only go with well-known brands – if you follow the guidelines we gave you, you'll be able to find many slides that are really well-made. Each individual part needs to be made of quality materials, which we discussed earlier. However, sometimes we need to make compromises – materials which are soft and feel nice (mesh and foam for example) are often going to be less durable, so keep this in mind.
FAQs

Q: Why Choose Slides Over Flip Flops?
A:
Many people find slides more comfortable to wear than flip-flops. In addition, they are a great choice if you want something different to wear when warmer season comes, or when going to the pool. They are similar to flip-flops in terms of freedom your feet get – nothing covers your toes and heels. However, unlike flip-flops, there is nothing between your toes to cause you discomfort.
Q: Are Slides Slippery?
A:
This depends on the pair you get, but they shouldn't be. We can talk about slides slipping on the surface you walk on, or your foot slipping inside the slide. If you're worried about the latter, it can be avoided by getting a good fit. This makes your foot stable inside and keeps it in place. Furthermore, some slides wick away moisture, and dry feet are less likely to slip around. If you have this problem with your old pair of slides, some people suggest cleaning them thoroughly and then spraying the footbed with hairspray. While this is not a permanent solution, it can make things better for a short while.
As for the other possibility we mentioned, a good slide should give you a secure step without being slippery. The outsole has grooves which are put there to improve traction no matter the surface you're walking on. This includes wet surfaces too, like the locker room shower in your gym or walking alongside the pool. Manufacturers pay special attention to this, since they count on the fact you'll be using these in some combination with water. While we're on the subject of keeping you safe, it's not a bad time to read more on some interesting facts about pool safety. In any case, slides are often much less slippery than flip-flops.
Q: Can I Wear Slides On The Beach?
A:
Yes, of course! They are one of the best choices you can make, and they should have their place on every beach day checklist. Because of the design, your feet are free and allowed to breathe, meaning they won't get too hot on a sunny day. You can quickly take them off when you want to go into the water, and easily put them back on when you get out to avoid walking on hot sand and sharp rocks. Most beach slides dry quickly, and when they're dry you simply brush off the sand. Of course, if you feel your feet need more protection while you're out on the beach, be sure to check out our selection of best water shoes.
Globo Surf Overview
Slides are fantastic footwear with great versatility, making them useful in many situations. Everyone should get a pair, because you're not really aware how comfortable your feet can be until you've given them a try. You will start using them around the pool, on the beach, in the gym and even regularly around the house because they're so comfy. It all comes down to finding the best slides in terms of quality and fit. We hope our guide has helped you in making this decision. Feel free to pick any of the products we listed – you certainly won't be disappointed!
More Water Gear Reviews:
Umbrella
Polarized Sunglasses
Patio Heaters
Solar Shower
Rain Boots