Surfing is a fun and exciting sport. You are constantly in the water, but that is part of the fun. A wetsuit protects your body from the water, but what about your ears? Have you ever thought about that? Prolonged contact with the cold water can lead to surfer's ear (bone growth in the ear). Professional surfers will recommend that you use earplugs in the water to protect your ears.
The best earplugs will not set you back much. In fact, for a few dollars, you can protect your ears, and protect yourself from doctor's appointments or worse.
For the best experience, you need the best earplug. Here are our top 5 surf earplugs for 2018.
How To Choose And Earplug For Surfing – Buying Guide
What Are Earplugs?
It may sound like a silly question, but it is a valid one to ask. Earplugs are generally thought of as plugs for your ears which keep noise out, but surfer's earplugs are a different creature entirely. Most of the modern earplugs allow the noise in while keeping water out.
Top-rated surfer's earplugs will give your ear protection from the water. Exposure to a lot of salt water, cold water, sand, dirt, and debris can contaminate and affect your ears. Earplugs will provide the best protection for your ears.
Are The Expensive Ones Worth It?
When it comes to one of your five sense, you cannot be too careful. Protecting your ears is a must as a surfer. Generally, the more expensive earplugs give you better protection, but you do not have to spend a fortune to protect yourself. A pair from our list will keep your ears protected.
FAQs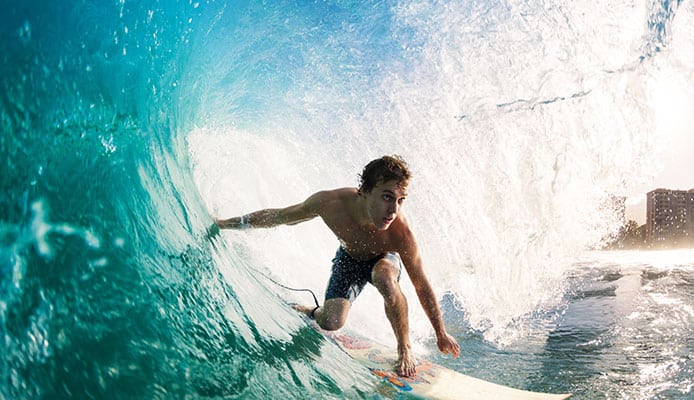 Q: What Is Exostosis Or Surfers Ear?
A:
Surfer's ear is a growth of the bones in the ear, which is benign, but can cause problems. If the bone grows a lot, it can block out sound and cause hearing loss. In extreme cases, the growths can trap dirt and grime in the ear and cause ear infections. Surfers are particularly susceptible to exostosis, but it is not fully understood why it develops. Researchers know that cold water and air causes it, but they do not know why.
As a surfer, you are exposed to a lot of cold water and cold air. The best way to prevent surfer's ear is to block the two reasons from your ears. Earplugs are a must.
Q: How Do I Get Rid Of Water In The Ear?
A:
Most of the time, you can tilt your head to the side and gently shake it out. If water gets deep in your ear, then this will not work. Mix water and vinegar together, fifty-fifty, and pour it in your ear. Tilt your head to the side and shake the water out.
Q: How Do I Care For My New Earplugs?
A:
Wash the earplugs, and any parts, in warm soapy water, rinse them, and then allow them to air dry. It is recommended that you use a case for them when transporting and storing. If they have been exposed to saltwater, then wash them after.
Q: How Should Earplugs Fit For Surfing?
A:
You should feel the earplugs tight in your ear, but they should also be comfortable. Push the earplugs in as far as is comfortable, and if you cannot find an earplug which fits comfortably and keeps the water out, then you should consult a doctor,
Q: Can I Lose My Earplugs When Surfing?
A:
Yes, you most certainly will. Surfing is an active sport, and it is inevitable that you will lose an earplug or two. The best way to combat this is to buy a few of the earplugs you like or to find some with leashes attached.
Globo Surf Overview
Taking care of your ears while surfing has never been easier. It is amazing the leaps and bounds in earplug technology. From completely moldable earplugs to earplugs that let in so much sound you forget you are wearing them.
As a surfer, you should never leave the house without them. When I think about surfer's ear, I make sure I have an adequate supply of earplugs ready for my next surfing adventure. Now all you have to do is buy some. Go for a really good pair that you will not lose or a lot of cheaper pairs that you do not mind being swallowed up by the surf.
More Surf Reviews:
Do you have one of surf ear plugs? How did they work for you? Let us know how you like it in the comment section below.
Globo Surf Surf Ear Plugs Review
; ; ;
★★★★★
"
I bought the Macks earplugs for surfing and Im so glad I went with the first choice. They are perfect when Im out in the waves.
"