Best In-Ground Polaris Pool Cleaner

---

Best Polaris Side Pool Cleaner

---

Best Above Ground Polaris Pool Cleaner

---
A swimming pool is a staple for summer fun and, if you're lucky enough to have one in your backyard, you don't have to go far for a refreshing dip in cool water. Swimming pools are a fun investment, but they require constant maintenance.
If you want your pool to look pristine all the time, you will have to clear it of any debris. To make this job easier, you should invest in a Polaris automatic pool cleaner.
Polaris is a leading brand that provides high-quality products used to maintain and clean your swimming pool. Picking up debris can be a boring chore but, with a Polaris automatic pool cleaner, you can leave all the hard work to the machine.
When choosing, it's important to get a cleaner compatible with your pool. However, finding the right one based on the Polaris pool cleaner reviews alone can be difficult. Our guide will give you all the information you need to pick the best Polaris pool cleaner and keep your pool spotless when you want to go in for a dip.
Best In-Ground Polaris Pool Cleaner
Polaris Sport F9550 Robotic In-Ground
See Customer Owner Feedback >>
Stand Out Features - Why We Love It

Aqua-Trax tires allow it to move on all pool surfaces

Motion Sensor Technology for unmatchable navigation

Programmable timer for a 7-day cleaning cycle

4-wheel drive and rear water propulsion improve reach

Easy-to-clean filter canister instead of bags
Dimensions: 22 x 22 x 22 inches
Weight: 43.6 pounds
Pool type: In-ground
Remote control: Yes
Cleaning cycle: Programmable, 7-day cycle
Cleaning modes: Floor, floor and wall, waterline only, custom mode
Cable length: 70 feet
Best Polaris Side Pool Cleaner
Polaris Vac-Sweep 380 Pressure Side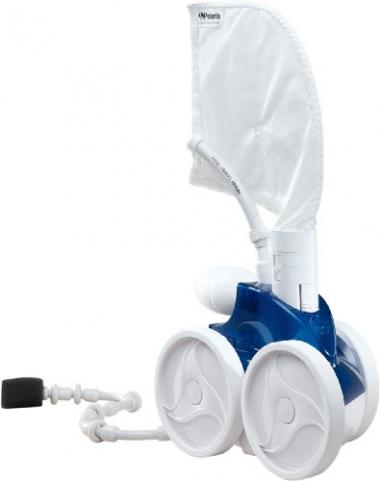 See Customer Owner Feedback >>
Stand Out Features - Why We Love It

Triple jet system for powerful cleaning

Vacuum, scrub, and sweep operation

In-line backup valve for continuous cleaning

Extra-large filter bag included

Requires a Polaris booster pump
Dimensions: 9.8 x 20 x 22.5 inches
Weight: 16.5 pounds
Pool type: In-ground
Jets: 3
Inlet size: 2 ¼ inches
Hose length: 31 feet
Best Above Ground Polaris Pool Cleaner
Polaris Vac-Sweep 65 Pressure Side Automatic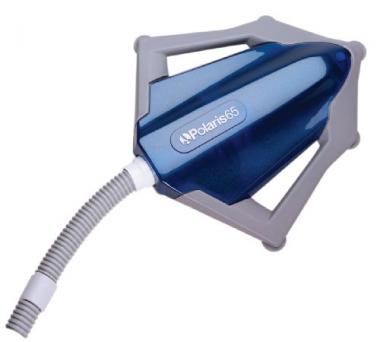 See Customer Owner Feedback >>
Stand Out Features - Why We Love It

Uses the pools existing pump and filtration system

Works with any type of above-ground pool

Quick and easy installation

Filter bag removes even larger debris

Cleans entire pool in under 3 hours
Dimensions: 22.5 x 7.5 x 23 inches
Weight: 13.94 pounds
Pool type: Above ground
Max depth: 5 feet
Hose length: 24 feet
How To Choose A Polaris Pool Cleaner – Buying Guide
If you need to remove sand from your pool or keep water bugs out, all of the Polaris pool cleaner models we featured can do an excellent job. On top of this, the best Polaris pool cleaners will automatically traverse the floor and walls of your pool to vacuum up any debris. However, various models offer different features, and these can make a difference in the performance. Take a quick look at these features so you'll know which works best for your pool.
Type of Cleaner
Polaris pool cleaner models can be divided based on their operation or based on the pool type they're used in. In terms of operation, you have Polaris automatic pool cleaners (robotic cleaners) and manual pool cleaners. The main difference is who or what will be powering the machine to do the work.
A robotic Polaris for pool will clean without any assistance and can be left in the pool. A manual pool cleaner will need to be manually pushed around your pool, which means you are doing more work.
If you're not a fan of manual labor, you should look into Polaris automatic pool cleaners. However, these are also more expensive. If you want to save a little money and don't mind moving around your pool vacuum Polaris, a manual pool cleaner would be a great choice.
Related Post: How To Manually Vacuum Pool 
Type of Pool
Based on the type of pool you have, you can either get Polaris inground pool cleaners or Polaris above ground pool cleaners. If you want the cleaner to work properly, choosing the right type of device is important. Most models cannot work for both above ground pools and inground pools.
In addition, the size of your pool can dictate which pool cleaner would work best. Larger pools will need a greater capacity cleaner to get the job done faster, while the same cleaner might be too large for a small pool with limited moving space.
Warranty
Polaris is a well-known and trusted brand in the swimming pool community. All of the Polaris pool cleaner models come with the company's standard warranty which is 2 years. However, you should check each individual product before making a purchase to clarify the exact details of the warranty and what it will cover.
Ease of Use and Maintenance
The ease of use of your cleaner depends on the specific model you have. Polaris automatic pool cleaners are initially harder to use because they require a little setup before running them. Some models need to be attached to the pool pump, a separate pump, or a booster pump in order to operate.
On the other hand, manual pool cleaners will likely be a little easier to use because they only need to be attached to one pump (probably the pool pump) in order for the vacuum to function.
Keep in mind that all Polaris pool cleaner models require additional maintenance. Normally, this means that you have to empty the attached filter bag and ensure the vacuum system stays clear. The actual Polaris for pool machine should stay relatively clean because of the chemicals already in your pool's water.
However, if any part of your Polaris pressure side pool cleaner malfunctions or breaks, you shouldn't try to fix it yourself. Instead, you should contact the company or seek professional help. Attempting to fix it yourself could void the warranty or break it beyond repair. It would actually save you money to let your cleaner be fixed by a professional and minimize the risk of further damage.
Size and Weight
The size and weight can vary significantly between different Polaris pool cleaner models. A model's size and weight can help you determine which one is best for your pool. It makes sense that larger pools need slightly larger cleaners.
Keep in mind, however, that these cleaners are fairly large. Even though some models are marketed as more compact, they are still a decently sized unit for cleaning your pool.
This being said, some are drastically heavier than others. Polaris pool cleaner models can range anywhere from about 14 pounds up to 44 pounds. A top rated Polaris swimming pool cleaner can have a slim and sleek profile, or use a larger and bulkier design to really tackle debris and dirt.
Depending on the model, it may also have large or small wheels which will change the size of the body. Polaris cleaners for larger pools have sturdier wheels meaning they also influence the weight. If you have a smaller pool or you're looking at Polaris above ground pool cleaners, they will likely be smaller-sized models.
FAQs
Q: Why Is My Polaris Pool Cleaner Floating?
A:
There are three reasons for this. The first (and most common) reason is a leak in the hose. A broken hose leads to a loss of pressure in the device. Besides floating, you will also notice bubbles coming from the hose when you pull it out. If this is the case, it's best that you get a new hose.
The second reason is a malfunctioning backup valve. When it breaks, it starts shooting water non-stop, lifting the cleaner. If this happens, a repair professional has to replace the broken valve. The third reason are malpositioned thrust jets. If misaligned, the water jet will lift the device from the bottom. This is an easy fix – simply realign the thrusts when the device is out.
Q: Why Is My Polaris Pool Cleaner Tail Not Moving?
A:
This can happen for a number of reasons. The most obvious one is a malfunctioning booster pump – if the pump isn't working, the Polaris won't have enough pressure to move. In relation to this, a clogged quick disconnect can also cause a loss in pressure which makes movement difficult. Other potential reasons include a leaky hose, a leaky valve, or broken wheel belts in the device itself.
Q: How To Identify Polaris Pool Cleaner Model?
A:
The easiest way to do this is by looking at its serial number. Newer models have it on a sticker, while the older models have it printed directly on the side. The sticker shows you the model number and the serial number. Besides the model number, the first letter in the serial shows you the particular model in the series (C for 280, L for 360, K for 380).
Q: How Long Does A Polaris Pool Cleaner Last?
A:
With proper maintenance, your Polaris pool cleaner should last for up to 5 years without trouble. Some models even work for 8 years without any replacement parts. However, to have it last this long, you need to clean and maintain it. In relation to this, Polaris gives a 2-year warranty on every robotic cleaner.
Q: How To Disconnect Polaris Pool Cleaner?
A:
Before disconnecting it, turn off the pump system. Afterward, unhook the hose from the return line by turning it to the side. Slowly pull the hose out of the pool, which will pull the device closer. Once the Polaris is within reach, don't pull it out by the hose because you might damage the hose.
Grab the device and slowly lift it up, allowing excess water to drain. Once out, it's recommended to leave it on the side to avoid too much pressure on the wheels and the hose attachment.
Q: Why Choose A Polaris Pool Cleaner Over Other Pool Cleaners?
A:
Polaris is a trusted brand that offers reliable, durable, and high-quality pool cleaners. Polaris pool cleaner reviews consistently give high praise to the products with many pool owners happy and satisfied with the purchase.
Other robotic pool cleaners may work too, but Polaris stands out with quality and performance. We all want our pools looking great, and the best Polaris pool cleaners are going to exceed your expectations. On top of this, you get an excellent warranty too.
Q: What Makes A Polaris Pool Cleaner Stand Out?
A:
With a Polaris pool cleaner, maintenance and care will become much easier. Especially if you choose an automatic model. Polaris offers many well-designed models that will make cleaning the pool a lot easier. The sleek and slim designs will effortlessly glide through the water as they clean the particles.
On top of this, investing in an automatic cleaner can also save you money on pool maintenance. A Polaris swimming pool cleaner can eliminate the need for other maintenance tools like pool brushes and make cleaning tiles easy. Investing in one of the best Polaris swimming pool cleaners guarantees excellent performance and a debris-free pool.
Globo Surf Overview
A beautiful swimming pool can quickly become the center of attention and provide fun for the summer. A Polaris automatic pool cleaner keeps your pool in top shape and removes all the debris from the bottom and sides so you enjoy relaxing in the sun with family and friends.
As you had the chance to see, getting a Polaris can make pool maintenance fun and easy. However, it's important that you take the time to find the best Polaris pool cleaner for your type of swimming pool. Hopefully, our buying guide made this task a bit easier. With a top rated Polaris swimming pool cleaner, you can step back, relax, and let Polaris work its magic.
More Above Ground Pool Reviews:
More Pool Cleaner Reviews: