Best Easy-To-Install Lifesmart Hot Tub

---

Best Lifesmart Hot Tub For The Money

---

Best Energy-Efficient Lifesmart Hot Tub

---
A hot tub is a big investment. You definitely want to get the best one for your money. You can't go wrong with the best Lifesmart hot tubs. Lifesmart is a reputable company renowned for high quality, attractive, and luxurious spas. Many people consider them the best hot tubs on the market.
Featuring rotational molded rock solid outer shells that are virtually indestructible, the build quality of their hot tubs is truly rock solid. Their Eco Smart technology is so energy efficient that it exceeds the California Energy Mandate for hot tubs. Pricewise, their spas are incredible deals that offer a lot for the money. Below, we've reviewed their two most remarkable home spas. We also have a buying guide to help you pick the right Lifesmart spa for you. Let's start with the top two picks.
Best Easy-To-Install Lifesmart Hot Tub
Lifesmart Rock Solid Simplicity Plug and Play
See Customer Owner Feedback >>
Stand Out Features - Why We Love It

Attractive has mood lighting and waterfall feature

Comes with a locking spa cover

Easy, quick, and hassle-free plug and play installation

Has 13 powerful, directional and adjustable jets plus comfort valve

Very energy efficient with full foam insulation and insulated cover

Easy to maintain - has top loading filter and ozone system

Excellent value for the money
Capacity: Four-person, 195 gallons of water
Dimensions: 70 x 61 x 32 inches
Weight: 269 pounds
Best Lifesmart Hot Tub For The Money
LifeSmart 600DX 7-Person Rock Solid Spa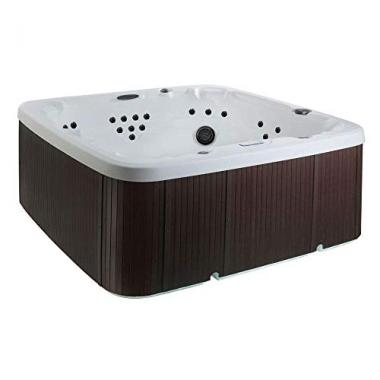 See Customer Owner Feedback >>
Stand Out Features - Why We Love It

An incredibly sturdy shell that is virtually indestructible

Features 65 rotating jets, footwell jets, and a comfort valve

A beautiful addition to any outdoor space

Highly energy efficient

LED lights have an interchangeable mood lens cap

Comes with a thick locking spa cover

Maintenance is easy, as it has a top loading filter and ozone

Includes a free energy saving value package

Excellent value for the money
Capacity: Seven Person, 290 gallons of water
Dimensions: 81 x 81 x 34 inches
Weight: 503 pounds
Best Energy-Efficient Lifesmart Hot Tub
LifeSmart LS200-T 4-Person Round 110V
See Customer Owner Feedback >>
Stand Out Features - Why We Love It

Lightweight design and easy plug and play setup

Roomy 4-person capacity and four seats

13 graphite jets for the perfect massaging streams

Built-in ice bucket for drinks

Underwater, multi-color LED ambient lights

Convenient topside digital controls

Innovative thermal friction heating system

Works with any standard 110-volts outlets

Comes with an ASTM approved locking spa cover

Ozone water care system
Capacity: 4 Person, 220 Gallons of water
Dimensions: 77 x 66 x 26 inches
Weight: 244 pounds
How To Choose A Lifesmart Hot Tub – Buying Guide

Many people agree that Lifesmart hot tubs are some of the best on the market and the two we've reviewed here are outstanding. It is still important to conduct some research in order to ensure you end up with a top rated Lifesmart spa that will suit you best. Below are the factors to consider:
Ease of Set Up
If you want something sturdier than an inflatable hot tub<span style="font-weight: 400;"> but still want an easy setup experience, Lifesmart plug and play models such as the Lifesmart rock solid simplicity and Lifesmart Luna spa are the easiest to install. No assembly is required. Just set it up where you want, fill it up with water, add the chemicals, and plug it into a dedicated outlet. If you opt for the 600DX, you will need to hire an electrician to connect it for you.
Capacity and Maintenance
There are Lifesmart 4 person hot tubs, Lifesmart 7 person hot tubs and so on. This stated capacity is usually true only if the users sit really cramped. Since more room when hot tubbing is always better, it is a good idea to choose a spa with a higher seating capacity than you need to ensure users will sit comfortably with room to relax and stretch their legs.
Also, consider the maintenance requirements. The best Lifesmart spas are easy maintenance, as they are equipped with the ozone water treatment system,which reduces the number of chemical treatments required.
Added Accessories and Health Benefits
Anything that ups the comfort, convenience, fun, and relaxation a hot tub offers is a plus. The more hot tub accessories a hot tub included, the higher its value for money. Lifesmart hot tubs come with a well-insulated cover, the ozone system and LED ambiance lights.
Also, check whether the hot tub will offer the health benefits you're after. Lifesmart hot tubs provide hydrotherapy and massage therapy. They are great for relaxation and relieving aches and pains.
Size
Before you make your pick, think about where to put a hot tub. When evaluating different hot tubs, check the physical dimensions and whether they suit the space available. If you have limited space, you will need to get a compact model. If you want a versatile home spa you can set up indoors and outdoors, look for a portable model that can be easily moved.
Shape
Hot tubs come in a variety of shapes. What shape to go for is not just a matter of personal preference. It will also be dictated by where you plan to set up the hot tub. If it is a corner indoors, a triangle-shaped hot tub would be ideal. For an outdoor setup, you can opt for a large rectangular hot tub.
Jet Types
Jets are a fundamental part of a hot tub. A hot tub equipped with a high number of powerful jets delivers a great hot tubbing experience. The ability to adjust and direct the jet streams is also important. The best Lifesmart hot tubs also feature topside comfort valves for adding warm air to the water.
Features
Lifesmart hot tubs have all the standard features you can expect in any top of the range hot tub such as Balboa digital controls, LED mood lighting, waterfall feature, and the ozone water treatment system.
In addition, the rotational molded rock solid outer shell is virtually indestructible and outlasts standard acrylic spas. Lifesmart Eco Smart technology is highly energy efficient thanks to full-foam insulation and an insulated cover.
You might also like: Perfect Bestway Hot Tubs
Cleaning
The rock solid outer surface Lifesmart hot tubs feature cleans easily. It is easy to clean the hot tub filter since it is top loading and there is no need to flush the water out of the spa first. The built-in ozonator keeps the hot tub clean and thus reduces the cleaning frequency.
Pump
The pump is another crucial component of a hot tub. It ensures there's regular water flow so the jets can deliver powerful massaging streams. It also ensures the water is evenly distributed for heating. If you want a large spa, choose one with multiple pumps to get good jets water pressure. For a relaxing experience, a quiet spa pump<span style="font-weight: 400;"> is best.
Lights
Lights add a nice ambiance that enhances the spa experience. Lifesmart spas are equipped with LED lighting systems. The Rock Solid Simplicity offers red and blue lens caps while the Rock Solid 600DX comes with a spa light with interchangeable mood lens caps so you can install your favorite hue.
FAQs

Q: Why Choose LifeSmart Hot Tub Over Other Hot Tubs?
A:
Quality and durability, good looks, energy efficiency, ease of installation, and great value for money. The best Lifesmart spas have got it all. Their rotational molded rock solid outer shells last a lifetime with proper care. Lifesmart plug and play spa models are the easiest to install. Their Eco Smart technology is one of the most efficient hot tub energy management systems available. And if you encounter a problem, Lifesmart's customer care is top-notch.
Q: Can I Set Up My LifeSmart Hot Tub On My Own Or I Need A Professional To Do That For Me?
A:
If you get a Lifesmart plug and play model, you can set it up on your own. Just place it where you want, fill it up with water, add spa chemicals, plug it into its electric outlet. With other models such as the 600DX, you will need a professional electrician to set it up for you initially.
Q: What Other Accessories Will I Need For My LifeSmart Hot Tub?
A:
You will need a number of accessories to enhance the functioning and life of your Lifesmart hot tub. Lifesmart spas come with a  hot tub cover, a top loading filter, and a hot tub ozonator.
Other accessories you will need for your Lifesmart home spa include hot tub chemicals to keep the water crystal clear and healthy, hot tub steps for getting in and out, a hot tub drink holder, a hot tub cover lifter, a hot tub gazebo or enclosure for shade and privacy, and a hot tub cleaner .
Globo Surf Overview
Nothing relaxes your body, mind, and soul better than a soak in a hot tub. When forking out thousands of dollars to invest in a hot tub, you want to make sure you make the right choice and get the best value for your money. We can assure you that a best Lifesmart hot tub is a solid investment you will enjoy for years.
More Watergear Hot Tube Reviews:
How about you?  Which Lifesmart spa is your personal favorite, even if it isn't included in our Lifesmart hot tub reviews?  Let us know your thoughts and experiences in the comment box below!