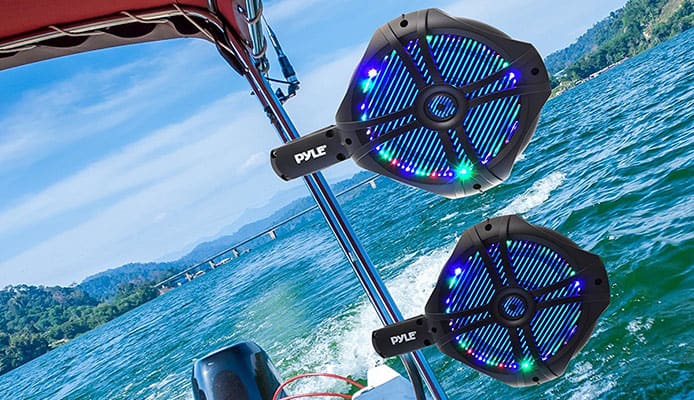 Best High Powered Wakeboard Tower Speakers

---

Best Bluetooth Wakeboard Tower Speakers

---

Best Wakeboard Tower Speakers Pair

---
Enjoying the sunshine and the water is a beautiful experience on its own, but most of the time, many people would love to play their favorite album while they are having the time of their life. And if you are a wakeboarder that is willing to enjoy each day in a more relaxing way, or if you want to bring the game to the next level at the parties on your boat – we have collected the best wakeboard tower speakers to help you do it.
The best wakeboard tower speakers will add something valuable to your vessel. The people on your boat will get to enjoy their favorite music, and the people being towed behind will get to hear it too. But if you want to pick the best option available, you will need to go through our research, made with a complete buying guide included, in order to help you in your search. In the following paragraphs, you can find a list of the 10 best wakeboard tower speakers in 2022, that will serve you as a lighting guide among your search for the best pair.
How To Choose Wakeboard Tower Speakers – Buying Guide
Size
When it comes to picking any speakers, the size plays a big part in that decision. If you are buying speakers for a truck or a car, you will have to find a size of the speaker which will fit into the space vacated by the previous speakers. Too big and they will not fit. Too small and they will not fit, too. You need to find that Goldilocks-zone when it comes to the size.
With the best wakeboard tower speakers, this is something that you do not need to think about (necessarily). The speakers are attached to the wake tower, so one of the considerations when it comes to size is visual. What size of speaker do you like? What looks good to you? And what fits with the aesthetic of your boat?
Of course, the bigger the speaker, generally, the better the bass and frequency of the speaker. Smaller frequencies will give you medium and high frequencies. Depending on what kind of sound or music you like, your speaker choice will be easier to make.
Water Resistance vs. Waterproofness
What do these two terms actually mean? A lot of the time they are used interchangeably, but there are some very real differences between the two. Water-resistant speakers can resist water, like light ocean sprays and rain, but they should not be submerged fully in water. They may be able to come into contact with the surface of the water, but they are not designed and built to keep water out.
Waterproof devices are designed for just that. They have been created with high seals which will not let the water in. If you were to fully submerge your waterproof speakers in water, then they would continue to work, though be careful as most waterproof devices are only waterproof to a certain depth.
If you are choosing between water-resistant and waterproof for your wakeboard speakers, we would recommend the waterproof. It is unlikely that your speakers will be submerged, but the more protected they are, the better. A wave may hit and cover them with water. Waterproof speakers will be able to hold up to this, but waterproof speakers will.
Related Review: Waterproof Bluetooth Speaker
Marine Rating
Speakers which are marine-rated, are acceptable for use out on the water. This guarantees that the materials used in the construction of your speakers (or another device) have been chosen to withstand the conditions of a marine environment. If your speakers are not marine-rated, then they will likely fall apart or break when faced with a marine environment.
Related Review: Marine Speakers
Power Handling
When looking at the power rating of your speakers, there are two things that you should look at. The RMS is the amount of power that you speaker can handle on average. This will be your general peak level for the use of this speaker. The peak level of your speaker is the power that the speaker can handle for short periods of time. If the volume did spike, or you had the speakers on the wrong setting, then the peak power-level will tell you how much protection you have. The higher the peak, the less likely the speaker will blow if a lot of volumes is pumped through it.
The peak level is important, but when you are comparing multiple sets of speakers, you should be comparing the RMS level. This will give you a good idea of the power rating of the speaker.
FAQs
Q: How Do You Wire Wakeboard Tower Speakers?
A: 
There are many things that you need to think about when you are wiring wakeboard speakers. The first thing is that there is going to be a lot of water around you. There is likely going to be a boat motor running too. Add some people to the equation, and there is going to be a lot of noise. That noise also disperses quickly as your boat powers through the water.
A lot of noise on your boat means that you are going to need a lot of volumes. A lot of volume means a lot of power for your speakers. The more power you can feed into your speakers, the more volume you can achieve.
Once you have your speakers positioned (see the section below), you can begin to wire them. If you have a newer wakeboard tower, then the tower may be already wired. If not, then you should try and wire your wires through the wakeboard tower. If your tower is already wired, then you will first need to position your tower speakers, and then connect each end of the wire; one to the speaker and the other to your amplifier or music player.
If your tower is not wired, then you will most likely have channels which will accommodate wires. Our pro-tip for feeding the wire is to use the safety-light wires. If you do have a safety light on your boat (or wires for one), you can tie one end of your speaker wire to an end of the safety wire, and then use the wire to pull the other wire through.
Be careful when you are doing this. If you find any resistance, you can apply some lubrication to the channel to make it easier. Take your time and follow the natural channels. Pull through some extra speaker wire, and you can use this to pull the light wire back through again. Once the speaker wires are threaded through any channels and holes, you can connect the wires to the speakers, and attach the speakers.
Q: How Do You Position Tower Speakers?
A: 
Most speakers will come with their own clamps and fasteners for you to attach them to your boat. Make sure to choose a set of speakers some with adjustable clamps and waterproof clamps. You do not want your fasteners to break down and come loose.
When you are positioning your speakers, the height and angle are important. You want your speakers to be facing the direction of where people are going to be. When your wakeboarders are out on the water, it is important to have your speakers at the correct angle to give them the best experience when they are out there. Some speakers will even come with swivel clamps so that you can adjust them as you need to.
Some things to think about when placing your speakers is the chance of people bumping into them, and optimal sound. You want your speakers to be evenly spaced. You do not want them to be too far apart or too close together. Either could give a sub-standard sound when compared to a perfect even spacing. You also want to position them where people will not bump into them. Do not position them in a place where people will be walking back and forth, and there is a chance of someone bumping their head or kicking them with an elbow.
Most towers will have holes where you can mount the speakers. This is generally the best position to mount your speakers. Once you have secured your speakers, you can also secure the wires if you need to.
Globo Surf Overview
You do not need to invest a lot of money to kit your boat out with a great sound system. It really does not matter what music player you have; what matters is your speakers. With advances in technology, the price of wakeboard tower speakers is coming down. Most speakers are now universal, both when it comes to attaching them to the wakeboard tower and to your music player. Most wakeboard tower speakers will fit your boat. That leaves you to decide on what you want from the best wakeboard tower speakers. Also do not forget to check our wake surf shapers.
You are inundated with choice. Some speakers look amazing, others sound fantastic, some can be adjustable; others are quick release. Whatever you are looking for, there is a speaker set out there for you. With the information in our buying guide, you can make an informed choice. With our product list, you get an idea of what is out there. The only thing left to do is make your purchase.
More Tow Reviews:
More Speaker Reviews: