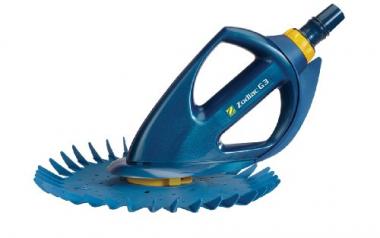 See Customer Owner Feedback >>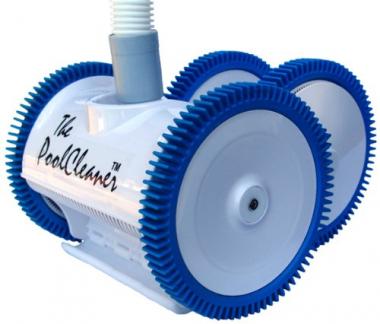 See Customer Owner Feedback >>
The Best Suction Pool Cleaner
With the joys of owning a swimming pool comes the responsibility of keeping it clean. Thanks to automatic pool vacuums, pool cleaning doesn't have to be exhausting and time consuming or expensive. The best suction pool cleaner makes maintaining a sparkling clean pool easy and effortless. It moves along the bottom, cleans the waterline and scales walls sucking up all dirt, sand, bugs and other debris. And it works by itself without requiring supervision (watching it in action is fun too!).
An automatic suction pool cleaner is one of the best things you can spend money on for your pool. To help you choose a unit that will work best for your pool, we have reviewed the top ten products on the market and compiled a buying guide on what to pay attention to when making a choice. Wondering how these types of cleaners work, whether they are worth it and how they compare to other automatic pool cleaners? Our FAQ section has the answers. Let's get started with the best suction side pool cleaners.
How To Choose A Suction Pool Cleaner – Buying Guide

In addition to choosing a top rated suction side pool cleaner, there are some important factors to consider so you can choose a reliable and effective pool cleaner that suits your swimming pool. Keep the following in mind as you shop for a suction pool cleaner and assess the features and specifications of the best automatic suction pool cleaners: 
Pool Size and Surface
As you shop for a suction cleaner, have in mind the size of your pool and its surface material so you can choose a well-suited vacuum that will clean it effectively and efficiently. If you have a small pool, a small cleaner is an optimal choice. If you have a long and deep pool, you need a large cleaner that is designed for heavy-duty cleaning, wide and deep coverage and comes with a longer hose.
In-ground suction pool cleaners also indicate what kind of swimming pool surfaces they are designed for. Some suction vacuums are designed to work on all kinds of surfaces while some are made for a specific surface. Vinyl models designed for vinyl and fiberglass lined pools have non-abrasive feet. Gunite models are designed for gunite/concrete pool surfaces. If you have an above-ground pool, there are smaller suction vacuums designed for permanently installed above-ground pools and there are cleaners for soft-sided pools too.  
Type of Debris
Sucking up small and medium-sized debris such as dirt, sand, pollen, and bugs is where suction side pool cleaners excel. When it comes to larger debris such as leaves, flowers, and twigs some suction vacuums are able to pick these as well while others get clogged. Check what kind of debris a unit is able to suction by reading its description and going through its user reviews. If you want your suction cleaner to be able to remove even stubborn algae and tough stains, get one with a scrubber.
Pump and Filtration System
Pool suction cleaners work with a pool's pump and filtration system. When choosing a suction pool cleaner, find out the kind of pump it requires and whether your pool's pump has the flow rate to power it. Does the cleaner require a lot of flow to work such that you will have to acquire a booster pump? If your pool has a single, two-speed, variable-speed, or solar powered pump, look for an efficient low flow suction vacuum that moves and cleans effectively even with a less powerful pump. 
Hose Type
Check whether the suction cleaner you're considering comes with a hose that is long enough to cover your entire pool. Since the hose should be long enough but not too long, manufacturers provide several sections of hose that pool owners put together to achieve the length they need for their pools. For durability, the hose should be designed to float or be scuff-resistant in order to withstand constant abrasion against the floor and walls.
Pool Floor And Wall Coverage
All suction cleaners for pools are able to clean a pool's bottom effectively. The best suction side pool cleaners are also able to scale and vacuum walls. The only part of a pool they aren't able to do a good job on is the stairs. You will have to use a pool brush there. To end up with a cleaner that cleans your pool exhaustively, get one designed to clean the size of your pool. Its steering system should be programmed to ensure it covers every inch of the floor including corners. Confirm that it is able to climb walls. 
Budget
Prices for automatic pool vacuums range from $100 to over $500. It is good to set a budget before you start shopping. This way, it will be easier to narrow down to a cleaner with the best quality, features, and performance for the money you have and make a smart purchase.
Quiet Operation
Finally, a suction pool vacuum should be a powerful and effective cleaner without being annoyingly loud. The fewer the moving parts, the quieter the operation. A low flow power pump that operates gently is also silent. The top ten automatic suction pool cleaners on this page operate quietly. Some do make a sound when they climb out of the water and suck air before going back in the pool.
FAQs

Q: What Are The Advantages of A Suction Pool Cleaner?
A:
It is easy to use and cleans a pool automatically and unattended saving you time and effort. The best suction pool cleaner vacuums thoroughly. It moves along the floor, climbs walls and cleans the waterline too. It is easy to use and works with your pool's pump filtration system so it doesn't require extra accessories. It also has few moving parts making it low maintenance.
Q: Why Choose A Suction Pool Cleaner Over Other Cleaners?
A:
A suction pool cleaner is the most effective vacuum for sand, fine dirt and medium-sized debris. Compared to a manual pool vacuum head attached to a pool pole, a suction pool cleaner cleans your pool without requiring your effort or presence. Compared to pressure pool cleaners and robotic pool cleaners, a suction pool cleaner has the simplest operation and is the more economical option. It doesn't require the purchase of extra accessories and has fewer moving parts making it low-maintenance.
Q: How Does A Suction Pool Cleaner Work?
A:
A suction pool cleaner attaches to the suction side of a pool. One end of the hose is attached to the cleaner and the other end connected to a pool's skimmer or a dedicated vacuum port. With the pump running, suction is created and the cleaner automatically moves around the pool sucking up dirt and debris through the debris inlet. The debris travels through the hose, past the suction port, and through the pipe to the pool's filter system.
Globosurf Overview
If you clean your swimming pool manually or pay a pool guy to do it, a love-hate relationship can develop between you and your pool. An automatic suction pool vacuum will be one of the best things you ever get for your pool. We hope our suction pool cleaner reviews and buying guide has made identifying the best suction side pool cleaner for your pool easy.
Now all you got to do is purchase one and follow the directions to install it correctly so it works perfectly with minimal maintenance. Maintaining a sparkling clean pool will be effortless. You will enjoy your pool more and wonder why you didn't get an automatic suction cleaner sooner. 
More Pool Reviews:
How about you? Which suction side pool cleaner is your personal favorite? Have you used any of the suction vacuums in our list? Let us know your thoughts and experiences in the comment box below!
Globo Surf Suction Pool Cleaners Reviews
; ; ;
★★★★★
"
Just what I needed. My old pool cleaner broke so a friend advised me that I should get a suction cleaner. Thank you for helping me decide.
"