OUR TOP PICK

---

EDITORS CHOICE

---

BEST VALUE

---
To fully enjoy your skiing experience and to enhance your results – one must ensure they are equipped proper gear and clothing. Proper fitting ski boots for example, are important to ensure they can easily fit ski bindings to be attached to skis. Additionally, ski boots that are the right size ease movement as you thread snow and provide better comfort to your feet.
If you have narrow feet and struggle to find just the right size of boots – we've got you covered. Listed below are the 3 best ski boots for narrow feet in 2023, so you can finally find a pair the fits well and enhanced results. Now you can put away those the stiff race boots and the wider boots you've been using.
OUR TOP PICK
Atomic Hawk Ultra 130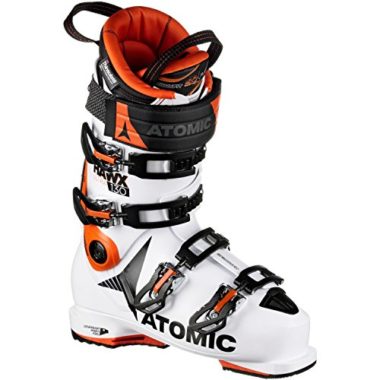 See Customer Owner Feedback >>
Stand Out Features - Why We Love It

Prolite construction with light weight reinforcements

Power shift technology for enhanced performance

Memory fit & Fit 3D liners for proper first fit

Dual density cantable grip pads

Perfect for advanced skiers with narrow feet
Weight: 3.75 lbs
Flex: 130 (hard)
Narrow last: 98mm
Skill range: Expert
EDITORS CHOICE
Nordica Speedmachine
See Customer Owner Feedback >>
Stand Out Features - Why We Love It

Tri-force shell construction for durability and enhanced performance

Precision fit liner with primaloft insulation

High traction soles

Infrared customizable shell to expand in key fit areas if needed

Can also be used by expert skiers
Weight: 4 lbs
Flex: 100 (medium)
Narrow last: 100mm
Skill range: Intermediate to expert
BEST VALUE
Salomon X Max 100 Mens
See Customer Owner Feedback >>
Stand Out Features - Why We Love It

Oversized Pivot for natural flex

Twinframe2 technology for balanced rigidity, comfort and performance

3D thermo foam liner for comfort, pressure absorption and warmth

Easy step-in liner construction with wide opening

Perfect for advanced skiers with narrow feet
Weight: 4.45 lbs
Flex: 100 (medium)
Narrow last: 98 mm
Skill range: Intermediate to expert
How To Choose Ski Boots For Narrow Feet – Buying Guide

Flex
Flex is perhaps one of the most important features to look at together with volume and size when choosing the best ski boots for narrow feet. Flex in boots is important to examine because it is used as an indicator of how difficult it is to flex your boots forward. Basically, this means to what extent your boots will resist as you bend your ankle forward.
Flex index is measured numerically with values ranging from 50 to 130 – 50 being the softest and 130 being the stiffest. Hard flex index for up to 130 favors expert and skilled skiers because they hold the proper training and skill to allow easy maneuverability as they bend their ankles forward without incident.
Medium flex with values ranging between 90 to 110 favors intermediate and beginning expert skiers whilst a softer flex of 90 and lower favors beginners. This flex index range is also known as soft flex. The flex index of your boots is easily spotted on the imprint cuff of your boots.
Related Reviews: Beginner Snowboard Boots
Additionally, soft flex boots are normally less durable as they are built to be not be used consistently. Thus, when using soft boots less force is needed to create rebounds making them a great choice for beginners and those learning to ski, as they have not yet mastered the art of high-energy skiing. They also work great for lighter body frames and freestyle skiers.
It is also important to keep in mind that flex rating should not be too extreme. An extremely soft boot might collapse due to the weight-bearing of the skier leading your knees to bend too much and causing fatigue on the muscles. On the other end, a ski boot that is too stiff will not provide ease of mobility thus, limiting the use of skis. This will make turning and controlling your skis even more difficult thus, leading to fatigue.
Most boots come fitted with their ideal flex – soft or stiff with a set index value.  However, some of the best narrow feet ski boots come with flex customizability which makes them highly versatile – you can easily adjust the flex of your ski boots.
Furthermore, flex on ladies' narrow boots slightly differs from those of their male counterparts.  Typically Women's beginner boots will have a soft flex of 50 – 70 whilst Men's will be at 60 -70. With the same with medium and expert, having a constant 10 index value difference. This is due to the natural physiological build of men and women.
Type
There are four main types of ski boots for narrow feet and one should be aware when choosing the best narrow feet ski boots options. The four main options are alpine boots, cross country boots, telemark boots, and alpine touring boots.
You might also be interested in:
Alpine ski boots are used in the typical Alps where you ski downhill. These narrow feet ski boots pair well with alpine skis and bindings which secure both toe and heel of the boot so the skier doesn't topple over. Unlike other types of boots, the alpine type must have their heels bound.
Furthermore, because alpine boots are used on the snowy and cold all-mountain terrains, their outer shell is normally built with thick insulated plastic such as polyurethane whilst their liners are built to absorb pressure and repel the cold.
They also have a near-the-angle pivot which enhances their flex making it easier to turn and also easy to walk on the snow. Just like alpine skis, telemark ski boots also work great skiing downhill. They however are fitted with bellows – they expand and contract as you ski for an easy telemark turn.
A telemark turn features a free-heel effect to enhance easy glides even on steep turns –it basically a smooth squat-like motion turn. Telemark ski boots are compatible with Nordic Norm binding or New Telemark Norm bindings.
Alpine touring ski boots combine both telemark skiing and alpine skiing and feature an all-mountain design. These boots allow you to hike up the mountain (with touring mode) and easily descend (turn off touring mode) with enhanced stability and grip.
The best narrow ski boot in alpine touring is also fitted with rubber soles to allow you to comfortably walk on snow. Alpine boots are compatible with AT bindings which also allow traversing flat terrains or ascending inclined terrain. These boots have an option to lock or unlock your ski boot heels depending on what you're doing.
Cross-country boots are less bulky and are lighter than the three other types. This is because cross-country ski boots are used on less aggressive terrains. They mostly feature a lace-up closure system with a waterproof shell to fully protect the skier's feet.
Cross-country ski boots are compatible with different kinds of ski bindings however, the compatibility is not interchangeable. Thus, it is important to note what ski bindings your ski boots are compatible with. The main ones include Nordic bindings, new Nordic norm backcountry, new Nordic norm bindings, and Salomon Nordic system pilot. Always check for bindings compatibility when purchasing your boots to know which pair with them.
Design
There are many different ski boot designs depending on how they fit the skier. Alpine ski boots for example feature front-entry, rear-entry, and 3-piece design just to mention a few. Front or top entry designs are most common for alpine boots. This design helps the boot easily reflect out snow from the front and features a wide opening which makes them easier to put on.
Furthermore, front entry designs allow excellent control due to the joined and rotating rivets which allow your ankle to easily move forward. Rear entries are less popular they equally provide an easy wear process, however; they may not provide the right fit.
The piece designs are similar to front-entry designs however, they feature overlapping flaps that leave a slot at the front end. A plastic tongue fits into this opening and is normally buckled down for full closure. This makes the boots even easier to put on and take off. The tongue shape also enhances flex performance.  This boot design depends on the plastic shell and buckles for performance in flex.
Male vs Female
The best ski boots for narrow feet should be gender-specific when you are choosing an option for yourself. Women's feet slightly different from those of men. Women boots are designed to fit their feet and leg shape and so are men's boots. Women generally have narrow heels and ankles than men do thus; their boots respectively cater to this fit.
Men's medium sized boots for example generally will not fit a woman whose ski boot size is medium. Other than size, other key differences between men's and women's ski boots are cuff height and liners. Men have longer lower legs thus their calf is able to sit above the cuff of the ski boot whilst women's calves will sit inside the cuff of the boot. Thus, women's cuffs will be shorter compared to those of men and wider for easy adjustments.
In terms of liners, women's narrow feet ski boots tend to have more padding and a tapered curve around the heel because their heels are narrower. Flex is also an index lower for women than men, making women's boots softer for easier flex. Women also have a taller wedge inside the boot due to their slighter lower center of mass than that of men. This helps to push the bodyweight forward when skiing for enhanced performance.
Last
Last translates to the width of your boots at its widest point. This ranges from narrow (for narrower width), medium and wide (for wider width). Narrow ski boots are designed for people with narrower feet but also for advanced skiers. This is because the narrow the ski boot is, the more it provides control and precision.
Ski boot width range from 98 mm to 106m.  Expert, high-performing and racing ski boots typically boast 95-98mm lasts whilst beginner and intermediate ones boast 102 – 106mm. it is always wise to use a boot size fitter to get a perfect size so control and performance are enhanced.
FAQs

Q: What Is A Narrow Ski Boot?
A:
A narrow ski boot is any boot that has a last value of 95 – 98mm at its widest point. The three main ski booth widths are narrow, medium and wide. Medium lasts will be between 99 -102mm whilst wide are at 102mm +.
A narrow ski boot has a smaller volume inside, both vertically and horizontally, the boots thus, providing a form fit for skiers with narrow feet. Additionally, narrow ski boots are favored by racers and professional skiers because they offer a smaller fit perfect for enhanced maneuverability and flex.
Related Review:
Ski Boots For Wide Feet
Q: How Do I Know If My Boots Will Fit?
A:
There are many ways to measure the size of your boots. The easiest way you can measure your ski boot size at home is using a tape measure or ruler. Using a measuring tape, measure the length from the tip of your big toe to the widest part of your foot. Or trace these parts on a plane paper and measure using a ruler.
The length value you get is your ski boot size. For example If the value is 30cm, then your ski boot size is 30, if you are a man, then men's 30 and if a lady then women's 30. To decide on whether you need a narrow, medium or wide ski boot, you should know the last. Measure your last by measuring the width of the forefoot or ball of your foot. The value in millimeters (mm) is your last value.
Furthermore, the feel you get when you put on your ski boots will determine if it fits well or not. Some manufacturers have designed their boots to be customizable for the perfect fit. The inner liner should feel like a padded sock. It should hug your feet and leave just enough room to allow you to wiggle your toes.
The shell/chassis should be able to accommodate a bare foot and two fingers if inserted to guarantee a snug fit. The upper cuff on the other end should snugly hold your shin and lower leg. When you wear the boot and fully buckle it, it should feel as though your feet are held securely by four hands.
Furthermore, the foot inside the boot should be able to move forward or backwards within. The fit should be held stationary s it works in unison with the ski boot. The ankle should be aligned with the boot's heel cup and settle into the cup. Avoid ski boots that squeeze or cramp your feet giving you hot spots. And to make sure the fit enhances performance, wear the ski boots and buckle them then stand up. Flex our ankles and bend your knees, you should not feel any pain when doing so, if the boots fit perfectly.
Q: How To Adjust Ski Boots?
A:
There several easy step to follow when you want to adjust your ski boots. The easiest way to adjust your ski boots is by adjusting canting screws that pair with ski binding later to allow you to stand flat on both skis.
The adjustment process involves adjusting the screws whilst flexing as if you are actually skiing. This allows you to accurately adjust the ski boots. The process is as follows;
i. Fasten your ski boots with the buckles and Velcro straps when you put them on. ii. Loosen the canting screw giving at least 3 mm gap. iii. Widen your feet and flex forward several times as if you are skiing. iv. Keep tightening the canting screws until you can comfortably flex your feet.
Globo Surf Overview
The ski boot for narrow feet reviews exemplify the importance of finding the right fit on ski boots. Bottom line is the right fit of your ski boot enhances control and performance. These results definitely make your skiing experience more fun and memorable. Also, if yo are struggling with getting the right fit for your narrower feet or simply want to maximize on your skills with narrower boots – you are now covered.
The guide on choosing the right ski boot size for narrow feet also offers invaluable information that equips you with what to look for in the best narrow feet ski boots. Plus, the list of above will absolutely provide an avenue to the best ski boot for narrow feet to begin with.
More Snow Ski Gear Reviews:
More Boots Reviews: