OUR TOP PICK

---

EDITORS CHOICE

---

BEST VALUE

---
Ski boots, especially ski boots for kids, can be quite tricky to buy since they require some time to fit and choose. Of course, this can lead to people being sometimes hesitant to buy online. Making sure that kids are in the correct ski boots will ensure that they have a fun and safe time on the hill. Also, their skiing skills will progress accordingly.
If you are looking to buy your kid his or her first, second or third ski boot, do not worry. We, at Globo Surf, have compiled a list of the best kids ski boots based on ski boots for kids reviews. We have a summary of the best children ski boots based on various factors so that you can easily find the perfect choice for your kids. Without further ado, let's get to it!
OUR TOP PICK
Roces IDEA Free
See Customer Owner Feedback >>
Stand Out Features - Why We Love It

Highly adjustable sizing

They can be used by your kids for multiple seasons

Made for the highest quality materials

One of the best junior ski boots for beginners
Weight: 6 pounds
Flex: 40
Last: 101
Sizes: 22.5 – 25.5
Colors: Black/green
EDITORS CHOICE
Roces IDEA Girls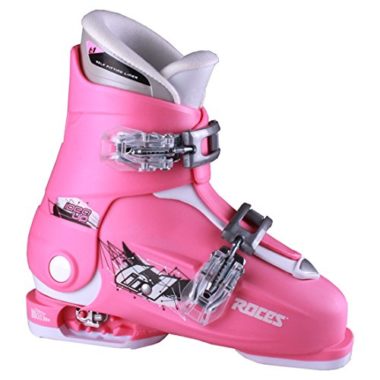 See Customer Owner Feedback >>
Stand Out Features - Why We Love It

The best girls ski boots in overall performance

Highly secure for young ladies

Durable & resilient build

Easily adjustable and accommodative
Weight: 5.9 pounds
Flex: 30
Last: 101
Sizes: 19.5 – 22.5
Colors: Pink
See Customer Owner Feedback >>
Stand Out Features - Why We Love It

Allows young skiers to improve fast and have a lot of fun

The boot is easy to put on and off

Modern stance position and oversized pivot allow for better skiing

Provides excellent energy & power transfer
Weight: 5 pounds
Flex: 30
Last: 98
Sizes: 22.5 – 26.5
Colors: Blue/Black, Violet/White
How To Choose Ski Boots For Kids – Buying Guide

Finding the pair of the best ski boots for kids is not at all difficult, as long as you are paying attention to a couple of details when buying. The ski boots for your kids should need to be made out of high-quality material that can keep them safe. Also, they need to be comfortable when they are going down the slope. We have compiled and explained the factors that you need to be looking for when choosing the perfect ski boots for your kids
Type
There are multiple types of children ski boots. They are the following:
Rear Entry Kids Ski Boots get their name because the back portion of the boot opens to the rear allowing skiers to slide their feet in from the back. They are good for small kids and beginners as they are easy to get into and out of. The two-part shell hinges wide open to make it easier for parents to help their kids get their feet in the boot. The drawback is that they don't offer a lot of adjustable and are typically more difficult to flex.
Related Reviews: Beginner Snowboard Boots
Front Entry Kids Ski Boots get their name because the tongue of the boot opens forward so the skier's foot can slide in from the top. They are available in multiple buckle options depending on the brand and size. The additional buckles allow for a more customized fit. Based on how they are constructed, they are usually easier to flex and are easy to apply pressure when turning.
Performance Kids Ski Boots are more substantial and offer more features. They are typically larger and come in a variety of sizes. They are designed for bigger kids who need better performance and are able to progress their skiing beyond an intermediate level. They are usually stiffer and have micro-adjustable buckles and a powerstrap.
Junior Race Ski Boots are designed for kids and smaller teenagers who are interested in ski racing. They are designed for performance and allow young athletes to have the best fit possible. They have stiffer flex ratings and have a short cuff, providing young racers with most of the performance features found on the adult race ski boots.
Adjustable Kids Ski Boots are designed to accommodate children who are outgrowing footwear quickly. Adjustments on the shell actually expand the overall length of the kids' ski boots, allowing price-conscious parents to hold on to the same pair of kids' ski boots for more than one reasons. Due to the way they are built, they provide nearly the same level of comfort and performance as other kids' ski boots.
Size
Just as regular adult boots, kids' ski boots are sized in a system called Mondo Point. This type of sizing is only used in the boot industry, so it's important that you check the size chart to ensure that you are getting the correct size for your kids. You can find plenty of sizing charts on the internet to get the best possible fit for your children.
Level of Experience
Although not major, there are some differences in children's ski boots based on their level of experience.
Beginners to intermediate skiers need to have boots that they can easily flex. This will make it easier for kids who are still learning new techniques to get their body weight forward over the forebody of the skis, allowing them to be in control. Thus, the best option is a standard Front Entry Ski Boot as they tend to flex easier than Rear Entry Ski Boots.
Advanced to expert skiers should consider getting Performance Kids Ski Boots. The more customized & snugger fit will give kids quicker response time from the ski boots and the skis making it easier to transition from one turn to the next. For smaller kids, Performance Boots might be too stiff. If your child can't easily flex a Front Entry Ski Boot, it is not time to progress yet.
Fit
A proper fit is extremely important when it comes to picking the best ski boots for kids. A snug fit will allow your kids to be able to control the skis as they take on new terrain. Standing up straight, your kid's toes should feel like they're tucked into the front of the boot. When they flex their ankles and bend their knees, all of their toes should touch the front of the boot. They should feel comfortable when skiing with them, and they should have a snug fit.
Flex
Boot flex is a key consideration when buying new ski boots. This refers to how stiff or soft the shell plastic is. Better or stronger skiers benefit from a stiffer boot with higher flex, while newer skiers develop their skills more easily with a softer boot. A stiffer boot is more stable at higher speeds, and it allows skiers to easily transfer power into the skis. A softer boot is much easier to flex and turn the skis at lower speeds. While flex ratings are not universal across all boots, the following chart will provide a fine baseline for most children:
Beginner: 30 – 50
Intermediate: 30 – 60
Advanced: 60 – 70
Expert: 70 – 90
Entry Style
Although some parents claim it's best, most experts will advise you to stay away from the typical front-entry boot. A rear-entry boot will be easier to take on and off, but that's a preference that's entirely up to your kid. As we've previously mentioned, as the rear-entry boot has a softer flex rating, so they are entirely meant for younger riders and first-time users.
Buckles
A good ski boot will come with buckles across the ankle, the back, and over the top of the foot. You should not go too tight with the top buckle since there is an important artery that runs there. If you compress the artery too much with the buckle, it will result in freezing toes faster.
 Width
A vast majority of children will be just fine in the standard width ski boot, and most ski boots for young children will be able to accommodate a larger volume foot. As they get older more options for wider or narrower boots will become available, thus being worth to look for a boot with a wide or narrow last. Some adult ski boots are also available in smaller (youth) sizes.
You might also be interested in:
Ski Boots For Wide Feet & Ski Boots For Narrow Feet
FAQs

Q: Should I Get Adult Ski Boots Or Should I Go Specific For Kids Ski Boots For My Child?
A:
You have probably noticed that there is an overlap in sizes from adult boots (down to size 22) to kids' boots (up to size 27). While an adult size 24 will be the same length as a kids' size 24, they will not fit the same. Kids' boots are narrower with shorter cuffs to accommodate their smaller frames. Men's and women's ski boots are designed for the average adult man or women respectively in terms of both size and strength.
While kids might have adult-sized feet, they will not be ready for adult boots until they are developing adult build and strength. In some instances, more commonly in boys, the child's feet will get too large for kid's ski boot, thus being better to find a soft flexing adult ski boot.
Related Review:
Women Ski Boots
Q: What Are The Benefits Of Special Kids Ski Boots?
A:
The main benefit is that you will be sure that the boots are the right fit for your children. Since they are a highly specialized item, even more than jackets or pants, fitting them precisely is crucial. By buying the right ski boot you're not cramping or confining your children's feet, allowing them to have a maximum amount of fun and control when they ski.
Q: How To Know That The Boots Fit Properly?
A:
To ensure that your kid's boots fit properly, these are the steps you should go through:
1.Remove the boot insert from the shell and have the child insert their foot into the shell
2.Move their toes toward the front of the boot. Have them flex forward slightly as if they were skiing. There should be 5/8 to 1 inch behind the heel
3.Put the liner back in the boot. If the boot feels right, the fit is good
4.Make sure to pay attention to the boot's flex rating. The more advanced the skier, the higher the flex rating
Globo Surf Overview
When equipping your child for a ski trip, choosing the best kids ski boots will be an essential part. The choice of good ski boots will allow your child to enjoy himself or herself on the snow with no worries. Choosing the best ski boots for kids is not difficult as long as you pay attention to the pointers we have you so you end up satisfied with your choice.
There is no universal pair of ski boots that will be the best for everyone. It depends on your kid's preferences and on your budget. Take your time, make your pick, and have fun on the snow!
More Snow Ski Gear Reviews:
More Boots Reviews