OUR TOP PICK

---

EDITORS CHOICE

---

BEST VALUE

---
With all the action-packed fun that happens on snowy slopes, one cannot afford to not capture the memories you make while skiing and snowboarding. To do this, a camera fit for the fast-moving on-the-go outdoors is what you need, and you should make sure it has all the right features.
These features should not only allow you to capture an accurate representation of your skiing or snowboarding experience but to be able to survive the tough and extreme conditions of the cold outdoors environment. Below are the 10 best cameras for skiing in 2023 to get you all geared up and set for your next adventure on the snow.
How To Choose The Best Camera For Skiing – Buying Guide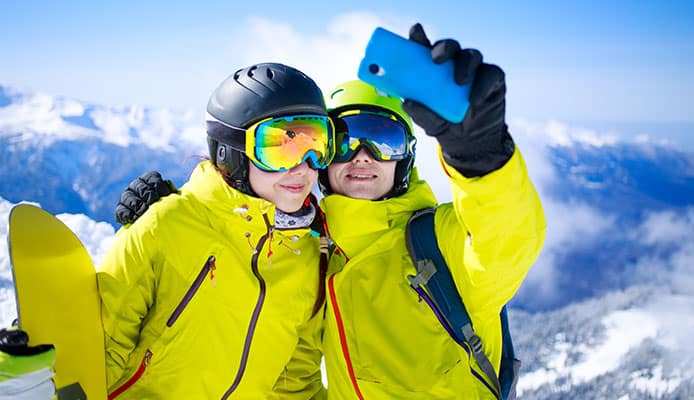 Resolution
The resolution of an image tells you how many pixels make up that image. This will also be the number of megapixels (1 megapixel = 1 million pixels) that are present on your camera's sensor, and that is charged with gathering light. A higher resolution will mean that the camera can capture more details in the shot, but this will come at the expense of processing power and storage space. Keep in mind though that for internet viewing even just 4 megapixels are more than enough for an image to look sharp and precise on a computer screen. More resolution can always come in handy, you just need to accommodate for it when you go shopping for memory cards and hard drives.
Battery
Battery life is also a crucial factor for cameras for skiing. The best ski cameras or snowboarding cameras should have a battery life of at least 4 – 6 hours (with at least 3 hours of recording time and 3 hours of photo capturing) to sustain through the activities.
If you are headed out to the wilderness for overnight camping or a long day of backcountry skiing, it's a good idea to carry an extra battery for your camera or a USB charger so you can easily charge your camera, if it supports this feature, with any portable charger – be it a hand warmer or power bank.
Mount
A mountable ski camera provides a hands-free function and makes an excellent ski helmet camera. For the adventure junkie outdoor enthusiast, this is a feature one should pay attention to. Go for a camera that is easily mountable such as the GoPro series, a camera that comes with mountable equipment, or one that is built to accommodate mounting equipment.
Focus on the housing material and engineering to know how strong your camera is and if it can withstand the harsh outdoor conditions. Cameras designed to be mounted thus can be used for extreme sports such as snowboarding and skiing will often feature durable qualities such as tough construction and the ability to work in wet and extremely cold weather.
Size
The best ski camera will feature a sleek, compact, and portable size – you don't want to fumble with a camera the size of a brick or haul it on your head whilst trying to maintain your balance skiing downhill.  Top-rated ski cameras will be small-sized and weigh as low as 10 ounces and below, however, they will still maintain their high-quality features and deliver good image quality.
Portability
Portability goes hand in hand with size. The more extreme the sport, the more portable you want your camera to be – whether handheld or mounted. But if your camera is mountable especially on gear such as your ski helmet, you want it to be as portable as possible.
Some of the best ski cameras offer quality as good as DSLR cameras but will maintain portability to save space, time and provide safety, so you don't have to struggle with lens changing or carrying bulky equipment.
Stabilization
Always look for ski cameras that offer stabilization features. Stabilization features will ensure your videos and still-pictures maintain the same authentic and non-distorted effect even when in movement or high- speed, and trust me when skiing or snowboarding you will always be in these conditions. Some cameras will even feature Apps that edit videos to remove any shaky details so it's as accurate as can be.
Some action cameras for skiing will boast slow-motion functions to creatively capture that skilled turn and maneuver you make when backcountry skiing or the super high-jump you complete before jumping into the ocean, all without compromising on quality.
You might also like:  Ski And Snowboard Waxes
Wide Angle
When you are skiing or snowboarding in the mountains you need to be able to capture the whole majestic landscape that surrounds you, so you need to be sure that your action camera has a wide enough field of view. Look for lenses whose focal distance is very short, such as 10, 16, or 24 millimeters and you will be fine. Some cameras can even go wider than that, which distorts the image somewhat, but allows you to capture as much landscape as you can while reducing the effects of camera shake.
Video And Photo Resolution
This takes us back to the resolution point I made above, simply look at your camera's specifications. A camera that features a 4k chipset is a good start. A little lesson of what a 4k chipset means is the camera can record videos in which each frame is a 3840 x 2160 pixel image. 4k resolution means that the camera will provide a record of four times as much information per frame as it does in Full HD mode, which has a resolution of 1920 x 1080 pixels.
4K footage will look crispier and sharper on your screen, but again requires more processing power, storage space, and a 4K screen to truly enjoy it. There are many situations in which sticking with 1080p will work just fine.
For the quality of your photos, I can't emphasize enough that you go for a camera with 16mega megapixels and above. You also have to pair good lenses and sensors for an improved quality image.  Think of it this way, if you have a camera with not-so-good lenses or poor working sensors but with a high megapixel, the quality of your images will not be so good.
Additionally, cameras that come with added modes and functions such as sensors and recognition modes will add more function to the quality and clarity of your photos. Cameras with sensors also feature integrated systems such as an auto-focus system that help improve the quality of photos and enhance their ability to produce similarly high-quality images even from low-light conditions.
FAQs
Q: What Are The Benefits Of Using A Ski Camera?
A:
A ski camera will be designed specifically to be used in a rough and cold outdoor environment, so it will have an extra durable build to be able to stand up to these conditions. Furthermore, they are usually equipped with excellent image stabilization to compensate for the bumps that you will encounter on the slopes and still let you come away with good video footage.
Q: Where Can I Mount My Camera?
A:
Depending on the sport and activity, there are several places you can mount your camera on. The most common one for skiing and snowboarding is on your helmet, you just have to make sure that your camera is made to be mountable and that you have all the gear you need to attach it in place.
Q: What Are The Benefits Of Using A Ski Camera?
A:
The benefit of having a ski camera is that you can usually concentrate on skiing and just forget about it after you press record. Since they are small and portable you'll soon forget you have one, but you'll end up with great-looking photos and videos to show off at the end of the day.
Q: How To Use Ski Camera?
A:
Simply mount (or hold) your camera preset the functions you want and let the camera capture the moments. A good ski camera will offer a shutter speed of up to 1/1000th of a second so it can caption even fast action without issues. A ski camera is used to capture the moments during an adrenaline-yielded and fun-packed activity such as skiing, snowboarding, kayaking, skydiving, and many more. It records footage or captures a still picture whilst you are immersed in your activity. Top-rated cameras for skiing come with fully functional features that let you focus on the activity. These features include mountability (thus, hands-free), minimal required settings, and preparations so that when you are mid-action you don't have to stop to click for the shot or adjust the zooming button.
Globosurf Overview
Having the best camera for skiing will let you make some great memories of your adventures on the slopes. The cameras for skiing reviews above point out the key factors to focus on as you debate which one to choose. The listed ski cameras above are to be reckoned with and if you follow the guide provided; you are bound to go for one of the options listed. So take your pick and keep documenting your accomplishments, because these little bad boys will last you a while!
More Snow Ski Gear Reviews: