OUR TOP PICK

---

EDITORS CHOICE

---

BEST VALUE

---
While most people will think about whizzing down a snowy slope when you mention skiing, you can actually use skis to go the other way too. Uphill skiing, the first stage of backcountry skiing or ski touring, also known as off-piste skiing, has been growing in popularity with more and more people taking on the challenge. And it's not hard to understand how sliding down a mountain is much more rewarding if you've worked your way up it.
This wouldn't be possible, however, without ski bindings that allow your heel to move freely when you have to climb and keep it stable when you're skiing back down. This is why we have compiled reviews of the best backcountry ski bindings you can buy. Bindings along with skins are the elements that most define ski touring, so join us as we explain how to make up your mind on what's best to take with you.
OUR TOP PICK
Marker Baron 13 Backcountry
See Customer Owner Feedback >>
Stand Out Features - Why We Love It

Extra wide connection to skis for stability

Extended power frame for power boost

Two climbing aid positions
Weight per pair: 2750g
Size range: Small 265-325mm, Large 305-365mm
Stand height: 36mm
EDITORS CHOICE
Marker Griffon 13 Backcountry
See Customer Owner Feedback >>
Stand Out Features - Why We Love It

Innovative toe system

Extremely durable

Adjustable for touring and alpine skiing
Weight per pair: 2032g
DIN/ISO range: 4-13
Stand height: 22mm
BEST VALUE
Marker Alpinist 12 Backcountry
See Customer Owner Feedback >>
Stand Out Features - Why We Love It

Very lightweight yet durable

Smooth downhill experience

Excellent heel design
Weight per pair: 780g
DIN/ISO range: 6-12
Skier weight: 40-110 kg
How To Choose Backcountry Ski Bindings – Buying Guide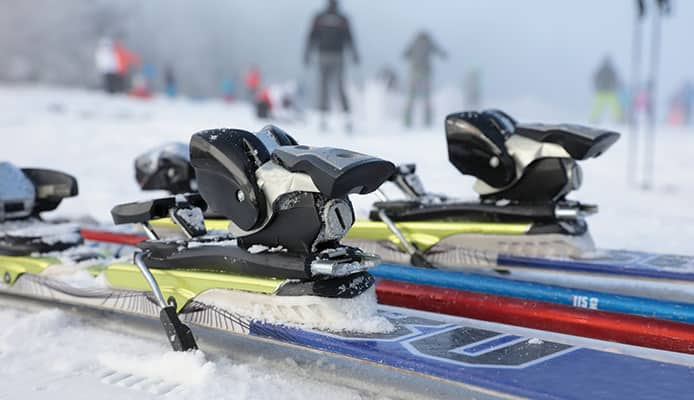 Weight
The weight of your alpine touring bindings will greatly depend on which type of binding you decide to use. Tech bindings, made of two separate parts with pins holding in your toe in the front and a separate heel piece in the back, will be more lightweight since they are made up of fewer pieces. Frame bindings, on the other hand, feature a one piece metal structure similar to downhill ski bindings that connects toe and heel. The whole frame can be fastened to the skis when you are going downhill or left free to slide back and forth when going uphill. This results in a studier but heavier setup, which some skiers might prefer. In the end, it will be up to your own personal preference, habit and comfort when you have to choose which system to go with. A heavier setup will resemble more closely a downhill ski and is recommended for more aggressive skiers. The flipside is the increased effort you need to put in going up the hill in the first place. A lighter combination will let you ascend with ease but will not provide you with the same robustness for the downhill part. This can also be more suited to people wanting to mix touring with lift-served skiing. In any case, the best touring ski bindings will give you enough confidence to take on even the harshest mountain.
Material
Modern ski touring bindings are made of the latest and greatest high-tech materials, designed to withstand a great amount of force without influencing their performance. Gone are the days of heavy, wooden skis, plastic polymers now reign undisputed providing greater toughness for less weight. In the case of backcountry bindings, your skill level will guide you towards the correct pair to choose. The higher your skill the more likely it is that you will be putting your skis through rough terrain and therefore apply greater than average forces on them. The best backcountry ski bindings will be made of higher grade materials that are able to sustain these higher stresses. This usually reflects on the price they are sold at, but if you need the absolute best you're aware that it doesn't make sense to save money on such a crucial piece of equipment.
Durability
Despite the fact that the best touring ski bindings are built to last, as we have said earlier, they are also the piece of gear that is the most important to regularly replace. Bindings play a crucial role in guaranteeing your safety while on skis, so if they are worn out this precious ability significantly decreases. The large number of moving pieces that compose them only increase the chance of something coming loose, and regular and careful inspections are in order. So much so, that each season a list of "indemnified bindings" is released to signal which models should not be used anymore, depending on the year of their production. Be sure to visually inspect your AT bindings for any sign of wear and tear which might reduce the binding's grip and make them likely to release your boots at the wrong time. In case of doubt, take them to a professional to test their torque and see if it still lives up to the industry standards. In any case, keeping your bindings clean will go a long way in preventing their integrity.
Compatibility
Unfortunately, alpine touring frame bindings are not universally compatible with all ski boots. The illusion of creating a product that fits all has long tormented manufacturers, but the truth is that it is simply not possible to make a binding that is usable in every possible scenario you can think of. If you have a tech frame, you will need specific boots to match. Frame bindings are a little more forgiving and can work in combination with most types of ski boots. However, both tech and frame bindings can be mounted on vastly different types of skis, so when you're planning your backcountry adventure you can select the skis that suit you the best and be confident you will be able to attach the correct bindings. In case of doubt, it is always advised to consult with a technician that will be up to date with the latest ISO standards that the bindings have to conform to.
Value
When confronted with the need to purchase a piece of outdoors equipment, price can often be a significant turn down of your high hopes and expectations. When this happens, however, ask yourself a simple question: how much are my head or my legs worth? The answer will show you how crucial it is to invest in good equipment that will deliver the confidence you need to head outside. Luckily for users that are most concerned about the budget, there are a few options out there that will not weight too much on your pockets. In any case, do not trust any option that comes at a price that sounds too good to be true, because it probably is and can endanger your health. Used skis and bindings also need to be treated with some degree of scepticism for the reasons we have explained right above, so if you come across some be sure to bring them to a technician who is capable of evaluating just how much they are really worth.
You might also like: Perfect Women Ski Boots 
Fit And Size
The size of your ski bindings will match the corresponding size of your feet, but the part you have to pay the most attention to are the brakes. The width of the brakes will depend on the waist of your skis and the general rule of thumb is to choose a brake width no more than 15mm wider than your skis. Going over that might leads your brakes to touch the ground and drag while you are leaning for a turn, definitely a less than desirable outcome. As far as fit is concerned, you obviously need to make sure that the bindings are at the correct distance to fit your boot. As usual, trying on and testing your gear before heading out is the way to go to find any possible weak spots in the whole setup. One more detail to which it is crucial to pay attention is the amount of force required to free your toe. This depends on your DIN setting, which can be adjusted. A higher DIN setting is recommended for more experienced skiers that will put their gear through tougher times and will, therefore, need the skis to stay attached even under great stress. Lower DINs are best suited to beginner skiers to avoid that your foot stays glued to the ski even in case of a simple fall in a resort, putting your joints at risk.
FAQs
Q: Are All Ski Boots Compatible With All Bindings?
A:
Unfortunately not. While it would be without a doubt be a wonderful time saver to be able to just throw on the first pair of ski boots you find and head out, it is simply not possible to use any kind of boot with any kind of binding. Even the best backcountry ski bindings won't do you any good if you're wearing the wrong boot. The main difference, unless you venture into cross country skiing territory, will be in the sole shape. The sole of alpine skis is defined by the ISO 5355 or ISO 9462 standards. Backcountry boots, on the other hand, use a sole shape defined by the ISO 9523 standard and, unfortunately, the two are not alike. To complicate things even further, cross country ski boots and bindings have a completely different design since the heel is not clipped into the binding and there are two more backcountry soles, WTR and GripWalk which have their own list of compatible bindings. Furthermore, this list changes every year, so when you're making your decision be careful to pay extra attention to the compatibility of the bindings you are buying, or refer to a trusty technician for any doubt in the matter. It's better to lose more time when you're warm and dry than to try and deal with problems when you're out in the snow and you just want to have a good time.
Q: What Are Backcountry Bindings?
A:
Backcountry bindings are the piece of gear that keeps your feet attached to your skis when you're going backcountry skiing. Backcountry skiing, also referred to as ski touring, involves strapping specifically designed skins under your skis to allow them to have enough traction to go uphill. Once you've reached the top of the mountain you're climbing, you can then remove the skins to turn your skis back into "normal", downhill ones, and then slide all the way back down again. Backcountry bindings are of two different types. "Tech" bindings are made of two separate parts, one for the toe and one for the heel. The toe part holds your boot down with pins, while the heel can be rotated so it can be used as a regular heel clamp for when you're going downhill or as a support for when you're going uphill, providing your feet with a strong point to push on for leverage. The other option is "frame" bindings, which resemble alpine bindings very closely, with the only difference that the whole frame is detachable from the binding base to provide the freedom of movement that is required for ascending slopes. Both systems work well, and the choice between the two is often just a matter of personal preference. For some considerations about weight, check out our buying guide above for a more detailed explanation.
Q: Can I Adjust My Ski Bindings?
A:
All ski bindings come with a certain degree of adjustability, and have to be customized to fit your size, weight, boot sole length and skill level before you hit the slopes. We strongly recommend entrusting this step to an experienced technician and not attempting to do it yourself unless you are 100% sure of what you are doing and possess all the tools for the job. Another thing you can change about your bindings is the position you decide to mount them in on your skis. Your decision will depend on the kind of skiing you want to do, since bindings mounted further back deliver more stability and float, while attaching them a little closer to the front will give you the ability to make quicker turns and control them more precisely. This is entirely up to you but again, be sure to give the job to somebody who knows what they are doing before attempting anything too risky. Also, don't exceed with adjustments, even if you can. Twisting and turning too much will make your bindings go too far away from their original working conditions, exposing you to the risk of equipment failure.
Globo Surf Overview
The backcountry ski bindings reviews we have compiled in this article are meant to give you some insight into what it takes to successfully attempt a ski touring excursion. The options on the market are many and often confusing since it is easy to get lost between names, letters, numbers and sizes that crisscross and overlap in front of your eyes, but making a wrong choice can be risky both for your wallet and for your health. Following our guidelines, it should now be easy to identify which are the best backcountry ski bindings for you. Once you've figured this out, be sure to check out our other reviews regarding backcountry gear or training, so you can find out everything there is to know about this exciting and rewarding sport and head out on the slopes with the confidence of having all the equipment to get the job done.
More Snow Ski Gear Reviews: