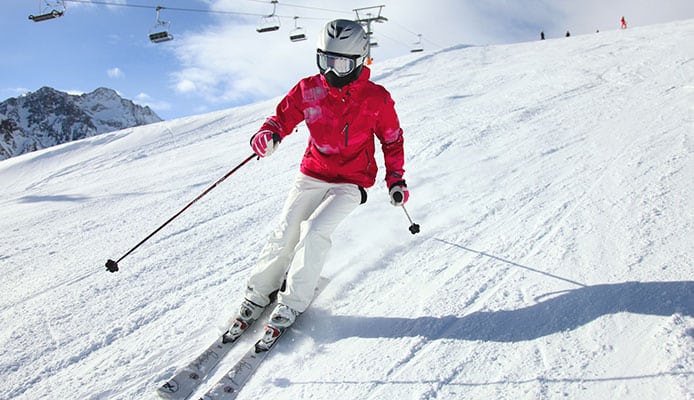 OUR TOP PICK

---

EDITORS CHOICE

---

BEST VALUE

---
Choosing the right ski jacket is all about managing the conditions that you might encounter while skiing. Just as ski pants are important for protecting your lower body from nature, ski jackets are covering the upper part of your body. Women's ski jackets have way more functions than the utility ones – they need to be pretty, as well. This is why looking for a design that combines style and functionality is crucial.
Modern women's ski jackets have tons of advanced tech and style. Therefore, it can be quite a difficult task to choose top rated ski jackets for women among so many options. The following lists consist of the best ski jackets for women according to several women's ski jackets reviews.
How To Choose A Women's Ski Jacket – Buying Guide
With such a wide array of options, finding the best women's jackets can be an endeavor in itself. All in all, you will need a jacket that will keep you warm, dry, and functioning well all day on the slopes. Style is also a factor that should not be forgotten. There are some key factors that you need to pay attention to when choosing a women's ski jacket for you. Make sure to read our entire buying guide to know what to look for when selecting a women's ski jacket.
Type
Women's ski jackets can be generalized into three main types – hardshell, softshell, and 3 in 1. The right choice depends on your skiing style and budget.
Hardshells protect you from wind and moisture. They are typically waterproof, windproof, and modestly breathable. Some are insulated and some are not. Certain hardshell women's ski jackets are more expensive than others, but a beginner skier will do just fine with an entry-level hardshell jacket.
Softshells offer unparalleled breathability. Their main problem is the lack of weather resistance. For the right use and the right conditions, softshells can be a fantastic option. Those with multiple women's ski jackets in their wardrobe have at least one softshell at their disposal.
3 in 1 women's ski jackets are becoming extremely popular for casual skiers. The main reason is the relatively cheap price. They add bulk and weight, but they are often far from the best performers. Nevertheless, for the budget seeker that only goes to the slopes a couple of times a year, a 3 in 1 will do just fine.
Fit
Just like ski pants, women's ski jackets come in 3 main fits – regular, slim, and loose fit. Slim fit ones fit very tight at the shoulders, waist, and back. They look modern and fashionable, and skiers often wear them in their casual days too. Since they are tighter, they often contribute to aerodynamics, making you ski faster through the slopes.
Loose-fitting women's ski jackets, just as the name says, fit very loosely around the shoulders, waist, and arms. They are designed to give the skier comfort, flexibility, and a wide range of motion. If you like skiing with very high intensity, then a loose fit jacket is the right choice for you.
Regular fit women's ski jackets fit neither too tight nor too loose. They have the best of both worlds, giving the skier some comfort, but also looking modern and fashionable. They are more versatile and adjustable.
Waterproofness
Waterproofness determines how fast the jacket will get wet. Top-quality materials such as Hyvent, Gore-Tex, and Event can have amazing ratings, around 30,000mm. These are good waterproofing properties, which explains why they are more expensive.
Today, a vast majority of the best women's ski jackets are waterproof. Among waterproof options, it's recommended that you spend slightly more since you are purchasing durability and a long lifespan. These waterproof fabrics which are slightly more expensive are not quite prone to deteriorating.
Breathability
This is measured in grams and it refers to how a ski jacket will transfer heat and vapor from the inside to the outside of the jacket, rather than retaining the warmth. Cotton and nylon materials are some of the best choices when it comes to breathability, however, the challenge is making them waterproof.
Most skiers believe that opening your zippers and venting will be enough to cool you down. This is often not the case, and it is exactly why breathability is such a sought after feature. Generally speaking, the more insulated the shell fabric, the less breathable the jacket. So if you're looking for a women's ski coat with top-notch breathability, look for uninsulated options.
Seams
A seam can either be fully taped or critically taped. Fully taped seams mean that all of the seams in the jacket have been taped for waterproofing, while critically taped means that only a part of the seams has been taped for waterproofing.
Length
Depending on your preferences, you have multiple options when it comes to ski jacket length. You can choose a cropped jacket whose hem sits about your waist, hip, thigh, or knee. You could even choose full length if you'd like to. When having an active day you will need a shorter jacket, just for the added flexibility and motion. The longer options are great for extremely cold conditions as they keep you warm and dry.
You might also like: Ski Gloves
Pockets
If you often need quick access to your items, then having a ski jacket with a lot of pocket options will certainly do you a big favor. Sometimes, with enough pockets in your jacket and pants, you won't even need a backpack at all. Certain modern women's ski products come with serious features like zippered waterproof electronic pockets.
Make sure to choose a jacket that has at least one zippered pocket at the chest. This pocket is great for stashing small items, such as your phone, camera, or wallet. To ensure that your electronics are protected, it is best to put them in the interior of the jacket so everything functions properly.
Features
There are other important factors to look at when searching for top-rated ski jackets. You should look if you need an adjustable hood or a removable one to protect your head and neck from the elements of weather, wrist gaiters attached to the inside or outside of the sleeve cuff of the jacket, zip vents found under the arm which is used for ventilation, a cinch cord that is used for fastening your ski pants, wrist closures to prevent cold air from penetrating your arms through the sleeves. Finally, you can also look for women's ski jackets with a front zipper cover to prevent moisture from entering deep.
Insulation
Since warmth is a number one factor for many skiers, a vast majority of them opt for hardshell women's ski jackets with insulation. You can choose between two insulated options: down vs. synthetic. Down insulation gives you top-class warmth with little to no bulk, while the synthetic option is usually cheaper and more durable.
Insulated women's ski jackets add a little more bulk and weight, and they limit the range of motion more than classical layering. Those that often feel cold should always opt for insulated ski jackets. Otherwise, it's not necessary, since they are heavier and bulkier than uninsulated women's ski jackets. A jacket loses a lot of points in versatility if it's insulated. There are very few situations outside of arctic conditions where insulated shells have an advantage over uninsulated shells with layering systems. Only consider them in extremely cold conditions.
Related Review: Insulated Jacket
Weight
If you have already decided on one of the best winter jackets for you, you should not give too much thought to its weight. As long as you're comfortable, carrying around a few extra ounces will go unnoticed. More often than not, cheaper women's ski jackets use less advanced fabrics by using more of it, making for thicker and more durable shells. This is why they might appear a little heavier, while the more expensive products are usually more lightweight.
Venting
When looking for a jacket to buy, make sure to check for pit zips. Pit zips are armpit zippers that you can open and close to allow fresh, cool, mountain air to breeze away from your heat as you sweat while skiing. When things get quite nasty, just open them and you will cool down more easily. Pit zips are a cheaper cooling option than breathable materials during these strenuous activities. Makers of women's ski jackets often include a couple of smaller chest vents hidden on the inside that can be opened and closed to manage temperatures easily.
Hoods
As the years have passed, skiers have been using ski jacket hoods less and less. Today, they are used just to collect snow. Professionals have stopped using ski jacket hoods altogether for years now. This is because quality helmets not only protect your skull from potential injury but also remove the snow off of you. When not used, hoods tend to fill up with snow. This snow will accidentally fall down your neck and will leave you cold, wet, and upset. So look for women's ski jackets without hoods, or with removable hoods if you're wearing a helmet.
FAQs
Q: Should I Buy A Size Larger Than Usual?
A:
Looking through a practical perspective, one size larger jacket than usual is probably better. Warm air is better "trapped" and keeps your body insulated. Also, tighter jackets reduce comfort and motion.
Q: What's The Best Color For a Ski Jacket?
A:
Globally speaking, the color of the jacket is not that important. It is recommended however that you wear a color that is visually distinct and can easily be seen from afar. Something that draws attention to the human eye.
One-color that you should avoid at all costs is white. Imagine wearing white pants with a white jacket, and you are lost in the snow – no one will ever see you. That's probably how military units camouflage themselves in the snowy mountains.
Q: Are Fur Collars And Hoods Really Worth Having On A Ski Jacket?
A:
One might think that wearing a fur hood might keep snow out of your eyes, but it instantly becomes useless when you realize that you will probably be wearing a helmet and goggles anyway.
Q: Where's The Best Spot To Keep Your Phone Or MP3 Player
A:
The cold & wet weather is quite harsh on all electronics. For that reason, it is recommended to keep your electronic devices in the inside pocket of the jacket. Also, batteries die extremely quickly in cold weather, don't forget that.
Q: Is Gore-Tex The Best Material For A Ski Jacket?
A:
Today, many other brands exist that are doing just as good of a job as Gore-Tex. Other in-house versions of waterproof breathable membrane materials include Hyvent, Event, and other brands too. You should not feel stuck with Gore-Tex if you can find the same quality for a lower price.
Globo Surf Overview
In conclusion, it may not be an easy task sorting through the wide array of women's jackets brands just to find the one that will satisfy your needs. This buying guide will help you narrow down your options and save yourself quite some time. Women can be picky when it comes to selection, and fortunately, the best ski jackets for women are never far off.
More Snow Ski Gear Reviews:
More Jacket Reviews: