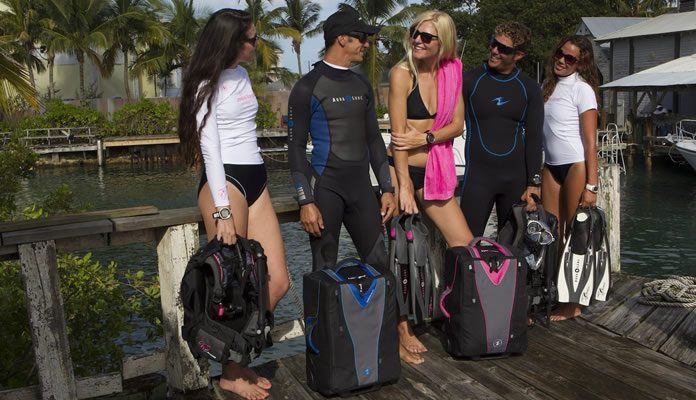 Y
ou spent a lot of money on your scuba gear so it is important to keep it safe while transporting it. That is why you need the best dive bag to transport your cargo. You will want a bag that is big enough to fit all of your gear inside but still easy to carry.
In an effort to get you the best scuba gear bag we have compiled a list of our top picks below.
QUICK ANSWER: THE BEST DIVE BAGS
The Best 10 Dive Bags Are…. Let's Review!
[table id=1 /]
Mares Cruise Mesh Backpack Deluxe

Check Price Now
This mesh PVC scuba bag is great for handling all your water gear. A thick material lies against your back ensuring you do not get wet. A lateral zipper makes getting to your gear even easier. Padded straps make it comfortable against your shoulders. A separate zipped case on the front of the bag keeps your personal gear safe.
Materials: PVC, nylon, and polyester
Size: 29" x 17" x 16"
What makes this bag stand out:
Lateral zipper
Separate zipped area
Mares Cruise Mesh Duffle Bag
Similar to the backpack above, this bag is a duffle bag and has handheld straps rather than the shoulder straps. This bag is great as the light mesh material dries fast and makes it easy to hose off your gear. No need to fear about the bags integrity, the mesh used on this bag is incredibly durable. The large size of the bag allows you to fit all your gear, even long fins.
Materials: 600 Denier, PVC
Size: 37.5" x 14.25" x 14.5"
What makes this bag stand out:
New ScubaMax Dive Flag Mesh Duffel Bag
This stylish duffel is sided with dive flag mesh for a unique look. A large front mesh pocket has a secure velcro closing which allows you to safely store keys and other important items. Constructed using durable PVC coated mesh this bag is built to last. With heavy duty PK Delrin zippers you can be assured that your gear is stored safely.
Materials: Small hole PVC coated mesh
Size: 30″x16″
What makes this bag stand out:
Front mesh pocket
Dive flag design
Mesh Duffel Gear Bag with Shoulder Strap for Scuba Diving
Haul your dive luggage around in this lightweight duffel bag that has a shoulder bag for easy transport. The mesh material allows you to easily rinse off all your gear while inside the bag to remove salt and sand. The breathable design allows your gear to air dry freely and the bag itself is fast drying as well. Coming with an additional small pocket that is separate which allows you to store your camera and sunscreen separately. The mesh is so durable this bag even comes with a two year warranty.
Materials: Nylon, mesh
Size: 30" x 13" x 13
What makes this bag stand out:
Two year warranty
Multiple pockets
Scubapro Caravan SCUBA Gear Bag
This bag is your ideal large travel gear bag. With rolling wheels and a telescoping pull handle carrying this bag is easy. Ideal for flights or other long distance travel, this bags large size will safely get your gear where you need to go. Large straps allow this bag to be carried as a duffel as well.
Materials: 420 Denier nylon, 150 Denier polyester liner
Size: 22" x 26" x 16"
What makes this bag stand out:
High quality zipper
Wheels with telescoping handle
Meister Mesh Duffel Backpack Dive Bag w/ Dry Pocket

The meister duffle bag is a perfect way to transport your gear and personal items. A dry pocket ensures your most valuable items stay dry even if your bag takes a swim. The large strap can be used as a shoulder sling or as a backpack. It is fully adjustable for any sized person ensuring it is a comfortable journey. Instead of the normal mesh this bag uses a specially designed ultra durable version.
Materials: Chain mesh
Size: 29" x 15" x 15"
What makes this bag stand out:
Dry pocket
Versatile strap
PROMATE Backpack Style Bag
This bag is a traditional backpack style carrier. It has a medium compartment but is bolstered by its many outer compartments. Featuring a bungee system means you can add an extra bag or a jacket for easy access. The straps are adjustable and comfortable. This is an all around excellent option for any avid diver.
Materials: #10 YKK zipper, 600 Denier nylon
Size: 20" x 10" x 3"
What makes this bag stand out:
Many easy to access compartments
Bungee system
Cressi Vuelo 6.2lbs (2.8kg) Travel Bag
A set of wheels and an extendable handle make this Cressi Vuelo travel bag is top of the line. The high quality material coupled with a well thought out compartment system ensures this bag will last for years and make your life easier. It has a compact, lightweight design that gives you the maximum amount of storage.
Materials: 300/400 Denier Nylon, YKK Zippers
Size: 20.5" x 14" x 9"
What makes this bag stand out:
Ivation Snorkel & Dive Gear Backpack

Coming in three different colors this Ivation gear bag will fit your style. It has a lightweight design that is specifically shaped to fit your fins. A single strap is perfect to sling over your shoulder to transport to the beach. Scuba backpack reviews agree this is a top pick for snorkelling.
Materials: PVC Coated Mesh & Nylon
Size: 29" x 11" x 17"
What makes this bag stand out:
Multiple pockets
High quality zippers
SDI Sport Gym Mesh Roll Bag
An adjustable shoulder strap makes this mesh bag easy to carry. A heavy duty mesh design allows this bag to carry all your gear with ease. The mesh makes rinsing your gear even easier while being fast drying to avoid any mildew smells. A separate small zippered pocket holds your keys and wallet easily.
Materials: 600D polyester with heavy vinyl
Size: 20" x 10.5" x 10.5"
What makes this bag stand out:
Separate zippered pocket
Adjustable straps
Globo Surf Overview
Since you have a lot of gear it's important to opt for the top scuba diving travel bags to keep your gear safe. The bags on our list are big enough to fit all your gear while also being comfortable enough for everyday use.
Dive with any of the scuba luggage on our list? Let us know how you like it in the comment section below.
You May Also Like
10 Best Dive Compass
10 Best Dive Watches
10 Best Dive Regulators
5 Best SMB for Scuba Diving
Last Update on the 8th of March 2017
New to scuba diving or have a scuba destination on our list? Let us know how you like it in the comment section below.