See Customer Owner Feedback >>
Ah, summertime! The best time of the year, especially for those who love water sports and the great outdoors. Summers aren't complete without long days tanning at the beach, splashing in the water, and exploring nature. However, it's not all sun and games! The strong summer sun makes it easier to burn, get dehydrated, or even get sunstroke. In order to help you beat the heat and avoid a dangerous sunburn, you will need the best portable beach umbrella. This will allow you to enjoy the sunshine while staying comfortable and safe all summer long.
The best beach umbrella should be light and compact so that you can bring it with you. It should also offer a wide protective area that you and your family can comfortably fit underneath.
How To Choose The Best Beach Umbrella – Buying Guide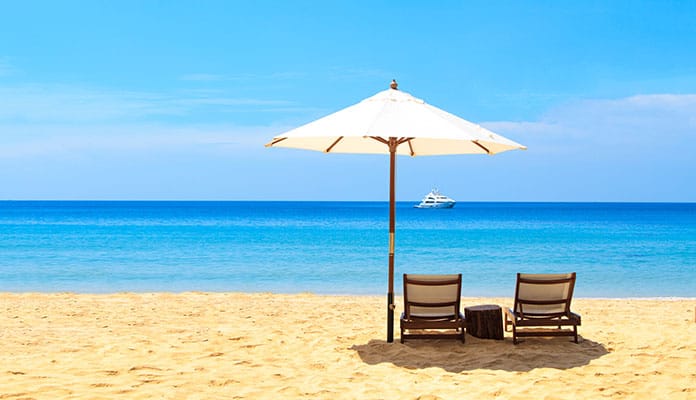 Weatherproof
This doesn't just mean wind and waterproof. Finding an umbrella where the pole and ribbing are steel coated to protect against rust forming will greatly extend the lifespan of your umbrella. This feature makes them a great option for use near the ocean or for everyday use where it will have prolonged exposure to the elements.
Some beach umbrellas do this with a special coating. This can be a special spray that ensures the umbrella doesn't rust while also making it wind and waterproof. Other companies do this by powder coating the pole. This is a special way of painting which also makes it resistant to dents and dings.
UPF Rating
This is an important aspect to look at when it comes to protection. Ultimately, this is why you are getting a beach umbrella. The UPF rating stands for Ultraviolet Protection Factor. This ranges from 15 to 50+. A rating from 15-24 is classified as good. It blocks out between 93-95% of the UV radiation from the sun. A 25 to 39 UPF rating is very good and blocks 96 to 97% of the UV rays. The best rating is 40-50+ and ensures that you are blocking 97.5 to 98+ of the UV radiation.
Even though all of these percentages are high they can play a large role over a long period of time. For example, you may still experience sunburn with a beach umbrella that has a rating of 18 UPF (blocks between 94-95% of the UV rays). We strongly recommend beach umbrellas with a UPF rating of no less than 40. This will ensure that your skin is protected. A rating of 50+ is the best and should be the highest on your list.
Portability
It is important to only look at portable umbrellas for the beach. Having an umbrella that is lightweight is incredibly important. It should be easy to set up with only one person. This will make for a day at the beach that is much more enjoyable. When looking at the portability of your umbrella be sure to pay attention to the size of the umbrella when collapsed. This will show you how easy it will be to pack in your car. Be sure to look for an umbrella that comes with a travel bag. This will make it easier to transport back and forth.
FAQs
Q: How Do I Know How Big The Carrying Case Will Be?
A:
The size of the case will be directly related to the size of the poles, though this is not always a good indicator of how big the case will be. If the poles do not telescope, then the case will be as big as the poles are. If the poles do telescope, then the case will be smaller. If you look at the size of the material itself, a beach umbrella will generally fold down to a length which is equal to the radius of the material on the umbrella. You can take into account the saw of the poles and the radius of the top of the umbrella to estimate the size of the case.
Q: Does The Umbrella Come With Anchors Or Will I Have To Purchase Them Separately?
A:
This depends on the type of umbrella which you purchase. Some will come with their own anchors while others will not. When you are on the beach, you want your umbrella to stay upright, and anchors are a good way of ensuring this. Some umbrellas will rely on you planting the stem of the umbrella deep into the ground. This will keep the umbrella upright. Other umbrellas use an anchoring system to keep the umbrella upright. We recommend using anchors over planting the stem of the umbrella. This gives you a better chance of the umbrella staying in place, especially in adverse conditions.
If you can find an umbrella which comes with its own anchoring system, then it is going to save you the hassle of purchasing an anchoring system separately. This also helps to ensure that the anchoring system fits with the umbrella you have. If you have to buy an anchoring system separately, then we would recommend buying one from the same company so that you know it will fit with the umbrella. If you cannot find one that is made by the same company, then try to purchase one which is made of high-quality materials over a cheap one.
An anchoring system is the best way of keeping your umbrella in an upright position.
Q: Can My Beach Umbrella Double As A Patio Umbrella?
A:
Most umbrellas can, though this depends a lot on the type of umbrella you have. Most patio umbrellas have a base which the pole fits into. The patio umbrella is usually fed through a hole in a patio table to fit into this base. The main problem you will find with using a beach umbrella is that they may have too thick a pole to fit through the table and into the base. If your beach umbrella does fit through the hole and into the base, then feel free to use it.
Other things to consider are the color and the wear and tear. You will often find that a beach umbrella is more brightly colored than a patio umbrella. The umbrella may not match your color scheme, but this is not too big of a deal. If you do use a beach umbrella on your patio or deck, then it is going to be exposed to the elements a lot more than if you were just taking the umbrella to the beach. You should think about how much wear and tear you want the umbral to come under. You may not want to use it for your trip to the beach if it is not looking a great as it usually does.
Q: How Do I Clean A Beach Umbrella?
A:
A beach umbrella is not something which you can throw in the washing machine to get it clean, but it is something which you should clean after your trip o the beach. Your umbrella will be exposed to sand and often saltwater. You do not want the salt to sit on your umbrella, and you will want to remove the sand from it too.
When you get home after your trip to the beach, you should first shake off your umbrella to remove that larger debris such as sand. You can also use a soft-bristled brush, if you wish, to better remove the sand.
Mix up some laundry detergent with warm water (1/4 cups to a gallon). Use a soft brush or sponge to apply the mixture to the umbrella and remove the dirt and salt. Once it has absorbed into the fabric, leave it to sit for 15 minutes. Rinse off the detergent (with a garden hose for efficiency). Let the umbrella dry in a shaded area and store until you are ready to use it again.
Globo Surf Overview
Finding the best beach umbrella doesn't have to be a complicated task. With that being said, there are many features that you should look for when purchasing one. It needs to be made from high-quality materials, protects you from the sun, and fit your style. The umbrella that excels at these three factors is the one that you should purchase. Luckily, today's market is heavily saturated with many different beach umbrella options for you to choose from. Coming in at a low price point with a focus on portability makes these even more desirable. Now all that is left to do is grab your beach chair and head towards the water.
More Beach Reviews:
Do you use one of the beach umbrellas from our list? Has it become a staple for you in the summertime? Let us know how you like it in the comment section below.
Globo Surf Beach Umbrellas Review
; ; ;
★★★★★
"
Was looking for a good umbrella to take to the beach that my whole family cant sit under. The first one you recommended does a great job at that. Love it!
"