OUR TOP PICK

---

EDITORS CHOICE

---
If you're looking for ultimate protection on sun-filled beach days, a good beach umbrella must have a place on your list. Not only does it block UV rays and prevent sunburn, but the best beach umbrella will also provide a generous shade where you can kick back and relax.
When choosing, it's important to consider the size, material quality, and how easy the umbrella is to use. In addition, it should be lightweight and easy to carry. To help you find the perfect one, this article will discuss some of the best portable beach umbrellas available, guaranteed to make your day on the beach even better.
How To Choose A Beach Umbrella – Buying Guide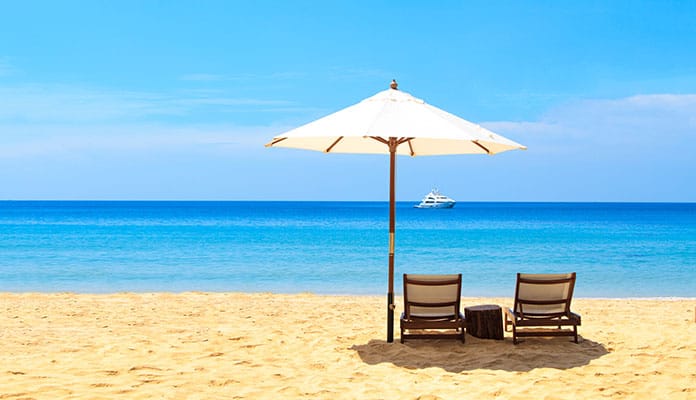 Weatherproof Design
To ensure durability, the beach umbrella you choose needs to be resistant to the weather conditions on the beach. This includes three aspects – resistance to wind, sun, and saltwater damage.
The wind is a known enemy of any type of umbrella because it can easily bend or break the ribs and make it useless. For this reason, always check the windproof rating and make sure the beach umbrella you get can easily withstand at least average wind speed.
Sun exposure will wear down any material over time. However, some are much better than others in this regard. Canopy materials should be strong and ideally have a protective coating that will slow down the deterioration.
Saltwater is perhaps the biggest enemy of the frame – if it's not protected, it will start to rust. The best option here is to look for powder-coated steel, as it shows the best rust-resistance in beach conditions. As a bonus, it's highly resistant to physical damage too (bumps and dings).
UPF Rating and Protection
Sun protection is the most important task of your umbrella, so you should pay close attention to the UPF when buying. This stands for Ultraviolet Protection Factor and shows you how good the material is at filtering out the harmful UV rays.
The best beach shade umbrellas should have UPF 50+ protection, which means that they block more than 98% of UV rays. This ensures that your skin is protected and doesn't get sunburned even during the peak hours of the day.
Portability and Ease of Use
Since you'll be hauling it to and from the beach, the umbrella you choose should be easy to pack and carry. This means that it isn't heavy or bulky, so you don't have any problems bringing it with you.
Regarding this, it's important to look at weight, size, and whether it uses a telescoping design. Steel-framed umbrellas tend to be a bit heavier but provide greater strength and durability.
Also, it's very convenient if the beach umbrella comes in several pieces because both carrying and packing are going to be easier.
FAQs
Q: How Do I Know How Big The Carrying Case Will Be?
A:
Umbrella case size will be directly related to the pole size and whether it breaks down. If you get a telescoping pole or a model that comes in two or three pieces, the case will be much smaller and easier to carry.
Luckily, most manufacturers allow you to pack the pole, meaning that the case will be roughly the same length as the canopy radius (so the folded canopy can fit).
Q: Does The Umbrella Come With Anchors Or Will I Have To Purchase Them Separately?
A:
It depends on the model you purchase – some have their own sand anchor, while others don't. We recommend that you get a beacg umbrella with a base or anchoring system, as this will save you a lot of hassle. This way, you won't need to think of ways to keep the umbrella from getting blown away.
Q: Can My Beach Umbrella Double As A Patio Umbrella?
A:
While most beach umbrellas can double as patio umbrellas, this largely depends on the model you get. Patio umbrellas use weighted bases or tables with holes to keep them in place so, to do a good job, a beach umbrella must fit in the base well.

Also, a beach umbrella generally has a smaller canopy diameter than a patio umbrella, which can be a problem if you need to shade a dining table with several chairs. Lastly, beach umbrellas are often more brightly colored, so they may not blend well in the patio décor.

Related Reviews: Patio Umbrella & Umbrella
Q: How Do I Clean A Beach Umbrella?
A:
If you take good care of it, your beach umbrella will last for a long time. Because it's exposed to sand and saltwater, it's best to clean the umbrella after every use. Here's what you should do:
Shake off the extra sand that got stuck to the surface (easier to do when the umbrella is dry)

If the sand is stubborn and stuck, you can use a soft-bristled brush to get it off

Using a cloth and clean water, wipe off the umbrella to remove salt residue from the surface

If the canopy needs scrubbing, you can mix up some laundry detergent with water, scrub it and rinse

Leave in the air to dry completely before storing it, so it doesn't get moldy inside the case.
Q: How To Set Up A Beach Umbrella?
A:
You keep it from blowing away by putting enough weight on in. This can be the weight of the sand (as described previously) or, even better, a proper base filled with either water or sand. To further improve wind-resistance, you can put your coolers and bags against the pole and add a bit more weight.
Q: Do Beach Umbrellas Block Uv Rays?
A:
Yes, all beach umbrellas block UV rays. However, the performance varies greatly from one model to the next, so you should pay attention to the UPF rating. Lower-quality models only have 15-20 UPF, while the best beach umbrellas have UPF 50+ that will give you complete protection against sunburns.
Globo Surf Overview
For proper protection from the sun, a good beach umbrella needs to be among the things you're bringing with you. The excellent beach umbrella will not only block out UV rays, but it will also be tough enough to resist wind. We hope that our guide and reviews have made your choice a bit easier, so you'll have reliable sun protection that will allow you to enjoy the beach even more.
More Beach Reviews:
More Umbrellas Reviews: