Ahh summertime, the best time of the year. Summers aren't complete without long days tanning at the beach, splashing in the water and exploring the outdoors. It is safe to say that you will be spending a lot of time outside. To help you beat the heat and avoid a dangerous sunburn you will want the best portable beach umbrella. This will allow you to enjoy the sunshine while staying comfortable and safe.
The best beach umbrella will be light and compact so that you can bring it with you. It should also offer a wide protective area that you and your family can comfortably fit underneath.
Ready to get started? Let's go.
QUICK ANSWER: THE BEST BEACH UMBRELLAS
Best Beach Umbrellas
Portable All-Weather and Sun Umbrella by Sport-Brella


Our rating

Large 8 Foot Canopy

Weatherproof Design
All-In-One Beach Umbrella System by BeachBub


Our rating

Large 7.5 Foot Design

50+ UPF protection
Sand Anchor Beach Umbrella by Tommy Bahama


Our rating

Telescoping Free Movement

100 UPF protection
Beach Umbrellas Reviews
1. Portable All-Weather and Sun Umbrella by Sport-Brella

Sport-Brella produces some of the top rated beach umbrellas on the market.  The impressive 8 foot canopy works to provide you and your family all the sun protection they will need for the summertime. Thick steel ribs help reinforce the integrity of this high-quality umbrella.
This oversized umbrella extends to the floor making a large sheltered area that protects against any type of weather. Huddle the whole family underneath for excellent wind protection. The water repellent material works to keep you protected if it starts to rain.
With safety in mind, this umbrella features 50+ UPF protection. Shielding your family from over 99.5% of harmful UVA and UVB rays this umbrella goes a step further to even have side panels for extra coverage. Wind flaps are features on the side to help you get a free flow of air which works to ventilate and keep you cool.
Side zippered windows help to increase your field of view allowing you to see through the sides of the umbrella. Weighing in at a mere 9 pounds, this umbrella-tent is the perfect option for every outdoor occasion. With a convenient carry bag, this is a great option for portability.
What makes this beach umbrella stand out:
Large 8 foot canopy
Zippered side venting
Weatherproof design
2. All-In-One Beach Umbrella System by BeachBub
This all-in-one umbrella is your best go-to umbrella. Tough enough to handle changing weather conditions this is a great option for windy climates. Designed to withstand winds of 35 mph, this umbrella is the picture of durability. The base of this umbrella features foldable pouches that can be filled with sand. This adds weight to the umbrellas and acts as an anchor helping it to withstand high winds. When full of sand, the base of this umbrella weighs 120 pounds, a stark difference from the 9 pound regular weight.
The umbrella has sturdy commercial-grade fiberglass ribs that help it to keep its shape in windy conditions. This will help you to feel secure underneath as you are fully protected from the elements.
This large umbrella sits with a 7.5 foot diameter allowing enough shade for the whole family. Easy to set up and take down this umbrella is convenient enough to do on your own. Allowing for free flow of wind means you will stay cool the whole day. Maintaining 50+ UPF sun protection you can safely stay in the sun for hours.
The carry bag included with this umbrella allows for easy transportation to and from the beach. BeachBub is so sure you will love this umbrella, they offer a 3 year protection plan. Whether you lose it or you break it, they will help you replace it.
What makes this beach umbrella stand out:
Built to withstand heavy wind
Large 7.5 foot design
50+ UPF protection
3. Sand Anchor Beach Umbrella by Tommy Bahama
This large 7 foot umbrella is a must have for a perfect day on the beach. The large design of this umbrella provides enough shade for the whole family. The telescoping feature means that you can easily adjust the umbrella to a position that best works for you. This means that you won't have to get up and move your umbrella as the sun moves but instead just push a button to get the umbrella to move for you.
The fun design of this umbrella is perfect for bringing on those beachy summer vibes. The picture of practicality, this sun umbrella features an impressive 100 UPF protection rating. This means that you will be able to safely spend the whole day in the sun. Wind vents help to keep this umbrella sturdy and staying in place perfectly.
This lightweight portable umbrella comes in at a mere 4.6 pounds. This makes it a great option to bring with to sports events, park days, barbeques or any other time you need sun protection. Unfolding in seconds means this is a great option for solo travelers who are looking for something easy to set up. The Sand Anchor Beach Umbrella perfectly blends durability with style.
What makes this beach umbrella stand out:
100 UPF protection
Lightweight design
Telescoping free movement
4. Outdoor Patio Beach Umbrella by Ammsun
Ammsun has made a high quality beach umbrella. The Outdoor Patio Beach Umbrella excels in each of the important factors of a great beach umbrella.
This umbrella uses a 210D Oxford fabric which protects against the sun's rays. The material is thick enough so that it can stand up to harsh wind while being light enough that it doesn't make it cumbersome to carry. On top of all that, the canopy includes a vent near the top. This allows air to pass through instead of ballooning which can cause it to become dislodged from the ground.
The canopy also has an aluminum undercoating. This increases its UV rating to UPF 50+ meaning your skin will not get burned. In total, the diameter of this umbrella comes in at 6.5 feet. This will allow up to 4 people to comfortably sit under it at one time. The canopy is supported by 8 reinforced steel ribs.
Since this isn't an oversized beach umbrella its pole doesn't need to be too large. Coming in at 1.26", this steel pole is strong without being too heavy. This also allows the umbrella to have an option to tilt which gives you the ability to not only shield yourself from the sun but also wind.
To top all of this off this vented beach umbrella also comes with a durable fabric carry bag. This makes trips to the beach that much easier. You don't have to worry about getting all the pieces together or the umbrella ripping when transporting it. This entire set up is a lightweight package. It only weighs just over 5 lbs.
What makes this beach umbrella stand out:
Strong and durable build quality
Lightweight design
Three styles to choose from
5. 2017 Beach Patio Heavy Duty Umbrella by Ammsun
The hollowed out floral design on top of the umbrella is unique to this umbrella. Acting as an air vent this feature allows air to freely flow through the umbrella which increases its stability. This allows it to be an excellent option for windy climates. This design does not compromise on efficiency and still offers unbeatable UV protection.
Supported by 10 steel ribs, this umbrella is built with durability in mind. Reinforcing the umbrella this sturdy design holds up against wind and allows you more use out of this umbrella. With the included carry bag this 6.3 pound umbrella can be easily transported for even more use. With a compact design, you can even store this umbrella in the trunk of your car all summer long.
The telescoping feature of this umbrella is incredibly desirable allowing you to truly maximize your lazy beach days. A simple tilt of this umbrella allows you to control your coverage. This means you will not have to move to follow your shade and instead simply tilt your umbrella.
What makes this beach umbrella stand out:
Lightweight
Telescoping for easy tilt
Hallowed floral design increases wind resistance
(Hey! You May Also Like: Best Beach Tents)
6. Portable Sun Shade Umbrella by AosKe


Check Price Now
This could be one of the best umbrellas on our list. Its feature list is extensive and it looks great. AosKe is also one of the better companies out there. They include a one year warranty on all their products, but on top of that they have a customer service that can answer any questions you have.
Coming in at 4.23 lbs., the Portable Sun Shade Umbrella is one of the lightest on our list. But don't let that fool you, light does not mean poor quality, at least in this umbrella. The canvas is made from 100% polyester which means it is breathable and light while blocking 99.9% of the UV rays from the sun. The material also doesn't retain heat meaning it will keep you even cooler. This option also has a top air vent which makes it more stable and less prone to fall over. It also makes the area cooler, especially directly under the umbrella.
The umbrella itself is easy to use. Simply fold it out and it is ready to go. For added support you can use the included sand anchor. All you need to do is screw it into the sand and place the pole of the umbrella into the holder. This will give you even more support than just having the pole alone in the sand. It also makes this umbrella able to be used on grass and dirt.
Another nice features is the built in tilt. If you find the beach getting windy simply tilt the canopy to shelter your family. This is done by a simple one button system. To top this package off it comes in a nice and tidy carry bag. You can use this umbrella for any occasion. It can be placed in a patio table, at a soccer event or even in your backyard.
What makes this beach umbrella stand out:
Ultra lightweight design
Excellent service staff
Multi-use umbrella
7. Las Brisas Designer Umbrella by Beach Brella
Another quality umbrella from Beach Brella this Las Brisas is designed to be the perfect blend of stylish and functional. The boho chic design will allow you to stand out in the crowd. Perfectly showing off your personality this umbrella features a beautiful vintage fringe along the edges.
Providing lots of protection this umbrella features 100% UV material which allows you even more time spent outside. Being fade resistant ensures that this umbrella will look brand new even after extended exposure to the sun. Completely adjustable you can choose a height between 3 to 6 feet tall.
Weighing in at less than 5 pounds means that you can easily transport your fashionable umbrella with you just about everywhere. So easy to setup you can feel confident setting it up on your own. With a fashionable carrying bag included you can walk hands free with this bag freeing you up for trips with kids. A matching pocket allows for effortless storing of keys, phones and other small personal items.
What makes this beach umbrella stand out:
Fashionable pattern and design
Lightweight design
Adjustable height
8. Deluxe Sun Protection Beach Umbrella by Rio Brands
This is the big brother of all chair designs. Rio Brands created this durable beach chair perfectly giving a higher weight capacity without making a bulkier chair. Still incredibly lightweight this chair can withstand a maximum of 300 pounds.
Adjusting to 4 different positions allows you to have your choice of comfortable positions for your day on the beach. The thick cushioned pillow helps to support your neck giving you an even more comfortable seat. The molded armrests have added cushioning to help increase your comfort while in the seated position.
Perfect for use at both lakes and oceans this chair features a strong and durable aluminum frame. The powder coating finishing around the frame of this chair provides it with rust protection allowing it to last you even longer. Featuring a luxurious cup holder for easy access to your favorite drink, you no longer have to worry about any sand entering your cup.  Carrying this chair is easier than ever with the adjustable padded shoulder straps. Simply hook around your arms and wear this chair close to your body like a backpack.
What makes this beach umbrella stand out:
Ultra-lightweight design
Excellent value
50+ UPF rating
9. Sand Anchor Beach Umbrella by Tommy Bahama
This is a high quality beach umbrella made by an outstanding, world renowned company. Tommy Bahama has been in this market since 1993. This means they have the know-how and experience to make the best quality products. They are based out of Seattle and have over 160 retail locations throughout America. This means that not only do they make great quality items, they will also be around to answer your questions and solve any issue you may have.
This Sand Anchor Beach Umbrella is made from top of the line materials. It features an all aluminum pole that transitions into fiberglass ribs. This means that it combines strong materials where it's needed most with lightweight material which creates an amazing balance. The fabric also has a vent at the top which makes this umbrella more stable especially in windy conditions. This vent allows air to pass through instead of ballooning which can cause it to fly away.
It also has something that other umbrellas don't: a sand anchor. This is essentially a drill-type base that literally screws into the sand. It has a handle to make this as easy as possible. There are even places built in for your foot to get it started. Don't worry about transporting this umbrella as it has a compact and easy to use carry bag.
What makes this beach umbrella stand out:
Built-in sand anchor
Vent flap
Carry case included
10. Portable Beach and Sports Umbrella by Trademark Innovations
This Portable Beach and Sports Umbrella lives up to its name. It has a streamlined design that makes it ultralight. Trademark Innovations have created the perfect umbrella not only for the beach but for sporting events, family picnics, or even RV trips. It is small, lightweight and compact enough to fit in even the smallest spaces.
This umbrella utilizes a 210D Oxford fabric which has a silver coating. These features make it more water resistant while increasing its UV protection rating to 50+. The fabric sits on strong 16 inch steel ribs which have been made to offer superior strength while maintaining a lightweight feel. This whole package comes in at around 4.5 lbs.
It also comes in three colors meaning you will stand out of the crowd while on the beach. The umbrella stands to a maximum of 6.8 feet tall while the umbrella's canopy measures 6.5 feet in diameter. This means you'll be able to fit all of your friends and family underneath.
What makes this beach umbrella stand out:
Ultra lightweight
Top quality material
Compact design
Features to look for in a Beach Umbrella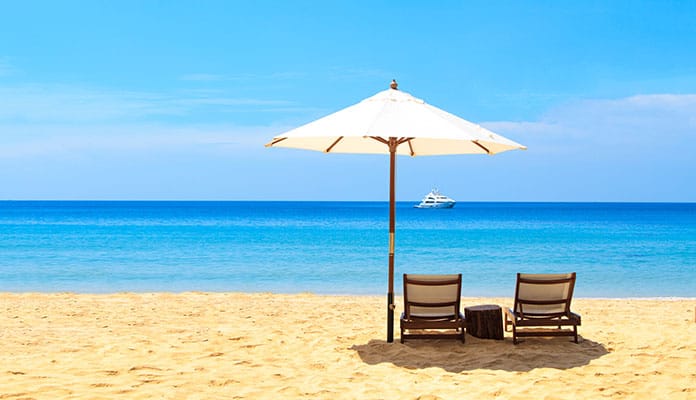 Weatherproof
This doesn't just mean wind and waterproof. Finding an umbrella where the pole and ribbing are steel coated to protect against rust forming will greatly extend the lifespan of your umbrella. This feature makes them a great option for use near the ocean or for everyday use where it will have prolonged exposure to the elements.
Some beach umbrellas do this with a special coating. This can be a special spray that ensures the umbrella doesn't rust while also making it wind and waterproof. Other companies do this by powder coating the pole. This is a special way of painting which also makes it resistant to dents and dings.
UPF Rating
This is an important aspect to look at when it comes to protection. Ultimately, this is why you are getting a beach umbrella. The UPF rating stands for Ultraviolet Protection Factor. This ranges from 15 to 50+. A rating from 15-24 is classified as good. It blocks out between 93-95% of the UV radiation from the sun. A 25 to 39 UPF rating is very good and blocks 96 to 97% of the UV rays. The best rating is 40-50+ and ensures that you are blocking 97.5 to 98+ of the UV radiation.
Even though all of these percentages are high they can play a large role over a long period of time. For example, you may still experience a sunburn with a beach umbrella that has a rating of 18 UPF (blocks between 94-95% of the UV rays). We strongly recommend beach umbrellas with a UPF rating of no less than 40. This will ensure that your skin is protected. A rating of 50+ is the best and should be the highest on your list.
Portability
It is important to only look at portable umbrellas for the beach. Having an umbrella that is lightweight is incredibly important. It should be easy to setup with only one person. This will make for a day at the beach that is much more enjoyable. When looking at the portability of your umbrella be sure to pay attention to the size of the umbrella when collapsed. This will show you how easy it will be to pack in your car. Be sure to look for an umbrella that comes with a travel bag. This will make it easier to transport back and forth.
Globo Surf Overview
Finding the best beach umbrella doesn't have to be a complicated task. With that being said, there are many features that you should look for when purchasing one. It needs to be made from high quality materials, protects you from the sun, and fit your style. The umbrella that excels at these three factors is the one that you should purchase. Luckily, today's market is heavily saturated with many different beach umbrella options for you to choose from. Coming in at a low price point with a focus on portability makes these even more desirable. Now all that is left to do is grab your beach chair and head towards the water.
Do you use one of the beach umbrellas from our list? Has it become a staple for you in the summertime? Let us know how you like it in the comment section below.
You May Also Like
5 Best Water Socks in 2018
10 Best Water Shoes in 2018
5 Best Water Shoes For Men in 2018
5 Best Water Shoes For Women in 2018
Globo Surf Beach Umbrellas Review
★★★★★
"
Was looking for a good umbrella to take to the beach that my whole family cant sit under. The first one you recommended does a great job at that. Love it!
"