OUR TOP PICK

---

EDITORS CHOICE

---
Devices such as smartphones and tablets have become an essential part of our day to day lives. Unfortunately, battery technology hasn't kept up with our usage needs. Thankfully, we have portable chargers we can bring along wherever you go. When it comes to extended travels and outdoor adventures, solar chargers are very convenient options. All you have to do is leave the solar panels exposed to sunlight and you won't run out of power. 
To help you find the best solar powered battery charger, we have compiled a list of the 10 best solar power banks and solar panels on the market so you can head out on your trip with the best solar panel charger you can rely on to keep your devices powered. Below the reviews is a buying guide with the key considerations to make when choosing a solar panel charger. 
How To Choose A Solar Powered Charger – Buying Guide
Solar Panel
Since the solar panel or panels determine the kind of performance you will get from your solar charger, it's the very first thing to evaluate. The best outdoor solar chargers are made of monocrystalline, polycrystalline, or CIGS. 
While the three different types of panels have great charging efficiency, there are some differences. Polycrystalline is more expensive than monocrystalline as it's generally more energy-efficient and performs better in lower light conditions. CIGS solar panels aren't as rugged as the other two but they are very efficient and flexible thus easy to carry.
Wattage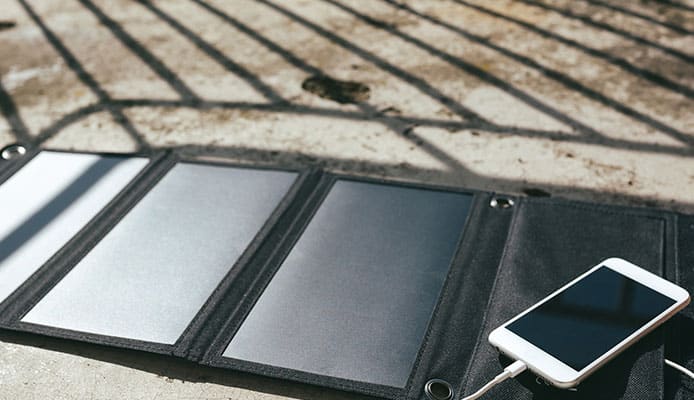 As is the case with any other charger, the wattage rating is what tells you how powerful solar chargers are and how fast charging a phone with a solar panel will be. The higher the wattage, the higher the speed of charging. If you're going for a solar charger with a battery, its mAh rating will inform you of its battery's storage capacity and its ability to transfer power.  
If you have large devices that require a lot of power, consider phone chargers solar powered with a wattage of 20 or more. Smaller solar chargers will be sufficient for devices such as MP3 player. While there are portable solar cell phone chargers capable of producing 60 watts of power, such solar chargers for phones are too big to carry around.
Battery
When it comes to solar chargers for cell phones and other devices, you have two options to choose between. You can either get a solar panel only or opt for a solar charger with a battery. While solar panels without batteries are lightweight and easier to carry than solar chargers with integrated batteries, a portable solar power bank with an inbuilt solar charged battery is more reliable because it stores power for use when there's no sunlight. 
Portability
For ease of carrying around wherever you go, solar chargers for phones should be lightweight and compact. If you're looking for a powerful solar charger phone composed of three or four panels, make sure the panels are foldable. 
If you want to be able to carry the portable solar charger in your carry-on luggage, choose a charger with a Wh rating lower than 100Wh. Lastly, a solar battery charger that comes with loops or clips allows you to attach it to your backpack, tent, or tree. 
Durability
In terms of durability, solar panel chargers for phones should be four things: rugged, shockproof, dustproof, and water-resistant. These qualities enable a solar cell phone charger to withstand harsh weather elements and rugged outdoor usage without failing. Thankfully, all solar chargers in our reviews meet these requirements.
You might also like: How Does A Selfie Stick Work – Make Sure You Get The Most
USB Connection
Some devices require a Type A connection, some a Type C USB connection, while others utilize a micro USB connection. For this reason, it's important to ensure the phone charger solar you choose has the USB charging options your devices require. While at it, check the USB ports the solar charger for the phone you're considering is equipped with and how many devices it allows you to charge at the same time. 
Size & Weight
Since solar panel chargers are designed for use on the go, their size and weight are very important considerations. A solar phone charger should be lightweight and compact enough to carry around whether you're simply out and about or on a multi-day hiking expedition. To balance between compactness and efficiency, solar chargers portable feature foldable panels. 
FAQs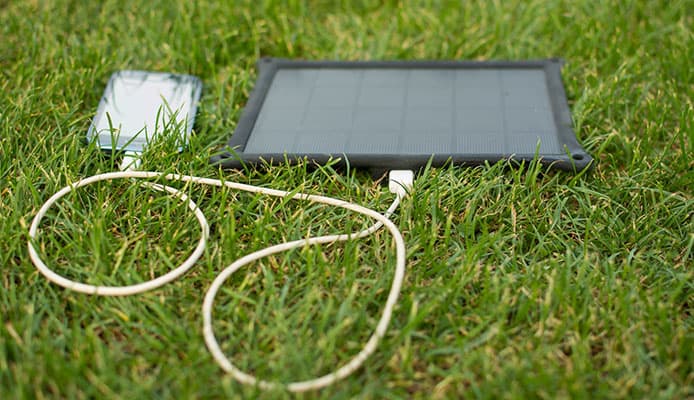 Q: Are All Solar Chargers Waterproof?
A:
No, not all solar chargers are waterproof. However, most solar chargers are water resistant or splash proof. This means that they can withstand rain and splashes without issue. If you intend to use the charger while boating or kayaking, make sure it's waterproof to at least the IPX6 standard.
Q: Can I Use My Charger On Cloudy Days?
A:
Yes, the best solar panels are able to generate energy from not only direct sunlight but also infrared light . Even on cloudy days, cell phone solar chargers can harness the power of infrared light. However, the charging speed when it's cloudy is not as good as when the sun is shinning bright. 
Q: Which Devices Can I Charge With My Charger?
A:
Virtually any device with a USB port can be charged with a solar charger. Smartphones, tablets, cameras, GPS devices, fitness trackers, and MP3 players can all be charged with solar chargers. However, what devices you can charge with your charger will depend on the charger itself. As we've already advised, it's important to ensure the USB ports on both the cell phone charger solar and your devices match.
Globo Surf Overview
Having a solar panel charger means that you will always have the power to charge your essential devices wherever you are, as long as the sun shines.  Hopefully, this buying guide and reviews of portable solar chargers have given you all the information you need to choose a solar charger for your needs.
Single Watergear Products Reviews: