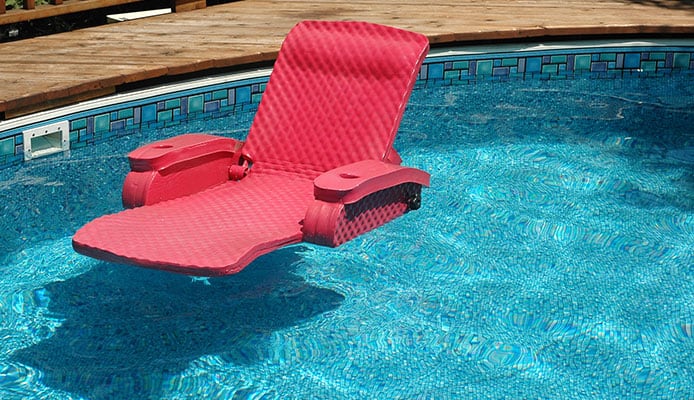 OUR TOP PICK

---

EDITORS CHOICE

---

BEST VALUE

---
When you get tired from all the swimming and splashing, you need a comfy spot to kick back, relax, and have a cold drink. And what better place to do it than on a top rated pool lounge float? Whether you wish to socialize with friends or work on your tan, swimming pool loungers will make your time on the pool much more enjoyable.
Because of the high demand, there are now countless pool floats available on the market. Even though most of us will choose the best pool lounger based on how good it looks, other factors like size, material quality, or additional features might also determine how well the inflatable pool chair performs on the water.
To help you find the perfect floatie, we've created a guide that explains everything you need to know when shopping. But before we jump into the guide, check out our best pool lounge floats list to discover fantastic models that will be both comfortable and reliable for summer fun.
How to Choose A Pool Lounge Float – Buying Guide
Pool floats are an awesome way to relax on the water and keep yourself cool in the summer heat. Most inflatable lounge chair pool designs will allow you to drift around and dip your fingers and toes in the water whenever you feel like it. Considering that pool loungers aren't very expensive, there's no reason not to lift your summer comfort to an even higher level.
With such a high rise in popularity, you can now find all sorts of pool loungers for adults. However, there's more to the best pool lounger than just its looks. As you've had the chance to see in our pool lounger reviews, a top rated pool lounger is strong and large enough to support your weight and offers plenty of features to improve your comfort.
Pool Lounger Size
Pool floating loungers come in a variety of sizes, and you must choose an inflatable pool chair that is just the right size for you. Swimming pool loungers that are too small will struggle to hold the weight of an adult and those that are too big can be hard to maneuver and manage.
Materials and Durability
Three of the most common materials for making pool floats are vinyl, plastic, and foam. Vinyl and plastic are especially used in inflatable pool chair designs, while foam is used for non-inflatable models. Regardless of the material you choose, it must be durable. The best pool lounge floats are made of heavy-duty vinyl (12 to 18 gauge).
This will ensure that your inflatable pool chair won't leak air or puncture on the first use. Additionally, higher-quality materials also guarantee that the pool lounger can withstand chemicals and direct sunlight. For this reason, it's smart to even spend a little more on pool floats if that means they will last several seasons.
You might also like: Best Pool Speakers 
Design and Style
The great thing about pool floats is that you get one in pretty much any shape you like, even shaped like food or animals. In addition to looks, you will also have to decide if you want inflatable or non-inflatable pool loungers.
Inflatable models are popular because they are easy to store but do require some time to blow up. Non-inflatable models can be used immediately, but they may have limited styles when compared to inflatable pool chair designs.
FAQs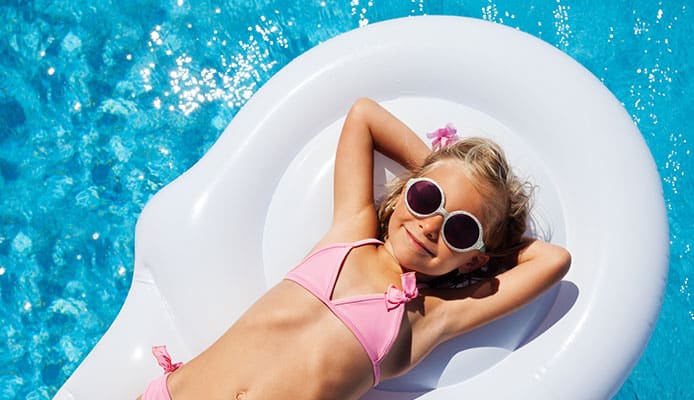 Q: How to clean a pool lounger?
A:
Pool floats are incredibly easy to clean – you can simply rinse them off with a hose between uses. As for in-depth cleaning (that kills off bacteria), you can use a bleach solution (2 cups of bleach per 1 gallon of water) and wipe the pool lounger with a sponge. Of course, for best results, we advise that you always read the manufacturer's instructions.
Q: Are pool loungers safe?
A:
Yes, pool loungers are very safe. Because they provide a larger surface area, they are much safer than pool noodles. The best pool lounge floats even come with separate inflation chambers so that if one leaks the others remain inflated so you can safely get back. Still, you should be very careful when children are using pool loungers and always keep an eye out.
Q: How to fix a pool float?
A:
A leak in your pool float doesn't automatically mean you have to buy a new one. Smaller leaks can easily be fixed with a patch. Here's how to do this:
Find the hole by submerging it in the water and looking for bubbles
Mark the punctured spot with a marker pen
Deflate the lounger so air doesn't interfere with the repair process
Cut the patch so it the edges overlap the hole by at least ¼ inches
Make sure the surface around the hole is completely dry (wipe it off)
Apply glue around the hole as well as on the patch (the surface that will face the hole)
Put the patch on the hole and apply pressure for a minute or two (glue starts to set)
Let the glue dry completely (usually 24 hours) before inflating and using in water
Globo Surf Overview
With some of our top rated pool lounge floats, you'll be the envy in the water. Getting the best pool lounger will allow you to kick back and relax throughout the season. For a very decent price, pool floating loungers will take your experience to a higher level. Hopefully our guide has helped you narrow down your options, so you can get the best pool lounge float that you will enjoy for years to come.
More Pool Accessories Reviews: