No summer is complete without spending time out boating on the water. Most think of tubing when thinking of fun water sports to use with your boat but the possibilities go far beyond that. Wakeboarding is a fun boating sport that every adrenaline junkie needs to try. A combination of waterskiing and snowboarding, this summer favourite can be done with or without the use of a boat. Finding the best wakeboards can be tricky, especially with the amount of variety on the market. That is why it is important to do your research in order to ensure you get a quality board.
To help you get the most out of your summer, we have created a list of the top ten wakeboards on the market.
QUICK ANSWER: THE BEST WAKEBOARDS
Best Wakeboards
Wakeboards Reviews
1. Full Throttle Aqua Extreme Wakeboard Kit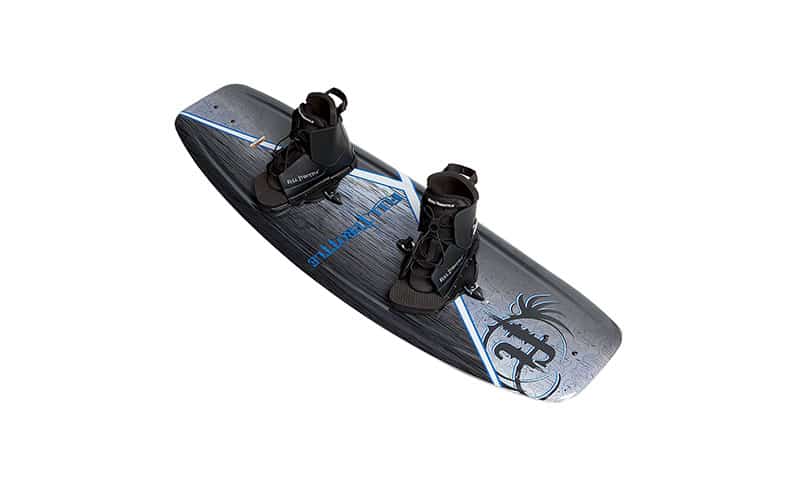 Check Price Now
What Makes This Wakeboard Stand Out:
Multi-channel design
Durable
Lightweight
Model & Accessory Specs:
Dimensions: 42" x 55.1"
Weight: 15 lbs
A continuous rocker with molded in fins gives you full control over the board. Delivering a soft landing every time this wakeboard ensures you have a comfortable ride. A lightweight feather core technology allows this board to be incredibly dense and therefore deliver exceptional strength. This board is made for showing off as it is an incredibly easy to ride. Designed with beginners and intermediate riders alike, this board is everything you need to have an action packed summer. Great for riders of all riders 155 lbs and up. A multi-channel design runs from the tip to the nose increasing the boards stability and giving the rider much more edge control.
2. Hydroslide Black Widow Wakeboard
What Makes This Wakeboard Stand Out:
Great for beginners
Affordable
Twin tip design
Model & Accessory Specs:
Dimensions: 16" x 56"
Weight: 15.8 lbs
This Hydroslide wakeboard has been designed for skill levels ranging from beginner to intermediate. Having a twin tip design allows you to land tricks both ways making this a good board if you often ride switch. A continuous rocker design also gives you ultimate control when carving through the water. The bindings will fit boots from size 5 to 12. They give you a snug feel and all the control you could ask for and feature a lace up design. This is one of the best wakeboards for beginners.
3. Body Glove Wakeboard
What Makes This Wakeboard Stand Out:
Easy to get up and stay up
Boots are included
Designed for beginner youth
Model & Accessory Specs:
Dimensions: 17" x 58"
Weight: 15.4 lbs
Body Glove's wakeboard is as stylish as it is fun. This 58 inch model is ideal for riders up to and over 125 pounds making it ideal for children and teens alike. The twin tips don't limit your ride stance and allow you to practice switch riding. Body Glove has done their research and has designed this board with beginner riders in mind. The shape allows riders to get up with very little effort and cruise along easily. Lace up bindings make it easy to strap in while the included boots are comfortable and durable. Let this be your kids first board, they are bound to love it!
4. Hyperlite Franchise Wakeboard 2016

What Makes This Wakeboard Stand Out:
Good for all skill levels
Dual Fin Configuration
Minimum swing weight profile
Model & Accessory Specs:
Dimensions: 13" x 54″
Weight: 12 lbs
If you are looking for a wakeboard that has expert technology at a stunningly low price then look no further. Suitable for riders of all skill level, this is one of the top all around wakeboard on today's market. This boat is incredibly easy to maneuver which makes it a great option for beginners while the high class technology appeals to expert riders.
The construction of this board consists of a lightweight Biolite 3 core rocker. This gives the board the strength needed while not compromising on flexibility. This board features a continuous rocker which gives you added speed and ease when carving. A leading edge Tapered Channels design combines with the Dual Fin Configuration to give you more control over your carve in the wake. Look forward to minimal swing weight on rotations on both inverted and flat spins with the boards narrower tip and tail width as well as the thinner profile.
5. Rave Lyric Wakeboard with Advantage Bindings
What Makes This Wakeboard Stand Out:
Versatile design
Comes with boots and bindings
Great for advanced riders
Model & Accessory Specs:
Dimensions: 19" x 50"
Weight: 19 lbs
Rave makes yet another high quality wakeboard designed to test the limits of all advanced wakeboarders. Ideal for those over 125 lbs this board will ensure you look your best doing tricks and stunts in the water. Coming with Advantage multi-point fully adjustable boots and bindings this board is an amazing deal. The 3 staged rocker with a progressive rounded edge allows you to make all the surface tricks you love while making hard cuts through the waves. This is a high end board that is built for those who know what they're doing out on the water.
6. Liquid Force 2017 Shane Dose Wakeboard
What Makes This Wakeboard Stand Out:
Lightweight
Latest technology
Extremely durable
Model & Accessory Specs:
Dimensions: 17" x 54"
Weight: 12 lbs
Liquid Force makes some of the best wakeboards in the world. They use high quality materials and have developed technology and practices that put them in the top echelon of their field.
The Shane Dose wakeboard has been designed for intermediate to advanced riders. Features like a wood core, three-stage rocker and finely tuned flex make this one of the best boards available. All of these features allow you to pop the highest and spin the fastest no matter where you ride. This board scores near the top in every category from speed to stability to control.
Only using the highest quality materials ensure that this board will stand up to the elements and whatever you ride over. The base is smooth which gives the rider maximum speed and pop at the wake and precise carving ability. You will go where you want and soar for as long as you need when you're strapped into this board. If you are an advanced rider looking to upgrade to the best of the best, this is the board for you.
7. Ronix One I-Beam Timebomb core Midnight
What Makes This Wakeboard Stand Out:
Soft landing
Great for all skill levels
Incredibly durable
Model & Accessory Specs:
Dimensions: 134" x 21.5"
Weight: 15 lbs
This is a great board that is geared towards riders of all skill levels. A great buy for beginners this board will effortlessly take you through to all stages of becoming a professional wakeboarder. The 2018 model is a great improvement on the already great 2016 model specifically delivering better control and stability within the board.
This board is great for those who are a little bit hard on their equipment as the durable shell will ensure it lasts for many seasons. This also allows the board to excel in performing jumps and stunts.  An impressive 3 stage rocker gives this board an incredibly soft landing making your ride much more comfortable.
8. Hydroslide Helix Wakeboard

What Makes This Wakeboard Stand Out:
Three staged design
Easy to control
Brandon bindings
Model & Accessory Specs:
Dimensions: 18.5" x 54.75"
Weight: 17.8 lbs
This wakeboard is designed for adult riders with a bit more skill in the water. Coming with Brandon Bindings this wakeboard gives you everything you need to get out and start enjoying your day on the water. A great option for both intermediate and advanced riders this board will make you look like a professional in the water. The easy to maneuver, forgiving design of the board will make it easier than ever to show off for your friends. A three staged design gives you the control you need to handle this board with ease. Test your limits by practicing some new tricks and jumps with this board and get ready to be impressed by the expert hold of these bindings.
9. Body Glove Adult Concept Wakeboard
What Makes This Wakeboard Stand Out:
Affordable price point
Fiberglass reinforced design
High quality bindings
Model & Accessory Specs:
Dimensions: 16" x 56"
Weight: 16.6 lbs
Body Glove designs great wakeboards. Their Concept board features a four point design that will impress even seasoned veterans. This board is a streamlined version that takes features from their top selling models. The bindings have been specially designed to not have pressure points while offering a secure ride.
A fiberglass construction gives you peace of mind no matter how hard you are on your boards. Body Glove has designed a comfortable, easy to use board that will keep you dreaming about your lines all week.
10. Rave Freestyle Wakeboard with Striker Bindings
What Makes This Wakeboard Stand Out:
Continuous rocker
Exceptional control and grip
Camo bindings included
Model & Accessory Specs:
Dimensions: 19" x 57"
Weight: 18 lbs
One of the best wakeboards on the market, the Rave Freestyle is a great board for those with a bit more skill. This advanced wakeboard is great for riders over 125 lbs who are looking to try a few more tricks while boarding. Fully ready to take on added jumps and stunts this board will ensure you impress your friends. No need to invest in bindings, this board comes with lace up camo bindings that will give you a comfortable fit that fully supports your ankle.
Coming in at an incredibly affordable price this board is a no brainer for riders of all ages. A continuous rocker gives exceptional performance and soft landings. This board features a 4-point design that grips to the water allowing full control during turns and cuts.
What to look for in a Wakeboard
Most new wakeboarders question what is the best wakeboards on the market. Finding the best on the market and the best wakeboard for you may turn out different results. That is why getting a base knowledge about what to look for in a board will prove endlessly rewarding. When looking for your next wakeboard, be sure to pay attention to these few key features.
Size
The length of your wakeboard will be based on your weight and skill. Size is measured in centimeters and ranges from around 130 to more than 144. Even though these are the standard ways of measurement there are a couple more factors that can play a role in deciding which size to purchase.
Smaller boards
Once you become more comfortable on the board you will start to develop preferences when it comes to what size suits you best. A shorter board will glide over the water slower than its larger counterpart. While they may not glide as quickly, they are experts at doing flips and tricks. Easy to maneuver, these boards do require much more skill to land your board with success.
Larger boards
Larger boards are easier to control, thus they are most often used for beginners. The larger surface area allows them to gain extra speed in the water and allows for a faster ride. The large design does lose speed when in the air on jumps and tricks as the size offers a lot of drag. Larger boards are obviously heavier and more cumbersome if you try to do tricks with them.
Style
Wakeboards fit into two categories: park and boat. This refers to what you are going to use the board for. While technically you can use a park board boating and vice versa, you will clearly see that each board has a specific intended use.
Park boards
Specially designed to take the beating of rails and ramps park boards will look and feel different from boat boards. The base of these boards will be smooth and reinforced. Edges will be more precise and allow you to take corners sharper since parks are typically on the smaller side. These boards are going to be thin and have a high flex rating. This allows them to be thrown into corners and pop higher since there is no wake.
Boat boards
Since boat boards can use the wake created by the boat they will have significantly less flex than park boards. This allows for smoother, and easier, landings. Their bases will look different as well. Since you're not going to be hitting rails or jumps these boards don't need that reinforcement found on the park board.
Hybrid boards
The newest category of boards is a mixture between park and boat. These boards will allow you to switch up your day if you like. This is perfect if you enjoy both aspects but only have the budget for one board. Their flex will be directly in the middle allowing for just enough flex to take sharp corners and pop with or without wake. Flex has been specially designed as well. The tips will be softer while the middle of the board will be firm. Since hybrid wakeboards will be grinding rails and hitting kickers their base will be reinforced just enough to improve durability.
Aspects of the board
There are many features that you should be aware of before purchasing your wakeboard. All of these aspects will affect how your board will ride through the water.
Base
This is one of the most important parts of the board.
The bottom of a wakeboard can be smooth, channelled, v-spine, or concave. Smooth bottomed boards will give the rider complete control. They are able to spin and pop to their hearts desire. A channeled bottom gives the rider a more smooth landing. The grooves direct the water and can break the water when landing making it much easier on your body.  A v-shaped base is typically found on three-stage boards. It allows the rider to carve easier and land the most difficult tricks with ease. Concave boards have circular indents built into their base. This reduces the suction of water, meaning the board will ride higher, and gives the rider easier pop.
Rocker
This part of the board describes the shape of the board. All wakeboards have a curve in their shape. The amount of arc can help or hinder certain aspects of your ride.
There are two main types of rockers: Continuous and Three-stage.
Continuous
If you like to stay on the water and enjoy carving with the occasional big air a continuous rocker will be your jam. If this fits you your board will have one large – continuous – curve, hence the name. These boards are fast and easy to handle.
Three-stage
Three-stage rockers look a little different. They have a cup shape with a more distinct bend. Known for getting big air these boards are also harder to handle. Their shape makes them harder to control because they don't have distinct edges to carve through the water. Landings are more difficult and harder on your body. Also, it takes a little longer to get up to speed post-landing.
Flex
Just like skateboards or snowboards, wakeboards have flex. This describes the amount of bend a board has. Flex can help you get pop off the wake, propelling you even higher into the air. It also aids in carving. Once again, as you get more comfortable on the water you will develop a preference for what feels best to you.
Fins
Just like surfboards and paddleboards, wakeboards use fins to keep them pointed in a straight line. The amount of features on the bottom of the board will affect the rideability of the board. Typically the prefered fin type depends on skill level and intended use.
Size
The larger the fins the less able you are to do tricks. Boards that have these huge fins are typically designed for people learning to wakeboard. They will keep you pointed where you want to go, not let you spin and be more stable. More skilled wakeboarders will want boards with no fins or one with fins around the perimeter of the board. This will give them the ability to spin into and out of their jumps.
Detachable vs fixed
Some boards can have fins that can be taken off while other have fins that cannot. Removable fins can be attached by screws and channels. Most boards have two sets of fins. The inside ones are usually detachable while the outer fins are fixed. This gives the rider the most control over the wakeboard and the freedom to choose how their board rides.
Maintenance
If your board has removable fins it is important to maintain them properly. Before each ride you should ensure all the screws are tight. Keep in mind that the fins and screws do not float, so be careful when adjusting them. If you happen to damage your fins you should be able to sand and fill them. Obviously the detachable fins will be able to be replaced.
Globo Surf Overview
Wakeboarding is a fun summer continuation on winter's snowboarding. Similar to the great conditions of having a mountain full of fresh snow, wakeboarding delivers the perfect conditions every time. A great activity for those thrill seeking, water loving individuals it is bound to keep you fit while being a blast. When reading through wakeboard reviews ensure you are looking for key features such as size, flex and the shape of the board. As this is bound to become an addictive sport, we recommend opting for a board that will translate seamlessly between a beginner and intermediate wakeboard.
Wakeboarding Tricks, Mpora
New to Wakeboards or have a Wakeboard on our list? Let us know how you like it in the comment section below.
Globo Surf Wakeboards Review
★★★★★
"
Great selection of top wake boards. Was looking for an intermediate one and went with the aqua extreme one.
"