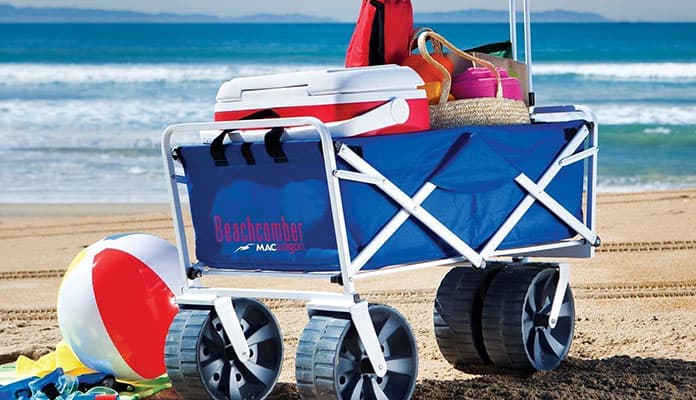 See Customer Owner Feedback >>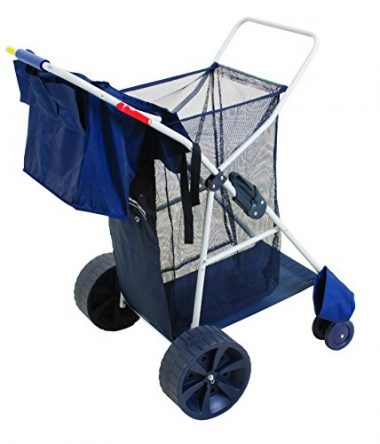 See Customer Owner Feedback >>
The Best Beach Cart & Wagon
Every beach-lover knows the struggle of trying to juggle chairs, coolers, umbrellas, towels, and floats when heading to the beach. This struggle is amplified when you have kids along with you, plus all the added buckets, spades, and swim gear. But this doesn't have to be a dark cloud looming over your summer vacation! Instead, having the best beach wagon or beach cart will drastically reduce this stress by carrying all your items in one trip, without the backache!
Below are the best beach carts and wagons available on today's market. All of these wagons are fully equipped to help you carry your gear to the beach with ease, so all that's left for you to do is lie back and enjoy the sound of the waves!
How To Choose A Beach Cart & Wagon – Buying Guide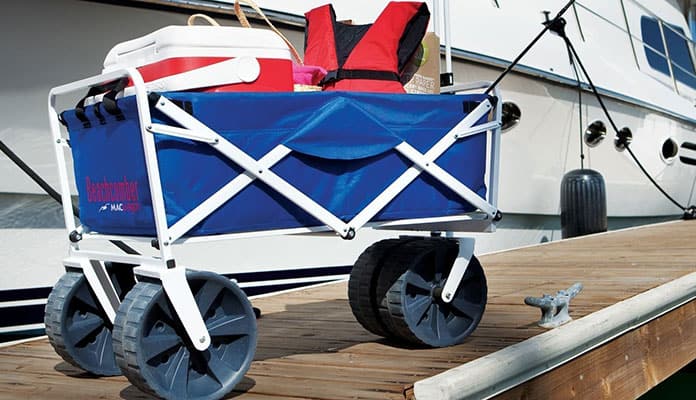 You may be wondering what features to look for in your next beach wagon. Knowing what to look for is incredibly important so you can ensure that you get all the features you will need. This will work to save you money and ensure that you get the best deal possible. To help you with this, we have listed some key features to look for and consider before making your purchase.
Beach Cart or Wagon?
When you go to the beach both a beach cart and wagon can help you lower the number of trips you take to get your belongings to your ideal place. There are a few differences between a beach cart and wagon. For the most part, a beach cart will be a more upright option. It will be taller with a smaller footprint than that of a wagon. The handles will be taller while the wheels on the smaller side.
A wagon, by contrast, will be lower to the ground with a longer body. It won't have an enclosed space, instead, it will have an open area that allows you to have better access to your belongings (they won't be stacked on top of each other). The handle for a wagon will be longer and require that you pull it, not push it. You will have the option of either pushing or pulling a beach cart.
Pockets and Compartments
Being able to have a designated place for your belongings will allow you to much more effectively sort your gear. Your sunscreen will be able to sit upright in its own pouch instead of being squished at the bottom of your bag. Other sensitive items like your wallet and cell phone will be safely tucked away, even in a secret pocket. This will make it harder for people to steal them.
Durability
You should expect that your gear lasts you a long time. This is largely due to the materials companies use in the construction of their carts and wagons. You don't want to, and shouldn't have to, spend your time repairing broken pieces of your wagon. It may be worthwhile to spend a little more on your wagon to ensure it's made from metal or aluminum as carts made from this will last longer than say plastic.
A cart made from metal will also be able to hold more than those made of a lesser material. They may weigh more overall, but you are getting something that will last you more than a single season. This frame can also be combined with a material carrier which can lighten the weight while maintaining its superb performance. Just keep in mind that if you're planning on using your beach cart or wagon by salt water it will have to have an anti-rust coating on it as well. This will keep it from rusting and corroding.
Portability
Ensuring you can move your beach wagon when it's fully loaded should be a top priority. Most people don't realize how heavy carts and wagons can get when they're fully loaded. If the cart weighs a ton without even having gear in it you may want to consider another option as it can actually make it more difficult to transport your gear.
Not only that but being able to load it into your car will also determine if it's a good buy. If the frame is rigid and not able to collapse it will be difficult to fit into smaller vehicles. It's best to know how large your vehicle's trunk is so that you can plan your trip accordingly. Just keep in mind that you'll also have to fit people, gear and even food in your car as well as the cart itself.
Price
Carts and wagons shouldn't cost you a fortune. We're not suggesting getting the cheapest option available (this can truly be a horrible buy) but it should be within your price range. Be sure to remember that you often pay for the quality you receive. Don't expect a less expensive beach cart to perform the same as one that's twice its price. After all, the company who made it had to spend time and resources to find a balance between price and materials.
Terrain
The ground you're planning on driving your cart will determine the type of wheels it will need. A rocky ground will need vastly different features than a cart being pulled through a sandy beach. There are carts that can excel on a variety of different terrain but expect it to be better on some and not so much on others. If you are planning on taking the cart through a certain type of terrain it may be worthwhile to tailor the wheels to that ground. This way you will make it even easier to get to the beach.
Storage Space
This is the main reason you're thinking of a beach wagon or cart. If you can't fit all of your gear into it the beach wagon may not be for you. Consider carts that have loads of pockets and different ways to carry gear.
You should also have a plan of where to store the cart in the offseason. Being able to take wheels off and fold it completely flat will make the cart much more appealing. If you are able to store it in a place like under your bed or in a closet you will be much more likely to keep it longer than if you weren't able to easily store it.
Assembly
Cart's shouldn't take a book of instructions to assemble. It should be as easy as putting wheels on and maybe attaching a handle. Nobody has time or patience to spend on putting their beach cart together. After all, it's sole purpose is to save you time and energy. We suggest reading some reviews to see how easy it is to put your cart together.
Beach Cart Features
There are a few key features to look for when searching for your ideal beach cart or wagon. It is important to know what it can come with so that you can make an informed decision about which option is best for you.
Wheels
If your cart's wheels aren't large enough they will sink in soft terrain, like sand. High-quality carts use a plastic material that has a wide stance and extra traction. This allows them to skim across the surface of the sand even when they are fully loaded. Pulling a cart through the sand is hard enough without all four wheels sinking.
Frame
This is one of the most important parts of your cart. If it has been poorly designed you can actually bend and break it. You also have to consider the location you are taking it. For example, if you frequent the ocean you have to consider that the salt spray can deteriorate it over time.
Companies have special ways to combat this including a powder coating or using alternative materials like aluminum. If the cart you are looking to purchase is made from steel look into the reviews to see how it holds up over time. It is important to also note the weight capacity of your cart. A high-quality frame will be able to hold between 75-100 pounds.
Material
All of this is redundant if the material in the cart is of poor quality. Manufacturers have learned that the best material is a 600D fabric. It is not only super durable and tear resistant but also lightweight. This fabric is also easy to clean. We have all been there, a drink spills in the cart and it's nearly impossible to clean. Simply get the hose and spray the card down when you get home and it's clean.
Weight
Even though they should be able to carry tonnes they shouldn't weigh that much. An ideal weight is around 15 lbs. We find that any heavier and they are hard to fold and maneuver while any lighter makes them feel cheap and breakable. This weight ensures the cart finds the balance between durability, strength, and portability. Beach wheels for wagons is a feature that should not be overlooked and can lead you to have a quality cart.
Foldable
The cart you choose should also be able to fold into a compact package. Most carts will have a simple way of doing this (like pulling a tab). The final dimensions should be somewhere around 6-10 inches thick. This means it won't take up a lot of room if you throw it in your trunk and forget about it. After all, what good is it if you can't get it to the beach.
Added Accessories
As the market for these beach wagons for soft sand becomes more saturated companies are coming out with advancements in their designs. This is often seen in the way of umbrella holders and the ability to hold between 4 and 6 beach chairs at any given time. The advancements haven't stopped there.
To stay ahead of the market trend many companies are incorporating insulated coolers into their design. Features such as utility trays, cup holders, cell phone holders, and lightweight designs are becoming even more prevalent in current designs.
FAQs

Q: What Are Balloon Wheels?
A:
You may have heard of the company Wheeleez. They are responsible for the original design of the balloon wheel. While many companies have since followed suit, they are still responsible for designing the best products. Made using a strong polyurethane material that is then mended on with a soldering iron, you are sure to love the durability of these wheels. An air pump is then used to blow these wheels up using an air pump. Some of the strongest wheels that you will find, this is commonly used on things such as walkers, wheelchairs and beach carts.
Q: Can I Roll My Kids In These Beach Carts?
A:
Beach carts are not made to be as sturdy as your typical child's wagon. These are designed for an even distribution of weight and can be less reliable. While they do tend to have large weight capacities, they are not designed for children. While it may seem desirable, it is not worth the risk of putting your children in beach carts. There are many reviews out there of parents learning the hard way and advising strongly against using this as a ride for your children. We recommend staying away from this and instead opting for a different way to transport your children to and from the beach.
Q: What Is The Most Effective Way To Pack My Beach Cart Or Wagon?
A:
Those who purchase a beach cart or wagon typically do so as they bring a lot of gear to the beach. In order to get the most use out of yours, we recommend placing some thought into how efficiently you pack your wagon. To start, we recommend organizing all the items you want to bring with you and laying them out in a common area. This will help you to visualize how much you are looking to fit inside.
Keep in mind how your specific cart is laid out. If your cart features side pockets, you may want to reserve these for any electronics, books, glasses or water bottles. From there, you can move on to packing your larger main compartment. As with most packing, you will want the heaviest items to go in first. This will help to disperse the weight as well as keep your gear safe. This will often be things like coolers, your favorite beach tent, and some beach chairs. Following this, you can place bulkier items such as big towels and beach blankets. Any pool toys, food, and sandals can go on top of this. Lastly, if you are packing a beach umbrella, you can slide it into your cart last. This will help you to get maximum efficiency.
Q: What Is The Best Beach Cart For Sand?
A:
When looking for your next beach cart, there are a lot of key features to consider. This includes one that can easily move across a variety of different terrains. For those that have ever pulled wheels over a sandy surface, you know it can be quite difficult. This is why it is incredibly wise to pay extra attention to the wheels of your beach cart.
When taking your cart on the sand, you will want it to feature bigger wheels that are quite thick in size. Wheels that turn easily, or are quite lubricated, will work to roll atop the sand much easier. This can make your time at the beach much easier.
Q: How To Fold A Beach Cart?
A:
One of the great advantages of opting for a beach cart is their incredible portability. Especially for those driving smaller vehicles or living in a smaller home, you will greatly enjoy how small beach carts are able to fold up. Knowing how to fold and unfold your cart correctly will allow you to get maximum use out of your cart. After all, the last thing you want to do when at the beach is a struggle with how to properly assemble your unit.
Every cart will work a bit differently to fold and unfold. For this reason, you will want to closely study your instructions booklet and practice doing so a few times at home. Being able to do this easily will work towards streamlining your time at the beach and make your cart much easier to transport and more enjoyable to work with.
Q: How To Clean A Beach Cart Or Wagon?
A:
You may not think about cleaning your cart and that would be a mistake. Like all water equipment, maintaining a healthy cleaning routine can go a long way in preserving the life of your equipment. Properly caring for your wagon is sure to make your product looks like new for even longer.
You will want to clean your wagon by simply rinsing it with clean fresh water after every use. This becomes even more important when you head to the ocean. The salt and sand can wreak havoc on your gear, especially with prolonged exposure. Using your hose to simply rinse your cart can do wonders in prolonging its life. Be sure to clear away all sand build up that sits on your cart. Once it is cleaned, it is best to store it out of direct sunlight whenever possible. This will ensure that your cart remains looking like new for much longer.
Globo Surf Overview
Beach wagon reviews are raving about how much simpler these carts make summertime fun. Being able to carry your umbrellas, chairs and all your other gear along with you in one trip is important and not always the easiest. All the beach carts are made using top quality material which can reliably carry everything you need. No longer do you need to stress about juggling your gear or finding the best parking space. Instead, all that is left to do is to enjoy your summertime vacation.
More Beach Reviews:
Do you use one of the Carts & Wagons that made our list for your summertime adventures? Talk to us about how you like it in the comment section below.
Globo Surf Beach Carts Review
; ; ;
★★★★★
"
Was looking for a cart or wagon style that my family can put all your beach toys in with our towels and transport around the beach. Glad I found your article.
"