If you're tired of having your hands full every time you go to the beach, a beach cart is a fantastic way to make the trip easier. Instead of carrying everything, you can simply throw it in the cart and pull it behind you. On top of this, it also allows you to bring all the things you otherwise wouldn't and makes your day on the beach even better.
While choosing a cart or wagon seems pretty straightforward, paying attention to some details can make a difference in the long run. The best beach wagons are easy to pull, compact when packed, and have the strength to carry lots of gear.
To help you decide, our review section breaks down all the best beach carts available right now so you'll have an easy time finding the right one for your adventures. And, if you want to learn more about what makes great carts and wagons, don't miss out on the buying guide below.
How To Choose A Beach Cart & Wagon – Buying Guide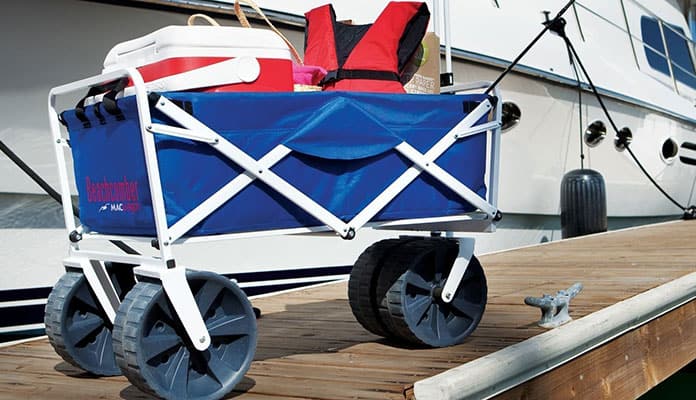 Beach Cart or Wagon?
While they basically have the same purpose, beach carts and wagons have certain differences between them. Depending on the type of beach equipment you're bringing with you, these differences can be more or less important.
Beach Carts: These come with only two wheels and have a more upright design. A cart usually has a smaller footprint than a wagon and the handle sits taller. They often come with hanging bars, so they are better for transporting beach chairs.
Beach wagons: A wagon comes with 4 wheels and sits lower to the ground. Because of its design, it's a bit easier to use than a cart. It also gives you a wider storage area compared to a cart, but larger items like chairs or umbrellas will be more difficult to secure.
Materials (Frame and Fabric)
Material quality is very important when choosing a cart or wagon. Even if it has a fantastic design, this will all be ruined if it breaks down after a few uses.
Frame: Usually made of steel, it's the backbone of the entire cart. It's responsible for the weight capacity, with well-made carts being able to support 120 to 150 lbs. On top of this, many models have powder coating on the frame to prevent damage from saltwater.
Fabric: A heavy duty frame won't mean anything if the fabric quality is poor and tears easily. For this reason, manufacturers use high-quality polyester to make the main storage box. It's tough, tear-resistant, and easy to clean. The quality is shown in Denier rating (D) and a higher value means stronger fabric.
Durability
Closely related to materials, durability is always a concern when buying equipment like this. If you want a safe bet, get a model made with powder-coated steel and high-denier fabric (at least 600D or over). In relation to this, some manufacturers give a 1-year warranty with the purchase so you'll have some peace of mind.
Storage Space
Convenient storage and transportation is the main reason you're getting a utility wagon in the first place. In addition to good weight capacity, the model you pick should also have sufficient storage space.
This refers mostly to the main storage compartment, and we advise that you always check the interior dimensions and volume before buying. Luckily, most models provide these specs so you can check if you can fit your favorite cooler or not.
Pockets and Compartments
Even if the main storage is enough, having some extra pockets and compartments won't hurt. This allows you to sort your gear better and organize everything the way you like it. 
For example, your sunscreen can sit upright in its own pouch instead of being squished at the bottom of your bag. Other sensitive items like wallets or cellphones will be safely tucked away, making it harder for people to steal them.
Portability and Ease of Use
Ensuring that you can move the wagon when it's fully loaded is a top priority. Most people don't realize how heavy carts and wagons can get once all the equipment is in. Because of this, it's best if the cart is fairly lightweight when empty. Other factors that influence ease of use are wheel design and terrain you're using it on.
Weight: Based on our research, the ideal weight is somewhere around 15 pounds (good balance between quality and keeping the weight low). Heavier carts will be cumbersome to carry, while lighter ones might have quality issues.
Wheels: Ideally, they should be large enough that they don't sink in terrain like soft sand. We've found that wheels that measure between 8 and 10 inches in diameter and 4 inches in width have the best performance on the beach. Good traction is also important, so it's not a bad idea to check the tread design on the tires.
Terrain: The surface under the cart will also significantly impact its performance. For example, a cart designed for sand only won't do a great job on rocky and uneven terrain. If you're looking for something universal (for the beach, camping, and anything else), it might be a good idea to get a utility wagon with pneumatic rubber tires and a slightly smaller diameter.
Assembly and Packing
Carts and wagons are fairly simple in design, so they shouldn't require much time to assemble or fold back. In most cases, it should be as easy as putting wheels on and maybe attaching a handle.
After all, the main purpose is to save you time and energy so models with complicated assembly should be avoided. We suggest reading some beach cart reviews to see if others had any problems with the cart.
Similarly, the cart you choose should also be easy to fold and pack. Luckily, most carts have a simple way of doing this (like pulling a tab) and fold down to somewhere between 6-10 inches thick.
Because of this, you won't have problems finding room for it in your car or storing it in the closet when you get home. However, if it's difficult to fold or simply takes up too much space, you should look for an alternative.
Additional Features
As the market for beach wagons for soft sand becomes more saturated, companies are coming up with clever ways to improve their designs and attract customers. Two features that are becoming increasingly popular on beach carts are hanging bars for chairs as well as side pockets for beach umbrellas.
To stay ahead of others, many companies are also incorporating insulated coolers into their design. And, while not essential, features like utility trays, cup holders, and cell phone holders can make using the cart much more convenient.
Price
Carts and wagons shouldn't cost a fortune. We're not suggesting getting the cheapest option available (this can be a waste of money) but you should always look for a balance between quality and price. While the saying 'you get what you pay for' is often true, careful research can save you some money while still getting excellent quality.
FAQs
Q: What Are Balloon Wheels?
A:
These are wheels specially designed to perform well on sand and other soft surfaces. First developed by Wheeleez, Balloon Wheels combine polyurethane exterior with an inflatable bladder to provide a great glide over any surface without getting stuck.
Q: Can I Roll My Kids In These Beach Carts?
A:
This depends on the model, but you should avoid doing this unless the cart specifies that it's safe. Most products in our beach cart reviews are designed for even weight distribution and this wouldn't be smart to do. This being said, the Radio Flyer 3-in-1 wagon we talked about is tested and safe to drive kids in.
Q: What Is The Most Effective Way To Pack My Beach Cart Or Wagon?
A:
To start with, we recommend organizing all the items you want to bring with you and laying them out. When packing the main compartment, start with the heaviest items to disperse the weight properly. Continue with towels and other bulky items, and finish off with the smallest ones. If your model has pockets, you can use them for any electronics, books, glasses or water bottles
Q: What Is The Best Beach Cart For Sand?
A:
The best beach cart for sand is one that has large tires (both diameter and thickness). This allows the cart to roll on soft sand easily without getting stuck. In addition, swiveling wheels that turn easily will work on the sand even better.
Q: How To Fold A Beach Cart?
A:
This depends on the model you get and isn't always the same. Most have an X-shaped frame that is folded by unlocking and pulling up (front and back collapse to each other). However, we advise that you read the instructions carefully and try a few times at home so you'll have an easier time on the beach.
Q: How To Clean A Beach Cart Or Wagon?
A:
In most cases, shaking off the sand and wiping both the frame and the fabric with a moist cloth will usually do the job. As far as the frame is concerned, that's all you need to do. As for the fabric, it might get stained or dirty, and require more in-depth cleaning. If this is the case, it's best to clean it with soap and water.
Globo Surf Overview
Beach carts and wagons will shine a new light on your summertime adventures and greatly increase the comfort level. By allowing you to load your chairs, umbrellas, and coolers on it, you'll save your energy and good mood for the fun things that await you. Hopefully, our beach wagon reviews have helped you find what you like, so you bring all you wish with you every time you go to the beach.
More Beach Reviews: