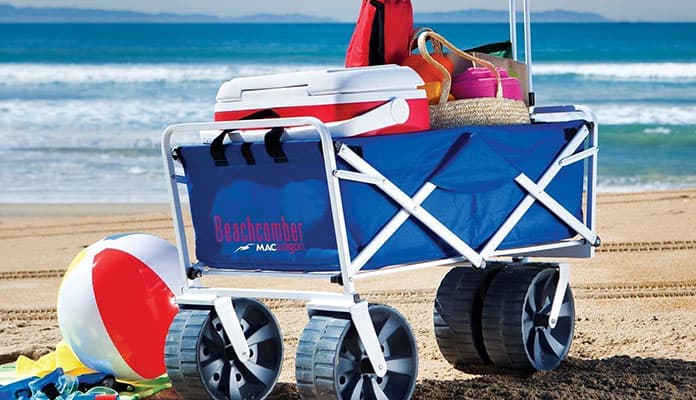 Everyone knows the struggle of trying to juggle chairs, coolers, umbrellas, towels and floats when heading to the beach. This struggle is amplified when you have kids along with you and are traveling with even more gear. This doesn't have to be a dark cloud looming over your summer vacation. Instead, with having the right gear you can completely solve this problem. Having the best beach wagon will drastically reduce this stress by carrying all your items in one trip without the back ache.
Below are the best beach wagon carts available on today's market. All of these wagons are fully equipped to help you carry your gear to the beach with ease.
Ready to get started? Let's go.
QUICK ANSWER: THE BEST BEACH CARTS & WAGONS
Best Beach Carts & Wagons
Beach Carts & Wagons Reviews
1. Collapsible Folding Outdoor Utility Wagon by Mac Sports

What Makes This Beach Cart & Wagon Stand Out:
Comes in 7 colors
Can carry 150 lbs
Folds nearly flat
This is one of the top rated beach carts on the market. It features large tires that can easily make it through any type of terrain, even sand. They can also fully articulate, meaning they can fully rotate making cornering and turning around a breeze.
The Collapsible Folding Outdoor Utility Wagon can fold into a compact package that is only 8 inches thick. This makes transporting it a breeze – it can fit easily in the trunk of your car. But that doesn't mean it doesn't have a strong frame. In fact, it can carry up to 150 lbs all while weighing just 22.6 lbs. It has an exceptionally durable 600D fabric material that is tear resistant and easy to clean.
It also excels at what it's designed to do: carry your belongings. The handle is long enough so the cart doesn't hit your feet while you walk while carrying even your heaviest belongings. Just keep in mind that this cart has not been designed to carry kids or people. It does, however, have two cup holders to make sure your drinks don't get lost.
2. Heavy Duty Collapsible All Terrain Utility Beach Cart by Mac Sports
What Makes This Beach Cart & Wagon Stand Out:
High capacity carry capacity
Large robust tires
2 mesh cup holders
Mac Sports is excellent at making everything you need for recreational furniture and equipment. They have been around since 1993 and have loads of experience making everything for sporting events, beach days, camping and even concerts.
The Heavy Duty Collapsible All Terrain Utility Beach Cart is truly amazing and fits Mac Sports line of equipment perfectly. It has four wheels that are made from a highly durable plastic which means they will never need to be inflated.
This is a large capacity wagon that can carry up to 150 lbs of gear. You'd think it would be bulky and difficult to transport, but you'd be wrong. It folds into a 9.7 inch thick package that can easily fit into your vehicle. No matter what sporting event you're headed to this cart will make your life easier. It will literally take a load off and let you get to the beach or your kids soccer game in one trip rather than 3 or 4.
3. Garden Folding Utility Shopping Cart by YSC
What Makes This Beach Cart & Wagon Stand Out:
Ultra lightweight
Super easy set up
Durable design and materials
If you are looking for the lightest weight beach cart the Garden Folding Utility Shopping Cart should be at the top of your list. It weighs just over 10 lbs making it an ultra light option. The best part is that you're not losing the strength or durability of some other lightweight options.
This beach cart still has the high capacity of 150 lbs with high quality parts. What makes this cart even better is that there is no assembly required. All you need to do is unfold it and you are ready to go. This makes it ideal for everyday life. No longer do you need to struggle with heavy camping chairs or coolers. Simply load this wagon with everything you need and head straight to the beach, with only making one trip.
4. Deluxe Wonder Wheeler Wide by Rio Brands
What Makes This Beach Cart & Wagon Stand Out:
Beach umbrella holder
Extra large tires
Removable tote
This Deluxe Wonder Wheeler from Rio Brands is not a traditional pull cart. In fact, this is one that you will more than likely be pushing. It has extra large 10 inch rear wheels with smaller ones at the front that have been designed to swivel to steer.
You won't be giving up any space as this beach cart has a 15 cubic foot storage capacity and a 100 lb weight rating. The frame has been designed in an "X" shape with large handles on both sides so that you can hang things like camping chairs from them. The rear handle has a soft pad so that your hands are comfortable even on long walks to the beach.
This cart also has some amazingly well designed added features. For example, it has a removable tote that even has a shoulder strap. The cart itself has a beach umbrella holder and even a spot designed for a bodyboard.
5. Heavy Duty Collapsible All Terrain Utility Beach Wagon by Mac Sports
What Makes This Beach Cart & Wagon Stand Out:
Heavy duty design
Collapses into a compact package
Carry bag included
This is one of the most durable beach carts on our list. From the tires to the frame this one has been over engineered. The tires have extra tread on them that allows them to bite into any terrain you can throw at it. They won't sink into soft sand. Instead, they glide across effortlessly.
It's frame has been made to be strong, lightweight, and foldable. This is done by strong hinges that allow the tubing to fold nearly flat while maintaining a carrying capacity of 150 lbs. Little aspects go a long way in the design. The handle extends making it great for even the tallest people.
It is also one of the largest capacity beach carts on our list. The inside diameters are 36 inches by 21 inches by 25 inches. This gives you the ability to carry absolutely everything you need in one trip.
(Hey! You May Also Like: Best Beach Tents)
6. All Terrain Beach Cart by Tommy Bahama


Check Price Now
What Makes This Beach Cart & Wagon Stand Out:
Steel frame
Powder coated
Lightweight
This is one of the better stand up beach carts on the market. Tommy Bahama is a top of the line company that puts thought and experience into their products.
You will be surprised by how much this cart can carry. It may seem small compared to some wagons but we can assure you it is not small. In fact, you can even fit a full sized surfboard, along with all of your other gear, in this cart. It has a capacity of 15 cubic feet and a 100 lbs carry capacity while weighing just a mere 13 lbs itself.
The material used to construct this cart is high quality and will last for years to come. It has a high quality mesh fabric that is designed with a quick dry system. The frame is made from steel and has a powder coating that protects it from salt water and dents.
7. All Terrain Beach Cart With Extra Wide Rear Wheels by Tommy Bahama
What Makes This Beach Cart & Wagon Stand Out:
Rust resistant frame
Insulated cargo box for cold drinks
Large 100 pound weight capacity
Tommy Bahama is responsible for this impressive beach wagon with big wheels. The 4 wheel design is incredibly sturdy and the wide rear wheels work to make this cart all terrain friendly. This allows this cart to move from pavement to sand to gravol with ease.
This durable cart is made using only the highest quality materials. The steel frame of this cart features a rust resistant coating. This greatly increases the lifespan of this all terrain cart making it tough enough to be used at the ocean. The cart is easy to collapse making for ideal storage. In addition, you can snap the wheels on and off easily for even easier transportation.
With an umbrella holder and room for up to 4 beach chairs, this cart will effortlessly allow you to bring all your gear along with you. Featuring an impressive 100 pound weight capacity this wagon is tough enough to carry all your gear with ease. A removable insulated cargo bag allows you to bring along cold drinks and great snacks with ease. This feature makes this cart the ultimate summer accessory.
8. Wonder Wheeler Plus by Rio Brands
What Makes This Beach Cart & Wagon Stand Out:
Folds completely flat
Multi-terrain use
Lightweight and durable design
Rio Brands makes another outstanding beach cart with this Wonder Wheeler Plus. Made from spun polyester this wagon features high quality material that is built to last. The 8 inch wheels feature a wide tread that is built to handle most types of terrain.
Ideal for families, this wagon can hold a 32 quart cooler and up to 4 beach chairs with ease. This will still leave room for your pool floats and any other gear you wish to bring along with you. Weighing a mere 11 pounds this is an ideal cart that can be used by just about anyone. Incredibly durable this 4-wheel design is built to be both stable and reliable.
This beach cart is incredibly versatile. It's 75 pound weight capacity makes it a great option for grocery shopping, camping, and any outdoor activities. It can even be useful when at home turning into a holder for recyclables or make an excellent laundry hamper. If you don't want to use it in your home that is fine too. This cart folds completely flat for easy storage without taking up additional room.
9. Deluxe Ultra Wonder Wheeler by Rio Brands
What Makes This Beach Cart & Wagon Stand Out:
Insulated cooler bag
Functional utility tray
Generous 100 pound weight capacity
This Deluxe Ultra Wonder Wheeler beach cart is built to handle all the gear you can throw at it. Designed to effortlessly hold a 48 quart cooler and up to 6 beach chairs you will be able to tote around all your families gear with ease.
Large 10-inch pneumatic tires allow you to bring this cart with you even through sand, gravel and any other uneven terrain. The rubber tread offers smooth mobility which will allow almost anyone to cart it with ease. A generous 100 pound weight capacity means that you can bring even more gear along with you. This impressive weight capacity doesn't weigh the wagon down and instead only weighs 17 pounds on its own.
Rio Brands designed this beach wagon to be the ultimate summer accessory. That is why this design features an insulated cooler bag to keep your drinks cool for you. It also has a side umbrella holder making it so all your gear has a place to belong. Complete with a large mesh storage pouch to hold your bigger items and a utility tray with built in cup holders. This wagon even has storage for your quick grab items such as your phone and tablet.
The uses for this wagon go far beyond simply the beach. Useful and compact enough to bring just about anywhere this cart has all the functionality to be great for the zoo, the park or any other event. Collapsing down to almost completely flat this durable cart will soon be your favorite summertime go-to. As far as beach carts with big wheels go, this is one of the best.
10. Beach Cart With Folding Table by Beach Mall
What Makes This Beach Cart & Wagon Stand Out:
Large wheels great for sand
Turns into a table with cup holders
Powder coated rust resistant coating
Beach Mall is responsible for this top quality beach cart. Standing tall means that you don't have to hurt your back as you bend over to walk this cart through the sand. The spun polyester fabric of this beach cart can hold all your gear up to 75 pounds. This means you can bring your towels, snacks and snorkel gear along with you effortlessly.
The trunk of your car will likely be full of gear and Beach Mall understands that. That is why they have made this cart completely collapsible. This way you can bring it with you everywhere you go. The wheels can be removed and reinstalled incredibly easy in a matter of seconds.
This cart features a dual thick wheel design that helps you to navigate through the sand with ease. Hang up to four beach chairs over the end metal bracket with ease taking up virtually no space. Built with durability and ocean spray in mind, this cart features a powder coated steel tubing frame. This rugged build means it can withstand harsh sun and long exposure to salt water with its rust-resistant coating.
This cart doesn't stop its usefulness once at the beach, instead you can simply fold it flat making a table. The wheels sit facing up and the cart has legs that dig into the sand or lay on grass. Perfect for picnics this cart features 4 cup holders and a large table surface area.
Features to look for in Beach Carts & Wagons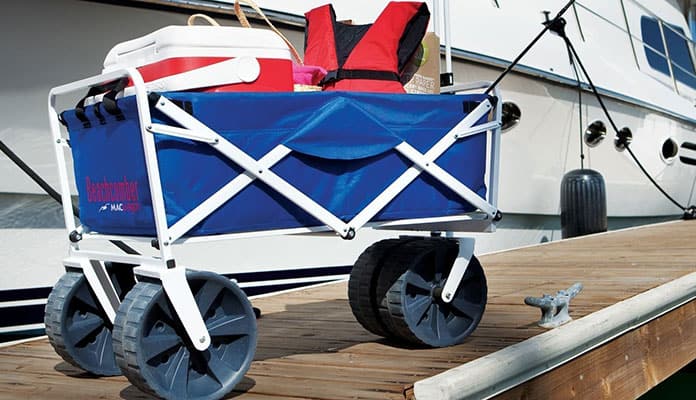 There are a few key features to look for when searching for your ideal beach cart or wagon. It is important to know what it can come with so that you can make an informed decision about which option is best for you.
Wheels
If your cart's wheels aren't large enough they will sink in soft terrain, like sand. High quality carts use a plastic material that has a wide stance and extra traction. This allows them to skim across the surface of the sand even when they are fully loaded. Pulling a cart through the sand is hard enough without all four wheels sinking.
Frame
This is one of the most important parts of your cart. If it has been poorly designed you can actually bend and break it. You also have to consider the location you are taking it. For example, if you frequent the ocean you have to consider that the salt spray can deteriorate it over time.
Companies have special ways to combat this including a powder coating or using alternative materials like aluminum. If the cart you are looking to purchase is made from steel look into the reviews to see how it holds up over time. It is important to also note the weight capacity of your cart. A high quality frame will be able to hold between 75-100 pounds.
Material
All of this is redundant if the material in the cart is of poor quality. Manufacturers have learned that the best material is a 600D fabric. It is not only super durable and tear resistant but also lightweight. This fabric is also easy to clean. We have all been there, a drink spills in the cart and it's nearly impossible to clean. Simply get the hose and spray the card down when you get home and it's clean.
Weight
Even though they should be able to carry tonnes they shouldn't weigh that much. An ideal weight is around 15 lbs. We find that any heavier and they are hard to fold and maneuver while any lighter makes them feel cheap and breakable. This weight ensures the cart finds the balance between durability, strength and portability. Beach wheels for wagons is a feature that should not be overlooked and can lead you to have a quality cart.
Foldable
The cart you choose should also be able to fold into a compact package. Most carts will have a simple way of doing this (like pulling a tab). The final dimensions should be somewhere around 6-10 inches thick. This means it won't take up a lot of room if you throw it in your trunk and forget about it. After all, what good is it if you can't get it to the beach.
Added Accessories
As the market for these beach wagons for soft sand becomes more saturated companies are coming out with advancements in their designs. This is often seen in the way of umbrella holders and the ability to hold between 4 and 6 beach chairs at any given time. The advancements haven't stopped there.
To stay ahead of the market trend many companies are incorporating insulated coolers into their design. Features such as utility trays, cup holders, cell phone holders and lightweight designs are becoming even more prevalent in current designs.
Globo Surf Overview
Beach wagon reviews are raving about how much simpler these carts make summertime fun. Being able to carry your umbrellas, chairs and all your other gear along with you in one trip is important and not always the easiest. All the beach carts are made using top quality material which can reliably carry everything you need. No longer do you need to stress about juggling your gear or finding the best parking space. Instead, all that is left to do is to enjoy your summer time vacation.
Sources
Tommy Bahama, Tommy Bahama
Do you use one of the Carts & Wagons that made our list for your summertime adventures? Talk to us about how you like it in the comment section below.
Globo Surf Beach Carts Review
★★★★★
"
Was looking for a cart or wagon style that my family can put all your beach toys in with our towels and transport around the beach. Glad I found your article.
"