When it comes to your boat, batteries are precious cargo. Not only is it vital that they are protected to prevent them from falling but they also contain a lot of dangerous chemicals that would cause a big hazard should they ever spill out from the casing.
Due to that, it's a great idea the invest in a battery box that will act as a protective hub for your battery and to ensure that it is protected from the harsh marine environment, while still being able to perform to its full capability.
Getting the best marine battery box you can find then is obviously crucial to have the highest level of protection for your boat. Here at Globo Surf, we have developed a buying guide to help you through the process and have looked at the marine battery box reviews to make sure that you can find the best boat battery box for you.
MinnKota Trolling Motor Marine Battery Box
See Customer Owner Feedback >>
What Makes This Marine Battery Box Stand Out

Easy-access terminals

In-built battery meter which displays the battery's charging status

For 24 and 27 size batteries

Dual accessory ports to connect 12 volt DC accessories

External ports provide easy connection for trolling motor
Item Weight: 1 pound
Product Dimension: 14.9 x 8.7 x 15 inches
NOCO Snap-Top Marine Battery Box
See Customer Owner Feedback >>
What Makes This Marine Battery Box Stand Out

It can accommodate batteries of different sizes

The cover has two openings for ventilation

The patent locking tabs secure the base completely

The box is sturdy and UV resistant

Use it for smaller batteries with the adjustable divider
Item Weight: 1.85 pounds
Product Dimensions: 17.63 x 10 x 10.5 inches
Camco 55363 Standard Marine Battery Box
See Customer Owner Feedback >>
What Makes This Marine Battery Box Stand Out

The box is designed to accommodate batteries from 24-31 size

Made from polypropylene, this box is durable and lightweight

Includes accessories like stainless steel screws and foot clamps

The cover includes 2 small openings that allow ventilation

The hold down strap is the perfect tool to secure the box
Item Weight: 2.94 pounds
Package Dimensions: 13.7 x 12.5 x 9.7 inches
Attwood Standard Marine Battery Box
See Customer Owner Feedback >>
What Makes This Marine Battery Box Stand Out

The box comes with large handles having rolled edges

The two wide openings on the top keep the batteries ventilated

The box is strong and can resist forcing up to 350 pounds

This polypropylene constructed box is acid-resistant

These boxes are safe and built according to ABYC standard E-10
Item Weight: 2.2 pounds
Product Dimensions: 15 x 19 x 21 inches
Newport Vessels Trolling Motor Smart Marine Battery Box
See Customer Owner Feedback >>
What Makes This Marine Battery Box Stand Out

It has a USB charger and 12V DC outlet for charging other devices

The spacious interior can fit batteries of size 24 up to 27

You can charge the battery easily with the LED battery meter

The 10 & 60 AMP circuit breakers will protect devices from electrical damage

The external battery ports provide an easy charging option
View More By Newport Vessels »
Item Weight: 3 pounds
Product Dimensions: 12 x 10 x 17 inches
Moeller Injection-Molded Marine Battery Box
See Customer Owner Feedback >>
What Makes This Marine Battery Box Stand Out

Hold down strap covers the entire box, making it extra secure

With sufficient storage capacity, it can fit batteries of 31 inches

The high-quality plastic makes it non-corrosive

The small wide openings on the cover keep the batteries ventilated

It has an additional 12v adapter on the side
View More By Moeller Marine »
Item weight: 2 pounds
Product Dimensions: 25 x 15.5 x 27.5 inches
Stealth Cam 12V Marine Battery Box
See Customer Owner Feedback >>
What Makes This Marine Battery Box Stand Out

It includes a durable 12 v battery

The weatherproof battery box secures the batteries

The in-built handle allows you to transport the box easily

It comes with an attached port for quick charging

It has accessories like 10-foot cable and hanging strap
View More By Stealth Cam »
Item weight: 6.65 pounds
Product Dimensions: 10.2 x 5 x 5.5 inches
UPG 40790 Black Marine Battery Box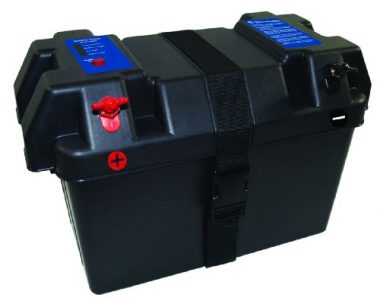 See Customer Owner Feedback >>
What Makes This Marine Battery Box Stand Out

The sturdy strap with strong buckles covers the entire box

The LED indicator displays the charging status

This heavy-duty box will resist every strong force

You can fit in size 24 up to 27 size batteries easily

It has two auxiliary 12VDC plugs
View More By Universal Power Group »
Item Weight: 3.8 pounds
Product Dimensions: 17 x 11 x 10 inches
SeaSense Unified Marine Station Marine Battery Box
See Customer Owner Feedback >>
What Makes This Marine Battery Box Stand Out

Built-in LED system for checking battery status

You can charge other accessories using the 12v socket

The handle on the cover gives a strong grip for holding

The device can be secured with the adjustable hold-down strap

You can determine battery condition with a push of a button
Item weight: 1.96 pounds
Product Dimensions: 17 x 14 x 11 inches
Infinite Innovations Inc Uriah Products Marine Battery Box
See Customer Owner Feedback >>
What Makes This Marine Battery Box Stand Out

The fine quality of polypropylene makes this box tough and durable

You can lift this heavy-duty box using the sturdy side handles

This box is extremely safe and designed according to SAE standards

The top venting holes will keep the battery thoroughly ventilated

You can lock in the box through the strong straps
View More By Infinite Innovations Inc »
Item Weight: 1.96 pounds
Product Dimensions: 11 x 7.5 x 9.25 inches
How To Choose The Best Marine Battery Box – Buying Guide
Plastic
Plastics come in different forms with a number of different qualities. A marine battery box has to be very durable so that it can resist the impact of external factors like the battery acid that might suddenly leak out. Since substances such as polypropylene efficiently deal with harsh battery chemicals, therefore they are used as the main element in the construction of battery boxes.
LED Indicator
An LED indicator can give you a useful visual on the status of your battery. This will enable you to find out when the battery needs a charge without getting it out and testing it yourself. If you're confident that your battery is going to be able to hold the charge you need then getting a plain battery box without this feature wouldn't be a problem.
Straps
Heavy-duty straps are effective in securing the battery box lid; also they keep the whole unit in place. Make sure that the strap is strong enough to hold everything inside-this feature is very important as the whole point of having a battery box is so that your battery inside can be protected.
Durability
As a product that is designed in order to protect another product, it is obviously vital that the battery box is durable so that it can protect your battery even in extreme conditions. For this, the most important thing is that it should be made out of durable plastic as we have discussed. You must also ensure that the box is resistant to shocks, temperature changes, acid, and corrosion too.
Design
The design of a battery box should be simple, making it easy to use. While some may have more features than others, all of them should have the core design feature of being able to protect your battery and you need to ensure that you are getting the right size box for your battery.
Protection
It is vital that the battery is protected from outside elements like acid or the released gases. Your battery cover also needs to be protected from elements such as rocking and vibration that occurs on a boat as well as the corrosive sea air.
Type of Battery
Some batteries are more likely to need a box, for example, an older battery is more likely to fail so it will require protection. A flooded type of battery is also much more likely to leak acid than an AGM battery. Whatever the type of battery though, offering it the protection of a battery box can only help to extend its life.
Secure Mounting
One of the key reasons to get a battery box is to have a secure mounting in which you are able to place your battery. In order to do this, you need to look for battery boxes that can be firmly secured to your boat. Also, the product should come ready so that you can install it wherever you want to. Insecure mounting might lead to problems in challenging conditions like traveling through rough seas.
Waterproof
In general battery, boxes aren't waterproof so this isn't a feature that you need to look out for. The reason for this is that batteries require a certain level of ventilation which generally can be found under the lid. A battery box though should be well-designed so that no water can get inside the box from splashes or rain.
Easy Terminal Access
Having easy access to the terminals can be a useful feature for battery boxes. Even though the box is there to protect them from the elements, you don't want to have to work too hard when it comes to using the battery.
Easily Portable
This is only important if you're not looking to store your battery on your boat. If you want to be able to take it away then there are battery boxes that are a lot easier to carry. The easiest way to do this is by choosing a box with a big handle so you can simply pack it away and take it out when you need it.
FAQs
Q: Can you overcharge a marine battery?
A:
If you leave the battery on charge for more than the recommended time period, then it will easily get overcharged. Overcharging can cause extreme damage to the quality of your battery. An overcharged battery makes the battery acid boil, and the chances of the battery exploding or cracking increases. Thus, an overcharged battery is not only dangerous for your devices but it also has a serious threat to your and your boat's safety.
Q: How do you hook up a boat battery box?
A:
Installing a boat battery is an easy procedure if you carefully follow the recommended steps:
Start by removing the older battery (if there is one) by switching it off and removing its wires also.

Place the new battery in its box and secure it in.

Grease the terminals before connecting the cables.

Start by connecting the cables to the positive terminal and then attach the second cable to the negative terminal.

Clear any wires out of the way as they will get stuck with the lid of the battery box.

Check the connection before operating. It is ideal that the batteries have a soft and firm connection.

Close the lid of the box and operate it as per your need.
Q: What is a Marine Battery Box?
A:
A marine battery box is quite simply a box for your battery, but it has a few key purposes to serve. It needs to be able to securely keep your battery in one place so that it doesn't move around when you're on the boat. It should also act as a shield and make the battery resistant to the motions of the boat. The battery box also does a key job in protecting you from the battery by increasing its resistance to its acid and by getting rid of any unwanted gases.
Q: Why Should You Use A Marine Battery Box?
A:
If you have an AGM battery that is completely sealed and maintenance-free then you might be wondering whether you even need a battery box for it or not. A battery box has key advantages and acts as a barrier between your battery and the outside environment. A marine battery box makes sense as it functions as a safety net for a vital piece of boat equipment.
Q: What Are The Benefits Of Using Marine Battery Box?
A:
As we've discussed, the primary use of a battery box is to protect your battery from anything that might harm it as well as protecting you from any harm that the battery might do to you. Furthermore, it comes in a handy carry case so that you're able to transport your battery from one place to another. Other features such as an LED indicator can show you how much charging is remaining. Over time it will save you money as it reduces the cost of battery maintenance and replacement.
Globo Surf Overview
You only have to think about what would happen if your marine battery got damaged to see the advantages of using a battery box. Getting the best marine battery and putting it in the best battery box is the best bet to ensure that the worst isn't going to happen. Selecting the best involves getting a heavy duty battery box which is resistant to everything that both the marine environment and the battery inside throw at it.
It is important to check the size of your battery to make sure that it fits in the box. You must also ensure that it is made out of the right materials and has the features that you're looking for. Buying a battery box is a lot about common sense as there aren't many reasons to not have one. Even the strongest batteries can get damaged and we know how serious it can be when it fails. You should be able to enjoy your battery without worrying that it's not going to be able to power your bilge pump. Getting the best battery box will give you the peace of mind that you and your battery are going to be protected at all times.
More Boat Reviews: