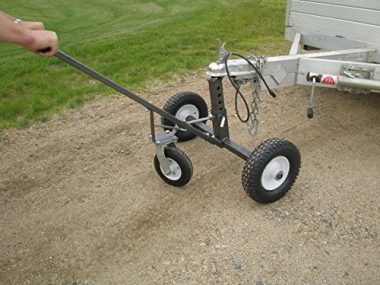 See Customer Owner Feedback >>
See Customer Owner Feedback >>
The Best Boat Trailer Dolly
Boat trailers can be a hassle when you have to move them around. They are often heavy and tough to navigate. For this reason, you should consider getting a boat trailer dolly. This simple device can make your job much easier – you can move or store your trailer at tight spaces without excessive strength required.
Even though the function is straightforward, there are different products available depending on the weight of your trailer, as well as what you expect from the dolly itself. We selected some excellent products which will certainly make towing the trailer something you can do on your own. Also, be sure to take a look at our buying guide and learn how to pick out the best boat trailer dolly for your needs and budget.
Let's get started.
How To Choose The Best Boat Trailer Dolly – Buying Guide

Generally, you want your dolly to have a strong build. It needs to support a heavy load while you move it around. So, first and foremost, look for a sturdy and durable product even if it costs a bit more. Of course, there are some additional features a dolly might have – extra wheels, various level of adjustability or an electric motor. These are nice but not necessary to everyone, and often add to the overall price.
Weight Capacity
No matter which type or brand you get, every dolly has a weight capacity. It's designed to support the trailer tongue weight. This is the amount of weight which transfers to the ball hitch. You know this can be very heavy – often you can't lift it yourself when attaching to your car without using a tongue jack. This means the dolly has to support the same weight. Be sure to check this in advance, because the dolly might break if you overload it.
Adjustability
Dollies should have adjustable hitch height. This means that the ball can be positioned higher or lower compared to the trailer, making it easier to lift the trailer and hold the handle in a more natural position. If the ball is low, the connection will sit too low and make maneuverability next to impossible. Best boat trailer dolly will have the hitch ball fit on the coupler firmly in an optimal position.
Use
Dollies are used to tow the trailer wherever you need it. The trailer coupler is attached to the hitch ball and when you push the handle down a bit, you lift the tongue of the trailer so you can navigate it. Since the connection is a ball, it allows great maneuverability so you can make sharp turns. Depending on your needs, ball sizes can be different, as well as the design of the dolly.
You can get different sized wheels, with either inflatable or solid rubber tires. Pay attention to the size and pattern of the tires, especially if you're going to use them on surfaces like sand or dirt. Some dollies have additional caster wheels to take some load off and make turning very easy.
FAQs

Q: What Is A Boat Trailer Dolly?
A:
It's a piece of equipment which allows you to tow your boat trailer. It attaches to and lifts the tongue of the boat trailer, and using the handle you can navigate the trailer to any position you like.
Q: Why Do I Need A Boat Trailer Dolly?
A:
It takes a load off your back – otherwise you would have to do the heavy lifting yourself or with another person. This can be very straining, because you know boat trailers are very heavy. Also, a dolly allows you greater precision when moving the trailer, so you can park it somewhere even if it's narrow.
Q: What Is The Difference Between An Electric And Hand Trailer Dolly?
A:
On a hand trailer dolly you do the moving yourself – when you attach the trailer to your dolly, you have to pull or push the handle to move the trailer. On the other hand, an electric boat mover has a motor which powers the wheels, so you don't have to do any work.
Controls on a powered boat trailer dolly are usually located on the handle, or you get a remote control to move it forward and backward. The motor is powered by a battery, and it's connected to the wheel axle with a chain. The whole system allow easy steering and movement, and it can be very useful to people who want to avoid any type of lifting.
Globo Surf Overview
Buying a trailer dolly can make towing and moving the trailer a simple task. You don't have to overspend to get a reliable product, but be careful about which type of product you need (whether you need it to support a larger weight or have specific features). We presented different dollies on the list, so you have enough to choose from. Give it a go, you'll wonder why you didn't get it sooner!
More Boat Reviews:
Have you tried a boat trailer dolly that made it onto our list? Was it easy to use and navigate? Are you satisfied with the strength? Please share with us in the comment section below.
Globo Surf Boat Trailer Dollies Reviews
; ; ;
★★★★★
"
Found your article while looking for a good trailer dolly. Very objective reviews. Thank you!
"