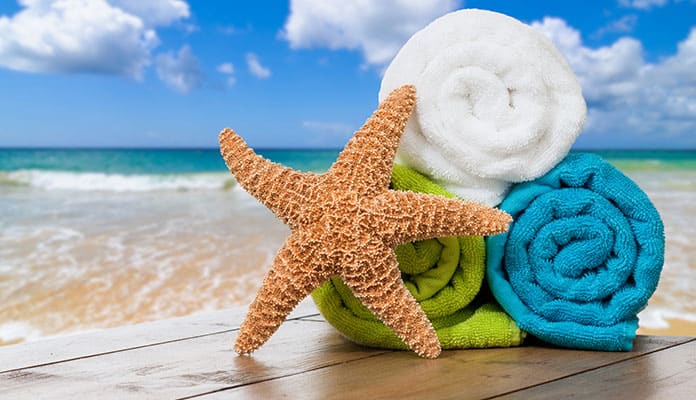 OUR TOP PICK

---

EDITORS CHOICE

---
A relaxing day on the beach is hard to imagine without a good beach towel. It's much more than just a piece of fabric to wipe yourself with – it's also a soft surface to lounge on and enjoy your day in the sun.
When looking for the best beach towel, it's important to think about absorbency, drying time, and comfort. In addition, if you're after the best oversized beach towel, size will be essential too.
To help you find the perfect one, we've carefully researched and selected ten best beach towels for our list. Each of these models offers top-level comfort and durability. And, if you want to learn more about all of the features, be sure to also check the buying guide below.
How To Choose The Best Beach Towel – Buying Guide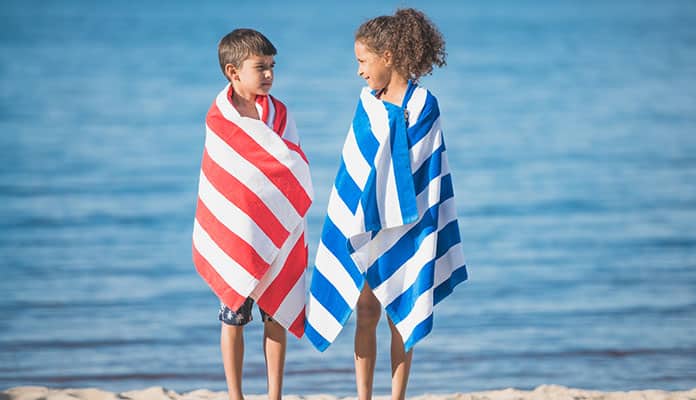 Materials and Performance
High-quality materials are perhaps the most important thing when selecting a beach towel. It needs to strike a balance between comfort, good absorbency, and quick drying. With this in mind, two materials stand out – cotton and microfiber.
Cotton: These towels can be very luxurious and gentle, especially if the fabric is higher-weight. When used on the beach, a cotton towel is very absorbent and comfortable, but dries a bit slower and requires more space to pack.
Microfiber: In terms of structure, this material is actually a blend of several synthetics (polyester and polyamide most notably). While microfiber towels beach dry faster and are more convenient to pack, they are slightly less absorbent and feel rougher.
Beach Towel Size and Shape
Compared to a standard towel, a beach towel is usually much larger. On average, it measures 60 x 30 inches, giving you plenty of space (but not quite for the whole body). For this reason, we've also featured a few extra-large models on our list (over 70 inches in length), for those of you who are taller or simply want more comfort.
Thickness (Material Weight)
When it comes to towel thickness, we would advise that you choose a moderately-thick product that is comfy but isn't too bulky. Towel thickness is shown through Grams per Square Meter (GSM), where a larger number means a heavier fabric. Most lightweight beach towels weigh between 350 and 450GSM, offering both comfort and decent drying time. 
Absorbency and Drying Efficiency
The absorbing power depends on both the material and the fabric weaving. For example, a material with closed upright loops (like terrycloth) will be very efficient at absorbing moisture. At the same time, it should also dry off relatively fast. While having a high-absorbing and quick-drying towel would be ideal, most models are usually better at one or the other.
Eye-Catching Style
Even though design shouldn't be at the top of the list when choosing, all of us put great importance on how the towel looks. Besides just the looks, the color impacts the towel's performance to a degree (a black color can get very hot, while a white towel can become yellow in the sun).
Cleaning and Maintenance
The ease of cleaning and maintenance depends on materials, dyeing, and construction. With that said, all the best pool towels on our list are perfectly safe to throw in a washer. As for drying, many manufacturers even recommend that you put the towel in a dryer (so it remains fluffy and soft).
Balance between Price and Quality
With just a little effort while searching, you'll see that the best travel beach towels don't have to cost an arm and leg. For instance, you can find fantastic towels for as much as $25. And, if you choose to with a family pack of 2 or even 4 towels, you'll come across even better deals.
FAQs
Q: What Is The Difference Between A Regular And Beach Towel?
A:
The main differences between bath and beach towels are size, thickness, and color. Compared to bath models, they are larger, allowing you to lay on them properly without half of your body being in the sand. Also, beach towels are thinner – a feature that allows them to dry much faster than bath models.
Q: Are Beach Towels Waterproof?
A:
No, beach towels are not waterproof. If it were waterproof, it wouldn't be able to do its main job – dry you off after you get out of the water. This means that not even the best beach towels are made to repel water. Instead, they are made to absorb it and create a protective barrier between you and the sand.
Q: Why Do I Need A Special Beach Towel?
A:
You need a beach towel because it's specially designed for that purpose – it's very absorbing, dries fast, and it's large enough to lay on. While you can technically use a bath towel on the beach, it won't be as comfortable (it will be too small and it will stay wet all day).
Q: How to Wash Beach Towels?
A:
Considering that they are usually made of cotton or microfiber, most are perfectly safe to wash in a machine. Before you put it in, remember to shake out the towel well and rinse it to remove grains of sand that are stuck. While beach towels usually have steady colors, it's still best that you wash them with similarly-colored items.
Globo Surf Overview
Whether you plan to lie on it all day or you just want it to dry off quickly, a good beach towel is a necessary piece in your beach bag. The best microfiber beach towels are guaranteed to improve your comfort level and make the day even more enjoyable. If you follow us with these simple tips about size and materials, we're sure that you'll find a model you can use proudly every time you go to the beach.
More Beach Reviews: