During those warm summer months, we all love to spend time sunbathing and soaking up some quality vitamin D next to a refreshing body of water. Enjoying the summer rays and splashing in the cool water is where summer memories are made! Beach towels are used to keep us comfortable, by protecting us from the feel of course sand or the hard plastic of a pool-side lounger.
Spreading out on the best oversized beach towel, or laying it over your beach chair, will ensure that you can move around without the worry of being covered in sand. The best beach towels are ones that combine absorbency, comfort, and style. Whether you are a fashionista, looking to buy some value family towels, or are looking for the best transportable towel, we have listed the best beach towels available to make sure your summer is absolutely perfect!
How To Choose The Best Beach Towel – Buying Guide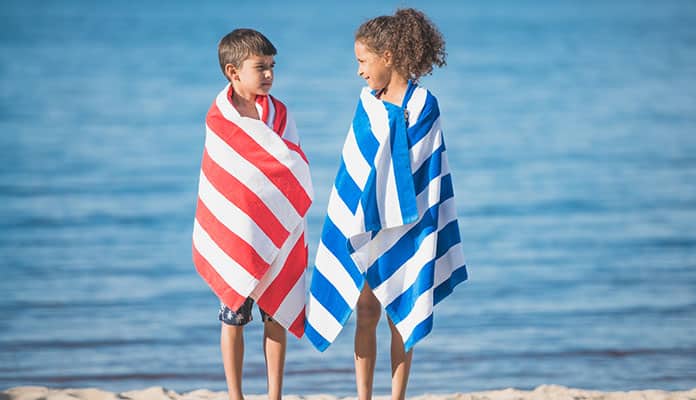 A beach towel may seem like a simple enough purchase, but there are many features and terms that will help you choose the best one for you. Everything from the material to the size can affect your day at the beach.
Material
Most of the towels on our list are made from cotton material. This is seen as a luxurious material as many hotels and spas use it for their guests. Cotton towels are also durable and absorb water while drying quickly. They are one of the ideal materials
Microfiber is also another popular textile. This material is thinner than the usual cotton weave. The polyester or nylon is excellent at absorbing water which makes it a great beach towel. If the beach you frequently visit has sandy shores this can be one of the better materials you will find.
Size
The size of your towel can vary. We find the ideal size is around 30 inches by 60 inches. This allows you to sprawl out and not get sand everywhere. Of course, this can vary depending on how tall you are. If you are on the taller side you may want to look for a 2 or 4 pack so you can extend the towel to fit your size. Some have oversized versions but these are not common.
You may not know this, but there are circle beach towels as well. These aren't nearly as popular but work just like the traditional rectangle options. They are measured by diameter (the width of the circle). These towels allow you to potentially fit more people on them. For example, an adult can lay in the middle while small children are situated on either side. We find a good diameter to be around 60 inches. This gives you enough space to fit a person lying comfortably or up to 3 or 4 people sitting.
Thickness
To determine how thick your towel should be you will have to determine your use. If you frequent a rocky beach you will want a towel on the thicker side. It will protect and cushion your body especially if you are the type of person who likes to sunbathe. If your favorite beach is sandy you will be able to opt for a thinner towel.
Just as the sheets you buy display a thread count, towels feature the same technology. Regarded in terms of grams per square meter (gsm) this will show you the quality of the towel. Most towels sit between 350-450 gsm. A high-quality towel can have as many as 600-650 gsm. This means that there is more cotton (or any other material) per square meter. This makes your towel thicker, softer and provides a plusher feel.
Absorbency
A beach towel will have to be able to dry you off quickly. If it fails to do this you will find yourself looking to replace it with one that does. But at the same time, if it doesn't have a quick drying technology you will be laying on a damp or wet towel. Not only does this attract sand fleas but it doesn't feel very good. Having a towel that absorbs water while drying quickly is ideal.
Just keep in mind a thinner towel may be a little worse at drying you after a swim. What it gives up in absorbency it gains in drying time. A thin towel won't take much time to dry, especially if it is sitting on the hot sand.
Style
Even though this shouldn't be at the top of your list it should at least be a consideration before you buy. Some towels come in a bright pattern while others are more muted. It is best to look at photos before you decide on one to see how it looks.
Also, the color can determine how well a towel holds up to time. A white or striped towel will start to show stains or dirt quicker than a darker shade. But at the same time, a black or dark colored towel will also heat up faster. All of these factors can determine the perfect color for you.
Cleaning
How easy your best beach towels are to clean will depend on a few aspects. Some towels have a frill around the edge of the seam which can make them difficult to clean. Others have a ring spun cotton that requires it not be put in the drying machine.
With that being said, most of the options on our list are able to be simply thrown into the wash and hung to dry. All of the cotton, microfiber and synthetic towels will have this ability. We suggest hanging to dry them as they can lose their softness after repeated cycles through the dryer.
Price
The best beach towels don't have to cost an arm and leg. You can find a great cotton option for around $25. Some of the options on our list come in packages that include 2 or even 4 towels making them even better of a deal. Everything from the material to the size and even color can affect the pricing of these items. For example, an oversized, or circular, beach blanket may cost more than a standard size.
Just keep in mind that these towels should last for a few years, depending on your use. Spending a little extra to ensure you are getting a soft beach blanket that is the right size for you can be seen as an investment. Most, if not all, of these beach towels can also double as a towel you use after a shower as well. This makes them a towel that you will be using every day, not just at the beach.
FAQs

Q: What Is The Difference Between A Regular And Beach Towel?
A:
There are a few subtle differences between a regular towel and a beach towel. You will usually find that a beach towel is longer than a regular towel. Regular towels are usually around 52-58 inches in length while a beach towel is around 70 inches in length. This allows someone to be able to lay on the towel without them being in the sand.
A beach towel is often thinner than a regular towel. As they are longer, there is less of a need for them to be thick as there is more surface area to dry your body. One of the primary features of a beach towel is to provide a barrier between you and the sand, and a thin towel can do that.
You may also find that there is a difference in appearance between the two towels. A beach towel is more brightly colored. This makes it easier to spot at the beach, while a bath towel will most often be chosen to compliment the decor in a bathroom.
Q: Are Beach Towels Waterproof?
A:
No, the best beach towels are not waterproof. They are designed for two functions. They are used to create a barrier between you are the sand, and they are designed to dry your body after being in the water. If a beach towel were waterproof, then it would not be able to dry you after you had been for a swim.
Having said that, you may notice that one side of a beach towel is different from the other. One side is generally better at drying you off while the other will be more resistant to collecting sand.
Q: Why Do I Need A Special Beach Towel?
A:
You do not technically need a special beach towel, but there are a couple of reasons to get one. Firstly, they are longer, and you will be able to lie out on them without being in the sand. They also have more of a resistance to collecting the sand. This means that you will be bringing less sand back home with you. By using a dedicated towel, you will not be without your regular towel. After using a beach towel, it needs to be washed. If you use your regular towel, then you will have to wash that after. Using a dedicated towel also means that your regular towels will not be worn down by the sand or salt water.
Q: How To Clean My Beach Towel?
A:
You should clean your beach towel after every time you use it. The first thing to do is to get rid of any sand and debris. Shake the towel off outside to rid it of any particles. You are going to wash your towel as you would with any of your regular towels, but we would still recommend rinsing it first with warm fresh water to remove as much of the sand and salt as possible. This will help to keep those out of your washing machine. Once the towel is rinsed, you can wash it on the same cycle you would a regular towel, and then dry it in the same way too.
Globo Surf Overview
With so many of the best beach towels on the market, you will be able to find high-quality plush towels that are great for lounging all day as well as compact travel towels that focus more on being fast drying. Whether you spend the whole day basking in the sun or in the shade under an umbrella you will want a high-quality towel that will last. All of the towels on our list combine cost-effectiveness with a quality that you are bound to enjoy.
If you liked this article be sure to read about our top beach tents to get you all geared up for summertime. They are an excellent companion to beach towels and offer an excellent source of protection from the harmful UV rays from the sun.
More Beach Reviews:
Do you use one of the best beach towels that made our list for your summertime adventures? Talk to us about how you like it in the comment section below.
Globo Surf Beach Towels Review
; ; ;
★★★★★
"
Needed some nice new beach towels for this summer for the whole family. Very nice selection.
"