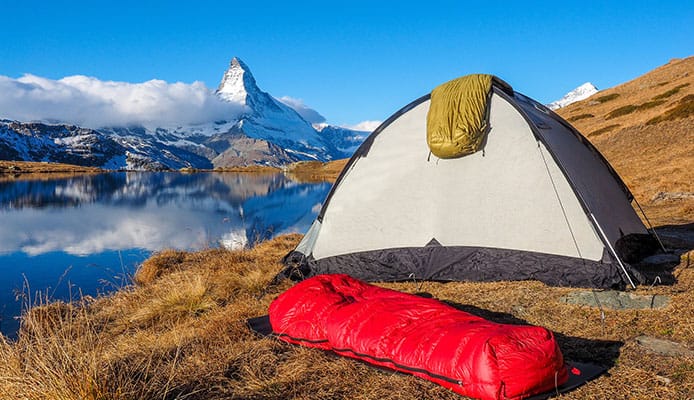 See Customer Owner Feedback >>
See Customer Owner Feedback >>
Every outdoor adventurer knows to expect the unexpected when out there. The weather is especially unpredictable these days due to climate change. The sun might be shining bright one minute only for it to start raining suddenly. Plus it tends to rain on tents. It is wise to be prepared for whatever nature may present by having the best waterproof tent.
A downpour won't ruin your outdoor experience when you have a rainproof tent to keep you and your gear dry. In fact, a drizzle can be a fun, cozy, and comforting experience when sheltering inside one. If you often go camping, backpacking, mountaineering, or hiking, a rainproof tent is a valuable investment and it is important to make sure you choose the best rainproof tent that will withstand heavy rains and strong winds and serve you for a long time.
Here, we've made the search for a really rainproof tent easy. After evaluating the various options available, we have selected and reviewed our favorite picks of the best rain proof tents on the market. Picking the right one is made easy with our buying guide that outlines the most important features you must ensure the tent you get has if it is to serve you well in the great outdoors.
Ready to get started? Let's go.
How To Choose A Waterproof Tent – Buying Guide

All the tents for rain we've reviewed here are amazing but you only need one. Deciding on which one to pick can be a challenge when you don't know what to look for. Here are the things to check when buying a rainproof tent to get a really leak-free tent that will prove reliable and shelter you for many outdoor adventures to come. 
Construction
How the tent is constructed should be your number one consideration as it will determine its reliability and durability. A well-designed and made tent will serve you for years to come giving you the best value for your money.
Most water resistant tents are made of nylon or polyester, which are water resistant and stand up to outdoor elements well. They are then equipped with a waterproof coating or treatment to make water run off the tent instead of accumulating or seeping in. 
Other aspects of construction to look for to ensure you get a really water resistant tent to include completely sealed or welded seams, inverted zippers, bathtub sewn-in groundsheet and doors and windows that close tight.
The frame, stakes, and poles should be sturdy so that the tent is strong and stable enough to withstand bad weather conditions such as rainstorms and strong gusts of wind.
Shape
The number one reason you need a water proof tent is to keep water out. Its shape should enhance its functionality. Dome-shaped tents allow water to slide off the sides instead of accumulating on the top of the tent and stand up well to strong winds.
A-frame tent shape has vertical walls and this means the maximum amount of headspace but is not as good at letting water slide off or withstanding wind as a dome tent. If you need the extra height, you can get an A-frame with a sloping roof.
Strength
In the great outdoors, strong winds often accompany heavy rains. It is essential that you choose a tent that is strong and sturdy to withstand rainstorms and gales of wind and keep you safe as well as dry. An excellently water proof tent that gets blown away by the wind won't do you any good. Ensure the tent has sturdy poles, ropes, and frame and is made of a heavy duty material.
Portability
Portability is an important consideration in a tent for hiking, backpacking, or mountaineering. Such a tent should be lightweight and easy to fold into a compact package that is easy to carry. Some tents come with carrying bags equipped with features like wheels, straps, and handles. If you're camping and getting to your campsite by vehicle, portability won't be as big of an issue. You can pick a larger tent that will offer more space and comfort for an enjoyable experience.  
Capacity
The capacity to go for will depend on how many people will be sheltering in the tent. There are 1, 2, 3, 4, 8, 10, 12-person and so on tent sizes.
A one or two man tent is suitable for single backpackers or hikers who travel light. A 3 or 4 person tent is spacious enough for two adults to sleep comfortably and have space for their gear.
Bigger tents are essential for families or big groups. There are even some with separated interior space. The bigger the tent, however, the harder it will be to transport and set up.
Choose the size that will comfortably accommodate the number of people coming with you and make it one or two person bigger so there's space for your gear.
Head Room
Ensure the tend has sufficient headroom so its occupants can comfortably move in there. A standard headroom is high enough for a tall person to move or change clothes comfortably inside. An A-frame shape with vertical walls offers maximum ceiling height.
Set up
The perfect tent should be easy and quick to pitch and dis-assemble. The sooner your tent is set up, the sooner you can start having fun. A tent with a complicated process or that requires more people to pitch it those present can be frustrating. Waterproof pop up tents are popular because they are extremely easy to install. It is a good idea to practice setting up your tent at home so it will be a breeze when you hit the outdoors.
Ventilation
A tent should keep the occupants dry and warm when it rains without it getting stuffy and uncomfortable and making the occupants feel suffocated in there. The best tents for rain are also well ventilated and breathable to let in fresh air and allow the condensation that forms on the inside of the tent because of breathing and humidity to escape.
Ventilation will also make it comfortable to be in there when conditions are warm. A downpour might be followed by a hot, dry day, and you don't want to be hot, sweaty, clammy, and uncomfortable inside as you try to shelter from the heat. Ensure the tent you choose has air-vents, mesh fabric, doors, and windows with mesh insect nets, an adjustable rain fly etc.
Seasonality
The seasonality of tents is described by the number of seasons for which they are equipped to offer adequate protection. A 2-season tent is sufficient for summer only and has a lot of mesh for breathability and a rainfly for rain proofing. Three-season tents have a heavier construction and can stand up to spring storms and strong winds. Four-season tents are usually dome-shaped and heavily insulated to withstand heavy rains, hailstorms, snowfalls, and wintery conditions.
Purpose
Different types of waterproof tents suit different purposes. Choose a tent that suits the purpose you want it for. Ultra-light tents offer the essential carrying comfort when hiking, backpacking, mountaineering, etc. A tent for camping at the beach needs to be UV and weather-resistant. 
Rainfly or Tarp
A rain fly or tarp is one of the most important features of a water proof tent. It is placed over the top of the tent as an extra layer of protection to keep away water from the tent, especially when it rains heavily.
There are rain-flies that provide partial coverage as well as full coverage ones. With partial coverage ones, ensure the windows and door of the tent are covered or sheltered. You can keep the rainfly or remove it completely or partially when the rain is gone for cooling and star gazing.
HH Rating
All tents are not created equal. The Hydrostatic Head (HH) rating of a tent tells you how waterproof the tent fabric is. It is the depth of a column of water the tent can withstand before it lets water through. A tent with a 4,000mm HH would be able to withstand a 4,000mm deep column of water.
​For a tent fabric to be considered waterproof, it must have a HH rating of 1500. The higher the rating, the more waterproof the tent. A rating of 2000 to 3000mm is sufficient for mild rains. You will need a high rating such as 5,000mm to deal with heavy, wind-driven rain.
Single or Double Wall Tent
A single wall tent is composed of a single layer canopy which is both waterproof and breathable. It will provide sufficient protection from mild drizzles, is lightweight and easy to carry and more affordable than a double wall tent. However, it won't be adequate in case of heavy rains.
A double wall tent has an inner tent that is breathable and allows air circulation and an outer fly sheet that is waterproof and protects the inner tent from getting wet. It provides better insulation and offers heavy-duty protection from heavy rains. The downside is that it is heavier and more expensive than a single wall tent. When it is sunny, you can remove the outer sheet. 
Waterproof Sealed Seams
Stitched joints where the tent material joins together are potential leakage areas in a tent. For a tent to be completely waterproof, the seams should be sealed or welded so water can't penetrate. Overlapping material at the seams provides farther waterproof protection. Ensure that the tent you choose has such seams.
Tub Flooring
The best tents for rain have tub floorings so there are no gaps between the rainfly and the floor. Also referred to as bathtub flooring, tub flooring means that the tent has 2 to 3 inches high solid layer added to the floor bottom of the tent on both sides of the tent to prevent rainwater from seeping inside the tent-interior. Groundsheets should also be made using a thicker material with a higher waterproof rating than the main tent fabric.
Vestibules
Vestibules provide a place where you can leave dirty shoes and allow wet things to dry. Ensure the tent you choose has this feature so you don't have to keep wet and muddy things inside the tent. Like the tent doorway, the vestibule should be designed in such a way that it doesn't let water get inside the tent.
Dry Entryway
The entryway can be a weakness in a water proof tent as it is an opening where water can get in. Ensure the tents entryway is made in such a way that occupants can get in and out of the tent without a lot of water pouring into the tent. It should also be designed in such a way that it doesn't allow water from the roof to flow into the tent.
Storage
First of all, ensure the tent has enough storage space for your gear by choosing a tent that is one or two person larger than the capacity you need given the number of occupants. When transporting the tent or when it is not in use, ensure that it can collapse into a convenient size for storage. 
Material
The material a tent is made of is very important as it determines its waterproof performance as well as strength, stability, portability, seasonality, and durability.
Most waterproof tents are made of nylon and polyester with a waterproof coating. Polycotton and canvas are also good tent materials but will let in some water when new. They require weathering to tighten up the weave and make them waterproof. Spraying polycotton and canvas tents with a hose before you use them outdoors tightens their weave making them completely waterproof.
Ensure the poles, stakes, ropes, guy lines and other components are made of heavy-duty materials to make up for a tent that can handle harsh outdoor elements.
Comfort
A tent should provide a dry, warm and comfortable shelter when it is raining. It should be spacious enough for the occupants to be comfortable in there and well ventilated to ensure that fresh air can get in and condensation can get out. 
Weight
For ease of carrying, you want a really tent that meets your needs and is strong and sturdy to withstand the elements and that is also lightweight. If you're backpacking, hiking, or mountaineering, the lighter the tent the better. For camping trips where you'll be driving to directly to the location, the weight of your tent won't matter much and you can go for a heavier but more spacious tent for comfort.
FAQs

Q: How to Keep My Tent Waterproof?
A:
With time, the waterproof treatment on a tent wears off and moisture starts soaking through. You can keep your tent waterproof by sealing the seams with a seams sealer, refreshing the urethane coating, and reapplying the DWR (durable water repellent) coating. Do this on a warm, dry day and on a completely clean tent. Once, you have applied the waterproof treatments, leave the tent to air dry.
Q: What Is The Difference Between Waterproof And Regular Tent?
A:
Regular tents are made for ordinary weather and only have some basic level of water resistance that provides protection from light rain or moisture. Waterproof tents, on the other hand, are equipped with superior waterproof protection making their surfaces completely impervious to water. Their inside stays dry even during heavy rains and extremely humid conditions. They are constructed using thick materials, waterproof coatings, and sealed seams.
Q: Why Do I Need a Water proof Tent?
A:
You need a rainproof tent to protect you and your things from moisture caused by rain, early morning dew, and humidity. A rainproof tent offers you the highest level of protection ensuring your stay dry even during heavy rainstorms. When outdoors, you can never be completely confident what the weather will be like. It is wise to hope for the best but prepare for the worst by having a rainproof tent you can rely on.
Globo Surf Overview
A quality and really water proof tent is an essential component of your outdoor gear. It's worth doing extensive research to determine the best wet weather tent to get and spending good money to get a reliable and durable one. We hope our waterproof tents reviews and buying guide will help you find the best rainproof tent for rain protection whether you want it for camping, backpacking, hiking, or mountaineering. 
All the waterproof tents on our list are top rated tents for rain and offer comfort, space, strength, durability, security, and protection in the great outdoors. No matter your needs of preference, there is a tent that will fit the bill. Equipped with the best waterproof camping tent, you will always be prepared for whatever mother nature brews up and your outdoor experiences will be as amazing as you plan them to be. Happy adventures!
More Water Gear Reviews:
What water proof tent sounds perfect for your needs? Do you have any experience with any of the tents for rain we've reviewed? Tell us in the comment section below!
Globo Surf Waterproof Tents Reviews
; ; ;
★★★★★
"
I am preparing for a camping trip and your buying guide helped me a lot when choosing a good waterproof tent. Thank you!
"