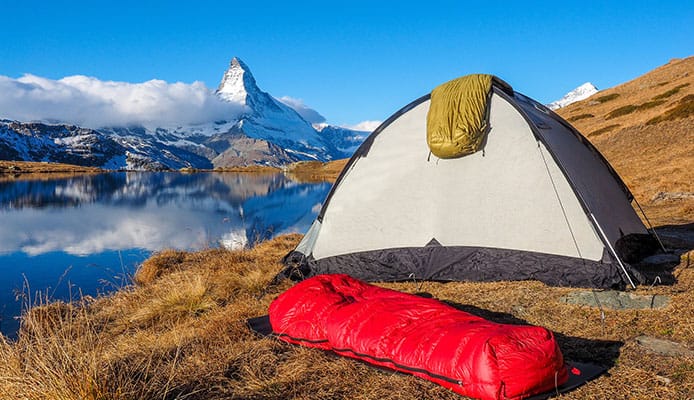 EDITORS CHOICE

---
As an outdoor adventurer, you know how unpredictable the weather can be in the great outdoors. The sun can be shining bright one minute only for rain to start pouring the next minute. If you're not prepared for it, an unexpected downpour can ruin even the most promising camping trip.
This is why it's important to invest in a top-rated tent for rain. To make the search for a rainproof tent easy, we have reviewed the 10 best waterproof tents on the market and compiled a guide on how to pick the best waterproof tent for your needs.
How To Choose A Waterproof Tent – Buying Guide
Rain and Weather Resistance
To ensure you choose a truly waterproof tent you can count on to keep you dry even in a torrential downpour, pay attention to the following features the best tents in the rain have:
HH Rating

: The Hydrostatic Head (HH) rating of a tent tells you how waterproof the tent fabric is. A rating of 2000 to 3000mm is sufficient for mild rains. You will need a high rating such as 5,000mm to keep out heavy, wind-driven rain.

Sealed Seams

: Stitched joints where the tent material joins together are potential leakage areas. With the best tent for outdoors, the seams are covered, sealed, or welded so water can't penetrate through.  

Tub Flooring

: The best waterproof tents have tub or bathtub flooring and welded floors. This prevents rain splatter and groundwater from getting into the tent. The groundsheets should be made using a thicker material with a higher waterproof rating than the main tent fabric.

Rainfly and Tarp

: A rainfly is placed over the top of the tent as a tent rain cover to offer an extra layer of protection when it rains heavily while a ground tarp serves as a footprint or tent base to help keep groundwater from flowing into the tent.

Seasonality

: The seasonality of waterproof camping tents tells you the number of reasons for which a tent is equipped to offer adequate protection. A 2-season tent is designed for warm-weather camping. 3-season tents can stand up to spring storms and fall weather. A 4-season tent is heavily insulated to withstand heavy rains, hailstorms, snowfalls, and winter cold. 
Related Review: 4 Season Tent
Wind Resistance

: In the great outdoors, strong winds often accompany heavy rains. The best waterproof tent should also be strong enough to withstand gales of wind. The best tents in rain have sturdy poles and come with stakes and ropes for additional stability in rough conditions.

Sun Resistance

: A waterproof tent for camping in warm weather conditions should also be able to block UV rays. This will ensure the inside of the tent is a cool and safe shelter from the heat. 
Size
The tent capacity to go for will depend on how many people will be sheltering in the tent. A 1 or 2-man tent offers enough space for a single backpacker or hiker. A 3 or 4-person tent is spacious enough for two adults and their gear. Bigger 6, 8, 10, and 12-person tents for campers offer plenty of space for families and big groups. 
The dimensions of the interior of the tent will tell you whether your sleeping bag or air mattress will fit inside the tent. Another important spec to evaluate is the ceiling height. Make sure the tent has sufficient headroom so its occupants can move and change clothes comfortably.  
Related Reviews: 4 Person Tent & 6 Person Tent
Construction and Materials  
To ensure you get a high-quality rain tent that is built to shelter you for many outdoor adventures to come, be sure to evaluate the following features:  
Materials

: Most waterproof tents for rain are made of nylon or polyester, which are water-resistant and stand up to outdoor elements well. A water-repellent coating or treatment is then added to the tent fabric. The poles, stakes, ropes, and other components should be made of heavy-duty and weather-resistant materials.

Single or Double Wall Construction

: A single-wall tent is composed of a single-layer canopy. It will provide sufficient protection from mild drizzles. A double-wall tent has a breathable inner tent and an outer waterproof flysheet. It provides better insulation and is the best waterproof tent for heavy rains.  

Strength

: In the great outdoors, strong winds often accompany heavy rains. The best waterproof tent is strong and sturdy enough to withstand rainstorms and gales of wind and keep you dry and safe. Ensure the tent has sturdy poles, stakes, and ropes.
Design and Features
Shape

: Dome-shaped tents allow water to slide off the sides and make for a sturdy tent in the rain that stands up well to strong winds. The A-frame or cabin tent shape has vertical walls and offers plenty of headspaces.

Ventilation

: The best waterproof tents are also well ventilated and breathable to let in the fresh air and allow the condensation that forms on the inside of the tent to escape. Ensure the tent you choose has air-vents, doors, and large windows with mesh insect nets, and an adjustable rainfly.

Entryways

: The entryway can be a weakness in a waterproof tent as it is an opening where water can get in. The tent's entryway should be made in such a way that occupants can get in and out of the tent without a lot of water pouring into the tent. For ease of access, two doors are ideal.

Vestibules

: The best waterproof tents have vestibules, which provide storage space for dirty shoes and wet and muddy things. The vestibule should also be designed in such a way as to keep water out of the tent.
Ease of Use
If you're backpacking, hiking, or mountaineering, the best waterproof tent for these activities should be lightweight with small pack size. For base camping and car camping trips, you can bring along a more spacious tent for comfort.
The best waterproof tent should also be easy to set up and dis-assemble. Waterproof pop-up tents are popular because they are extremely easy to pitch. It's a good idea to practice setting up your tent at home so you'll know what to do when in the great outdoors.
Related Reviews: Backpacking Tent & Ultralight Tent
FAQs
Q: Are There Waterproof Tents?
A: 
Yes, there are waterproof tents that can withstand even heavy downpours. However, they're only able to withstand rain up to a certain level. Even a waterproof tent can leak under harsh conditions (such as strong wind-driven rain) or if the fabric or seams are damaged.
Q: How Waterproof Should a Tent Be?
A: 
For a tent to be considered waterproof, it must have a Hydrostatic Head (HH) rating of at least 1500mm. How waterproof your tent should be will depend on the kind of rain you expect to face. A rating of 2000 to 3000mm is sufficient for mild to heavy rains. You will need a high rating such as 5,000mm when facing heavy, wind-driven rain.
Q: Do Tents Lose Their Waterproofing?
A: 
Yes. With time, even the best waterproof tents lose their waterproofing. The waterproof treatment on a tent wears off and moisture starts soaking through. You can keep your tent waterproof by sealing the seams with a seam sealer and reapplying the DWR (durable water repellent) coating. 
Q: Are Single Skin Tents Waterproof?
A: 
A single skin tent is composed of a single-layer canopy that is both waterproof and breathable. It will provide sufficient protection from mild drizzles and short-lived downpours. However, it won't be adequate in case of heavy rain.
Q: Do Tents Come Waterproofed?
A: 
Most rainproof tents come waterproofed from the factory. The fabric comes treated with a water-repellent coating and the seams come factory sealed. There are also water-resistant tents that don't come waterproof. You will need to seal them to make them rainproof tents.
Globo Surf Overview
When outdoors, you can never be completely confident about what the weather will be like. That's why it's wise to invest in the best waterproof tent. Our waterproof tents reviews feature top-rated tents for rain that offer reliable protection in the great outdoors. We hope our buying guide will help you find the best rainproof tent for your needs. Equipped with the best waterproof family tent, you and your friends will always be prepared for whatever mother nature throws your way.
More Camping Reviews:
More Tent Reviews:
What water proof tent sounds perfect for your needs? Do you have any experience with any of the tents for rain we've reviewed? Tell us in the comment section below!