Camera technology has moved on incredibly over the last couple of decades and it's never been easier to take that perfect shot. Despite that though, if you take most cameras into water then you're going to have a lot of issues trying to get it to work.
Getting a high-quality waterproof digital camera for a reasonable price seemed unlikely only a few years ago, but now there are many incredible products on the market that will do a perfect job in capturing your underwater adventure.
Here we try and find the best waterproof camera out on the market and look at all the features that can set the best underwater camera apart from the rest of the competition. There are many things to consider, so make sure you read on as we search for the best waterproof camera.
GoPro HERO6 Digital Waterproof Camera
See Customer Owner Feedback >>
What Makes This Underwater Camera Stand Out

High image quality

Perfect image stabilization

Fast connection
Video resolution: 4K
Camera megapixels: 12MP
Waterproofing: 10 meters
GoPro Hero5 Black Waterproof Camera
See Customer Owner Feedback >>
What Makes This Underwater Camera Stand Out

Different picture modes

Highly durable

Preview and playback
Video resolution: 4K
Camera megapixels: 12MP
Waterproofing: 10 meters
Fujifilm FinePix XP120 Waterproof Camera
See Customer Owner Feedback >>
What Makes This Underwater Camera Stand Out

Shock proof

Light and compact

High image quality in photos and video
Video resolution: 1080p
Camera megapixels: 16.4MP
Waterproofing: 20 meters
Olympus Tough TG-5 Waterproof Camera
See Customer Owner Feedback >>
What Makes This Underwater Camera Stand Out

Incredibly quick

Great features

Stylish design

Long battery life
Video resolution: 4K
Camera megapixels: 12MP
Waterproofing: 15 meters
Fujifilm FinePix XP130 Waterproof Camera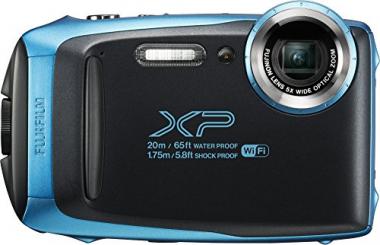 See Customer Owner Feedback >>
What Makes This Underwater Camera Stand Out

High durability

Various color options

Wide-angle lens
Video resolution: 1080p
Camera megapixels: 16.4MP
Waterproofing: 20 meters
Nikon Coolpix W300 Underwater Digital Camera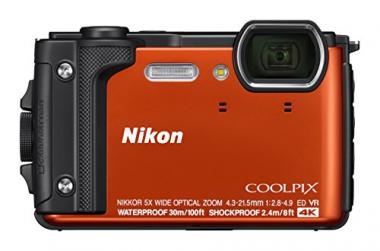 See Customer Owner Feedback >>
What Makes This Underwater Camera Stand Out

High optical zoom

Tracking abilities

Great waterproofing
Video resolution: 4K
Camera megapixels: 16MP
Waterproofing: 30 meters
Ricoh WG-50 16MP Mirrorless Camera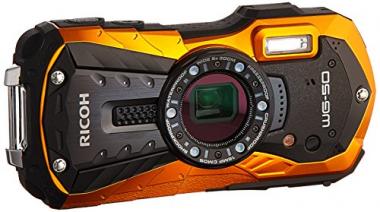 See Customer Owner Feedback >>
What Makes This Underwater Camera Stand Out

Stylish design

Highly durable

Large screen
Video resolution: 1080p
Camera megapixels: 16MP
Waterproofing: 14 meters
Sony 1.0-type Sensor Ultra-Compact Digital Camera
See Customer Owner Feedback >>
What Makes This Underwater Camera Stand Out

Compact size

High-quality

Great durability
Video resolution: 1080P
Camera megapixels: 15.3MP
Waterproofing: 10 meters
PANASONIC LUMIX Waterproof Digital Camera
See Customer Owner Feedback >>
What Makes This Underwater Camera Stand Out

Ideal for underwater

High-quality pictures

Shock and freeze proof
Video resolution: 720p
Camera megapixels: 16.1MP
Waterproofing: 8 meters
See Customer Owner Feedback >>
What Makes This Underwater Camera Stand Out

Small and stylish

Numerous camera features

220mb built-in memory if you run out of card space
Video resolution: 1080p
Camera megapixels: 16.2MP
Waterproofing: 15 meters
How To Choose A Waterproof Camera – Buying Guide
As with any piece of technology, sometimes it can be difficult to wrap your head around all the different pieces of technical data that you can be given. That's why here we will go through which of the main aspects are the most important so that you can be comfortable in knowing exactly what you need to know. Cameras have never been better, and all of the ones listed above would do a great job of doing exactly what you need it to do.
It isn't just technical specifications that can affect which camera that you choose. As with any product, you want one that looks good and that can also depend on what use you have for it. If you're using an attachment to put it on the end of a surfboard, then you won't be too bothered about it looking like a small box at the end of the board. For other uses, you might want a product that won't have a removable case and go for one of the sleeker looking models.
If you're someone who doesn't want to learn the advanced ways of using a camera, then there are cameras out there which are more than good enough to just be a waterproof point and shoot camera that you can use without having to worry about settings or focus. Other users might have a much greater knowledge and want to be able to change the settings to get an even better picture.
While the numbers that you get with a camera are important, there are clearly other things to consider. Here we go through all the aspects, technical and non-technical, to leave you full in the knowledge that the camera that you pick is going to be perfect for you.
DSLR or Compact?
It's one of the biggest questions when it comes to choosing a camera, so exactly which one you should go for? DSLR stands for Digital Single Lens Reflex and these are the kind of cameras that would either be used by a professional or a very keen amateur. They are generally a better camera which will have a better resolution than most other compact cameras. They also have interchangeable lenses which allow you to take the exact shot that you want to take.
Having this type of technology underwater though isn't exactly what most people are looking for. If you are using a DSLR camera to be used underwater then it's likely that you're the type of person who will be selling those pictures as part of your job. For almost everyone else, when underwater you'll want to use a compact camera. With modern technology, the picture that you can get from even cheap compact cameras is getting better and better.
For your underwater adventures, you'll want to get a compact camera as they will much cheaper and easier to use. The compact cameras that we have reviewed here are purposefully made to be easy to use and connect easily with your devices. When you're looking at the best waterproof cameras, the things that you'll want to consider are what your budget it, what features they have and the size and weight of the model too. Once you know that you'll have a much clearer idea of what you need.
Advantages of a Compact Camera
There are many advantages of a compact camera when compared to other devices and compact cameras can be a great choice for a number of different reasons. The first one that sets them apart is clearly the cost. They are much cheaper than the likes of DSLR cameras so you don't have to break the bank in order to get the camera you want. Never has someone been able to get so much for their money as compact cameras are now providing a huge amount of picture quality for a great price.
They are also much smaller and easier to handle and their bigger cousins. If you're a professional photographer then you wouldn't mind having to carry all the extra equipment and lenses that you need. If you're looking for the best underwater camera for snorkeling or to attach your camera to a surfboard though, you don't want any additional hassle. They also weigh a lot less too, anything under the water is a lot more difficult to handle due to the increased drag that you have from the water. Therefore, anything that is smaller and lighter will be much easier to use and carry as you won't have the same amount of drag.
Perhaps the greatest advantage of a compact camera though is their ability to do everything all at once. When you're out there on, in or underneath the water you don't want to be spending any time on your camera working too much out with the settings, with a compact camera you can click and shoot to get your best shot. It can shoot those pictures, but also take video too and with a wide angle lens which will be perfect for all your needs.
What to Look For in a Compact Camera
When choosing a compact camera, you have to be careful that you're making the right choice. There are many different aspects of a camera that all need to be considered when making that purchase. The first is an obvious one, and that's how many megapixels the camera it has. A megapixel is a million pixels, so therefore the higher the number, the clearer your picture will be. Also, the resolution of the video matters a great deal too, as this again will determine how clear the picture will be, currently the best waterproof action camera out there will have a 4K resolution, but 1080P will also produce a great picture. It's important not to get too hung up about megapixels though because there are plenty more features to worry about as well.
One of those features is the quality of the lens. You can have a camera with a huge amount of megapixels, but if the lens isn't great then it'll all be for nothing. This is where you'll want to check the waterproof digital camera reviews to make sure you find the top rated waterproof cameras when it comes to lens quality, so it will be good enough for your needs, the optical zoom is also an important feature as well. The more 'times' on the optical zoom, then the further out you'll be able to zoom and still get a great picture.
Due to the nature of how people transfer their photos, memory capacity of cameras is often very small and rely on an external SD card in which to store the pictures. Some cameras though come with a little extra internal memory to capture those extra photos when you run out of space. With a compact camera these days you'll want to make sure you're picking one with wireless transfer which will make it easy as possible to get those photos to your phone or laptop.
Some cameras also come with GPS tracking as well which will be able to tag exactly where you took the picture. The screen also matters too, being able to see the picture you're taking clearly is important as you don't want to view it afterward only to be disappointed about your shot. If you're going to be out for a long time, you need to make sure that your camera has enough battery life to be able to last for the full day.
There are other things to consider too, as if you're comfortable with using a camera and know what settings are needed in some circumstances, you'll want a camera that is able to be used manually so that you can make those adjustments.
With being underwater too, things might be moving quickly and therefore having a camera with a low shutter lag and a quick autofocus are also important features as you don't want to get the that critical moment only for your camera to not react quickly enough and shutter speed is one of those aspects than can vary a lot from camera to camera.
Camera Characteristics
Getting a camera for you sometimes relies on specifications, and sometimes it's just about personal choice. Before you buy though it's important to know exactly what the jargon means and how to use it to make your pick.
Megapixels – When it comes to any picture, they are made out numerous single blocks of color known as pixels. The more of these single blocks of color, the better the picture will be. Megapixels aren't everything, but generally, the more you have, the better the picture.
Video resolution – 4K picture has become cheap enough to be able to be used on compact cameras and will provide very clear shots with a wonderful picture. A 1080P resolution will still be able to give you a great picture, but it depends how important picture quality is to you, as even at 720P, you'd still get a clear picture.
Connectivity – Having a WiFi connection is the easiest way to get the pictures from your camera to where you want them. While using a cable can still be effective, that WiFi feature is just very easy. Some cameras also come with an NFC connection, which is another easy way to transfer files.
Waterproof depth – The waterproof depth varies in importance depending on what you plan to use the camera for. If you're attaching it to the end of your surfboard, then it's not too important as they will all cover that. If you're scuba diving though, then you'll want to make sure your camera can cover those depths. The best come with 30 meters of depth, which will be more than enough.
Zoom – Firstly, you want to look for a camera with optical zoom, as opposed to digital zoom. Optical zoom is a lot better and acts like a telescope, on the camera you'll see how many times it can zoom in, the higher the figure, the further away you'll be able to take a shot.
Lens – A good lens is hard to know from one camera to the next unless you're an expert, as there aren't any numbers that can be attached to it. It depends on build quality, which is why it's important to look out for reviews and check what other people are saying about the lens. Also check to see if a camera has a macro lens, as this can be vital for getting close up pictures.
Casing – When it comes to being waterproof, cameras go about it one of two ways. The first is to have a clear waterproof casing that will go around the camera. This often gives a high level of protection, but it's not the most aesthetically pleasing option if that's what you're looking for. Other cameras will have in-built waterproofing without the need for a case which can make them smaller and easier to use.
Accessories – While not being a part of the camera, it's important that you check what accessories a camera comes with before you buy. The ones that come in a waterproof case are generally thought of as the type of cameras that you will be mounting to something else, like a surfboard. If this is the case, then you'll want those accessories. If you will be using a camera for something like snorkeling, then you won't need any of those extra attachments.
Features – When it comes to buying any camera there will be an array of different features that are possible. How many features you want depends on how much effort you want to put in those pictures. Having features like motion sensing and time-lapse can be very useful for setting up shots that at other times you wouldn't be able to.
FAQs
Q: What does the underwater digital camera do?
A:
Underwater cameras work exactly the same as a regular camera, just a part of the obvious fact that they are waterproof. You wouldn't want to risk bringing a regular camera near the water, so these will give you the peace of mind that you can take that perfect shot.
They will allow you to get those action shots if you're mounting them to whatever your favorite watersport is, or they will allow you to take a picture of those beautiful fish you will find if you go down to do some snorkeling. Whatever your reason for taking a camera to the water, they will allow you to take that shot without worrying that you're going to ruin your equipment.
Q: How to shoot with an underwater digital camera?
A:
This depends on the type of camera that you buy. The cameras that come in a waterproof case are designed to be extremely easy to use, with just a couple of buttons that need to be pressed while you're in the water.
The other cameras that don't come in a casework in exactly the same way as a regular camera would, with all the typical buttons and settings that you would expect. When buying an underwater digital camera, you don't have to learn about learning a completely new way to shoot, they are simple to use and will have you taking great pictures in no time.
Globo Surf Overview
You're buying a water resistant camera because you want to have fun, therefore it can seem like a bit of a chore to spend time working out what sets one camera apart from the next. That is the same for any technology though, as sometimes it can be confusing working out what makes one camera better than another. Spending that time though will pay off in the end though, as when you are out there in the water you'll be happy that you've spent that time in getting the right underwater digital camera for you.
Before working out how many megapixels you want, video resolution or optical zoom, you first need to work out exactly what you want to use your camera for. When you know that, you'll be able to cancel out a few options and make it easier for yourself. You can pretty much split underwater cameras into two categories, with those two options being action cameras and non-action cameras.
Action cameras are generally the ones that come in the waterproof casing and have only a few buttons to use when you're in the water. If you're a big fan of watersports and want to capture all of the best bits of action when you're out on the water, then you'll not be bothered about anything else apart for having a camera that can capture those moments.
The non-action cameras generally look a lot more than the cameras that everyone knows and love. They often have a lower waterproof depth, and are smaller and more complicated to use. By complicated, that is as complicated as any regular camera, but not as simple as those action cameras. If you want to take a camera to the beach, play in the waves and maybe a bit of snorkeling then you may want to choose this type of camera.
Once you know exactly what you want to use the camera for, then you can go through this buying guide and compare them to see exactly what you want. The easiest trap to fall into is thinking 'that camera has more megapixels, therefore it must be the better camera' but this isn't always true, even though it is a key stat. You also want to check what other features it has, what its zoom is like and its water resistance for example. Reading reviews has become a common part of life, but they are crucial as people might be asking the questions that you want the answers to.
Once you have taken everything into consideration, then it's time to buy your camera. Once you have then you can let the excitement begin and get out there and take your favorite snaps. You'll be the envy of your friends as they'll be wondering how you could get such perfect shots while you were out in the water. Underwater cameras allow you to capture images that you never thought possible and give you memories that will also a lifetime. So pick your camera and then get out there and capture the moments you love.
More Water Gear Reviews:
More Camera Reviews: