OUR TOP PICK

---

EDITORS CHOICE

---
Summer is the season most popular for camping — the days are warm, sunny, and last longer. Not to mention the amazing feeling of sleeping under the stars. But even in the summer, you need a well-made tent for a good night's sleep. And not just any tent for that matter, but a proper summer tent.
Summer tents are designed to give you all the perks and benefits of sleeping outdoors. Unlike multi-season tents, the best summer tents have roofs and walls made of mesh and breathable fabrics (instead of thick fabric). This allows you to feel the breeze and look at the stars, all while you're completely protected from insects.
To help you choose the perfect tent, our 10 Best Tents for Summer in 2022 article breaks down all the features you should look for when buying. Also, we've created a handy buyers guide, so hopefully, you can find something that works for you.
As long as the weather forecast is good, summer is the one time of year you can get away with the lightest, fastest and easiest-to-pitch tents on the market. Pop-up "festival" style tents are a legitimate choice at this time of year as all you really need is somewhere you can retreat to for protection from sunburn, or the dreaded evening midge hatch!
Do NOT underestimate the value of mesh panels in a summer tent. When the midday sun is beating down and there is very little breeze, you want every little air movement to translate into the inside of your tent offering that valuable cooling effect. Mesh panels are also a brilliant way to allow this air flow to continue through the night, when artificial lights can attract huge numbers of insects that you definitely want to keep outside.
As with all tents, pay attention to the manufacturers guidelines for pitching. Just because you put some heavy gear inside the tent doesn't mean a rogue gust of wind can't pick it up and toss it across the field. Peg down all pegging points and guy lines properly, and give yourself peace of mind in case the weather turns windy while you're away from the tent on your daytime adventures.

Camping Expert
How To Choose A Summer Tent – Buying Guide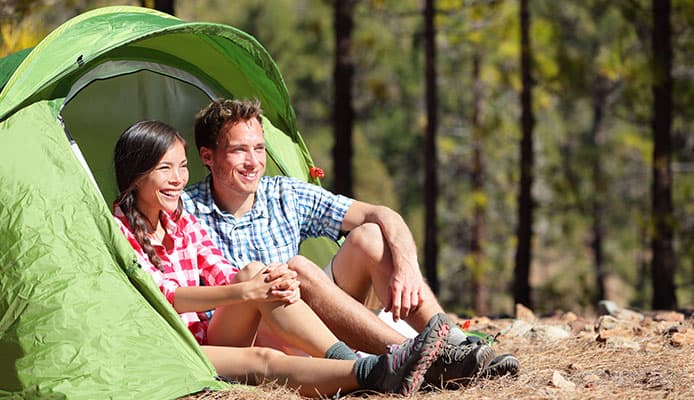 When it comes to choosing the best tent for summer, it is important to consider some key features regarding the tent design. From size to style, these factors will help you decide what you need for your camping adventure.
Size
Size is one of the most important things to think about when buying a tent. It determines how many people can stay with you in the tent. In addition to the floor area (length and width), you should also think about the height if you want decent comfort inside.
With this, manufacturers usually specify the number of people that can sleep inside. A tent should provide enough space for the suggested number, but it will be a tight fit. Also, consider all the gear you're bringing with you. If you want more comfort, it's our advice to buy a slightly larger tent (3–4-person tent for 2 people).
Related Review: 4 Person Tent
Luckily, summer tents come in all shapes and sizes — from those with ample space to others with a highly compact design. Besides the number of people you're bringing along, the activity you're planning also somewhat influences the tent size. For example, if you are camping near your car and don't need to carry your tent too far, you can easily bring a larger size. On the other hand, if you plan on backpacking or hiking with your tent, it's wise to go with a smaller one.
Related Reviews: Backpacking Tent & Truck Tent
Construction
Two things are essential when it comes to a warm-weather tent's construction — how well the tent is made, and which materials were used to make it. Most modern summer camping tents are quick and fairly easy to set up. The poles are usually made of either fiberglass or aluminum and often come pre-assembled so the tent can be set up in minutes. Depending on how large the tent is, you may be able to set it up on your own or you may need a helping hand.
A tent that is quickly set up saves you time and energy for other (more fun) activities. Most campers prefer to enjoy their time in nature and having to spend hours setting up the tent can put a damper on the trip. Besides, being able to put the tent up quickly is convenient in case there is rain.
We also want to mention the materials used for making hot weather tents. Polyester and nylon are the most common choices because they are lightweight and give good weather protection. However, since we're talking about tents for summer, it's smart to look for materials that also provide UV protection. This will prevent sunburn if your tent is sitting in the sun.
As you know, summer weather can be unpredictable in many areas. For this reason, it's good if your new tent is waterproof (keeps you and your gear dry if it starts raining). The best summer tents have a rainfly serving as a waterproof shell, so there are no leaks inside. On top of this, the rainfly also allows the tent to breathe without letting in water, keeping condensation to a minimum. Well-constructed warm-weather tents will ensure that you're protected inside whether rain or shine.
Related Review: Waterproof Tent
Ventilation
Sleeping in warm weather can be difficult, which is why good ventilation is paramount for a summer tent. Because of this, good warm weather tents include a larger number of doors and windows, allowing more airflow.
On top of this, most summer tents have small vents that allow air to continuously flow through the tent. Finally, the best summer tent ensures that all openings used for ventilation are covered with mesh, keeping small animals and insects outside.
Protection
You may think that a summer tent doesn't need much protection because you'll mostly use it on calm and clear nights., however, you should always be prepared. A tent's job is, after all, to provide shelter from all the elements. With this in mind, even a hot weather tent should include a rainfly and a groundsheet (or offer the option to separately purchase them).
The purpose of the groundsheet is to ensure you stay dry and protected from the ground underneath. In addition to this, a separate rainfly is an optional but extremely useful feature. For example, if the night is clear, you can use just the mesh tent (with the rainfly removed). But, if a rainstorm is brewing, you can quickly and easily attach the rainfly for water protection.
Weight
As you probably know, tent weight is determined by the materials used to make the main body, poles, and stakes. Lighter materials like polyester and fiberglass are easier to carry but less durable in the long run. On the other hand, canvas and steel are more durable but significantly heavier. Don't forget that the optional pieces (rainfly, tent footprints, and guylines) also add to the weight.
A big plus is that most summer tents have their weight listed, which can help you determine which one best suits your needs. A heavier tent should be manageable if you don't have to carry it a long way to the campsite. However, if you have a longer walk, choose an ultralight design and split the tent pieces among the other campers to help distribute the weight.
Related Review: Ultralight Tent
FAQs
Q: How to Keep a Tent Cool in Summer?
A: 
The first thing you can do is prevent the tent from heating up during the day. You can do this by either taking it down during the day or making sure you set it up in the shade. A reflective sunshade can also help. Also, take off the rainfly in nice weather — more air will circulate.
With this, the best tent for summer has plenty of windows to allow the breeze to go through. If you want to learn more, you can read our separate post on how to keep a tent cool.
Q: Can you Air Condition a Tent?
A: 
Yes, you can. However, you'll have to use a portable tent air conditioner. These require a power source to operate — a power generator, electricity on the campsite, or even batteries on some models. To properly air condition a tent, you'll need a 5000BTU unit for a surface area of 150 square feet.
Q: What is a Summer Tent?
A: 
A summer tent is designed to withstand warmer weather and keep you comfortable on hot summer nights. Unlike regular multi-season tents, the best summer tents have many different options for ventilation (multiple doors, windows, and vent openings). Some summer tent models can be used as a three-season tent on warmer days in spring or fall, but summer tents won't be a good choice for any type of cold winter weather.
Q: What are the Benefits of Using a Summer Tent?
A: 
The main benefit of a summer tent is that it allows you to sleep comfortably in warmer weather. It's made of breathable materials with plenty of windows, so air circulates freely and cools you down. A 3 or 4-season tent can feel like a sauna in high temperatures, but a summer tent eliminates this problem. Also, because summer tents are made of lighter materials, they are usually less expensive than winter tents.
Related Review: 4 Season Tent
Q: How to Clean a Summer Tent?
A: 
Most tents should be spot cleaned with a mild soap solution and water, using a cloth or a sponge. It's also very important to remember that the tent should always be bone-dry before packing (so it doesn't get moldy). We always recommend that you look at the manufacturer's guide and see if they provide detailed cleaning instructions for their product.
Q: Are Summer Tents Lightweight?
A: 
Yes. Most summer tents are built to be very lightweight in their design. The material used is normally thinner than that of a winter tent, because they don't have to insulate against freezing weather. The manufacturers should always list the weight of the tent (including all its additional pieces), so you can easily check if it suits you.
Globo Surf Overview
Taking your time to find the best summer tent guarantees comfort and enjoyment in fair weather. With so many designs and sizes available, you have a wide selection to choose from. The best summer tents will protect you, rain or shine. Hopefully, our list helped you pick out a top-rated summer tent so you can head out worry-free on any camping trip.
More Camping Reviews:
More Tent Reviews: