When it comes to adventuring in the great outdoors, our feet are our champions. With rugged paths, steep terrain, and potential obstacles, it is important that hikers take care of their feet. Many hikers will consider hiking boots or sneakers, but sometimes even those designs don't provide the support they need for the terrain they plan on exploring.
A pair of top rated tactical hiking boots is a great choice for mountain footwear because they are more versatile, flexible, and durable than regular hiking boots. Waterproof combat boots also provide more protection and comfort for your feet, which can make the difference between hiking a full day or stopping to nurse blisters and sores.
When you begin your search for the best tactical boots, you may find yourself a little overwhelmed. There are a lot of different brands and styles of boots and it can be difficult to select a quality product. To help hikers in their search, we have a list of the ten best tactical boots and a comprehensive guide so that hikers can find the right gear and get quality protection.
How To Choose A Pair Of Tactical Boots – Buying Guide
Type
Believe it or not, there are a variety of different tactical boot types that you can choose from. The most common tactical boots are standard combat, jump, tanker, jungle, desert, and low-temperature boots.
Standard combat boots have the most classic style that is what most people think of when they hear the words "tactical boots". These boots provide the best support and grip while still protecting your feet against the elements. With versatility, these boots can be used in most situations like working or hiking. They are also commonly a military standard issue.
Jump boots have a more rigid construction that ensures your feet are also protected and cushioned against severe forces. The extra rigidity helps prevent injury when jumping, hence the name, and is used for landing a parachute.
Tanker boots are usually made of full leather and can resist dangerous liquids and chemicals like oil or grease. They do lack a fully supportive ankle and are most commonly used by vehicular personnel.
Jungle boots are very similar to standard combat boots, but they have small eyelets or drainage holes in the side of the boots. These holes help expel water and work best in excessively wet or muddy environments.
Desert boots are the most ventilated design because they are meant to vent heat from your feet, but they also work hard to keep the sand out. Like the name, these boots were designed for desert locations to protect the user and make them comfortable in hot temperature conditions.
Tactical boots for low temperatures are thicker and sturdier than other designs because the additional material helps insulate your feet from the cold. These waterproof boots are better for cold environments and provide better footing in the snow. Ideally, cold weather hiking would warrant these types of boots.
While there are a lot of different types, you may have to try on a few pairs before you find one that suits your needs. When you take into consideration, the type of boot and the environment it caters to, you are more likely to find the best police boots for you.
Material
The most common materials used for cheap boots are actually quality leather and synthetic textile. Leather is a durable material that is insulating, scratch-resistant, and rigid. The textile is lightweight and helps ensure your boots don't get too heavy. The materials combined make top-rated boots durable, water-resistant, and long-lasting.
When doing your research, you should always check the product specifications to determine what materials are used in the design. Quality materials will make the best army boots and are better value for your money.
Durability
Durability is extremely important for any top rated tactical hiking boots because it is a feature that will ensure your feet are protected and that the boots are worth the investment. Durable and comfortable boots should be made of high-quality materials and have a design that is focused on functionality and versatility.
Cheap tactical boots can be worth the investment, but it's worth it to take the time and research the brand. Tactical boots that break or cause discomfort are quickly frustrating and a waste of money. Top-rated boots will be extremely durable and ensure that you can use your boots for multiple years.
One of the best ways to research the durability of a specific brand or model, we suggest reading tactical boot reviews. The reviews can help you determine whether the boots are durable and how long they'll last under specific conditions.
Breathability
Whenever you're exerting energy, you are releasing heat. Whether you're using boots for law enforcement or for the great outdoors, your feet are likely to get hot and produce sweat. Breathability is an important feature that will keep your feet dry because it allows airflow inside the boot to dry the moisture. Additionally, if you're in a wet environment and your feet do get wet, better breathability will allow the boots to dry faster.
Related Review: Gore Tex Boots
Environmental Conditions
Most waterproof tactical boots are suitable for use in a variety of environmental conditions. This can mean going in water, mud, or on rocks and sand. Different types of boots are catered to different environmental conditions, but that doesn't mean that there aren't universal features that work on a variety of terrains.
However, if you are going to colder locations, you may want to look for a cold temperature specific type of tactical boot. Cold weather boots have thicker sides and soles to help retain heat inside the boot.
Comfort
Comfortable boots are very important because people tend to whine when their feet hurt. If your feet are sore or covered in blisters, you will have to stop or move more slowly. This can significantly reduce progress and make for a cranky hiker.
The best tactical boots will be comfortable and use features like padded insoles, collars, and tongues or foam pieces to absorb shock. With more shock absorbed, your feet are less likely to feel in impact and tire.
Midsole Cushioning
When it comes to foot fatigue, midsole cushioning is a feature that can drastically reduce the aches, pains, and tiredness of your feet. The midsole cushioning should be fairly rigid and feature a quality material because it works hard to support the arch of your foot. With better support, your foot will also stay properly aligned and be less likely to roll.
However, you want to support without adding too much weight to the boot which is why most midsoles are made of EVA. EVA is a lightweight and cushioning material that provides great support. The best tactical boots will feature a quality EVA midsole.
Anti-Slip Outside
Top-rated tactical boots will have a strong tread to grip onto a variety of surfaces. Deep grooves and a strong rubber help make the tread of the boot anti-slip and have better traction. An anti-slip feature is ideal to have because it will boost the hiker's confidence as they step and provide stability to their foot.
Traction
Part of the anti-slip outside is better traction. Traction is what your foot needs to stay stable on a surface and get the grip to push forward. Better traction prevents rolled ankles and injuries. Especially in wet conditions, having good traction is a must.
Laces and Zippers
Some cheap tactical boots use only a zipper and other boots use only laces. But some side zip tactical boots use both features to close the shaft of the boot and adjust the fit. No matter what you choose, laces and zippers will fall under personal preference. Both are secure closure systems that function well for tactical boots.
Related Post: How To Lace Boots
Easy On and Off
Boots with shafts can be challenging to put on or take off, but one great feature that makes them easier to manage is a side zipper. The best tactical boots will have a zipper that runs along the side of the shaft that can be used to open the boot for easy access. Zippers are faster than laces and it's a great feature for people who don't always want to deal with getting tangled up.
FAQs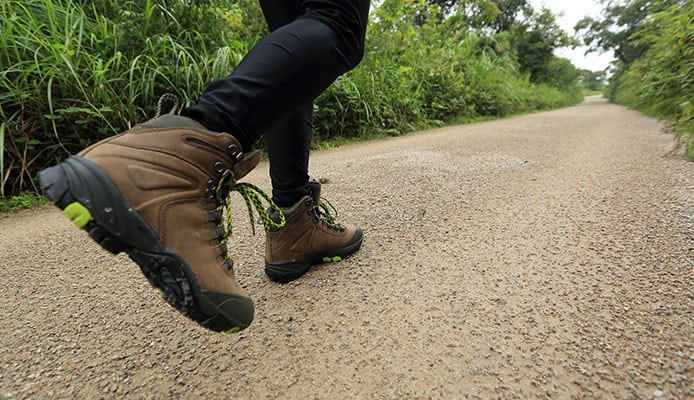 Q: Why buy tactical boots?
A: 
Many professionals choose to use combat boots because of the additional support and protection they provide. Boots for law enforcement are extremely popular and maybe a standard-issue because of the excellent support the design offers. However, for hikers, it may be a question as to why you would want tactical boots over hiking boots.
The biggest benefits of these boots that regular hiking boots don't have are increased support and protection. The durable build of the boots helps prevent injuries and the taller shaft extends the protection beyond your feet. Some designs have a shaft that goes over the ankle and others go further up the calf for maximum protection.
Q: Where can I use tactical boots?
A: 
One of the best things about lightweight combat boots is that they can be used virtually anywhere. Top-rated boots are extremely versatile and can be used in work and outdoor environments. You can get the job done and take a hike with the same pair of shoes.
Q: How to take care of tactical boots?
A: 
Not all boots are made of the same materials, which means that this question doesn't have a universal answer with specific care instructions. Instead, you should look at the product specifications or included brand material to see if they provide specific care instructions. Brand websites and tactical boot reviews are other great places to check on the care of your boots.
Q: How to break in tactical boots?
A: 
While some comfortable boots are ready to go out of the box, not all the designs are that easy to use and set up. Some cheap boots will require a bit of time to break in the boots before you go on long adventures. It is easy to learn how to break in your hiking boots and tactical boots are similar. One of the best ways is to wear the boots for short durations just to get the stiffness of the boot more relaxed and comfortable.
Related Post:
How To Break In Boots
Globo Surf Overview
Whether you're on the job or going on an adventure, your feet take a lot of stress. Plus, the additional weight of your gear like tactical backpacks just means more work for your toes. A pair of top rated tactical hiking boots are a great way to provide your feet with durable, lightweight, and reliable comfort. The best tactical hiking boots should help keep you going throughout the day and make you excited about your next adventure.
More Backpacking/Hiking Reviews:
More Boots Reviews:
Do you own a pair of boots that made it onto our list? Let us know how they have improved the comfort of your feet in the comments section below.