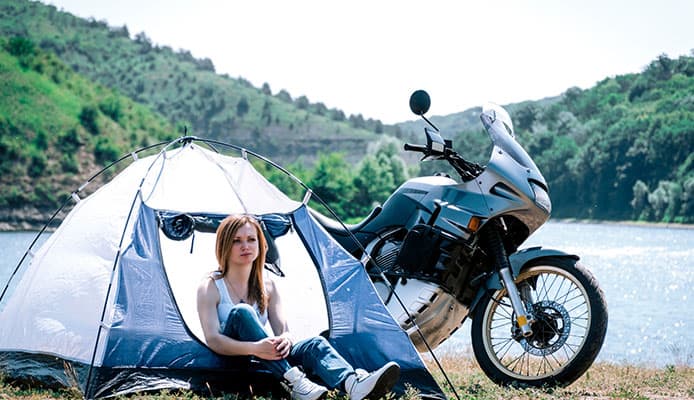 OUR TOP PICK

---

EDITORS CHOICE

---
Who doesn't enjoy a midsummer adventure under the stars, especially when it's tagged onto a motorcycle ride? From the Pacific Coast Highway through California or the Ho Chi Minh Trail in Vietnam, there are many incredible stretches of road that you can only explore by motorbike. If you're serious about your motorcycle adventuring, packing along the best motorcycle tent can be well worth the extra weight.
But to get the best motorcycle tent for the money, there is plenty to consider with size and weight being key issues before going out for motorbike camping. You also have to bear in mind the amount of storage space and sleeping arrangements. With that being said, we have compiled a list of the best tents for motorcycle camping as well as a comprehensive buying guide to make your shopping experience much easier. Hopefully, one of the biker tents we've reviewed is the one you are looking for.
How To Choose A Motorcycle Tent – Buying Guide
Size
When considering the size of a tent for motorcycle camping, there are three main aspects that you need to take into account — where you will sleep, where you will store your bike, and where you will place your gear. While the motorcycle camping tent has to be big enough to cover everything you need, it should also remain highly portable and light enough to stow on your bike. It is also important to think about the number of people that can potentially sleep inside the tent. If you're heading on a motorcycling trip, then it's likely you will only need to sleep one or two people. It makes sense to go for something a little larger than sleep for more people, so you have extra floor space for you and your kit.
Storage Space
One key area of the storage space of your motorcycle backpacking tent is where you will be placing your bike. There are three options for this. The first option is to be able to completely cover your bike and have a full level of protection. The second one is the extendable rain covers, which function as a roof over your motorcycle but still expose the sides. The last option is to have the bike out in the open and get a backpacking tent that has a specific segment for your biking gear.
Related Review: Backpacking Tent
Sleeping Arrangements
It is important to plan the sleeping area and positions of the people that are coming with you as well as the equipment you will be bringing along. A lot of companies show you a floor plan for this purpose so that you can be prepared. In reality, when a company says a tent can sleep X amount of people, it only means the number of people that can lie on the floor, not the additional gear for motorcycle camping you will have with you. With that in mind, if you want your tent to accommodate one person comfortably, then you would want to look at a 2-person tent. If you are heading out as a pair, a standard tent that can sleep three or more people will be perfect.
Related Review: 4 Person Tent
Weight
The weight will be a key issue as you will want your tent to be as portable as possible. When it comes to materials, aluminum is a lighter option than fiberglass but it doesn't have the same level of flex. With camping motorcycle equipment, there often comes a balance between weight and durability and you want to make sure that your tent has all the other key features that it needs as well as not being too heavy for you.
Water & Wind Resistance
Weather resistance is an important aspect of any tent as you want to ensure that you stay comfortable and dry. One key element is the rainfly that prevents water from entering your motorcycle tent while helping to reduce condensation build-up. Another key feature of a good motorcycle tent is a waterproof bathtub floor that will keep you protected against groundwater by extending up the sides a few inches to give you a better level of protection.
In terms of wind-proofing, this is simply a case of making sure that your tent is strong and durable. Both modern fiberglass and aluminum frames are very good at resisting the pressure from the wind. 
Related Review: Waterproof Tent
Ventilation
One key-way to get any ventilation through camping tents for motorcycles is through the windows and doors. It's important to have enough ventilation for the air to flow through the tent. Mesh is a great way to achieve this by keeping the insects out while letting the fresh air in. Both nylon and polyester mesh is good at giving breathability features to tents.
FAQs
Q: How do You Carry a Tent on a Motorcycle?
A: 
To carry a tent and luggage on your motorcycle, you should check the load limit of your bike. It is not recommended to overload the back of your motorcycle as it will affect handling. That being said, if your pannier bags are fully-loaded you can easily carry your tent on your back if it's small enough to fit in a backpack.
Q: What is a Motorcycle Tent?
A: 
A motorcycle tent is simply a tent that is made to fit your needs as a biker. Most motorcycling tents have a specific space to store your motorcycle. This will either be full coverage or an awning-style roof cover. Besides, there should be a suitable space for your biking gear, as well.
Q: What are the Benefits of Using a Motorcycle Tent?
A: 
Motorcycle tents are specifically designed with bikers in mind. They make your life easier as you don't have to worry about where to place your bike and gear. They keep your motorcycle dry, secure and offer you your garage away from home.
Q: What is the Difference Between a Regular Tent and a Motorcycle Camping Tent?
A: 
If a regular camping tent is marketed as a two-person tent, then there will be room for two people to lie down and not a lot more. But with a motorcycle camping tent, there is a separate space to keep your bike safe and dry. This is an aspect that you simply wouldn't have with regular tents.
Globo Surf Overview
If you have a motorcycle and want to go camping with your bike, then having the best motorcycle camping tent allows you to enjoy your trip without any worries. They give you plenty of space while also ensuring that everything you bring with you is safe and protected.
Hopefully, this guide has given you all the information you need to choose the best motorcycle camping tent according to your needs. Once you have one, you'll be able to combine the freedom of biking with the adventure of camping and enjoy a wonderful experience in the great outdoors.
More Camping Reviews:
More Tent Reviews: