See Customer Owner Feedback >>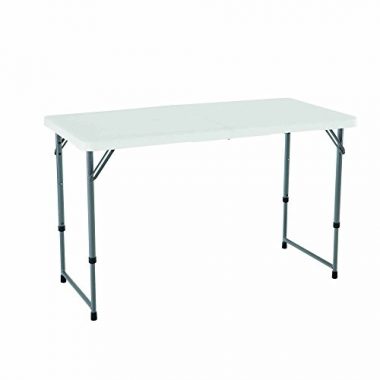 See Customer Owner Feedback >>
If you want to camp in comfort then one of the most important parts of that will be having a picnic table. It will allow you a place to eat, drink and can also be a great place to use a tabletop grill. Not all camping tables are built the same though, which makes getting the best camping table all the more important.
In order to choose the best camp table for you, there are a few key features that you need to bear in mind. The biggest of those is probably going to be their size, weight and portability but there are other key considerations too such as material, set-up and weight limit.
There is a lot to consider but thankfully we're here to help as we will answer all of your questions in our buying guide and have looked through the camping table reviews to show you the best products on the market. Once you've read through this, you'll have the confidence to know exactly what you need.
How To Choose The Best Camping Table – Buying Guide

Material
The material of a picnic table top is obviously important and each one has their own individual advantages and disadvantages. Perhaps the most attractive one would be aluminum which generally comes in the form of slats that are able to fold down into a small size and it is a lightweight material too.
The aluminum is also a table that can deal with heat a lot better too which is great if you're planning to place down hot plates or wanting to use a tabletop grill. Another great product that can be on tables is heavy-duty plastic which is a highly durable material and generally down in two-piece tables that fold in on itself.
This is able to resist a lot of impacts and still has a high level of heat resistance; it is also very lightweight too. Another product that is on the list is fabric which ranks very well in terms of weight and stability. The downsides are, of course, that you can't place anything too hot on it and the surface isn't as stable as more solid options. It is great for dining too and you'll be able to place and drink in a holder.
Strength
As with a lot of camping products that want to be portable, the manufacturer has to try and strike a balance between the product being as strong as possible but also being light in weight too. A strong aluminum or steel frame can often bring a lot of stability but some products are a lot better than others.
In terms of its strength, you need to think about just how much weight what you are going to be putting on the table. It could be that you want to place a camping grill as well as plenty of liquid and food on there too, so you want to make sure that it's going to be able to take the weight before you buy it.
It's a bit of a generalization but generally the bigger a product is, the more weight it is going to be able to hold. There are a few smaller camping tables in this list which don't have a large amount of strength but don't need too, as you aren't going to be placing a lot of heavy items on there. It's best to look at your camping trip and just work out how much weight you'll be placing on the table and how strong you need it to be.
Stability
Stability is going to be a key issue with your camping table, eating food and trying to drink on an uneven food surface isn't going to be pleasant at all. More than that, if you are wanting to bring a portable gas grill or a portable gas stove to your camp then you will want somewhere stable to be able to place it down.
Generally the bigger a table is, the more stable it is going to be as it is spanning a wider area. This will allow you to be able to easily set things down on your table. You need to find an area of your camp that is as even as possible or possible to remove dirt underneath the legs in order to make sure it's on an even setting.
Some of these products have adjustable legs which can improve the stability but once you have your table fully set out then you should be able to find that it gives you that stable surface. It's important to ensure that your table is fully secure before placing any hot items down onto it.
Size
The size of the dining table that you need is generally dictated to by the number of people of people that you will need to sit while you are on the camping trip. There are other factors that come into place, for example, as not every table that seats four people are going to be the same size.
Some square tables claim to be able to sit four people but you need to check the actual size of the product to make sure that it's not going to be too cramped for your needs. Longer rectangular tables are able to provide you with more space, which might make for a more comfortable camping experience.
With an increase in size though comes two key factors and those are weight and portability. You need to consider how much space the table is going to take up while you are packing and transporting the table and also how far away you'll have to travel to the camp and if the weight is going to be an issue.
Design
The design of the product is going to be important in relation to your use for it. If you simply want a great camping table for dining then all you are going to need is a simple table which accommodates enough people. There are design issues here though as, especially if you're tall, you'll want to make sure that there's nothing under the table obstruction your legs.
If you simply want a side table then all you'll be looking for is a simple square table design which is easy to set up and gives you an easy place to set down your food or drinks. If you are wanting to play games, then a square table is a great bet as you'll have a great place in which to play.
Perhaps the more important use when it comes to design is when it comes to whether you want to cook on the product or not. This will have a big impact as you want to be able to have a large surface which is high enough to make the cook comfortable and also stable enough to ensure that no accidents can occur.
Set Up
When you are at a camp, you don't want to spend too much time trying to put up a table but there does come a balance here that needs to be struck. By that, I mean that some camping tables that are incredibly easy to set up fold down to a much larger size and are less portable, so you get a downside with a positive.
Collapsible aluminum tables, for example, are a bit harder to set up as there are more steps that you need to take. The portability though makes them a very attractive item and once you know how to do it, it will be able to set up in no time. Plastic tables generally just fold in half and are easy to set up but come in a bigger carry case.
There are also more complicated plastic tables too which can fold out into a great table. If you are getting a more complicated table then it's a great idea to practice putting it up at home so when it comes to camp, you'll be an expert. Even the most complicated tables can be put up in a matter of second once you are well-versed in how to do it.
Mobility
If you are having a picnic table then you are not going to be hiking with it, so weight isn't going to be a huge issue. You do need to consider though the distance that you are going to have to travel to your camp from where you are unpacking. If you're car camping, then the portability of the product really isn't going to be an issue.
If you are traveling a long distance though, then the mobility of the product becomes a bigger issue as you want to ensure that it is going to be small enough so that it is still easy to carry to wherever you want to go before you set it down.
There is another key issue when it comes to portability too and that is how it is going to fit in with all your other items when you are packing them. If you're traveling in a car, for example, then having a large camping table simply might just take up too much room.
Weight Limit
The weight limit is an important characteristic depending on the use that you are going to have for it. If you simply want a side table then it's likely that you're only going to be placing light items such a book, a drink or a plate of food down onto it, so the weight limit isn't going to be an issue as long as no-one accidentally sits on it.
For larger camping tables, this obviously becomes more of an issue but the larger camping tables generally are able to hold a lot more weight and will be able to hold a camping grill as well as a vast array of drinks and food without having any issues at all.
Generally this is not something to worry about as the size of the table usually accommodates the amount of weight that can be realistically placed down onto it. If you're worried about this, then you can simply check the product listing or find out the answer from other users of the product.
Weight Of The Table
Most of these camping tables try and be as light as possible so that they are easy to transport. This is made possible by the fact that they are made out of lightweight material and generally have a steel or aluminum frame and then will have a top of either aluminum, plastic or fabric.
The weight of the table though is only as important so you want it to be. If you're strong and your camp isn't going to be far away then you probably won't mind taking a table which is a bit heavier if it's going to be the perfect product for you.
If you're going to be traveling long distances and don't want to worry about lugging a heavy weight around, then the weight is clearly going to be more of an issue. You just need to take a common sense approach and consider the heaviest weight that you think is acceptable for the camping table you want.
Type
With camping tables, it's also important to know the use that you are going to have for them as these tables come in all different shapes and sizes. Some camping tables are very large and are great for being food stations where you can cook and eat food and still have enough space.
There are other tables which are simply great for dining where you are able to sit enough people to have a comfortable dining experience. These tables can be a little smaller as you don't have to worry about cooking any food on them or placing down anything else which might get in the way.
There are also smaller square tables too which can be used for dining but also other things like playing games where you are able to sit around in close contact and make the most of your camping experience. Another option is to get a side table which is a great addition to any larger camping chair where you want to be able to sit down and relax and have somewhere to place your things.
FAQs

Q: Why Do I Need A Camping Table?
A:
If you want a comfortable camping experience, then having a picnic table is going to be a vital addition as it will give you somewhere to comfortable eat while you are in the outdoors together with some other uses.
It will also give you somewhere to cook too if you have a tabletop grill or stove and there is also the social aspect too of being able to talk around your table and being able to place down your drink and food or you can even play games on there too.
Camping tables have never been easier to use and they are highly portable devices that you are able to easily take to your camping sport to help improve your camping experience.
Q: Can I place My Grill On Top Of The Table?
A:
The answer to this question is not a straight up and simple on but the answer is mainly a yes. Firstly you have to consider the weight of the grill and the weight capacity of the table. Of course it's not just the grill you have to worry about but all the other food and items that can be placed down.
Once you are sure that your table is going to be able to hold the weight of the grill then you also want to ensure that the table won't be damaged by the heat of it. Most grills are designed so that the heat can travel up and away from the grill but it's important to check the type of grill that you have and if it does emit a lot of heat then you want to make sure you have a table that can cope with that.
Q: What Is The Best Weight Limit For A Camping Table?
A:
This is going to depend on the use that you are going to have for it. If you're looking at placing a grill on top of it when you probably want a table that is able to support at least 100 pounds as that will comfortably support the weight and all other items.
If you have a table big enough to place a grill onto it then it's more than likely going to be able to support that weight anyway. There are tables here which are able to support a weight of up to 300 pounds which is very stable. You just need to think about what you are going to be using it for and err on the side of caution. If you just want a simple side table, then weight limit is not going to be that important.
Globo Surf Overview
A outdoor compact table is going to be an important part of the furniture of what can make it a great camping set up. It can be a focal point for dining and cooking but also playing games and socializing too. They have never been more portable and taking one to your camp is going to be very easy and make your experience a much more comfortable one.
Choosing the best one though often depends on the use that you are going to have for it. If you want one as a cooking area then you will want a large and strong table whereas if you simply want a spot to dine then you can afford to have one that is a little smaller. There is also the option of simply to have a table for socializing and to play games and there are also smaller side tables that you can have.
After that there are other important points to consider such as the material that they are made out. Plastic camping tables generally have a simpler design but aluminum camping tables are often collapsible and easy to carry. You also want to ensure that your outdoor compact table is going to be stable and strong enough for whatever use you have for it.
With any camping product, you also need to think about how you are going to take it from one place to another and how portable that it is going to be, how easy it is to transport and to store too. This is impacted by both the weight of the product but also the foldable size of it too.
Once you have figured all of that out then you'll be in a much better position to choose the best folding camping table for you and your situation. Hopefully this guide has been able to answer all of your questions so you can be confident about your buying decision. When you have got your outdoor compact table, you'll be able to transform your camping experience and have an easy place to cook, eat and socialize.
More Camping Reviews:
Globo Surf Camping Tables Reviews
; ; ;
★★★★★
"
This article came right in the right time. I was looking for a lightweight and portable camping table which I will use from time to time. I decided to go with the GCI Outdoor Compact Folding Camping Table.
"