Good food has the power to make a camping trip phenomenal and that's why we've rounded up the best camping stoves that will enable you to cook great tasting meals while outdoors. We've taken important factors such as performance, ease of ignition, wind resistance, and portability into account, so you can expect consistent heat output, strong flames, superior simmer control and durability from our picks.
Whether you are looking for a freestanding car camping stove or a lightweight and packable backpacking stove, everything is covered. Once you've read through our reviews and guide, you'll be able to work out which option is best for you. Below are the top rated camp stoves that met our criteria and that avid campers rave about.
Camp Chef Everest High-Output 2-Burner Camping Stove
See Customer Owner Feedback >>
What Makes This Camping Stove Stand Out

Two powerful burners each giving out 20,000 BTUs

Lightweight and compact portable camping stove

Easy and quick matchless ignition

Three-sided wind barrier for wind protection

Fully adjustable dials offer excellent temperature control

Stainless steel drip tray for easy clean up
Best Use: Family Camping, Car Camping, All-Round Use
Heat Output: 40,000 BTU/hr.
Fuel Type: Butane
Dimensions: 13.5 x 23.5 x 4.2 inches
Weight: 12 lbs.
Coleman Triton 2-Burner 'PerfectFlow' Propane Camping Stove
See Customer Owner Feedback >>
What Makes This Camping Stove Stand Out

Independent temperature control for both burners

Well-designed wind panels shield burners from wind

Consistent heat and fuel efficiency even in windy conditions

Large enough for one 12 and one 10 pans simultaneously

Removable chrome-plated grate for ease of cleanup
Best Use: Car Camping, Family Camping, Difficult Outdoor Conditions
Heat Output: 22,000 Total BTUs
Fuel Type: Propane
Dimensions: 13.9 x 5.8 x 23.1 inches
Weight: 4.85 pounds
Etekcity Ultralight Portable Outdoor Camping Stove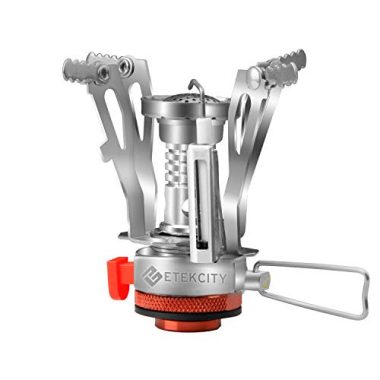 See Customer Owner Feedback >>
What Makes This Camping Stove Stand Out

Ultralight and collapsible into a compact portable size

Compatible with butane/butane-propane mixed fuel canisters

Built to withstand high temperature and weight

Adjustable flame control valve

Four-angle solid support for stability

Quick ignition with built-in Piezo ignition
Best Use: Hiking, Backpacking, Ultralight Camping, Picnicking
Heat Output: 6666 BTU
Fuel Type: Butane/Butane-Propane Mixed Fuel canisters  
Dimensions: 3.15 x 2.36 x 1.81 inches
Weight: 4.5 ounces
Camp Chef EX60LW Explorer 2 Burner Outdoor Camping Stove
See Customer Owner Feedback >>
What Makes This Camping Stove Stand Out

Two burners emitting 30,000 BTUs each

Fully adjustable appliance-style temperature controls

Big cooking surface and three-sided windscreen

Removable legs for tabletop use and portability

Adjustable legs for stability on uneven ground

Durable, affordable and unbeatable value
Best Use: Car Camping, Tailgating, Families, Large Groups
Total Output: 60,000 BTU
Fuel Type: Propane
Cooking Dimensions: 14″ x 32″
Cooking Area: 464 sq. in.
Cooking Height: 29″
Dimensions: 34 x 14 x 29 inches
Weight: 31 lbs.
Ohuhu Stainless Steel Camping Stove
See Customer Owner Feedback >>
What Makes This Camping Stove Stand Out

No gas required, uses fuel provided by nature

Versatile stove that also burns alcohol tablets

Economical option as you don't have to buy fuel

Compact and ultralight camp stoves

3-arm base for stability and even heat distribution
Best Use: Backpacking, Hiking, Trekking, Solo Camping
Dimensions: 5.3 x 3 x 5.3 inches
Folded size: 5.3″ x 5.3″ x 3″
Weight: 14.2 oz.
Coleman Classic Propane Camping Stove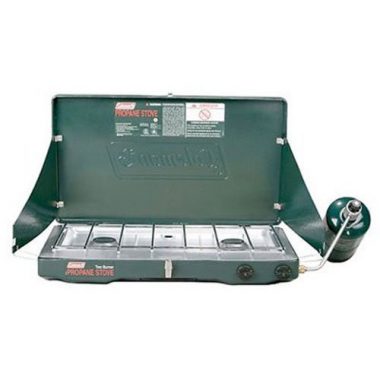 See Customer Owner Feedback >>
What Makes This Camping Stove Stand Out

Emits 20,000 BTUs of cooking power

Consistent heat even in cold weather and high altitudes

Side panels shield burners from wind

Wind panels fold down for use as side tables

Rotating dial for temperature control

Covered by a three-year warranty
Best Use: Car Camping
Heat Output: 20,000 BTU
Fuel Type: Propane
Dimensions: 4.1 x 21.9 x 13.7 inches
Weight: 4 ounces
Esbit Ultralight Folding Pocket Camping Stove
See Customer Owner Feedback >>
What Makes This Camping Stove Stand Out

Light and compact, ideal for hikers and backpackers

Burns solid fuel tablets, which are easy to pack and carry

Reliable in extreme conditions and high elevation

Stable and wind resistant design

Package includes 6 14 g solid fuel tablets

Unbeatable price and ease of use

Sturdy and durable, made from galvanized steel
Best Use: Backpacking, Hiking, Mountaineering, Solo Camping
Boil Time: 8 Minutes to Boil 500ml
Fuel: Solid Fuel Tablets
Packed Dimensions: 3.9 x 3 x 0.9 inches
Weight, including solid fuel: 6.3 ounces
GAS ONE GS-3000 Portable Camping Stove
See Customer Owner Feedback >>
What Makes This Camping Stove Stand Out

Provides 9000 BTU of cooking power

Easily ignited with Piezo type electric starter

Automatic shutoff and canister ejection for safety

CSA Approved stove with great safety features

compact, lightweight and comes with a plastic carry case

Adjustable burner for temperature control
Best Use: Car Camping, Picnicking, Small Groups
Heat Output: Up to 9,000 BTU/Hr
Fuel Type: 8 oz. Butane Canister
Dimensions: 13.5 x 4.4 x 11.2 inches
Weight: 3.1 pounds
Coleman Powerpack Propane Camping Stove
See Customer Owner Feedback >>
What Makes This Camping Stove Stand Out

High portable compact single-burner stove

Offers 7,500 total BTUs of cooking power

Delivers steady heat and fuel efficiency

Adjustable burner for precise temperature control

Wide pan support area to fit a 12-inch pan

Easy to clean with removable chrome-plated grate
Best Use: Car Camping, Hunting, Backpacking
Heat Output: 7,500 BTUs
Fuel Type: Propane
Dimensions: 12.5 x 13.4 x 4 inches
Weight: 2.2 pounds
Coleman Fold N Go InstaStart 2-Burner Camping Stove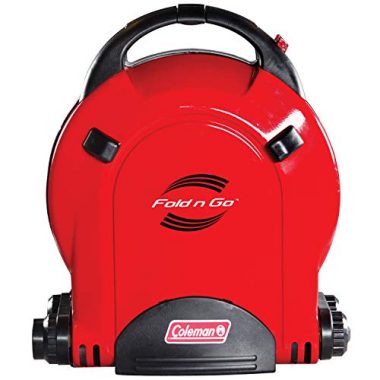 See Customer Owner Feedback >>
What Makes This Camping Stove Stand Out

Foldable for compact storage and transportation

Two burners offer 20,000 total BTUs of cooking power

Holds two 10-inch pans at the same time

InstaStart ignition starts at the push of a button

Independently adjustable burners

Burns consistently and efficiently in outdoor conditions
Best Use: Car Camping, Canoe and Kayak Camping, Tailgating, Hunting, Picnicking
Heat Output: 20,000 BTUs
Fuel Type: Propane
Dimensions: 15 x 14 x 7 inches
Weight: 8.5 pounds
How To Choose A Camping Stove – Buying Guide

Fuel Type and Capacity
The most important factor to have in mind when evaluating camping stoves is the type of fuel they use. The ideal fuel type will depend on where you will be camping and the conditions you will be using it in. There are three main types of fuel when it comes to camping stoves:
Pressurized Gas: Most of the gas camp stoves we have featured here run on propane as it performs well in a wide range of temperatures and conditions. Bottles of propane fuel are also readily available and are easier to lug along.
While butane is lightweight and easy to carry thus an attractive fuel option for backpacking and hiking, it doesn't perform well at below freezing conditions, and butane fuel canisters aren't as easily available as propane.
On the downside, pressurized gases can solidify and lose pressure when camping at below-freezing temperatures or at high altitudes.
Liquid Fuel: Liquid fuel stoves can run on a number of liquid fuels including white gas, kerosene, unleaded gasoline, diesel fuel, and jet fuel. If you expect to be cooking in extremely cold temperatures, or if you plan on camping at high elevations, you may want to opt for a liquid fuel camp stove as liquid fuels perform well in cold weather or at high elevations.  
Solid Fuel Stoves: There are also stoves that run off alcohol fuel tablets and wood-burning backpacking stoves that run on twigs and scraps of wood you find along the way or around the campsite. These kinds of fuels are sufficient for light duties such as boiling water, warming pre-prepared meals, and cooking simple foods. Because they are packable and lightweight, they make the best hiking and backpacking stoves.   
You will also have to decide about the fuel capacity. If you're going backpacking or won't be setting up camp for long, 16-ounce fuel bottles should do. One 16-ounce canisters can burn for 90 to 120 minutes.
It's always worth bringing as many bottles as you can carry to ensure that you don't run out of fuel when you need it most. If you're going out on a long camping trip, a 20-pound fuel tank is a great option as it can give you 15 to 20 hours of cooking time. You will need a hose/adapter to connect a large canister to a camp stove.  
Related Reviews: Backpacking Stove & Alcohol Stove
Time To Boil
Some camp stoves have time to boil rating that will tell you how long it takes (on average) to bring one liter of water at 70°F to a boil. The quicker the boil time, the higher the heat output and stove efficiency and the faster you will be able to enjoy your free-dried meal, rice, pasta, or hot coffee.
Keep in mind, though, that the elevation level and temperature conditions you will be camping in will determine how fast the stove will be able to bring liquids to a boil. If most of your campsite meals involve boiling water, consider integrated stove systems. They are designed to offer better wind protection and fuel efficiency and have excellent boiling performance.
Another specification that can tell you whether the stove you choose has enough heat output to give you the convenience you need when preparing meals is the BTU rating. This is a measurement of the amount of heat required to raise the temperature of one pound of water by one degree in Fahrenheit. The more BTUs a stove has, the more heat it can produce. For camping stoves for families or large groups, go for 20,000 BTUs and up.
Simmering Ability
If you will be cooking elaborate meals that require more finesse and precise flame control, make sure the stove you choose has effective simmer controls. It is worth it spending a little more on car stoves equipped with turning knobs that offer more accurate temperature control and will allow you precise control of the flame giving you the ability to prepare a wide range of hot foods while outdoors.   
Propane canisters also feature valves that allow you to control the amount of gas and the size and intensity of the flame produced. Reading stove reviews is a good way to find out whether a stove you're interested in has good simmer performance.  
Ease Of Set-Up
Be sure to consider the ease of setup when evaluating stoves. Propane and butane backpacking stoves that use pre-pressurized fuel canisters are very easy to set up as you simply set the stove down, open it up, attach the fuel and light it up. With a liquid-fuel stove, you will have to prime the fuel before you can light the stove.  
Some bigger camp stoves are harder to set up as they come with legs you have to attach to give the stove an even footing. Once you receive the stove, practice setting it up at home and you will be able to set it up in no time while out there.
Wind Resistance
When cooking outdoors, your flame will be sensitive to the wind. Whether this is the flame on the end of a match, a campfire, or the flame from a stove, it can be very frustrating and wasteful of matches or fuel when the flame keeps flaring, flickering, or blowing out and it takes forever to cook anything.
Ensure the stove you choose has an effective in-built wind resistance mechanism so it is effective and efficient in any type of weather. Some stoves have flaps or lids that break the wind. You can also purchase a windshield that will cover three sides of the stove separately. This will allow your food to cook quickly and also conserve your fuel.
Winter Use
If you enjoy camping in the winter, you will need a stove you can rely on even in below-freezing conditions. Liquid fuel stoves that burn white gas are the best camp stoves for winter use as white gas performs well even in extremely cold conditions. Solid fuel tablets are also reliable in wintery conditions.
Butane and propane gas camp stoves aren't good options as the pressurized gas tends to lose pressure and freeze up in freezing conditions, failing you when you need a hot meal or drink the most. 
Ensure the stove you go for also has effective wind protection as winter winds can play havoc with your flame. A high 'ease of use' factor is also important when camping in the winter. Having an easy and reliable ignition system as well as easy to use knobs is ideal as you'll be able to use them with cold or gloved hands.
Portability
Portability is a key aspect of all of your camping gear. Work out what you need from your stove and how far and often you will need to carry it and ensure that the stove you choose will fit in your car and that you will be able to carry it from the vehicle to the camping site.
If you're going camping with the family or a group of friends and have an SUV or truck, you can afford to bring along a bigger freestanding car stoves that will give you the cooking space and power you will need to prepare large, elaborate meals quickly. If you will be leaving your vehicle somewhere along the way and hiking a short distance to access your camping, go for a lightweight tabletop model that will be easier to carry to the site. 
Portability is especially important when going hiking or backpacking. The stove you carry will have to be compact enough and lightweight enough to not weigh you down on the trails. There are some ultralight and compact stoves we've listed here that fit this requirement and make great backpacking and hiking stoves.   
Types
There are three types of camp stoves: freestanding, tabletop, and backpacking stoves. The biggest difference in these types of stoves is the size and weight. Freestanding models are large and heavy and they come with their own legs so you don't have to worry about where to set them up. They offer high heat output and multiple burners and are great for families and large groups. 
As the name suggests, tabletop stoves need to be placed on a camp table or on the ground. They are easier to transport than freestanding models. Compact and ultralight backpacking stoves have a very high level of portability but only offer a single burner and don't have a high level of stability freestanding and table-top models offer.
Stability
The risk of the stove slipping and knocking a full meal to the floor or even burning someone is real when cooking on a camp stove. You want to be confident that the stove is going to remain stable while you cook. Freestanding camp stoves are the best when it comes to stability, as they are large, sturdy, and come with legs for a stable set-up even on uneven ground.
Table stove models are also stable when placed on a sturdy table or level ground and on a non-slip surface. Putting a stove on a rock or a tree stump is a no-no. With lightweight backpacking stoves, it's also important to find a clear and level ground for them to sit on otherwise you could end up in a messy situation.  
Ease Of Care
When camping, you want to spend your time enjoying nature instead of on cleanup duty. A good camp stove should be easy to clean and care for when outdoors with limited resources. Consider the maintenance requirements and choose a stove that won't be too much hassle to keep clean and in tip-top condition. 
You should be able to take it apart easily in order to clean all the parts thoroughly. The bigger the stove, the more demanding the maintenance. Having a drip tray will also make the cleaning process a lot easier.
Ignition
The piezoelectricity ignition system offers the easiest and safest way to ignite a camp stove. This type of ignition system comes at an extra cost but the ease of use, convenience, and peace of mind makes it worth it. It is also wise to always pack matches or a lighter, as this automatic ignition system isn't perfect and can fail sometimes.
When using a stove with an in-built ignition, all you have to do to spark the flame is push a button. This is much safer than manual ignition using a match or lighter, as there is no risk of a sudden burst of flame.
FAQs

Q: What Is A Camp Stove?
A:
A stove for camping is a portable stove designed for cooking while outdoors. It uses propane, butane, liquid fuel, alcohol tablets, or wood scraps and twigs as fuel.
Q: How Many Burners Do I Need?
A:
If you're going backpacking or hiking solo or with a friend, a single burner will do. When camping as a family or as a large group of friends, you will need a stove with at least two burners to be able to prepare large meals quickly and conveniently.  
Q: How Many BTUs Do I Need For My Camp Stove?
A:
If you will be cooking simple meals for one or two campers, 5000 to 10000 BTUs can serve you well. When preparing camp site meals for a large family or group, you will need 20, 000+ BTUs. The higher the BTU output, the more fuel the stove will consume.
Q: How Long Do Camping Gas Canisters Last?
A:
A 14 or 16-ounce propane tank can burn for 1.5 to 2 hours while a 20 lb. propane tank can last 15-20 hours depending on the stove's heat output and whether you have the stove on high or low.
Q: Is Propane Stove Safe?
A:
Yes, a propane stove is safe as long as it is placed on a stable surface and all the safety precautions are observed when using it. Always use it outside or in a well-ventilated room or tent if you have to use it inside.
Q: How To Light A Camp Stove?
A:
Connect the fuel tank to the stove, open the valve to release gas and use a match or a lighter to ignite the flame. If your stove has Piezo ignition, all you have to do to spark the flame to life is push the ignition button. 
Q: Which Is Better Butane Or Propane Stove?
A:
A propane camp stove is the better option as propane is a reliable fuel in a wide range of conditions and propane fuel canisters are readily available. A butane stove is the more lightweight option and a better option for backpackers and hikers exploring the remote backcountry.
Q: How To Clean A Camp Stove?
A:
You can clean most spills using clean warm water, dishwashing soap and a sponge. For a deeper cleaning, you will need to take apart the stove by unscrewing the burner. You can use high pressure water to blast off stubborn grease and dirt build-up. 
Q: Can You Use A Camp Stove On A Plastic Table?
A:
It is okay to place a stove for camping on a plastic table as long as the table is sturdy enough and the stove won't grow hot and melt the plastic. You can use a heat-resistant mat to protect the plastic table. You should also ensure the tabletop is slip-resistant.
Globo Surf Overview
As a fan of outdoor activities such as camping and hiking, you know that a camp stove is a must-have item and the type of portable stove you pack is a big deal. Investing in one of the best backpacking stoves will make your camping adventures so much better. Food just tastes better in the great outdoors and the portable stoves in our reviews will ensure that this is your experience. 
All you have to do is to consider factors such as your destination and how you will get there, and the number of people you have to cook for so you can choose a top rated camp stove that will suit your needs. We hope this buying guide has given you the confidence to make the right choice. 
More Camping Reviews: