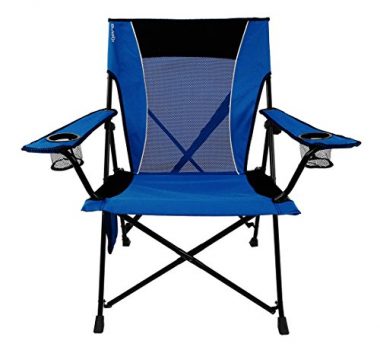 See Customer Owner Feedback >>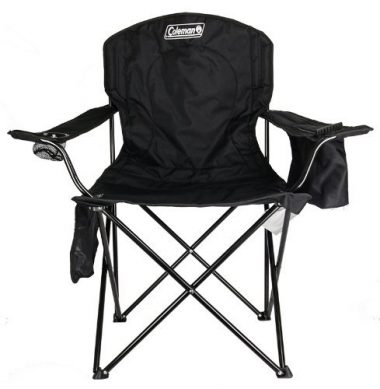 See Customer Owner Feedback >>
If you're out there camping then you want to ensure that you have the best overall camp chair possible in order to be able to enjoy being out in the open air as you relax and unwind after a day of doing what you love.
A camp chair though has to strike a fine balance between being as comfortable as possible while still being highly durable but also portable too. Then there are plenty of other factors to consider as well such as the material it is made from, how easy they are to set up and what other features they have, along with other considerations too.
Choosing the best camp chair then can be difficult but we're here to help and have developed a buying guide to answer all of your questions. We have also looked at chair reviews to show you the best folding camping chairs on the market. Once you've read through this, you'll know exactly what you're looking for.
How To Choose A Camp Chair – Buying Guide

Comfort
There is a reason why you are looking for the best portable camp chair and don't want to sit on the floor and that is the comfort. For this reason comfort is the number one in terms of importance when it comes to getting a chair. What we're looking for here isn't a replacement for your sofa at home but instead a great place to rest.
This though does depend on a few factors but no more so than portability as that generally goes hand in hand with comfort. If you're on a hiking trip then there is no way that you want to be carrying a full-sized chair around with you but there are other options available such as the stool which are a lot smaller and chairs that can be taken in a carrying bag.
If you want a high amount of portability then you might have to sacrifice a little bit of comfort but all of the options in this list will give you a comfortable place to sit, just some more than others. If comfort is a huge factor then looking for aspects such as camp chairs that are suspended from bungee of those which have a higher level of padding can be great options.
There are also other factors which can affect your comfort level as well such as how much support the chair is going to give to your back and if you're in a hot climate and will be using the chair for a rest then choosing one with a mesh back will be more breathable and stops you from sweating as much when you are sitting down. Often comfort is compromised by how easy they are to carry though and this is where you need to make a judgment call on where the balance lies.
Durability
When you're out there camping, durability is another key concern as well as if your chair fails then you're going to be stuck without anywhere to sit. This is a complex design issue as durability generally comes from a sturdy construction and is generally helped by adding weight to a product.
A camp chair though has to have a collapsible construction and they also have to be as light as possible in order to be carried around. All the products that we have reviewed here though rank very highly in durability and their frames are able to take a significant amount of weight before ever buckling under the stress.
You want to make sure that the frame is going to remain strong but there are also other points to consider as well, such as anti-corrosion as if your chair starts to rust then not only will it look terrible but it's going to fail more quickly than it should.
In terms of the fabric want to ensure that the material is thick and going to be able to last for a long time. The camping environment can be a tough one for the chair as not only does it have to contend with being outside in the elements but it also has to be able to withstand the likes of fire embers while still keeping its integrity in place. You want to make sure that you're looking for a chair with great construction with high-quality fabric materials.
Portability
Portability is one of those factors which are highly individual but all of these products are able to fold down to a much smaller profile than their chair form. This is where you need to work out for how long you are going to be carrying your chair and for how often, when you have worked that out then you will be in a much better place to work out how portable you need your chair to be.
For example if you're going to be packing a chair into a car and just taking it from the car to a nearby campsite, then it doesn't matter if it's a little difficult to carry as your main concern was just packing it into the car with the other items of your camping gear. Some of these backpacking chairs fold down to a low diameter but remain quite long making them ideal for car storage but not quite walking.
If you're going to be moving campsites while you are on your trip then you will want a chair which has a much lower profile and a low amount of weight. To choose such a chair could possibly mean that you have to sacrifice both comfort and durability but if you need a portable chair then there are plenty on the market which will be able to hold your weight and give you the rest you need.
Support
Support is precisely what camp chairs need to offer in order to give you that rest that you're looking for or just to give you that moment that you need to relax and unwind after a long day. Whatever the reason for wanting a chair for camping, it's imperative that it gives you a high level of support and that's it's able to support your weight as well.
The weight capacity that they can have varies wildly depending on their construction and how small they are. The smallest weight capacity that we see in this list is 225 pounds which is still a lot of support but not quite as much as some might need. You also have to bear in mind that camping can be a jovial experience and it might also have to stay durable when children are having fun as well.
If you need a chair that is going to give you a high level of support then you obviously want to be looking at one that sits in the upper weight limits in terms of capacity as there are camping chairs here that are capable of supporting 800 pounds in weight so you know that it's going to remain sturdy and give you enough support for a vast number of years.
Back Support
People look for different things from camp chairs and while a lot of people will just want to be able to take the weight off their legs, others will want more support for their back so you need to make sure that you're getting a chair that is going to be able to offer that.
In this list there are such things as the stool chairs which aren't going to give your back any support at all and are designed to just give your body a general rest. Others have a small amount of support with a simpler looking chair while others are designed with this type of support and comfort in mind.
One useful feature to look for in this regard is the ability to be able to recline the seat, as this will enable you to be in a more horizontal position and able to take any pressure away from your back which will be able to give it more support and allow you enough rest to get going once you're back on your feet.
Shaded
Being in the great outdoors is a great way to spend your time. Relaxing in that breeze can be a great experience but that can be spoilt if you're left out in the sun. Not only does it mean that you have to layer up on sunscreen but it can also be unpleasant being under an oppressive amount of heat.
If you're out there camping then you can have very little shade from this and might have to rely on staying inside your tent which isn't something that you really want to do during the daytime as this would be a bit of a waste. Getting a chair with a shade attached is a great way to overcome this as you can relax outside without having to worry about the sun.
There are obvious downsides to this though as in order to have the shaded element to the chair then it requires extra weight and doesn't rank quite as well in portability. If your plan is to have a static camping site which isn't too far away from your car then this isn't going to be much of an issue as they aren't difficult to carry over short distances.
Type
Beach chairs – You probably know what we mean by a beach chair as these are the type that are easily folded out and are very quick to set up and able to deal with a sandy environment. In terms of camping there are a few chairs which have variants on this design.
This makes them more suitable for camping but also mean that they are versatile as well so you'd be able to take them to various different activities. These camp chairs are usually lightweight but don't fold away to the smallest of sizes so aren't highly portable.
Backpacking chairs – These are the chairs that have the genius design which means that they can travel anywhere with you without being too much of a burden. These can either be attached to your backpack or folded down to fit inside of one.
This makes them great for hiking and if you're camping in various locations then this is the type of chair that you'll be wanting to buy. Their downsides are fairly obvious though as they don't offer the same level of support of other camping chairs and aren't as comfortable.
Tailgating chairs – Tailgating chairs are one of the most popular as these do have a good level of portability but offer you a superior level of features and this makes up the vast majority of the products that are on our list as they are perfect for camping as well as other activities.
They fold down to a small size and can often come in a convenient carry bag making them easy to transport from one place to another. They will also come with great features as well such a cup holder and side pockets making them the perfect relaxing tool for camping.
Material
There are some key considerations when it comes to the material with one of the most obvious ones being that you need it to be strong enough to withstand your weight and this will be clearly displayed by the weight capacity that it will show on the description.
You also want to product to be breathable as well otherwise it's going to make you sweat when it's pressed against your skin which isn't pleasant. Added to this is the fact that a lot of these products come with a mesh back as well with will give you a great degree of ventilation.
Having added features such as it being water resistant and stain resistant as well are important so these are good to look out for. In terms of the frame, it doesn't really matter what it is made out of as you will know the weight capacity already but you do want to make sure that it's corrosion-resistant so it will last you for a long time.
Ease Of Set Up
When it comes to the ease of the set-up then all the camp chairs in this list rank very highly as they are all very well designed to fold out and then click into place very easily. As you can imagine the beach chair types of model and the easiest to set up as this involves just pulling the two parts of the chair apart to unveil the chair before you.
The next easiest would be the backpacking chair as these are smaller and only need to be extended out and often pulled apart to unveil the tripod shape. Out of the three different chair types though, this is probably the most important one for ease of use as you'll be pulling out your chair when you wanted a break so you have to be able to set it up nice and quickly.
The most difficult of these camping chairs would be the tailgating type but even then, they aren't difficult. Of the three styles as well, this is probably the one that you have to be least concerned when it comes to ease of use as they will offer a more permanent chair solution which might be left open for quite a few hours or even days. All these types of camp chairs are suited to their environment so there isn't a lot to worry about.
Frame
When it comes to the frames of all these types of camp chairs then the one that you will most often see will be steel as this is a notorious building material, not only for its strength but also the fact that it is light and inexpensive as well.
When looking into a steel frame though you want it to be either one of two things and that is either stainless or coated as both of these things will prevent it from rusting so that it can give you a high level of reliability over a number of years.
Another frame solution is aluminum which is also known for its strength but can be very light and doesn't have the same worries with rust as you would do if you had a steel option. Both frames types though can give you a very high level of support.
Storage
In terms of the internal storage that these camping chairs have, some of them have pockets which can be a very useful addition as you are able to things such as your phone, tablets or anything that you might want to read while you're out there camping.
If you're going to be in more of a permanent camping position then this is going to be more of a useful feature as you will have more leisure time in which to enjoy such activities. The likes of backpacking chairs won't have any storage options as these are merely just for rest and beach chairs also won't have any due to their simpler design.
In terms of the storage for when they are not in use then you also have to consider where they are going to stay at these times. Keeping them in a damp environment isn't ideal as it gives it more opportunity for the likes of mildew to form and for the frame to rust as well as you want to keep it in a dry place.
Backpacking chairs are obviously the easiest to store as they fold down to the smallest size whereas beach chairs will have to be stored in their folded up position. Tailgating chairs are able to be folded down to a very small size and often in a carry case making them easy to store but also unlikely to develop any mildew over time.
Cup Holder
One of the most convenient features that you can have on a chair is the ability to have somewhere to put your drink. Sitting around a campfire while you're in your chair and grabbing a beer is something many people enjoy or it could simply be somewhere for your child to store their soda.
Some chairs will come with one holder while others will come with the option of having two. Not many people will have two drinks at the same time but the second cup holder can often be a useful pocket to have for any other items.
They are usually big enough to hold something like a mobile phone or a good place to store your sunglasses as well. You might initially see two cup holders and wonder what the point of them is but they can actually come in very useful a lot of the time.
Rockers
A completely different option for your chair experience would be to get a camping rocking chair, which do actually exist. They use a clever spring action system which can give you that gentle rocking experience that you can get at home.
Obviously this is not the classic rocking chair that you would often see but they can offer you a nice experience while you're out there camping. As you can imagine though, these features add to the weight of the product and make it harder to carry so isn't quite as practical as other solutions.
Use
All the products that we have reviewed here will work perfectly as a chair but they also can have other uses as well which can make them very versatile and able to be used time and time again in plenty of different scenarios.
The clues of these extra uses obviously come from their name but they have an even wider use range than that as well. A backpacking chair was invented to be used while backpacking which obviously doesn't always involve camping. This could involve any type of hike or any situation where you just need a quick sit down.
Tailgating chairs are highly versatile and can be taken almost anywhere and can even be used as an extra chair in your own home if you're having a party or some other type of occasion. They can be taken in the car and obviously used in tailgating or anywhere outdoors where someone will want a seat. Their high level of uses makes them a very desirable product.
There is obviously a beach chair as well which can be used in many of the same ways as a tailgating chair but it was obviously designed to be used at the beach so if you're having a day out then you can take along the beach chair that you've also used for your camping trip.
Style
After all those considerations we have yet to even touch on style, which is important. A product could have all the features in the world but if it doesn't look good then not a lot of people are going to want to buy it. The style of backpacking is less important as there's not a lot that you can do with the basic design of the fabric on top of the tripod.
For other design types you generally have a lot more options available to you and come can look quite cheap while others look more expensive and more professional. A lot of products that we have reviewed her come in a range of different colors so you are able to pick the one which most matches your style and personality.
FAQs

Q: How Do I Clean My Camp Chair?
A:
All the chairs on this list are going to be easy to clean as they are all made out of materials that are designed to be out in the open so they know they are going to have plenty of things touching the fabric that can stain or damaged them if they were made to a high-quality.
One feature that comes chairs have is the ability to remove the fabric from them which you could wash more vigorously or even machine wash but only a few chairs would give you the ability to do this and even if you could this is an extreme option which isn't really going to be required.
Instead for most chairs all they'd need to be simply be hosed down to remove any dirt from them and this will take away any stains as well which can then be left to naturally dry. For more stubborn stains a dishcloth with a bit of mild soap should usually be more than enough to get rid of that stain.
An important point to note here though is that each chair will have its own guidelines on if that can be machine washed and other factors which may invalidate your warranty if you get it wrong. Therefore it's always important to consult your user manual after your purchase to ensure that you're taking the right steps.
Q: How Do I Clean Mold/Mildew From My Camp Chair?
A:
While the above may work for regular cleaning, if you're suffering from mildew or mold then it's a bit more serious and this needs to be cleaned in the best way. The first thing you want to ensure is that the chair is as dry as possible before you start the cleaning process.
Steam cleaners are probably going to be the most effective solution for this and if you don't already have one then they are a useful tool to have and aren't that expensive either. This will be a quick answer to kill it dead, other solutions include having a spray which will be able to kill the bacteria and rubbing it into the surface, taking care to ensure that you don't damage the fabric of your chair.
That solution can be things like pure alcohol or white vinegar which will be highly effective and getting rid of mold and mildew. One thing that you need to avoid though before you store the chairs away is that after the cleaning process you need to ensure that the chair is completely dry before it is stored away otherwise you're simply going to have to repeat the process all over again.
Q: Will My Camp Chair Come With A Warranty?
A:
There are plenty of companies out there which will happily offer you a warranty while there are other companies out there which won't offer one at all. If you've ever tried to claim or deal with a product's warranty though, then you'll know that it's not always as clear-cut as that as it can be a murky world.
There is a big difference between a company offering a full warranty and a company offering a limited warranty as the latter means that there are stipulations on what you can claim against and often it only includes defects that were made during its construction.
It's important therefore to always check what the warranty includes and whether it is worthwhile as a reason to either buy or not buy a product. If there are two similar products though and one is offering a warranty while the other one isn't then it makes sense to go with the product that is offering you the protection.
Here you general feeling that if a company isn't offering a warranty that they don't have any faith in the build quality of their product, whether that is justified or not. On the reverse of that, if a company is offering a full warranty then it makes you feel as though they feel they have made a top quality product and on that is going to last for a long time. This gives you a confidence but also peace of mind knowing that if anything goes wrong, you're going to be covered.
Q: Will My Camp Chair Double As A Beach Chair?
A:
This naturally depends on which type of beach chair that you'll be opting for as if you are getting the beach chair type then the answer to this question is fairly obvious as it's going to be a yes. A lot of the chair that we have reviewed here today are highly durable and can be used for a variety of different reasons.
A backpacking chair though wouldn't be a great choice for the beach and you'd have to look at different options instead. The reason for this is that they wouldn't have the stability to be a useable beach chair and with their lack of back support, they wouldn't be very comfortable either.
A tailgating chair would be more useable as a beach chair but even this might not be the most practical as the legs weren't designed for the beach meaning that they might sink into the sand too much and not leave you with anywhere to swing your legs and leaving the chair sloping back as the front fabric of the chair stops any further sinking but the back continues to dig into the sand. It's best to look at the design of the chair to determine whether it's going to be suitable or not.
Globo Surf Overview
Sitting on the perfect chair can be one of the most enjoyable ways to spend a vacation or a weekend away. Whether that is sitting around a campfire with your friends or watching your kids run around in the open air and having fun. Having the best camp chair will give you the best relaxation possible while you unwind.
It could be though that you are hiking through the forest and want a lightweight camp chair which is going to be able to give you breaks on your journey and somewhere to sit when you make camp. Whatever your reason for wanting one of the top-rated camping chairs, you want to ensure that it's good enough for your needs.
There are plenty of comfortable camping chairs on the market for those looking for a bit more support from their seat. Getting the best lightweight camp chair that is right for your situation though requires a lot of thought and taking all the features into account to determine which the best fit is for you.
One of the most important considerations is how far you will need to travel with your chair in tow. If you're hiking then getting a folding camp chair which has a long profile and a high weight isn't going to be much good. If you're only taking it on a short journey from your car then this will be much less important.
You also want to make sure that your chair is comfortable enough for your needs and also that it's durable enough to support your weight as well which is a key check that you need to do before you buy the product. That durability will also come from the chair being made out of the highest quality materials and also have a frame that is solid and won't rust. Finally features like cup holders, pockets and how easy it is to step up are also going to be important in your decision-making process.
When you have finally taken everything into account then you're going to be in a much better position to make an effective decision on what chair is going to be the best for you. Hopefully this buying guide has given you all the information you need to be able to be confident in finding the top rated camp chair for you so you can head out there into the open and enjoy your time away as much as possible.
More Camping Reviews:
Globo Surf Camping Chairs Reviews
; ; ;
★★★★★
"
Loved your article. Great reviews and great product selection!
"