If you want to camp with your whole family or with a large group of people, then you will need to either buy a lot of different tents or have one large tent to cover anyone. Having the best 10 person tent will make your life a lot easier as you only have to worry about carrying and installing one tent.
Finding the best ten person tent can be tricky as there is a lot of different features to consider. Not only that, but due to their size, they can look quite different and have different rooms and sections. There are also other important points to consider such as materials, ease of installation and weight.
Here we explain all the key features and why they are important. We have also completed 10 person tent reviews to show you the best 10-person tents on the market and once you have finished reading this guide, you'll know exactly what you want to get.
OZARK Trail Family Cabin 10 Person Tent
See Customer Owner Feedback >>
What Makes This Large Family Cabin Tent Stand Out

Full rainfly coverage

Two free mattresses included

Two removable dividers
Coleman Outdoor 10 Person Tent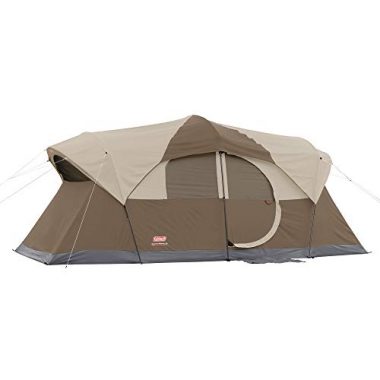 See Customer Owner Feedback >>
What Makes This Large Family Cabin Tent Stand Out

Highly weatherproof

Hinged door

Angled windows
CORE Straight Wall Cabin 10 Person Tent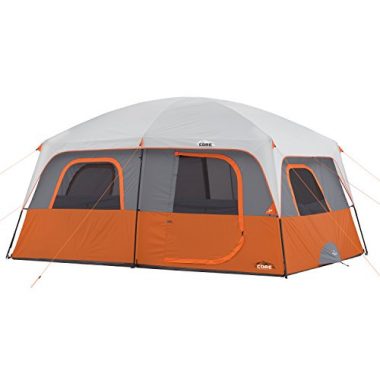 See Customer Owner Feedback >>
What Makes This Large Family Cabin Tent Stand Out

Air vent

An electrical cord access port

One room divider
Timber Ridge Large Family 10 Person Tent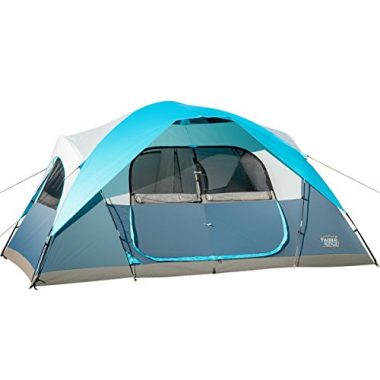 See Customer Owner Feedback >>
What Makes This Large Family Cabin Tent Stand Out

Large access door

High level of ventilation

Internal mesh pockets
View More By Timber Ridge »
Ozark Trail 3 Rooms 20 X 10 10 Person Tent
See Customer Owner Feedback >>
What Makes This Large Family Cabin Tent Stand Out

Three large rooms

Unique design

Great weather protection
Columbia Sportswear Fall River Instant Dome 10 Person Tent
See Customer Owner Feedback >>
What Makes This Large Family Cabin Tent Stand Out

Well ventilated

38 pound carry weight

Air and electronic ports
NTK Arizona GT 9 to 17.4 by 8 Foot Sport Camping 10 Person Tent
See Customer Owner Feedback >>
What Makes This Large Family Cabin Tent Stand Out

Highly durable

Unique design

Highly waterproof
Tahoe Gear Olympia 3-Season Family Camping 10 Person Tent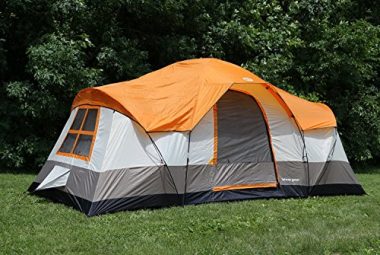 See Customer Owner Feedback >>
What Makes This Large Family Cabin Tent Stand Out

Different color options

Durable polyester

Easy set-up
View More By Tahoe Gear »
Mountain Trails Grand Pass 10 Person Tent
See Customer Owner Feedback >>
What Makes This Large Family Cabin Tent Stand Out

Nylon material

Easy installation

Large doors
View More By Mountain Trails »
Wenzel Timber Ridge 10 Person Tent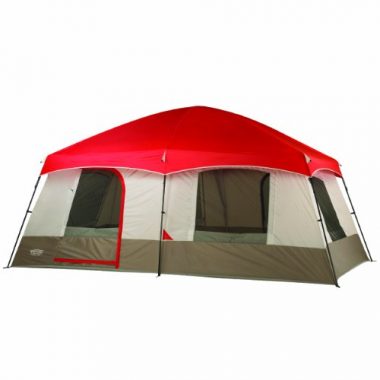 See Customer Owner Feedback >>
What Makes This Large Family Cabin Tent Stand Out

Spacious design

Large 'D' style doors

Fast foot design
How To Choose A 10 Person Tent – Buying Guide

Tent Poles
When you are dealing with such a large tent, the poles are going to play an even greater role in taking the weight and protecting the structure. As with any tent though, they still need to be easy to set up and also easy to carry.
In regards to the materials of these tent poles, they will either be made from fiberglass or aluminum. Both are great materials but they do have their slight differences when it comes to how sturdy the tent is going to be.
Fiberglass is a strong and light material but it can lack rigidity which is sometimes what you need in a tent when conditions aren't great. Aluminum is slightly light when compared to other metals although heavier than fiberglass but is able to hold a more rigid structure.
You also want to see how the tent poles are connected to see how easy it is going to be to install. Quality tent poles are going to be important in difficult conditions and will go together will strong lines and also the best tent stakes.
Material
The material of the tent is going to be key as it needs to excel in a few key features which don't always go hand in hand. Obviously, you want the tent to be strong enough to deal with the rigors of camping but you also want to be a light as possible, otherwise, you couldn't transport it.
When it comes to the tent material generally it is between two different types and they are nylon and polyester. They are very similar material in that they are strong for their thickness, they are light and they can be made to be waterproof too.
Polyester is a better material for being able to resist UV damage though which is why it is preferred by some, especially in sunnier areas. Nylon though can be made to be very strong and is often preferred by those looking for a ten for all seasons.
You want to make sure that the other materials that you find are very strong too as due to their size, these tents can have a lot of wind pressure, and forces acted upon them. It's important to get a quality product that is going to be able to cope with it.
Height
If you see a lot of single-person tents then you will see that they don't have a lot of space and a few of them you can barely sit up in. With a 10 person tent, you expect a lot more room and height can become important factors in allowing plenty of air into the tent and keeping everyone comfortable.
Due to the number of people that are going to be in these tents, space is important as the tent could quickly heat up if there are 10 bodies in there all generating heat. Not only is a larger tent less restrictive but it is also more comfortable.
When looking at the height of the tent it's good practice to not just focus on the headline figure of the height as if it has a high point which dramatically slopes then this might make for an uncomfortable tent. There is little point in the center being nearly 7 feet if it drops off like a teepee.
Not only do you want a high center but you also want that height to be carried through as much as possible to the edges of the tent. There is always going to be some drop-off but if you want to comfortably walk around the tent, it's something that you need to check.
Shape
One area where these products can be very different is their overall shape. Some will have specific segments for rooms while others will have a much more open space. This is often a personal choice that will be based on your needs.
When it comes to the rooms that they have most of these products will either have one or two spaces which will be separated by a divider. It's important to know how many rooms that you want and if you want a completely open space then you want to check that it has a divider.
The internal floor space differs from one tent to the next and as some are squarer and others are more rectangular. A lot of products will be able to show you how 10 people would in there is some being longer to fit every one across and others sleeping people opposite each other.
It's also important to note that some 10 person tents are bigger than ever. Some will simply call themselves a 10 person camping tent as they would be able to fit 10 people lying down the shoulder to shoulder and nothing else. It's important to look at the space and plan out sleeping arrangements before you buy your tent.
Rainfly
Anyone who has been in an uncovered tent will know that after a rainstorm, condensation can happen which will make the inside of the tent wet. This negates any waterproofing can lead to great discomfort if anything is touching the sides of the tent, one way to stop this is by using a rainfly.
The rainfly is especially vital in these types of tents as a lot of them have mesh tops instead of the usual camping material. The reason for that is due to the sheer amount of heat generated and oxygen consumed by 10 people in a tent.
A mesh roof will let the humidity out of the tent while allowing air to flow in. The rainfly will then be placed over the whole of the tent to be able to prevent any water coming in and therefore it makes the perfect camping solution for a large tent.
It's not only the top of the tent that the rainfly needs to cover as you want it to be able to cover it all. This includes any windows and the bottom of your tent. It's important to check that all the inner material of the tent is going to be covered by the rainfly.
Doors And Windows
The door is obviously an important feature when it comes to these tents as you want a wide and comfortable space in order to get in and out but you also want it to be secure too. Windows are often a personal preference but most people want to be able to let in the light and air.
The doors play an underrated role in the enjoyment of your tent as if you have one that to too small or in the wrong place then it's going to be highly frustrating. Getting a hinged door is a great feature but the bottom line is that you want a large door that is easy to get through.
Having two or more doors is very useful too, especially if you are separating to rooms. You also want the zippers on your door to be of high quality. Opening them at night might be tricky and you want to be able to do it as easy as possible, and preferably with little sound.
Not only are the windows important for letting in light but they also play a huge role in ventilation. Having numerous windows is important to be able to get a comfortable night of sleep when the whole tent is full.
Ventilation
Ventilation is an important feature of any tent but that is only increased when it comes to a tent that will contain so many people. Not only is there the fact that you want a constant supply of oxygen but also you don't want any smells or body odor to linger.
If you have ever been in a tent with numerous people and little ventilation, you know how hot it can get. The same principle applies when you are in an office space, the heat from the people and the electronics can get the room hot very quickly.
That makes people sweat and once that happens, the air can become thick and humid which is always very unpleasant. The ventilation of these tents comes in three different forms as firstly you want the tent material to be breathable.
After that, as we have mentioned, having a mesh roof is an important feature, and windows and doors are important too. Another feature a lot of tents have is an air vent at the bottom of the tent which is going to be able to help with the circulation of air.
Sturdiness and Durability
Due to the size of these tents, ensuring that they are sturdy and durable is going to be crucially important. It is also a huge challenge and some companies to it a lot better than others and it's important to know which ones you're going to be able to trust.
If you had a tent that wasn't made from the most durable materials, then you would quickly find out as it would soon break. Having a fiberglass or aluminum frame that is going to be able to cope with the pressure is vital.
The polyester or nylon material of the tent needs to be durable too but still thin enough to be portable. You should be able to check the thickness of the material and have ripstop woven into the material is going to be able to give you a great level of durability.
As we touched on earlier, larger tents are more liable to being affected by heavy storms and wind. Getting a quality product that is highly rated is a great way to give yourself the peace of mind that your tent is going to be able to hold up, even in difficult conditions.
Weather Protection
Camping in bad weather is never ideal but when it happens, you want to know that you have a tent which is going to be able to cope. Weather protection is important in ensuring that you and your contents stay dry and comfortable at all times.
This isn't just the wind and the rain but it is also the sun and heat too. Having a tent that is not well ventilated in hot conditions could make trying to sleep inside very difficult. You also want to make sure that you are getting enough UV protection.
When buying your tent it's always important to bear in mind the type of conditions that you are going to be sleeping in. If you are going to be in a rainy area or somewhere prone to heavy storms then you need to be able to prepare for that.
Ergonomics
The ergonomics of something is how it is designed in order to make your life as easy as possible. These tents can be designed in many different ways and you want to be able to find something that is going to fit your situation and your needs.
While these tents all can technically sleep 10 people, you want to look into what the sleeping arrangements are going to be and how the tent is going to be able to function on a day-to-day basis in terms of where people are sleeping and where your equipment will be stored.
If you are hiking or camping with plenty of equipment, then it's likely that you will need a significant amount of storage space which will take away from how many people can sleep in it. When looking at a tent it's important to see what rooms people will need, what doors are available, and how the working of the tent will function.
Floor
The floor of your tent is vital for a number of different reasons as not only does the material have to be extra durable to withstand any rocks or debris but it also needs to give you the weather protection that you require too.
Normally tents will come with a heavy duty floor which has a much different feel to the rest of the tent. This is due to the amount of punishment that it can take but also the fact that the floor doesn't need any breathability and need to be completely waterproof.
If you want the highest level of waterproof protection you always want to look for a tent which has a bathtub floor. This is where the floor material comes to a few inches up the walls and protects the side from any groundwater that might be sitting there after a heavy storm.
FAQs

Q: Are Large Tents Safe For Use?
A:
These tents are perfect for families and large groups. They are no less safe than any smaller tents and the larger space will even mean that accidents and bumping into each other is going to be less likely. These tents are more exposed to weather conditions but their strong materials and well-made construction will ensure you stay safe.
Q: Does A 10 Person Tent Take A Lot Of Space When Folded?
A:
The tent is going to take up a lot more space when it is folded and isn't exactly something that you are going to be able to take on a backpacking trip. The tents usually weigh around 30-35 pounds and therefore it is a significant weight to carry. With these types of tent though, you shouldn't be taking them very far and therefore their weight isn't a big problem.
Q: Are Large Tents Hot In The Summer?
A:
These types of tent can get very hot if not well ventilated due to the amount of body heat that can be generated, which is obviously going to be worse in hot conditions. Ventilation in these tents is always important but if you under the sun then having a mesh roof, a large number of windows and an air vent would be a great idea.
Globo Surf Overview
These 10 person tents can be a great way to have everyone in one space and negate the need for having multiple tents. You can keep all of your family or your group together and have an enjoyable time while you are out there camping.
As we have seen here though, there is clearly a lot to consider when choosing the best 10 person camping tents and you need to make sure that you are choosing a tent that is going to be a perfect match for your situation. These tents are going to be subject to more pressures and weather than other types and therefore you want to make sure you're getting a quality product.
You also want to get a tent that is going to match your own personal preferences and this plays a huge role in what is going to be the best 10 person family tent for you. The space inside is going to be a key issue and how many different rooms you can separate the tent into. After that, you want to make sure that it is going to be high enough and has the right layout for your needs.
Once you have been able to work all that out, then you will know what type of tent you want to buy. Aspects such as the materials, ease of installation, the rainfly, and ventilation can all be taken into consideration when choosing the best 10 person camping tent.
Hopefully, this guide has given you all the information you need to be able to pick the perfect tent for you. Once you have, you'll be able to enjoy an incredible camping experience with your friends or family in a tent that suits all your needs.
More Camping Reviews: