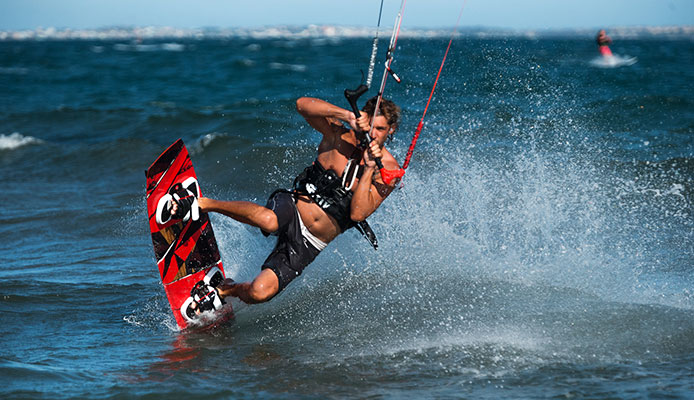 With most people using the terms kitesurfing and kiteboarding interchangeably in conversations, it is easy to assume that the two sports are the same. While they do share some similarities, the board sports have some fundamental differences, with one of their major dissimilarity being the equipment used. 
Kiteboarding involves using a twin-tipped board – much like a wakeboard – which can be ridden on either side. Kitesurfing, on the other hand, uses a directional board resembling a surfboard that can only be ridden with the nose facing forward. 
In this kitesurfing vs kiteboarding guide, we will take a deeper look at the various aspects that differentiate the 2 sports. If you are just getting started with watersports, this guide should make it much easier to select a sport that seems more comfortable. 
Kitesurfing vs Kiteboarding: How Do the 2 Sports Differ? 
1. Kiteboarding vs Kitesurfing Gear 
Sports Wear 
When it comes to kiteboarding vs kitesurfing wear, riders wear the same thing – that is, you will need board shorts and a  good rash guard, or a surfing wetsuit. To avoid head injuries, both kitesurfers and kiteboarders will need a wakeboard helmet while a good lifejacket helps them avoid drowning. 
Boards 
As noted earlier, kiteboarders ride a twin-tip board which is very similar to the one used by wakeboarders. The board performs equally whether you are riding it with the right or left tip facing forward. Being the easiest type of board, the board used by kiteboarders performs best when doing tricks, cruising around, or jumping. 
Kitesurfing, on the other hand, refers to using a directional board that is similar to a surfboard. The kitesurfing board is designed to handle the extra stress often generated by kitesurfing. You can only ride the kitesurfing board with its nose facing forward, with the board being designed to handle wave riding much more easily. 
2. Kitesurfing vs Kiteboarding Learning Curve 
Featuring an easier-to-use board, learning to kiteboard is generally easier. In most cases, people who want to proceed to kitesurf often start their lessons with the twin-tip style board. Being a more forgiving board, it allows beginners to master both kite control and the basic skills needed in both kiteboarding and kitesurfing. 
Before using kitesurfing equipment, beginning riders take advantage of the best kiteboarding spots and equipment to master the ability to stay upwind, get over medium size waves, transition, and do small jumps, all while controlling the kite. 
Basically, before moving to the directional kitesurfing board, most people can take up to three months working their skills on the kiteboarding board. This means that kiteboarding has more participants than kitesurfing. 
3. Kiteboarding vs Kitesurfing Classification 
According to most purists, kiteboarding and kitesurfing fall into different classification categories. In terms of technical aspects, kiteboarding has several characteristics that are featured in sailing, including downwind and upwind navigation, points of sail, wind window, jibing, and tacking. This suggests that kiteboarding should be classified under sailing. 
On the other hand, kitesurfing utilizes directional surfboards – as opposed to the twin-tip boards used in kiteboarding – that can be ridden in the surf. This suggests that kitesurfing should be classified under surfing. 
4. Kitesurfing vs Kiteboarding Board Attachment 
When it comes to how the feet attach to the board, both kitesurfing and kiteboarding use the same principles. Riders can ride with a strap or strapless. 
When riding with straps, riders use straps to secure their feet to the board. Riding strapless, however, offers a more relaxed and unique feeling that allows the riders to move around their board for proper wave riding. 
Experts often recommend riding strapless when kitesurfing – this is, however, ideal for people who have already mastered their kite skills. Since most people get into kiteboarding with minimal or zero skills about kite control, it is generally not a good idea to ride strapless. While you can find kitesurfers riding their boards strapless, very few kiteboarders will ride without securing themselves with a strap. 
FAQs
Q: Are Kiteboarding and Kitesurfing the Same?
A:
Even though the terms kitesurfing and kiteboarding are often used interchangeably, they refer to two different board sports. The main difference between the two sports is their boards – kiteboarders use twin-tip boards that behave the same way irrespective of the side that is facing forward while kitesurfers use directional boards that can only be ridden when the nose is facing forward.
Globo Surf Overview 
While both kitesurfing and kiteboarding combine components of wakeboarding, windsurfing, snowboarding, and other action sports, the two sports are not entirely similar. In this guide, we have outlined the kitesurfing vs kiteboarding similarities and differences. 
As noted in this kiteboarding vs kitesurfing guide, kiteboarding is best suited for absolute beginners, with most people proceeding to kitesurf after mastering the basics. Both sports are, however, colorful, highly versatile, exhilarating, and challenging – this makes them perfect for wind speed fanatics.
More Tow Reviews: