THE PEAK 10'6" ISUP REVIEW
THE PEAK 10'6" ISUP REVIEW
Peak 10'6" Inflatable Stand Up Paddle Board
See Customer Owner Feedback >>
What Makes This Inflatable Sup Stand Out

Excellent for beginners

Versatile all-around design

Lightweight and very compact

Tough double-layer PVC body

Plenty of accessories in the bundle
Size: 10ft 6in (L) x 31in (W) x 6in (T)
Weight: 23lbs
Capacity: 300lbs
Material: PVC
View More By PEAK Paddle Boards »
Features
Even though this board is fairly universal when it comes to iSUP design, it still has plenty of neat features to offer. You get a comfy surface to stand on, a place to stash your gear, and several great accessories to make your day on the water more enjoyable. Take a quick look at what the Peak inflatable paddleboard can give you:
Bungee corded storage in the nose area (6 D-rings)
Brushed EVA foam deck pad for comfort and added stability
Center carry handle for lifting and carrying the inflated board
Rear D-ring for attaching the included ankle leash
Halkey-Roberts valve for easily and quickly inflating and deflating the board
Snap-in center fin improves tracking and can be removed when packing
Nose grab handle for pulling the board in and out of the water
The full accessory package includes a paddle, a pump, a backpack, and the mentioned leash
Specifications

Length: 10 feet 6 inches
Width: 31 inches
Thickness: 6 inches
Weight: 23lbs (package), 18lbs (board itself)
Capacity: 300 pounds
Inflates to: 12PSI
Volume: 225L
Deflated size: 35 x 14 x 9 inches
Material: Military-grade PVC, dual-layer
Carry handles: 2, nose and center
Fins: 1 removable center fin
Warranty: 1-year warranty, 30-day money-back guarantee
Colors: Blue, Aqua, White, Moss
Included accessories: Carry a backpack, 3-piece adjustable aluminum paddle, ankle leash, dual-action high-pressure pump, snap-in removable center fin, waterproof phone case
User Experience

Performance and use: Riders have very positive impressions when it comes to the performance of the Peak inflatable SUP. They agree that it's a great choice for learning how to SUP, but it can offer much more than this. You can enjoy it for recreational paddling, but also take part in activities like surfing or even SUP fishing.
The deck of this board is pretty large and stable so you'll feel safe no matter what you do. Some people even choose to take their pets along for the ride, since there's more than enough space and the board stability isn't compromised.
You might also like: Vilano Navigator 10′ Paddleboard
However, we must say that this board works best for average-sized users, and that taller users may find it difficult to control (if they are inexperienced). This is why sizing up the board correctly is so important. If you think this board might be too small for you, take a look at the Peak 11 Expedition.
Finally, we must mention the paddle since it inevitably influences a board's performance. This one comes in 3 pieces, it's made of aluminum with a nylon blade, and allows you to adjust the length. People say it works well, but also that it feels heavy for some. If this is you, think about getting a lighter SUP paddle to take the strain off of your arms and shoulders.
Design and construction: All owners agree that this is a well-made board, both inside and out. You get great comfort thanks to the EVA foam deck pad with diamond groove design since it gives you a soft feeling under the feet (or hands, if you're into SUP fitness). It also provides excellent traction when the board gets wet so you have better control over the situation. We also mentioned the bungee storage on the nose, which users find really handy for storing things such as dry bags or lunch coolers.
As for the construction, the ultra-durable PVC makes sure this board doesn't get scratched, dented, or punctured easily. This works pretty fine and riders are generally very happy with the quality. One more thing worth mentioning is the rigidity, which has much to do with the drop stitch interior. The board behaves well even when compared to a hard SUP, and doesn't bend when you load it.
Setup: You are going to need between 10 and 15 minutes to inflate the board, depending on how much effort you put into it (if you're using the included hand pump). This is a dual-action pump that is well-made and even has a pressure gauge on top to control how much more you need to pump. Of course, a better solution is an electric pump, which could cut the inflation time in half. On the other hand, this additionally raises your expenses.
When you've inflated the board, you need to snap the fin into its place, which is easy to do and doesn't require any tools. Afterward, you should attach the leash to the D-ring behind the valve, which is very important for your safety in the water. While on the subject of safety, always remember to wear a life vest when going out, so you avoid any potentially risky situations.
Portability: Paddleboarders praise the lightweight of this board, as well as the backpack it comes in. It makes storing and transporting the SUP incredibly easy, no matter where you go. The backpack has padded shoulder straps, and even a waist strap for added stability. All this is very convenient to have since you would otherwise have to buy a board bag separately. Finally, there are two handles on the board which make handling the Peak all-around SUP easy both in and out of the water.
Pros:
Beginner-friendly design
Convenient storage space at the nose
Included fin is easy to install and remove
Very compact and easy to transport
Two grab handles for carrying/dragging the board
Excellent level of build quality and durability
Includes plenty of accessories
Comes with a waterproof phone case as a gift
Four different colors to choose from
Cons:
No rear bungees
No side fins
Overall Rating

Price: 95% – We think that the Peak inflatable paddleboard is adequately priced considering the quality it gives you. Sure, you'll probably be able to find a cheaper board, but given how many SUP accessories you get with this purchase and its overall quality, we say it's worth it.
Material: 95% – Despite the PVC construction being the industry standard nowadays, the Peak all-around SUP tries to up its game by using a dual-layer and adding reinforcements. In fact, paddlers are very satisfied with how this board feels, and we have no reasons to disagree.
Design: 90% – As we mentioned earlier, the design is pretty basic, to be honest. This doesn't mean it's bad – you still get everything you need to enjoy yourself. We just feel that it could use a rear storage area, some additional fins, or even a gear mount for a fishing rod or a GoPro. But this would inevitably raise the price, and we're happy with the way it is.
Overall: 93% – All things considered, this is a really good board. It's not top of the line, but it's more than decent for most users to enjoy the benefits of paddleboarding. It's strong, performs really well, and's easy to set up and pack. And let's not forget the accessory bundle, which is a great addition.
Globo Surf Overview
The Peak inflatable SUP is a stylish board that puts functionality above everything else. It's strong, well-constructed, and very reliable on the water. As we mentioned earlier, beginners will enjoy it the most, but everyone can find something to like about it.
Like all other inflatables, it is very compact and easy to take with you, even more so since it comes in a great backpack. The bottom line, this is one of the best picks if you want a universal board for enjoying different activities, all without ruining your budget along the way.
Peak 10'6" Inflatable Stand Up Paddle Board
See Customer Owner Feedback >>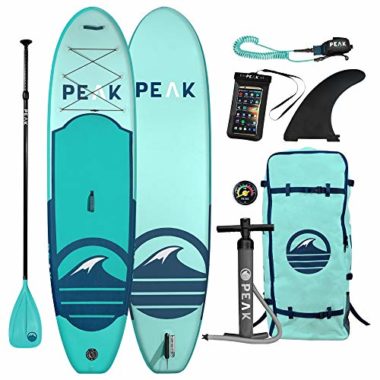 Last Updated: May 27, 2019
Last Updated: May 27, 2019
Single Products paddle Board Reviews:
Source