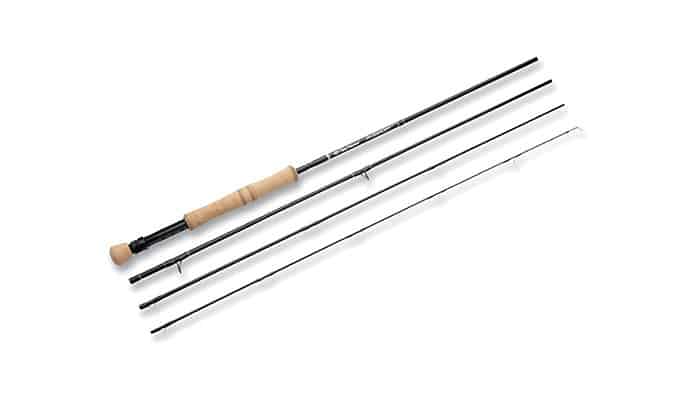 The Flying Fisherman Passport fly rods are designed to let you travel with your gear easily, making them ideal for fishermen who are constantly in search of new adventures. They are very compact when packed, ideally sized for moving around. Their slogan 'if you travel, you need a Passport' is really true because this is one of the best choices you can make if you need a reliable fishing rod to bring just about anywhere.
The reason why the Passport fly rod receives so much praise among anglers is mainly because of its top-level construction. The Japanese graphite used for this rod allows it to tolerate a very high level of strain, while the nano resin reinforcement makes sure the rod doesn't get damaged under larger loads. It's designed as an extra-fast action rod, meaning that it's very accurate and offers excellent casting distance. The 6-weight gives it exceptional versatility regardless of the type of fly you're handling or the type of fish you're after.
The company behind this rod, Flying Fisherman, is based in the Florida Keys and has plenty of experience with building fishing rods and accessories. What started out as an idea to make high-quality sunglasses for anglers, steadily grew to a manufacturer that makes some of the best fly rods that you'll come across. If you think that the Passport might be a good addition to your future fishing trips, make sure to read the rest of the review and see what it has to offer.
Features
While it has a relatively simple design, you can rest assured that every piece and feature were carefully crafted and thoroughly tested. The high-quality graphite pieces have reinforced connections for increased strength and durability, while the Portuguese cork gives you all the comfort and control you would expect from a fly fishing rod. Take a look at everything that the Passport has to offer:
Blank taper significantly improves performance and sensitivity
Four separate pieces for compact packing and easier travel
Japanese graphite gives the rod exceptionally high modulus
Portuguese cork handle ensures a firm and comfortable grip
Connections between pieces are reinforced with carbon fiber
Top-quality reel seat and loop guides for quick and easy setup
Specifications
Length: 9 feet
Rod Weight: 6 weight
Material: Japanese graphite with nano resin
Action: Extra-fast
Pieces: Four (carbon fiber reinforced joints)
Handle: Portuguese cork
Included accessories: Black Velvet carry bag
User Experience
Construction: Anglers say that you can feel the quality of this rod as soon as you pick it up. The blank is made of Japanese graphite which has excellent strength and high strain resistance so you don't have to worry about it snapping or getting damaged. To further improve this, the material is infused with nano resin, allowing you to take on even larger fish without any problems.
Combined efforts of designers and engineers have resulted in a 4-piece fishing rod that works well in any situation. The fact that it's made of 4 pieces makes it very convenient for travel, and anglers say that this is certainly one of the best things about this rod. But don't let the fact that it's made of four pieces turn you away – thanks to the connections reinforced with carbon fiber, the Passport comes very close to behaving like a single-piece rod.
One of the things that fishermen really like is the Portuguese cork handle on this rod. We all know that the handle quality and design play a significant role since you want it to be stable and comfortable for a whole day of tackling fish. This handle shows that Flying Fisherman pays a lot of attention to every detail. Finally, we want to add that the Passport rod comes with a well-made reel seat, allowing you to quickly and securely attach your fly fishing reel.
Performance: The overall performance of this rod is awesome. It has been thoroughly tested around the world, both by the manufacturer and by many anglers, and it seems to be able to tackle any challenge. As you've had the chance to see in the specs, this is a 9-foot rod with extra-fast action, meaning that only the tip of the rod flexes when casting. This gives you much better control but also requires more skill to use properly, so it's maybe not the best choice for fly fishing beginners. It's pretty powerful and allows you to cast the line over very good distances.
This is a 6-weight rod, which classifies as a mid-weight. Users say that this is the best option for a travel rod because it has the perfect balance between lighter and heavier rods (next best thing if you can't bring two rods). It's fully capable of casting long distances and working with bigger flies, but still has the softness required for smaller dry flies.
It works best with a 6-weight fly fishing line, and it's able to handle even very demanding situations on the water. The graphite body allows for an extra-high modulus and strain, so the rod can bend significantly without any damage.
Setup and Use: A great thing about the Passport rod is that it's incredibly easy to put together. Fishermen say that the pieces connect together very firmly, so there's no chance of moving and the rod feels very strong. In addition, they also say that it's easy to put your pre-assembled reel on the rod and that it locks very securely.
When you purchase it, the rod comes in its own Velvet bag which gives it some level of protection from bumps and scratches. However, Flying Fisherman also sells an extra-strong case for taking the rod on a plane or throwing it in the trunk of your car.
This way you don't have to worry about any potential damage to the rod before you reach your destination. In addition, Flying Fisherman offers to replace any part of your Passport rod for only $50, which is a much better deal than buying a new one if you accidentally damage it.
Pros:
Fantastic value for money
Excellent build quality
Extra-fast action
Really easy to cast
Very accurate and well-balanced
Cons:
Beginners might need more time to master it
Overall Rating
Price: 95% – The price point for this fly fishing rod is more than fair, considering the overall quality you're getting. It can easily be compared with any fly rod on the market, even those that cost several times more. To offer such quality at a price that is acceptable for most anglers is honestly quite a feat. Flying Fisherman wanted to make great fishing experience available to everyone, and we really appreciate that.
Material: 100% – We have a lot of great things to say when it comes to the materials used. The Passport rod keeps up the pace with modern technologies and uses highest-quality materials that are able to deliver the performance without increasing the weight or diameter of the rod. The Japanese graphite with nano resin is an excellent choice to build these since it gives them all the endurance needed no matter the challenge you face.
Design: 90% – As we've pointed out earlier in the text, this is a well-designed rod with excellent balance. The reason this is possible is that it has undergone thorough testing before Flying Fisherman put out a rod that can stand up to the test. In addition to functionality, the rod looks pretty good too, so you can say that you're getting a full package.
Overall: 95% – All things considered, this is an excellent fly rod, especially in this price range. You can expect great quality and reliable performance that allows you to enjoy all the benefits of fishing. We can recommend it to all anglers who need a go-to rod when they travel and can't bring their standard equipment with them.
You might also like: MMH 5wt Fly Fishing Combo
Globo Surf Overview
The Passport fly rod 003 is a fantastic choice for any fisherman who likes to travel and explore. As we've discussed, it's incredibly compact when disassembled, so it won't be a problem to pack. The whole package is also pretty lightweight and won't add much weight to your gear, which is always a plus if you're traveling by plane.
Form a functionality standpoint, a 6-weight is a great option to bring when you don't have the possibility to bring two rods (a lighter and a heavier one) because it works well for most types of flies. We were really impressed with this rod, and you're definitely in for a great time if you choose to take it on your favorite fly fishing destinations around the world.
Fishing Rods Reviews:
Source