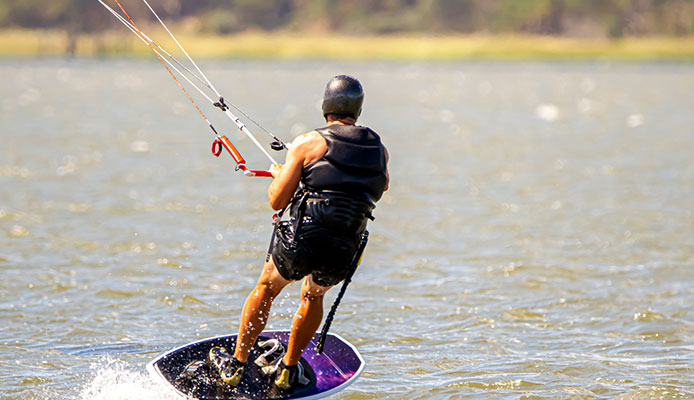 OUR TOP PICK

---

EDITORS CHOICE

---

BEST VALUE

---
Whether you are a beginner or seasoned kite surfer, the best kiteboarding helmets come to your benefit when you are on the water. Kiteboarding helmets are built with a high tensile outer shell to protect your head from the most serious impact during accidents. Their interior features a thick padded liner which helps to further dissipate the impact whilst leaving you comfortable. 
Whilst kiteboarding helmets provide optimum protection and coverage, their sophisticated ventilation systems ensure you enjoy adequate air circulation.  To help you pick the ultimate head protection, we've compiled the top 5 picks for the best kiteboarding helmets for this year. Choose your favorite option so you can safely enjoy kiteboarding.
How To Choose A Kiteboarding Helmet – Buying Guide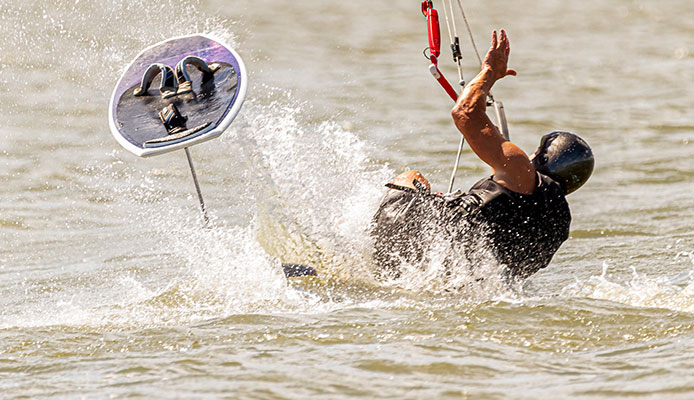 Size 
When choosing the best kitesurfing helmet, you want to pay attention to the size. The size of your kiteboarding helmet is represented through the head circumference. To know the circumference of your head, measure the length two finger-widths above the eyebrow and directly above the ears, and around the widest area at the back of your head.
When you are measuring this length, the measuring tape should snugly wrap around the head without applying any constricting skin tight pressure. Many of the best kitesurfing helmet brands boast standard sizing charts. You can easily find out the ideal size for you through the charts. Typically, these sizes are: 
Extra small (XS) 20.1 – 20.5 inches (51 – 52 cm)

Small (S) 20.6 – 21.3 inches (52 – 54 cm)

Medium (M) 21.4 – 22 inches (54 – 56 cm)

Large (L) 22.1 in – 22.9 inches (56-58 cm)

Extra large (XL) 23 – 24 inches (58 – 61 cm)

Extra extra large (XXL) 23.5 – 24.5 inches (60-62 cm)
Fit 
Choosing the right fit for your helmet is important as well. A properly fitting helmet impacts your performance positively. You will know if your helmet fits properly by trying it out. If your helmet is too large, it will not offer ample protection to your head as it can easily fall off.
A tight-fitting helmet on the other end can hurt your head and even limit circulation. You want your helmet to fit snugly. Especially when you are shopping online it is difficult to gauge whether or not your helmet will fit properly, thus, it is a good idea to check out real customer reviews about the helmet you are interested in from reliable sources.
This method is quite useful in figuring out if your helmet of choice offers a proper fit. Alternatively, you can purchase your helmet from a seller with a flexible return policy, so you can easily return or exchange the helmet in case it doesn't fit.
You might also like: Windsurfing VS Kitesurfing: Comparison Guide
Protection
The best kiteboarding helmet should offer enough protection. You can gauge the protection levels of your helmet by looking at several factors. These include the material, lining, and even the safety certification. Materials such as ABS plastic shells and EVA foam liners provide ample impact protection without affecting your comfort level.
Furthermore, you want your helmet to be fitted with buckle straps or harnesses that have been strength tested to ensure they securely hold your helmet. When choosing the best kitesurfing helmets for protection, look out for safety certifications such as ASTM, EN, and CSPC.
FAQs
Q: Why Do I Need A Kiteboarding Helmet?
A:
The best kiteboarding helmet comes in handy on the field as it adds extra layer protection. A kiteboarding helmet is particularly designed to offer impact resistance to prevent brain injuries in case of accidents or falls. Whilst they offer protection, kiteboarding helmets offer comfort as well thanks to their padded liners and air vents.
Globo Surf Overview
The kiteboarding helmet reviews prove just how important the gear is. Whilst wearing the best kitesurfing helmet, you can enjoy the water sport more without worrying too much about your safety. Plus, they are built to further facilitate your performance on the water when kitesurfing. So, choose your favorite pick from the 5 best kiteboarding helmets above to begin enjoying the sport with extra safety and protection.
More Watergear Tow Sports Reviews:
More Helmets Reviews: