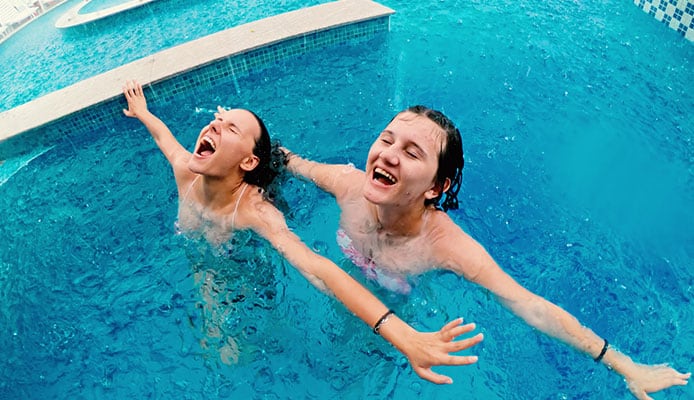 To get the most out of swimming, you need to have full knowledge of water safety. Understanding the proper procedures to follow in inclement weather, especially during storms and rains can help you avoid accidents. 
The rain itself doesn't necessarily pose safety threats to the swimmers – this suggests that swimming in the rain may not be necessarily unsafe. However, when it is raining, thunder and lightning tend to develop quickly and can cause safety risks. In the following paragraphs, we will answer the question "is it safe to swim in the rain?". 
Swimming in the Rain – What Are the Risks? 
When swimming in the rain, the safety concerns often vary depending on where you intend to go swimming. Someone swimming in the open water will face different risks compared to someone swimming in an inground or an above-ground swimming pool. Below, we will look at the varying safety concerns. 
Swimming Pools 
If you intend to get in a swimming pool after donning your swim trunks, the first thing you should be concerned about is lightning – it is the first thing that causes pool experts to respond with a no to the question "is it safe to swim in the rain?". 
Lightning can strike something connected to the swimming pool, including the water pipe or the pool itself. You should avoid both outdoor and indoor swimming pools during a storm that contains lightning and thunder. You should only return to the pool if you haven't heard thunder for a minimum of 30 minutes. 
If you are asking yourself is safe to swim in the rain if there is no thunder and lightning, you should think of the slippery floor. Walking on the slippery floor can easily lead to dangerous falls – you may end up injuring yourself on the wood or concrete deck. If you hit yourself on the deck and end up in the water unconscious, you can drown if there is no one around to save you. 
The Risk of Hypothermia Goes Up 
Swimming in cold water while additional drops pour over the head increases the risk of hypothermia. Swimming in the rain also makes it hard for you to distinguish chilliness from the signs of hypothermia. This can prevent you from getting medical attention on time. 
If you have invested in a pool heater, you may not have to worry about hypothermia when swimming in cold water. However, other risks will remain constant. 
You might also like: How To Setup Intex Pool In Less Than 1h
Open Water 
If you have been asking the question "is it safe to swim in the rain in open water?", you should know that it is not safe. Strong winds tend to affect the currents and water conditions, especially in oceans. Heavy rains can easily hamper the visibility of the shoreline, making you disoriented. 
Additionally, rains can cause harmful matter and bacteria to be washed into the waterways and ocean. For these reasons, you should avoid open water swimming for 12 – 24 hours after a heavy storm. 
FAQs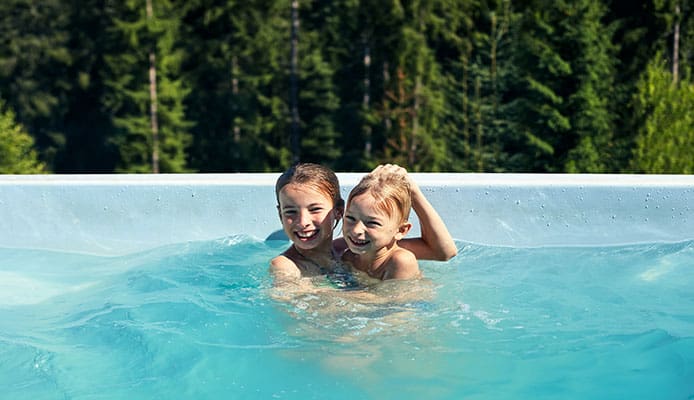 Q: Is It Okay to Swim During Rain?
A:
Swimming during the rain is not recommended. It often increases the chances of dangerous falls on the pool deck, decreased visibility if you are in open water, and lightning strikes. If, however, the rain is moderate and you are sure that lightning is non-existent, you can swim during the rain.
Q: Can You Get Sick Swimming in the Rain?
A:
Yes, there is a chance that you can get sick swimming while it is raining. Swimming in cold water while it is raining can expose you to elements that usually lead to hypothermia. Rain makes it difficult to differentiate the hypothermia symptoms from chilliness – this can make it hard to get timely medical attention.
Q: Why Do Pools Close in Rain?
A:
Pools close in rain for various reasons. The main reasons include: 
To reduce the chances of fatal falls on the pool deck – the falls are a result of slippery decks. 

Eliminate lightning risk. 

Eliminate hypothermia risks.
Q: Is it safe to go to the beach when it's raining?
A:
If the rain is light and there are no risks of lightening, going to the beach while it is raining should be safe. If, however, the rain is heavy and there are constant lightnings, going to the beach may be unsafe.
Q: Is It Safe to Swim After Heavy Rain?
A:
Yes, it is okay to swim after heavy rain. If you will be swimming in open water, you should wait for a minimum of 12 to 24 hours before swimming. If you will be swimming in the pool, you can get in the pool the moment you are sure that there is no lightning.
Globo Surf Overview 
Swimming in the rain is not recommended. It often increases the chances of injuries. It is always a good idea to allow the rain to pass before jumping into the swimming pool or going open water swimming. 
It is worth noting that lightning is usually the major safety concern. Hence, if the rain does not feature any lightning signs and you can get in your heated swimming pool safely, you can swim in the rain.
Above Ground Pool Guides: