Hawaii is one of the most sought-after tropical destinations in America and it is easy to see why. These tropical islands are incredibly desirable as a mixture of the pristine white sandy beaches and crystal clear waters are quite appealing. With many different islands to choose from Oahu is one of the most popular destinations as it is home to the state capital of Honolulu.
While here, one of the most favored things to do is to explore the beaches and take to the waters. Diving and snorkeling in Oahu are incredibly popular with many different spots to explore. Preparing for your snorkel vacation will look much like preparing for your dive holiday. Be sure to invest in the best snorkeling gear packages to ensure you can get the most of your vacation.
Quick Answer: 8 Best Snorkeling Spots in Oahu
1. Kuilima Cove
If you are new to the sport of snorkeling Kuilima Cove is a great spot for you on Oahu. This beach is situated at the most northern tip of the island and is situated on land owned by hotels. This means it is well taken care of and has amenities close by.
It features white sand beaches making it easy to enter and exit the water. The cove extends around you making the water calm and clear. The beach will be a welcome sight if you are looking for a lazy day. This is an excellent site for the kids to play in the water and relax on the beach.
This is a great beach for kids as well since the water in most places is only 5 or 6 feet deep. The bottom is a mixture of coral and rocks giving the sea life places to call home. This makes for great snorkeling. You will be able to see everything from goatfish to needlefish. The only drawback to this spot is the lack of more of the popular sea life like turtles.
2. Kahe Point Beach Park (Electric Beach)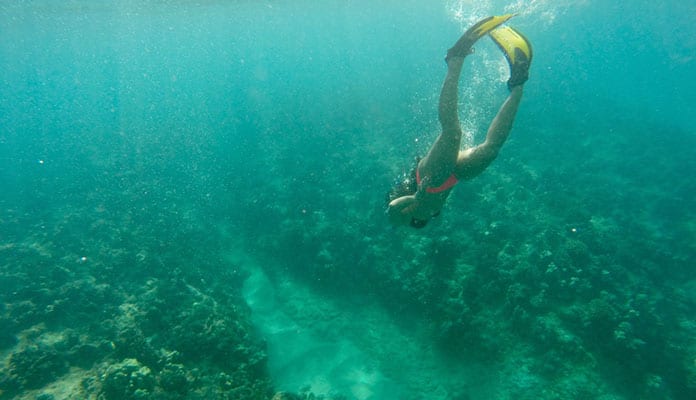 Grab your snorkel because this could be the best snorkeling in the whole of Hawaii. A combination of high visibility and an abundance of fish and sights make this an excellent spot. Kahe Point Beach Park is located on the west shore of Oahu. This is one of the few spots that doesn't usually fill up. It has a parking lot, bathrooms, and even showers but no lifeguard or place to buy food.
Kahe Point is perfect for intermediate to experienced divers. There is also no lifeguard on duty so be careful if you decide to take on this dive. If you still want to dive here you can take a snorkel tour that includes knowledgeable guides that will keep you out of danger. For example, there is a power plant that pumps warm water into the bay which is strong enough to push you around and even be dangerous.
The water here can reach 20 feet with white sand mixed with boulders on the bottom. The best spot to enter is right of the large pavilion. It may seem a little choppy near the shore but is better as you swim further out. There are lots of fish at this spot including butterflyfish, tang, wrasse, and hawkfish (to name a few). If you are lucky you can even see a green sea turtle. Kahe Point has also made a name for itself as a hotspot for spinner dolphins.
3. Hanauma Bay (Snorkeling Bay)
This is one of the most famous snorkeling spots in Hawaii. It features white sand beaches, loads of fish, and calm water. This beach sits in the south-east part of the island and is actually a volcanic crater. If you are looking for a private swim you will not find it here – on average 3,000 people visit this beach a day.
There is a place to buy food and drinks and even a grass picnic area to eat at. Showers, bathrooms, and even a place to rent snorkel gear are also at this location. Also, a lifeguard is on duty which looks after your safety.
Pro Tip: Keep in mind that this beach is closed on Tuesdays to reduce the impact of humans.
Be prepared to watch a short safety video about the dos and don'ts associated with this beach. This is a marine life conservation area and the safety and preservation of its sea life and beauty are taken seriously. Also, be prepared to pay a $7.50 entry fee and $1 for parking for the day.
It is a steep walk to the beach that can be bypassed by taking a tram. But you give up famous views by taking it. This spot is said to have the highest fish population in Oahu. You can expect to see sturgeon, eel, and even rays and turtles.
The water can range from waist-deep to 16 feet and even deeper the farther you get from shore. There are large rocks and coral just a short swim from the shore. To get the best experience it is advised to swim quite far out past the sand.
4. Kaena
This beach has some of the best views of Oahu. A mile-long beach sits between the Waianae Mountains and the Pacific Ocean on the west coast of the island. You will be shocked at how empty this beach is. The combination of amazing views, loads of parking, and little to no crowds make this one of the best little-known spots in Hawaii. There are restrooms and showers at this beach but don't expect a lifeguard or a concession stand.
You can expect crystal clear blue water, white sand, and calm waters. The bay ranges from around 8 to 16 feet deep. This isn't the best beach for kids to swim in as it can have large swells. There are lots to look at under the water including turtles, goatfish, needlefish, and even crustaceans.
5. Sharks Cove
This is one of the top dive sites in the world. It is situated on the North Shore of Oahu and has a rocky shore. The ideal time to snorkel here is in the summer as it tends to have large waves in the winter. There is clear blue water and loads of sights to see.
There are two spots you can snorkel in this cove. One is protected by rocks that break the surf while the other is open to the ocean. This makes it great for any aged people with any level of experience. Children and beginners can stay in the bay while more advanced snorkelers can venture out farther.
This is a popular spot and doesn't have the biggest parking lot so be sure to get here early to avoid the crowds. You can expect restrooms and showers but no lifeguard so be careful along the rocks. A short walk across the street you can find places to have lunch and even some small shops for souvenirs.
Waters can range from 7 to 19 feet which get deeper the farther away from the shore. If you are lucky you can see white-tipped reef sharks here along with turtles, eels, chub, and triggerfish. Even though this is named Sharks Cove you won't run into any aggressive sharks.
6. Kaiona Beach Park
This is a great snorkeling spot where you can enjoy immense beauty without the crowds. It is located only a short distance from the popular Hanauma Bay but doesn't have nearly the amount of tourists. With plenty of parking and a large sandy beach, you will be able to enjoy your day at the beach without stress.
You may want to consider a full face mask when exploring here as the waters at Kaiona Beach can be incredibly rewarding. With a bountiful reef and a wide variety of reef fish in this area, you will have lots to explore at shallow depths. Here you can even see rare marine life such as sea turtles and even octopuses. This area is known as "Honu Heaven" with Honu being the native word for turtles. The impressive population of turtles that frequent this area stay in the shallow waters to feed.
You might also like: Snorkeling Spots in the Virgin Islands
7. Ko'Olina Lagoons
With a full five star rating on Tripadvisor, the four lagoons at Ko'Olina are a must-see when visiting the island. There is a Four Seasons Resort nearby that is a great place to stay to take full advantage of this area. It also has the Disney Aulani which makes this a popular destination for families to visit.
Despite the many attractions nearby the lagoons are relatively quiet and not crowded allowing you full ability to explore the reefs. These lagoons are man-made and are featured in protected bays. This makes it a great place for families and beginners to get the hang of the sport. With still, waters snorkeling here is very safe and gentle but still offers lots to explore.
Grab your mask and set up for the day on the beautiful white sandy beach. While the reef is manmade there is still plenty of marine life to enjoy. From sea turtles, plenty of colorful fish and, if you are lucky, even a monk seal. While this is a great place for younger snorkelers there are lots to be explored by more advanced snorkelers. Swimming out to explore the waters that are right against the walls will allow for the best sights. This is the area where the lagoons meet the open ocean and are where you are more likely to see the exciting marine animals.
8. Makaha Beach Park
This is the place to go if you are looking for a snorkel, unlike anything you've ever experienced. Strong swimmers and advanced snorkelers will want a quality pair of fins and a good life vest as this location requires a bit of a swim. There are underwater cables that lead you 75-100 meters from the shore to an unmissable "turtle cleaning" area.
This isn't just a spot for advanced swimmers but an area that nearly everyone can enjoy. Staying close to the shore beginners will enjoy much to see. From sea turtles to eels there are still lots to see in the shallows. Regardless of if you swim far into the water or are sitting on the shore, this is one area you will want to keep your eyes peeled for dolphins. Seen in all seasons this beach is often frequented by pods of dolphins.
While this is arguably one of the most rewarding snorkeling spots in the summer months, it does become more dangerous in the winter. The calm waters are replaced by rougher waters that no longer become safe for snorkeling. Instead, grab your surfboard as these calm waters become rich with swells that are perfect for surfing. This beach is so desirable and yet is surprisingly unpopulated. The lack of crowds makes it even more desirable with the only complaint being a serious lack of shade. This problem can be easily fixed with an umbrella and a lot of sunscreens.
Globo Surf Overview
When jumping in the water you will quickly be blown away by all the beauty you will encounter. The coastal waters of Oahu are flooded with beautiful coral reefs and impressive large marine wildlife. The last thing you will want to do when talking to these waters is be limited by rental times, that is why we recommend you travel with your own gear. Be sure to read up on how to choose your snorkel before you commit to one for your trip.
Hawaii has been said to be one of the best snorkeling destinations in the world. It is easy to see why with the colorful coral, the abundance of sea turtles, and the lazy octopus that inhabit the shallows. All this beauty will likely make you want to take your explorations even further and try your hand at scuba diving.
More Snorkel Destinaton Guides:
Sources