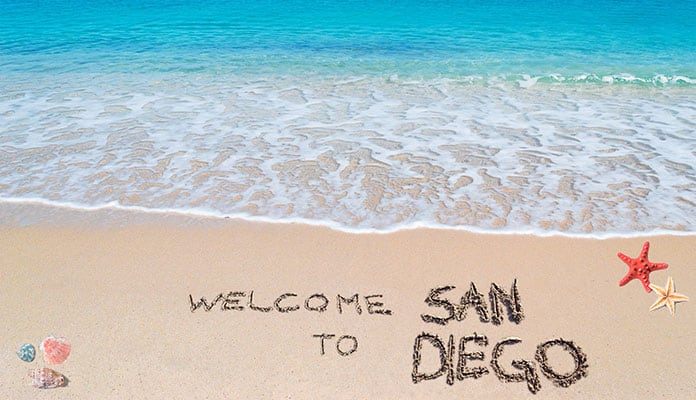 If you are on the west coast and are craving some salt in your hair, rest assured that you have some of the best snorkeling spots at your fingertips. San Diego, being in the deep southern corner of California, may have cooler waters but is full of life with many things to be explored.
While these waters may not be warm and tropical, they offer rich marine life.  Warm water sea turtles will be traded for countless seals and sea lions. This is also one of the few places in the world you can swim with sharks without fear. Leopard and Horn sharks can be found at many of the beaches throughout San Diego. They grow to a maximum of around 5 feet and eat things like crabs and fish eggs. Their mouths are tiny, and you have nothing to worry about except getting up close and personal.
A simple wetsuit will help to combat the cool Pacific water temperatures and allow you to focus on all the life around you in the water. San Diego has some of the best snorkeling on the west coast. The beauty of this area is that you are almost guaranteed to see some medium-sized marine life like sea lions. Grab your snorkel gear and let's go.
Quick Answer: 5 Best Snorkeling Spots in San Diego
1. La Jolla Cove
This is one of the largest snorkeling spots in the world has over 6 000 acres of fun to be explored. It is made of the La Jolla Underwater Park and Ecological Reserve. You can also do more than snorkel here. Depending on the time of year you can also surf and even walk along the boardwalk. This area also has great bars and restaurants close by.
It is best to check the weather conditions before heading to this area as they can change drastically from day today. You can expect to see a stunning kelp forest and deep canyons along the bottom with great visibility.  Be sure to have a quality full face mask as you will not want to miss these sights. The first 30 feet or so will be sand and grass but after that is where the fun begins.
There are sea creatures here that you have probably never heard of including sheep crab, sea lions, and even lobster. If you are lucky you may even see some stingrays swimming with you.
2. Devil's Slide + Sea Lion Caves
This is one of the best places to snorkel in San Diego. It is not easy to get to but well worth the effort. Be sure to bring along your fins to this place as it can be a long swim. For this reason, this area should be reserved for at least intermediate swimmers. There is no beach or easy entry or exit at this location and even requires a little hike to get to the water.
The waters are around 15 to 20 feet when you're swimming 25 feet from the shore. You shouldn't expect a sand beach here as the shore is made up of large rocks. What makes this a great swim in the rock formations along the shore. Water has eaten away at the rock and formed caves that you can swim through. This is best done at low tide so you can see the full caves and tunnels. Just be sure to be cognizant of the tide and current. These caves can cause some weird currents that can make swimming difficult.
Remember: Do not touch or pick up any of the sea life on your snorkeling trip. Blowing bubbles is also seen as a form of aggression to sea lions so be sure to breathe through your snorkel at all times when they are around.
Many animals call this area home including loads of sea lions, rays, and even leopard and horn sharks. Don't be surprised or alarmed when a sea lion or five start swimming with you through the water. The water here is clear and blue. We recommend going with a quality mask and dry snorkel as you will surely be tempted to free dive below the surface. You don't need white sand to have an amazing time in the water.
3. Shell Beach + Boomers Beach
This is a short drive sound from the famous La Jolla Cove. Shell and Boomer's beach are both less busy and have a similar stellar snorkeling route. You will be happy to know these places have picnic areas with grass to play on and bathrooms and showers to change at. Their parking lots are on the smaller side so get here early in the day. If you are looking to escape the crowds of other beaches in the area Shell and Boomer's beach is where you want to be.
These beaches are also great for other activities as well. You can bodysurf, scuba dive and even whale watch here. Since this area has a rocky bottom and shore it is for advanced snorkelers. There is a strong current in some parts and knowing how to get out of it is key. Be sure to wear a life vest when snorkeling in this section to secure your safety.
4. Mission Bay
This is one of the treasures of the west coast. This snorkeling spot is excellent for the main fact that it is largely unknown and beautifully untouched and is still pristine. Located at the south end of Mission Boulevard this bay is quite desirable as the water is calm with only a little surf. Great for beginners and families alike, you are bound to enjoy the shallow waters and lack of current.
While the waters may be calm, the world under it is full of life. With lots of colorful coral, rich grasses, and plenty of swarming fish, you will want to have your underwater camera closely on hand. There is a rock jetty that stretches along the ocean's floor. Coming up to shallow waters, there are some points where the water is a mere 2 feet deep. This allows you to get an excellent close up of all the colorful corals.
The reef features colorful reds, pinks, and oranges that brighten up all the life underwater. When exploring here be sure to keep your eye out for sea cucumbers, spiny lobsters, and even octopuses.
You might also like: Top Snorkeling Spots In Cancun
5. La Jolla Shores
There are many restaurants that you can enjoy a nice meal at if you get hungry part way through your day. Make sure to research how to choose the best snorkel before going as you will not want to miss out on the second snorkeling here.
This spot is the place to go if you are looking to snorkel with large marine animals. Home to many sharks, this is the best place to snorkel if you fancy swimming along with some rare fish such as sharks. There isn't that much in the way of reefs but other sea animals congregate here instead. Rays, flounder, and even halibut are known to love this bay.
Pro Tip: Leopard sharks are known to hang out in the water in front of the tennis club and Marine Room Restaurant. These are relatively tame sharks and are not dangerous to humans. These gentle giants between 4 and 5 feet long full-grown and offer up quite a thrill when swimming near one.
The picturesque white sand beaches make this a great place to hang out during the day. The clear blue water offers excellent visibility for snorkeling and diving and is a favorite amongst locals. The Pacific Ocean offers quite cool waters even in the summer months and therefore requires you to wear a wetsuit. While cool, these waters offer their own draw of being full of beautiful marine life.
Globo Surf Overview
Snorkeling is one of those sports that is easy to enjoy. Escaping to the underwater world will become addictive and soon you will be scouting out the best snorkeling in the world. With plenty of sharks, seals, and rays, you will have no shortage of larger aquatic life all around you. Plenty of colorful grasses and corals light up the underwater world. Not only this but the west coast lacks the common crowds found in most snorkeling hubs. Home to many caves to explore, it is no wonder that snorkeling in this part of the Pacific Ocean is some of the best snorkeling you will ever do.
Preparing for a snorkeling holiday is much like preparing for a dive holiday. You will want to have all of your own gear with you when you go to avoid having to rent continuously. Don't be surprised if after your day snorkeling you end up booking your first scuba diving trip as you are sure to fall in love with all the beauty and life in the Pacific Ocean.
More Snorkel Destinaton Guides:
Sources