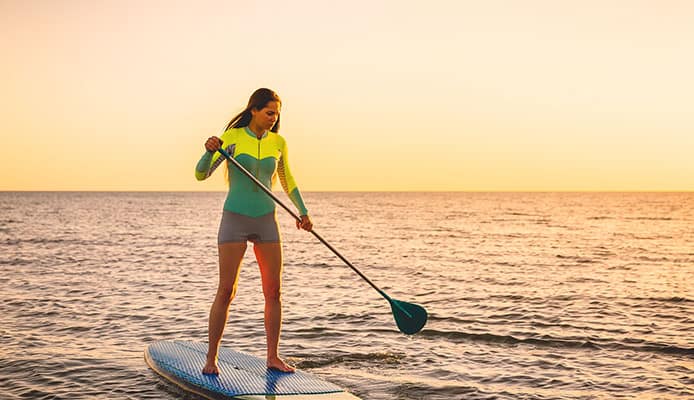 Amazing nature combined with extraordinary wildlife and sea creatures is more than enough to visit Australia, especially If you prefer to SUP in different and unusual places. In this article, we'll go through the 10 best paddle boarding Australia locations, which will be combined with the best stand up paddleboard, give you an adventure of a lifetime.
Australia's Best SUP Locations
1. Balmoral Beach
Located near Sydney, Balmoral beach is the perfect place to learn how to SUP. What gives this place so much value is the fact that it is considered to be a cultural heritage, so you'll be paddling on a place with significant historical value. Once you get there, you should ask around for a local paddling school, especially if you're a beginner. Your lessons will be held in calm and clear water, so you should easily learn everything about SUP – basic safety steps, how to perform a self-rescue, how to turn, and how to maneuver.
2. Manly Beach
So far you've probably opted for SUP because of all the excitement and adrenaline it provides, on Manly beach located in the northern part of Sydney you'll have the opportunity to try something new and completely different – SUP yoga class for beginners! Once you get to Manly beach, ask around for Flow Mocean. You'll first have to pass a paddle technique test on dry, after which you'll have to paddle for about 10 minutes before you get to the floating studio. There, a one-hour yoga class will be held – you guessed it, on your board! That means you'll basically do everything while keeping balance on it. There will most likely be some kind of falling from the board, so get ready for lots and lots of laughter. You could also check out our guide about the best SUP yoga boards.
3. Malabar Beach
The third location in Sydney you should visit if you plan to SUP in Australia is Malabar beach, located near Maroubra suburbs. It is a small, hidden beach most of the time visited by locals. Also, there is an option to attend an initial SUP course where you'll go through the most basic techniques and later get the opportunity to SUP in calm water, untouched by popularity. And another perk is the fact that, unlike many other beaches around Australia, Malabar is most of the time quiet, so you'll be able to enjoy it without anything disturbing you.
4. Byron Bay
One of the most popular places in Australia has this reputation for a reason. By visiting this bay located in New South Wales you'll learn how to SUP in the company of dolphins, sea birds, and turtles along with many amazing fish species, surrounded by amazing landscapes along the way. Byron Bay is well known as one of the best places in Australia for snorkeling, so for an all-around experience put this place on your list. Also, check out this article about the best paddles.
5. Lord Howe

This island is a part of UNESCO's World Heritage list. Located about 370 miles north-east of Sydney, it is probably one of the most beautiful places you could SUP not just in Australia, but also in the whole world. You'll get the chance to participate in SUP guided tour around the island, during which you'll check out Lord Howe's lagoon.
6. Hobart
You've probably heard about the Tasmanian Devil, one of the main protagonists of Looney Tunes along with Bugs Bunny and Daffy Duck. The name itself comes from the animal known as the Tasmanian devil, and it can be found in Tasmania. One of the most popular places in Tasmania is Hobart, famous around the world thanks to amazing marine life, peaceful coves… It is also one of the most popular places in Australia for SUP, because of its beautiful surroundings and calm waters.
7. Swan River
Swan River is one of the main tourist attractions in Perth, but it is also one of the places that offer quite a nice opportunity to learn and SUP. There are a few different places along Swan River you could check out, like Pelican Point in Crawly or Matilda bay, and there is also a store you could check out if you want to rent a SUP board, in case you don't have one. It also has SUP lessons.
8. Seacliff Beach
Near Adelaide's sailing club, you'll get the chance to participate in one-on-one SUP lessons, so even if you're an experienced paddler, there are many things you could still learn that will help you develop your technique. Another option is yoga class, and if you simply want to paddle, it is really nice place as it provides really beautiful surroundings.
9. Boodjamulla National Park
Besides quite an exotic name, this Queensland-based park is one of the places that will offer the chance to create some of the most amazing memories because of extraordinary wildlife, rich cultural heritage, and places you could walk to and check out. It has camping sites included, whether you prefer RV camping, so we could say it is an all-inclusive adventure. Also, you could check out Lawn Hill Creek, another place popular among Australia SUP paddlers.
You might also like: Learn How To Paddle Board In Cold Weather?
10. Noosa Everglades
If you're near Noosa, take the opportunity to check out Noosa River and discover how calm a SUP experience can whether you paddle downwind or upwind along it. As you paddle, it is always a good idea to try to reach Cooroibah lake and Cootharaba lake, a part of the Noosa Everglades. There are also a few places you could get a SUP lesson if you're still learning or would like to check if there is something new to discover.
Globo Surf Overview
Australia is a country filled with quite amazing wildlife, beautiful places, extraordinary marine life, so if you're an adventurous type of person, placing it on top of your "to visit" list will help you create some of the most amazing memories you'll remember for a lifetime. This article will help you decide about the places you shouldn't skip checking out. All you have to do is to make a list, book your trip and pack your best inflatable board and your wetsuit. After that, Australia will take care of the rest.
More Paddling Paddle boards Reviews:
Paddling paddle Board Guides: