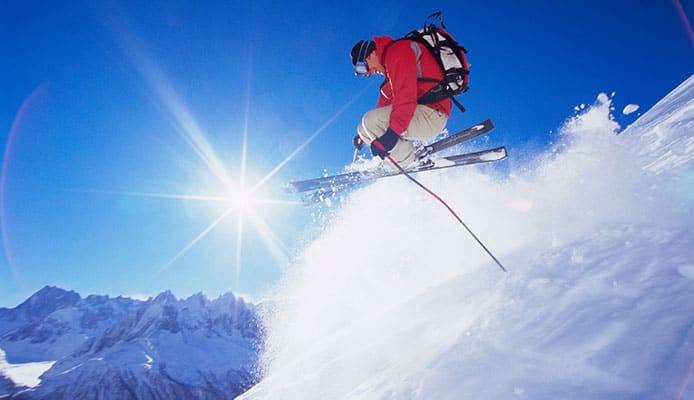 Interested in learning how to ski? One of the fundamental techniques that you have to master is jumping on skis. When doing this, you will generate most of your power from your upper legs and body. It is more difficult than a normal jump because you have your ski boots and ski on your feet. It provides additional weight that might make you lose balance if you don't do it right.
Want to learn how to jump on skis? We got you covered in the rest of this brief guide.
Springing on Your Ski
To practice ski jumping skis, take note that two techniques are possible. The first one is called spring. It starts by compressing your body downwards. After this, you will jump up. This results in creating a momentum that will take you up in the air. While doing this, you are maintaining your weight in the middle of the ski. There is no need to shift.
Here is a step-by-step and more detailed guide on how to jump on skis through springing:
As you get closer to the slope, slightly bend your hips and knees in such a way that it will be positioned at a 45-degree angle. Keep your head up and look forward. Meanwhile, center your body's weight in the middle part of the ski.

When you get to the lip of the slope, move your body up. This is when you will jump. At this point, your hips and knees will move from the 45-degree angle to a straight position. Use force to push your body down the snow, which is also what creates momentum. You can also use your

ski poles

to add more force to your jump.

After jumping and while you are in the air, compress your body. After the jump, bend your hips and knees at a 45-degree angle, similar to what you did in your starting position. Do not move forward or backward as this affects your balance.

As you prepare to land, keep your back in a diagonal position. Keep your weight at the center for good land.

Slightly bend your knees before you touch the ground. This is crucial for impact absorption. Once you have landed, continue to ski as you would normally do.
You might also like: What Are Skis Made Of: Ski Construction Guide
Doing the Ollie
As you learn the basics of ski jumping skis, the next technique that you should master is called the ollie. Under this technique, you are throwing the weight of your body and your ski gear at the back. You often do it when you have to jump on something, such as a branch that you encounter on the way. It requires more precision compared to springing. This is a more complicated technique, so pay attention to how to do it right.
A simple guide on how to ollie as you jump on your ski:
As you head closer to the slope, slightly move your body forward to position yourself at a 60-degree angle. While keeping the weight of your body in the middle of the ski, keep your arms and legs about shoulder-width apart.
Before finally jumping, shift your weight at the back. This will allow you to throw the skis while minimizing the likelihood that you will lose your balance. At this point, your legs and back should be at a 90-degree position.
As you approach the lip, move your body slightly forward and jump. Lean a bit forward and immediately straighten your body after jumping.
While you are jumping in the air, keep your legs close. It will minimize resistance and will help you prepare for the land while keeping your balance.
Just like with the spring, it is also crucial that you slightly bend your knees before landing as this helps in impact absorption. One of the common beginner ski mistakes is to instantly straighten the body, including the hips, before landing. This can increase the chances of an injury.
Tips, Tricks, and Mistakes to Avoid
You might end up being frustrated as you learn how to jump on skis. Like learning how to turn on skis and stopping on skis, chances are, you won't get things right the first time. The secret is to practice. Patience is a virtue. Don't give up if you commit mistakes. We recommend that you train off the mountain to prepare yourself.
Another thing that you should do is to start small. Practice small jumps before you learn big jumps. Proceed to the latter only if you already feel comfortable with the former. Do not force yourself to do the big jump during the first few practices.
The right timing is also crucial for your success when jumping on skis. If the timing is wrong, you will end up being unprepared for throwing yourself in the air or when landing. Especially as you land, the wrong timing can put pressure on the knees and can result in a ski injury. As we have noted above, the best way to prevent this is to make sure that you land with your knees slightly bent.
Keep an eye before the jump. Make sure that you are far from any other skier you might hit upon landing. Being conscious about your surroundings also helps you to better plan the jump, making sure that there won't be any restriction or distraction. Keep your head up and your eyes forward.
Globo Surf Overview
Learning how to jump on skis can be quite intimidating at first. However, with practice and courage, you can easily do it like a pro. As noted above, there are two main ways to do this – springing and the ollie. Regardless, the important thing is to keep the right position of the body to throw yourself into the air and land properly with minimal chances of an injury.
Now that you know how to jump, you can advance to learning more complicated techniques, such as how to ski rails and how to ski steeps.
More Snow Ski Lesson Guides:
Source