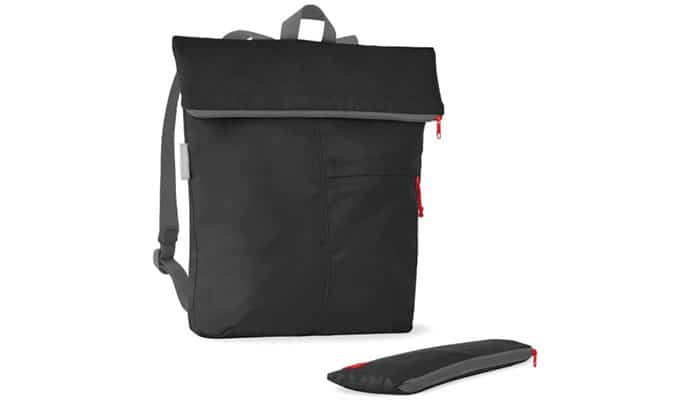 The compactable backpack from Flip & Tumble is a trendy accessory that lets you have a bag alongside you at any moment. Once rolled up, the backpack is reduced to a thin and long pouch which is very convenient to bring along wherever you go. Lightweight and made from recycled materials, the backpack from Flip & Tumble delivers a convenient solution for people that always seem to forget their bags at home, while also helping the environment.
Reusable plastic bags seem to be one of those items that are most readily forgotten at home, or sometimes we just hesitate to bring one given their bulk or ungainliness. Flip & Tumble proposes an elegant solution by offering a backpack you can carry with as much nonchalance as a simple handbag when it is compressed but that can turn into a reasonably sized bag when spread out. Not only is it a useful and versatile bag but it proves a great addition to any travel kit since it allows you to immediately have a second bag with you if need be.
Aside from its qualities as a backpack, this product from Flip & Tumble also devotes special attention to its carbon footprint. The manufacturers have chosen to use only recycled materials for this reusable bag, striving to actively contribute to ensuring that the number of plastic bags that currently pollute our oceans does not increase. Overall, the portable backpack from Flip & Tumble brings together style, versatility, portability, and an eco-friendly mindset that is sure to appeal to the trendiest users.
Features
Made from 100% recycled PET
Easy to compress into a very slim pouch
External pockets for quick access
Cool retro style
Ample storage
Water-resistant
Machine washable
Lightweight
Comes in five different colors
The foldable backpack from Flip & Tumble gives you a cool and inexpensive way to bring a bag around with you at all times, without having to bother with dragging around a big empty one when you don't need it. The backpack can be easily rolled up into a long and slim pouch, closed with a zipper, that is very convenient to slide into a pocket. You can also choose to pack it in another bag to have a backup or second backpack with you should you ever need one. The bag is made entirely from recycled PET and features an external pocket for your valuables or items you might need to access quickly.
There are no dividing sections inside, giving that the bag has to collapse upon itself, but you will find enough storage to hold a large number of groceries, if you are going shopping, or if you're just packing your notebooks for a day at the office. The backpack has a unique, stylish look that is slightly vintage and is bound to be appreciated in the more hipster parts of town. To compact the bag, simply lay it down flat and start rolling up from the bottom, including the straps. Once you reach the top simply pull down the zipper, effectively turning the top section of the bag inside out, and stuff the bag inside. You'll end up with a tube that is roughly the size of a portable umbrella but much much lighter, perfect to slide into a pocket or a suitcase.
The bag is tough but remains lightweight, so much so you'll even risk forgetting you've popped one in your bags. The bag is conveniently machine washable and this will not affect its durability. You can choose between an array of five different colors to find the best match for your style. Men and women alike will find their fit given the variety of options and the retro styling is bound to please. This product lets you reduce your carbon footprint all the while looking stylish and keeping your hands free to explore, hike, or simply wander around to your next destination. The backpack is made in China but the manufacturers pride themselves in paying close attention to the ethical treatment of workers.
Specifications
Expanded size: 15 x 16 x 5 inches
Compacted size: 15 x 4 x 1 inches
Material: Recycled PET
Weight: 0.41 pounds
You might also like: Versatile Toxic-Chemical Free Leather Bag | Zwuits®
User Experience
Usability: The backpack from Flip & Tumble proves easy to compact and spread. The whole process can be achieved quickly and doesn't even require a flat surface to lay the bag on, after a bit of practice. A perfect addition to a travel kit, the backpack from Flip & Tumble lets you bring a backpack in your suitcase without taking up much more space than a portable umbrella. The straps feel sturdy, well attached to the bag, and are easy to adjust, while the zippers feel smooth and well made. Even after loading the bag with notebooks, a laptop, and several other office tools, it still feels nice and comfortable, and even when riding a bike does not hinder your movements in any way. When it is empty, the backpack is very lightweight, adding to its versatility.
Durability: Despite being made by only one layer of material, the backpack feels sturdy and durable. It gives you the confidence to head out and start your day without having to worry about it falling apart, as is so often the case with reusable bags. When you pick it up you can feel the quality of the recycled material and the care that has been put into its production. The bag is tough enough to withstand the weight of all the items you might need for a weekend trip. Since the fabric is made from synthetic materials, it is also very capable of resisting water, lifting you of worries if the sky begins to darken. The backpack maintains its strength and durability even after several washing cycles, but it is better to avoid tumble dryers.
Design: Not only does the Flip & Tumble backpack prove to be an extremely useful and versatile addition to your travel kit, but it also makes you look good all the way. It's retro and vintage design will please even the most demanding fashion victims and earn its place as a valuable accessory. The bag looks sleeks and simple both when compacted and when spread out, proving very easy to combine with several different outfits, whatever your need may be. Should you choose one in a darker color, you'll be able to use it also in more formal situations, given its sobriety and elegant finish.
Pros
Easy to compact
Lightweight
Durable build
Elegant and retro design
Good water resistance capabilities
Overall Rating
Usability: 98 % – The Flip & Tumble backpack has proven time and time again to be an extremely useful little item to have close to you. Use it as a grocery bag, a weekend companion, or take it into your office and you will never feel out of place. Its versatility makes it an excellent purchase for anyone needing a simple but capable bag and its portability and ability to scrunch down in size only add to its value. Furthermore, in addition to its simple and elegant design, the backpack is also sturdy and durable enough to endure traveling for a couple of days and take good care of your belonging. Overall, the Flip & Tumble backpack is a product that does very little wrong.
Design: 97% – Retro and vintage items are only growing in popularity and the Flip & Tumble backpack fits nicely between them, striking a very well-balanced compromise between simplicity and usability. The design may seem basic, but making simple things elegant is one of the hardest things to do and this product succeeds where so many others have failed. When compacted it becomes a simple, neutral, and sleek long bag that does not attract unwanted attention, while when it is spread it makes for a sweet cherry on the top of a fashionable vintage look.
Price: 98% – Most products that one could suspect are aimed at a more hipster audience might be overpriced, but the Flip & Tumble backpack does not fall into this trap. It may be slightly more expensive than the most basic model you can find, but on the other hand, it provides a wealth of different uses that simpler items do not. Overall, the price is very well estimated for this item and will not leave you wondering if you have been ripped off in any way. Knowing that the company prizes ethical labor and pays close attention to its carbon footprint adds value to this product that is hard to measure with money.
Globo Surf Overview
The compactable backpack from Flip & Tumble is an inexpensive, cool-looking item that is also very versatile and durable. It will prove its worth as an addition to your travel kit or even as a standalone bag for small trips or day jobs. It is a useful and beautiful product that also respects and helps the environment, making it an item that won't give you any reason to regret its purchase.
Single Watergear Products Reviews:
Source