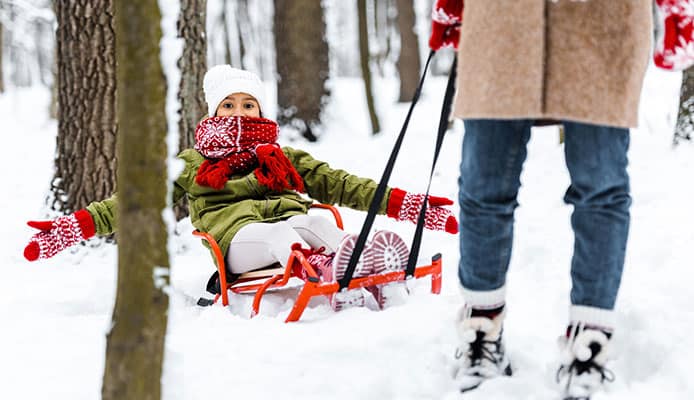 Our bodies are hard-wired to be fluid and active. After exercising, most people will feel more energetic. Even the overall mood improves.
Winter and cold weather are inseparable – they go hand in hand. The fact that it is cold and snowy does not mean that it is impossible to stay active. In this article, you will learn tips that can help you with staying active in the winter.
Activities to Engage in During the Winter
Indoor Activities
If you like being indoors during the winter season, the following activities should help you stay active:
Dancing – Put on music and teach yourself some new dance moves.
Mall walking– This should help you burn calories without having to go outside.
Bowling– To make this even more fun, invite a couple of friends.
Roller skating– Being a cardiovascular activity, indoor roller skating should help you burn a lot of calories.
Yoga – On average, a 60-minute yoga class should help you burn 200 to 600 calories.
Additional indoor activities you may want to consider include:
Stair climbing
Active housework
Home workout circuit
Outdoor Activities
If being outside on the snow sounds fun, try the following activities:
Sledding – This involves sitting on the sled and sliding through the snow. To make this more enjoyable, do it in groups.
Build a snowman – This is an ideal way to turn any boring winter day into a day filled with fun. If you have kids, it is a cool way to hang out with them.
Ice fishing – This involves fishing on ice, through an opening in the ice. Being a group activity, it allows you to connect with new friends.
Skiing – You can organize competitions with friends. Also, you can use Cross-country skiing as a mode of transportation as you hike in the snow.
Snow angels – On top of helping you stay active in winter, this activity will help you feel great, relieving you of the daily stress.
Additional winter outdoor activities include:
Hiking or brisk walking
Running or jogging
Ice skating
Raking leaves
Shoveling snow
Snowshoeing
Snowboarding
Tips to Help You Embrace Winter Physical Activity
At this point, you probably have selected an ideal winter physical activity you would like to try. To keep things interesting this winter season, use the following tips:
1. Invest in Cold Weather Gear
If you are an outside person, you may not find exercising indoors ideal for you. You may want to try outdoor activities such as skiing or even snowboarding.
To enjoy exercising outside, you need to invest in the right gear. For example, if your goal is to ski/snowboard, invest in a good ski jacket or snowboard jacket and clothing layers capable of offering good insulation while wicking away the sweat.
2. Find a Fitness Friend/Buddy
Staying active in the winter is generally not that easy. In some instances, you may need someone to encourage you to get up and engage in winter physical activity.
Find someone who has the same interests as you. For example, if skiing is your thing, find a buddy who has already invested in ski gear (or someone willing to invest in the gear). If you like to snowboard, find someone who has already invested in snowboard boots and an all-mountain snowboard.
3. Join the Gym
While this is not always the favorite idea for a lot of people, it could give you both space and access to different types of fitness aids. You will also get to remain indoors.
4. Recreate Your Routine
One of the things you can do which can help with staying active in the winter is starting a new routine. Irrespective of whether you love to exercise indoors or outdoors, follow online videos, or head outside with your cross-country skis, make this part of your daily routine (if possible). Having something that is part of the routine will make everything easier for you.
5. Turn Your Daily Activities into Exercise Opportunities
Try being more active via your daily activities. For example, instead of using the lift, use the stairs. Instead of parking the car just next to your office, park a couple of blocks away and walk to the office.
6. Workout During the Lunch Break
In the winter, it will be dark in the evening and in the morning. You may wonder when you are supposed to engage in winter physical activity. The answer is simple – lunchtime.
Consider walking around the block during the lunch break every day. On top of helping you clear your head; this should improve your health.
7. Swim in Hot Pools
Swimming in the lakes or the sea during winter may not be possible. However, this does not mean that you can't put on your swimming cap. Consider heading to a local heated pool. If you have kids, take them with you.
8. Walk Your Dog
If you do own a dog, consider taking him/her for her walk. This should make your regular walk even more fun.
9. Try Family Activities
Keeping your kids entertained during the winter season is often a challenge. Luckily, there are a large number of family activities that you can try. Examples will include dancing, playing active video games, building an indoor obstacle course with the kids, etc.
10. Do Some Chores
Winter is an ideal time to get cleaning, dusting, and vacuuming. On top of helping you keep the house tidy; you will be moving around during the process. To make the whole exercise more fun, consider playing your favorite music.
Globo Surf Overview
Do not allow the winter cold to make you inactive. To make staying active in the winter easier for you, we have outlined the tips you should take advantage of in this article. Also, we have outlined some of the best activities you can try.
Low temperatures and hypothermia are major concerns during the winter season. To stay safe, be sure to invest in cold weather gear.
More Snow Reviews:
Source
How to Stay Active in Cold Weather, Heart.org