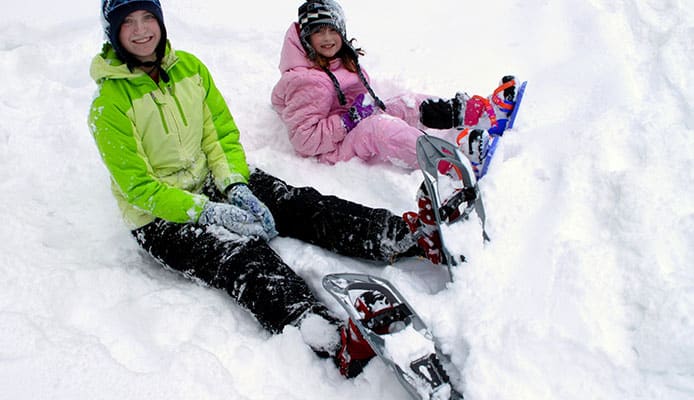 Just because you got kids doesn't mean you shouldn't have some outdoor fun, and just because it's snowy doesn't mean you should hibernate indoors. So, when a friend invites you for a snowshoe hike, go for it – and bring your kids!
Snowshoeing is one of the coolest ways to explore the scenic, icy backcountry. It is family-friendly, easy to learn, and doesn't require special terrains or resorts to go; plus the snowshoeing hiking gear itself is relatively cheap.
When snowshoeing with kiddos, however, there are a few things you need to keep in mind to ensure their safety. Below are foolproof tips and advice for snowshoeing with kids both on a day hike and on an overnight trip.
Clothing
Warm kids = happy kids, so dress your little ones appropriately. On such a trip, it would be best to layer them up with breathable, comfortable clothes.
Unlike skiing or snowboarding, kids will likely sweat more when going uphill and cool down when going downhill, so a breathable base layer will be important. Combine this with waterproof salopettes/trousers, a breathable softshell jacket, and an outer down jacket. Don't forget a warm pair of hiking gloves or mittens, a decent pair of hiking socks, and a hat.
Warm and well-fitting boots for snowshoeing will be a necessity too. Don't forget your kids' sunglasses. You want their small peepers protected from glare and harmful UV radiation.
Snowshoeing Gear
If your kids are just getting started with snowshoeing, renting gear will be an inexpensive way to try the sport. Just make sure to carry the footwear you plan to use to the rental shop so you can get the right bindings.
Kids' snowshoes are fairly cheaper than adult models, so if you are planning a multi-day outing, it would make sense to buy snowshoes than to rent. Here are the pieces of gear you will need to make snowshoeing for kids safe and fun:
1. Snowshoes
Kids' snowshoes come in a standard size and therefore, snowshoes' sizing will depend on the child's weight than their foot size. Bindings can be adjusted to accommodate different types of footwear as well as growing feet.
If your kid weighs above 80 pounds, however, it would be best to get them, women, snowshoes. These are lighter, shorter, and narrower than the normal unisex snowshoes, and given that they are made of fewer materials, they are cheaper too.
2. Footwear
Snowshoe bindings will work perfectly with almost all footwear including snowboarding boots, ski boots, and sneakers. Your best choice, however, will be lightweight, waterproof snow boots with a good ankle flex. Trail running shoes or hiking boots could work too if they are warm and have water-resistant uppers.
3. Gaiters
You don't want any snow sneaking inside your kids' boots or soaking their pant legs, so have them bring their hiking gaiters. A gaiter will seal the boot top and the pants bottom so that snow doesn't creep in and get the kids' feet frozen.
Most gaiters will cover the boot laces and extend to knee height, with a strap beneath the boot to hold it in place. Since snowshoes will inevitably sink in powder when the kids walk, a well-fitting gaiter will help keep your kids warm and free of moisture.
4. Poles
Poles are not mandatory but they will make hiking easier especially on the unpredictable trail. Trekking poles or alpine ski poles will work perfectly with kids. Those with big baskets are more effective because they are more stable and don't sink too far into the snow.
You can rent poles from any snowshoeing equipment shop. But when buying poles for your kids, you may want to consider those with adjustable shafts so that the kids can extend as they grow.
Food
Food is fuel. Whether you will be going out the entire day or just for a few hours, pack snacks and lots of them. Kids love to snack. Munchies could also come in handy whenever bribes are needed.
Remember to keep the children hydrated too. Snowshoeing, like any exercise, is thirsty work, so make sure to pack enough water for the day. There even water bottles for kids that you can have your kids carry in their backpacks. A thermal flask with hot chocolate would also be great to warm your little ones up if it gets too cold.
Get The Kids Involved
When snowshoeing with kids, you will want to keep them busy and make them feel part of the trip. The more involved they feel, the more successful and fun the entire trip will be.
For instance, let them help make the picnic. If they have their own backpacks, let them do their own packing. They can pack their own snacks, water, sweets, tissue, etc. so you don't have to keep stopping every minute to give these to them, put their water bottle away, etc.
If you have visited the area before, tell them some of the nature they expect to see. It could be birds, squirrels, and other wildlife that makes them excited. You can even task them with photography just to keep them eager for the trip.
Keep Things Simple
To make snowshoeing for kids fun, keep things as simple as they possibly can. Organize the trip keeping in mind the fitness level of your young ones and how far they can realistically walk.
If you are taking the kids out for the first time, you may want to consider sticking to the groomed terrain. Sure, uncontrolled tracks could be more beautiful, less crowded, or even wilder, but these come with some risks too.
For instance, these are some of the areas that are more prone to snow slides, not forgetting ruthless snowboarders and skiers. On a day out with kids, on-piste will be a way better option, as you have guaranteed safety for your loved ones.
Let the kids play and have fun. It's their day, so if they want to throw snowballs at the trees, knock the ice off the trees, jump in the powder, or hide behind rocks, let them. Whatever makes them happy, roll with it.
Check The Weather
You see these people who say, "There is no such thing as bad weather, only bad clothes"? Well, they are wrong in some instances. Trust us, when planning a backcountry trip with kids in winter, you really don't want bad weather part of your day.
Yes, you could head out in the snow in -20˚F weather, but where kids are involved, this may not be a smart move. For a fun and easy outing, choose a mild day. The arctic days can be saved for when kids are back to school or your solo adventures.
Also, remember that kids, like adults, will have more fun in a winter outing if there are things to see. Really, there is no fun dragging snowshoes in a snowstorm, so save family hikes for days when the weather is clear when you can see the beautiful scenery around you. Your hiking camera will also have more value on those days.
Prepare The Night Before
When going out in the snow and especially on a multi-day trip, it would be nice to have everything ready the night before. Check to see the kids have their bags packed with everything they need.
This could also be a good time to check the weather forecasts and snow conditions of the terrain you will be touring. If you feel the weather is too harsh for the little ones, it would be best to move the trip to a day when the atmospheric conditions are more favorable. Sometimes even the warmest clothes won't cut it, especially where toddlers are involved.
Let Your Kids Lead The Way
If there is a 2 or 3-year-old in the group, let them lead the way and others follow. This will help them feel in control of where you are going and will also set the right pace for the hike. You don't want to move too first and risk leaving some members of your family behind, so let the youngest set the speed for you.
Allowing kids to lead gives them confidence in the sport and even when they are out of the trail. It also prepares them to be prominent leaders in the future.
Tips For Effective Snowshoeing
It is very easy to learn the basics of snowshoeing and in most cases, no training is needed. In fact, if you can walk, then you can snowshoe – it is actually that simple. If you are still wet behind the ears, it would be wise to start on a flat trail. Groomed terrains have trails reserved for snowshoers so this would be a good place to get started for people with kids.
Join snowshoeing groups so that you and your kids can expand your snowshoeing skills. It is also a great way to meet new people and maybe find out how exploring ungroomed trails feels like.
Practice at home and know how every piece of your snowshoeing equipment works. Have your kids put on snowshoes and walk on the grass to make sure they are comfortable in them.
Experts recommend staying on-piste when snowshoeing with kids. But if you will be touring uncontrolled terrains, especially where you expect to find snowboarders, make sure that you are ready for any danger that may arise. There is a high likelihood of avalanches to occur here and if you are standing in its path, you can easily be buried in the snow. Take avalanche safety precautions like not standing in the way of snowboarders or skiers and if necessary, carry avalanche survival equipment.
If your dog will be part of the party too, have him/her leashed. Most trails allow dogs but it would be wise to get familiar with the leash laws of the terrain you will be visiting to avoid getting in trouble with the authorities. Leash laws will usually be found in the trailhead or the website of the park you will be touring. Consider buying dog boots for your four-legged friend; they will keep the paws protected from cold and sharp ice crystals.
If your kids or any member of your family show signs of hypothermia, abort the trip and seek medical assistance immediately. Kids are likely to catch a cold faster than adults, so be on the lookout for any sign of cold-related conditions.
Why You Should Take Your Kids Snowshoeing
Snowshoeing will take you to places where skiing or snowboarding can't. Here is why you should try it with your kids.
It is a great workout: Taking a snowshoe hike is like jogging or walking on the beach. It works your muscles and relaxes your mind. Taking your kids on a snowshoeing trip will help get them active, which improves their bone growth and development.
You don't need much to get started: Snowshoes, warm clothes, snacks, and water, are all you need to get going. You won't even spend much because you can rent snowshoes for you and your kids instead of buying new ones.
Snowshoeing is really fun: Since snowshoe hiking is a slow sport, you can take pictures as you reap the benefits of the activity. Bring binoculars and watch the birds and other snowshoers with your kids. Set up a picnic. Listen to music. Anything that gets you embracing the snowy world!
Globo Surf Overview
Just like adults, kids enjoy spending time in the great outdoors. Even when winter sets in, you can always keep them active by bringing them with you in the backcountry.
Snowshoeing will make even the coldest of days warm for both adults and kids. To ensure a safe and fun-filled trip, however, dress your kids to the occasion, feed them properly, and keep them hydrated. Also, plan different games that you can play during the hike so they don't get bored. But to make the trip successful, let your kids just be kids – let them have fun!
More Snow Reviews:
Source
Snowshoeing 101 For The Entire Family, hikeitbaby.com