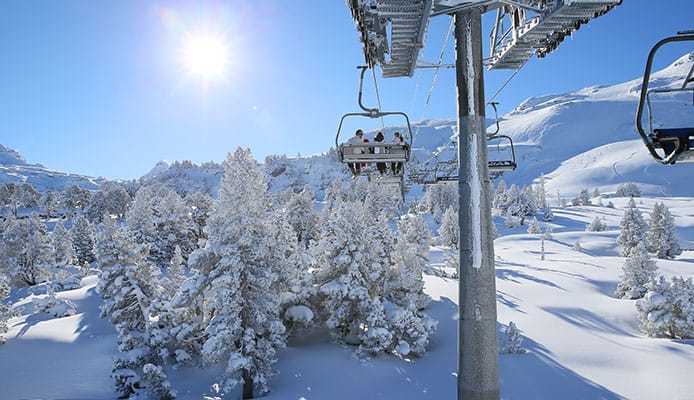 When most vacationers think of Nevada, the focus is generally on the glitzy shows, food buffets, and gambling. On top of having great indoor adventures, Nevada does have enough to satisfy outdoor enthusiasts – the state is home to some of the best skiing resorts.
If you plan to go skiing in Nevada after packing your ski gear, this article should come in handy. We will focus on showing you the best Nevada ski resorts.
1. Mt. Rose
At only 25 minutes from Reno and only ten minutes from Tahoe's North Shore, Mt. Rose's strategic location is what makes it an ideal option for the first and last days of your Tahoe ski getaway.
It is impossible to get bored at Mt. Rose Ski resort. After donning your all-mountain skis, you will be able to explore over 1,200 acres of skiable terrain, featuring an average of 400 inches of snowfall annually. 8 lifts, including 2 detachable 6-person chairs, lend skiers access to this terrain.
20% of the skiable terrain is ideal for people who are still learning how to use their beginner skis. 30%, 40%, and 10% of the terrain are ideal for intermediate, advanced, and expert skiers respectively.
At 8,260 feet, Mt. Rose offers the highest base elevation in the Tahoe region. Skiers get to access more than 1,800 feet of vertical drop.
Why We Love Mt. Rose
Better quality snow than other Lake Tahoe ski resorts.
It is ideal for all skiers, irrespective of their experience level.
First-time packages are inexpensive.
The resort for skiing in Nevada has chutes with runs reaching 55 degrees in steepness.
2. Diamond Peak Ski Resort
Compared to Mt. Rose, Diamond Peak Ski resort is rather small, featuring 265 hectares (655 acres) of skiable terrain and approximately 30 named trails. The resort is basically long and skinny, with 2 main faces and a vertical drop of 1,840 feet (561 meters).
The area for skiing in Nevada is ideal for families. All the runs funnel down to the base area. This, combined with the resort's petite size, makes it extremely easy for you to keep track of your family after you put on your ski pants and ski jackets and get on the ski runs.
Despite featuring minimal beginner terrain (only 2 beginner runs are available), Diamond Peak ski resort is quite popular with beginners. Schoolhouse, one of its beginner ski runs, is almost flat – this makes it unintimidating even for the skiers who have put on their ski bindings for the first time. The second green run is a good progression and several of the blue runs are extremely easy.
While only 46% of the ski runs are ideal for intermediate skiers, most of the supposed advanced runs can be tackled quite easily by solid intermediates. 36% of the terrain is rated black and features glades or cut bump runs.
While a short traverse to Solitude Canyon can offer some challenging tree skiing, Diamond Peak itself does not feature much to keep the advanced and expert skiers entertained for very long. Side-country country skiing is generally not permitted at the ski resort.
Of the 6 chair lifts serving the ski resort, only 1 is high-speed and has the ability to travel up the guts of the ski resort. Some of the fixed-grip ski lifts do feature a loading conveyor which helps speed things up a little bit.
Why We Love Diamond Peak Ski Resort
It is classified under family-friendly Nevada ski resorts.
The ski resort gets 325 inches of snowfall each year.
The resort features extensive snowmaking.
3. Las Vegas Ski and Snowboard Resort
Also known as the Lee Canyon, Las Vegas Ski & Snowboard Resort is a winter haven lying high above the desert floor, in the Spring Mountain Range and just forty-five minutes northwest of the Las Vegas Strip. Featuring a summit elevation of 9,370 feet and 8,510 feet, the ski resort is capable of offering skiers a vertical drop of 860 feet.
4 ski lifts allow guests to access 7.3 kilometers of slopes. If you are still learning how to ski, you can explore more than 20% of the ski slopes. 60% of the ski slopes are ideal for intermediate skiers while expert skiers can have fun exploring the remaining 20%.
Lee Canyon is one of the Nevada ski resorts featuring excellent snowmaking capabilities. The ski resort snowmaking covers 75% of its 11 trails.
Although the snowfall at this resort for skiing in Nevada is not very impressive, it is capable of supporting different types of skiing throughout the season. The ski resort gets an average of 120 inches of snow every year.
Why We Love Las Vegas Ski and Snowboard Resort
Snowmaking covers more than 75% of the ski runs.
It is just 45 minutes from the Las Vegas strip.
Beginning to expert skiers can find runs ideal for their skill level.
4. Heavenly Mountain Resort
Overlooking Lake Tahoe's sapphire-blue waters, the Heavenly Mountain Resort is one of the most unique Nevada ski resorts. The resort was fittingly named to describe the sublime scenery it offers.
Straddling the borders of Nevada and California, Heavenly is the biggest ski resort in Lake Tahoe, featuring 4,800 acres of skiable terrain and more than 34 miles of ski runs. The resort offers well-groomed and wide-open slopes as well as runs transversing pine forests.
20% of the ski runs are perfect for beginners, 45% are ideal for intermediates while 35% of the slopes are perfect for skiers who have been using their ski poles and ski helmet for an extended period of time. The most challenging runs include the canyon run which is rated double-black diamond and features 1600 feet drop, the 1800 feet Gunbarrel run, and the "pillow drops" lying in the Nevada woods.
Why We Love Heavenly Ski Resort
The resort allows you to ski in 2 states on the same day.
The resort has a lively ambiance.
A wide selection of hotels, restaurants, and cabins nearby.
The Highroller Terrain Park allows extreme skiers to attempt 80 feet ski jumps.
5. Elko Snobowl
The only ski resort in the Eastern Nevada, Elko Snobowl opens on weekends from January to mid-May, depending on the weather conditions. The ski resort is just 6 miles north of Elko town. In fact, a shuttle runs every 60 minutes from the end of Fifth Street right to the ski resort.
The small but enjoyable ski resort features a summit elevation of 7,000 feet and a base elevation of 6,300 feet. After mounting and adjusting their ski bindings, skiers get to enjoy a vertical drop of 700 feet.
A double chair lift which was installed back in 1998 and rope tow whisk skiers up the slopes. Once at the top of the slope, skiers can choose to either explore the beginner ski runs or the intermediate runs – 50% of the runs are ideal for beginners while the remaining half is ideal for the intermediates.
Why We Love Elko Snobowl
Numerous snowsports, including skiing, snowboarding, sledding, and snow tubing.
Affordable lift passes.
A shuttle transports skiers from town to the ski resort every hour.
Globo Surf Overview
When the conditions are ideal, Nevada is capable of offering a great skiing experience. If you have been trying to figure out where to go skiing in Nevada, you should be able to select a ski resort from this list. Most of the ski resorts mentioned above are ideal for all ski abilities.
More Snow Reviews:
Source
Nevada Ski Resorts, Skicentral.com