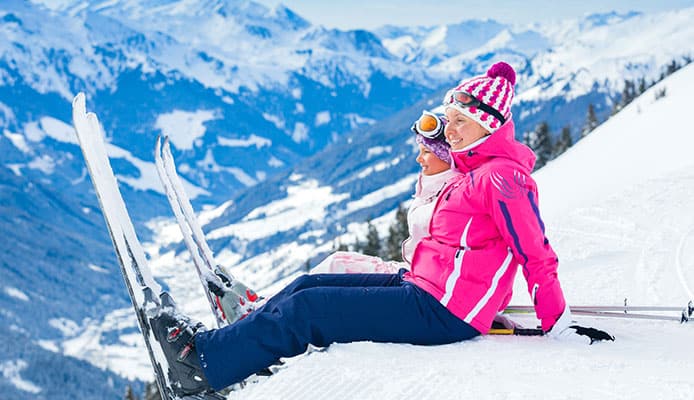 Every winter adventure and activity is fun as long as you don't forget about safety. Many skiing safety tips will bring ski safety level to maximum, and we've decided to sum up the top 10 most important ski safety tips you should always keep on your mind and follow to minimize the risk of something going south.
1. Exercise
The preparation for your winter trip should begin well before you hit the road. One of the most important things in any winter sport is your body shape. Skiing requires lots of physical strength, so you should start working out as soon as possible. If you have a swimming pool nearby, you could try out our swim workout guide to build your strength.
Also, you could take some ski classes if you've just started your career. This way you'll refresh your memory while helping your body get used to the movement.
2. Gear
To reduce costs, many skiers decide to borrow their equipment from their friends or relatives, but this is something you should avoid because every part of ski equipment should be adjusted to a specific skier. If it doesn't, it may affect your movement abilities and you could get injured.
Parts of the gear are:
Boots – if you can afford them, buy them. If not, rent them at the ski shop. They have to fit your leg perfectly without any space to wiggle.
Ski bindings
Skis
Helmet – wear it every time you go out on the track, especially if you're a beginner. Snow is tricky, you may run into ice and fall. The helmet will keep your head safe.
Ski goggles
Ski poles
3. Clothes
Warm clothes are essential to keep you safe because cold muscles tend to become stiff and lower their reaction time. You'll need:
Hat
Ski gloves
Snow pants
Hardshell jacket (in your backpack)
Neck gaiter
Thermal underwear, if it is too cold
You could also check out our suggestions about what to wear before, during, and after your ski session.
4. Sunscreen
The sunlight is not to be taken lightly, even during winter, and if it is cloudy. The snow is one of the greatest sunray reflectors, so you'll have to worry about it reaching your skin from two sides. To prevent any sun-related problem like the sunburn appearance, always have the sunscreen within a hand reach.
5. Gather Information And Respect The Rules
Before you begin your journey, take your time, and use the internet to google out all the information about your future residence. Try to learn as much as possible about it – what to do, what not to do, but the most important is to pay attention to these two things:
Learn about the closed areas! Although it may be tempting, there is a reason why the specific area is closed. Not only you may get yourself in trouble, but you may also get injured, and does happen and you need to be rescued, the rescuers will be placed in a difficult position because they won't only have to worry about saving you, but also about the reason they have closed the area in the first place.
Respect the rules and boundaries. It is not only a matter of good manners but this way you'll minimize the risk of something going wrong.
6. Know Your Limits
Take your time and don't rush things. Most often tracks are marked as:
Green circle, the slope for any skiing level
Blue square, track for a bit more advanced skiers
Black diamond, track for the most skilled and advanced skiers
If you're a novice, stick with the green circle tracks until you learn every movement and how to easily turn and control your skis on every terrain and surface, and how to keep focus for your whole ride. Also, if you've just successfully conquered a blue square track, don't instantly jump to the black diamond. Take your time, enjoy, and try to be better with every ride. You'll get there eventually.
Also, you should listen to your body. If you start to lose focus or feel tired, it is time to take a break, and if you feel like you can't go anymore, wrap it up, you'll get back to the track the next day.
7. Company Is Recommended
You never know what could happen, so it is recommended to bring someone with you. For communication, you could use walkie-talkies and prearrange a meeting place in case you get separated along the way.
8. Avoid Unknown Areas
The areas you're not familiar with may not be dangerous, but if there are no many other skiers and/or the area is "off-piste", it is definitely a red flag and you should skip it. If you decide to try it out nevertheless, read what to expect when you ski off the piste.
9. Hydration
It doesn't matter if it is winter, you'll be sweating under all those clothing layers, and because of all the activity. This means you'll lose body fluids, and you'll need to drink water, hot (or ice) tea, or energy drinks to recover.
While on the track, don't use alcohol because it affects your body motorists, especially on the high altitude. Drink often and combine it with lots of fruits.
10. Be Prepared For Everything
Your main motto should be – always be prepared! The weather may surprise you and the rain could start pouring down, there may be a heavy snowstorm or even an avalanche. That's why you should have the following, in case you decide to go on a longer trip or try out an unknown terrain:
Extra clothes in your backpack
Extra food and water
Ski skin
Responsibility Codes
Most ski societies have responsibility codes, so make sure to read and learn them before you arrive. This is the US Skier Responsibility Code:
Always stay in control and be able to stop or avoid other people or objects.
People ahead of you have the right of way. It is your responsibility to avoid them.
You must not stop where you obstruct a trail or are not visible from above.
Whenever starting downhill or merging into a trail, look uphill and yield to others.
Always use devices to help prevent runaway equipment.
Observe all posted signs and warnings. Keep off closed trails and out of closed areas.
Before using any lift, you must have the knowledge and ability to load, ride, and unload safely.
Globo Surf Overview
These ski safety tips will help you stay safe on track and learn how to properly behave so you maximize the fun. Otherwise, you may run into pretty big problems that may cause you lots of headaches and ruin your trip. And that's probably the last thing you want.
More Snow Reviews:
Source
Seven Points to Your Responsibility Code, nsaa.com