For ski enthusiasts, winter is never a time to hide indoors and stay warm. It is a time to wear the best base layers for skiing and head out to the mountains and ski resorts to playing. If you are an avid skier, you've probably wondered which ski resort companies own some of your favorite ski resorts.
Who owns ski resorts?
Ski resort owners are either individuals and act like private corporations while some smaller ski resorts may be owned by communities and run as non-profit corporations.
In the US and Canada alone, there are plenty of ski resorts numbering well over 637. That's said, 5 companies own 71 of the largest and most popular ski resorts.
Alterra Mountain Company and Vail Resorts together own 31 ski resorts in North America. Then there are privately owned resorts that operate independently and may be owned by individuals or families or even a group of investors.
Vail Resorts
This company owns 17 ski resorts and runs the Epic Pass. This allows skiers to gain access to over 65 other ski resorts around the world. Vail Resorts has a market cap of $8 billion. It has 32% of the market and sees up to 12 million skiers annually.
Park Coty, Vail, and Whistler Blackcomb are 3 of the top 5 ski resorts in North American and are all owned by Vail Resorts. The company is also the largest employer in the State of Colorado and provides jobs to over 5900 workers.
You will get great food and nutrition at these resorts. Make sure to go through 5 nutritional tips for skiers.
Other ski resorts that are owned by Vail Resorts include:
Perisher Ski Resort, Australia
Whistler Blackcomb, British Columbia
Keystone Resort, Colorado
Vail Mountain, Colorado
Beaver Creek Resort, Colorado
Breckenridge Ski Resort, Colorado
Cresten Butte Mountain Resort, Colorado
NorthStar California, California
Kirkwood Mountain Resort, California
Mount Brighton, Michigan
Afton Alps, Minnesota
Mount Sunapee, New Hampshire
Heavenly Mountain Resort, California Nevada
Park City Ski Area, Utah
Okemo Mountain Resort, Vermont
Stowe mountain resort, Vermont
Wilmont mountain, Wisconsin
Stevens Pass, Washington
If you are a beginner start by getting the best beginner skis.
Alterra Mountain Company
This is among the most popular ski resort companies and was established in 2018 and owns 15 ski resorts. It was set up as a joint business venture between Aspen Skiing Company and KSL.  Alterra Mountain Company offers the IKON Pass. This allows skiers to access over 36 ski resorts around the world.
The company sees over 6 million skiers annually. The ski resorts owned by Alterra Mountain Company include:
Squaw valley|Alpine Meadows California
Bear Mountain Resort, California
June Mountain, California
Mammoth, California
Snow Summit, California
Steamboat Ski and Resort Corporation, Colorado
Winter Park Resort, Colorado
Tremblant, Quebec
Blue Mountains, Ontario
Deer Valley, Utah
Stratton, Vermont
Snowshoe, West Virginia
Crystal Mountain, Washington
When planning on visiting any of these and you are searching for the best ski boots, ensure you understand the difference between men's and women's ski boots.
Are the mountains owned by ski resorts?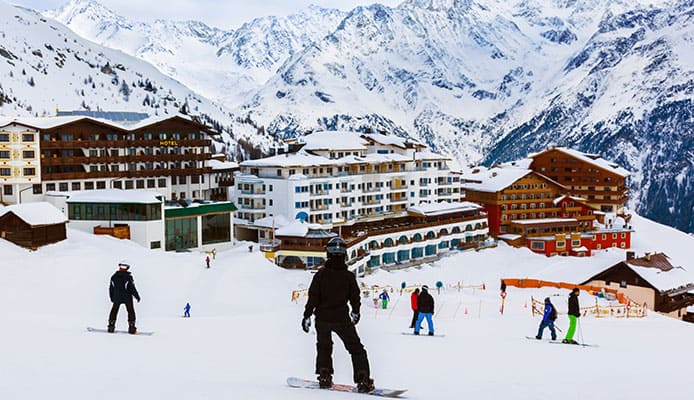 The short answer is NO! Ski resorts do not own the mountains that they operate on. That said, they do their own structures that identify with a particular resort. Note however that the mountain could be private land or public land, owned by the federal government, or could be owned by the resort itself.
If the ski resort is open land that they do not own, they will pay an annual rent which often is a small percentage of their gross income. This is anywhere between 40% and 50%. They will also be operating under the rules of a special use permit and the rent covers running the lifts up and down the land.
Take a look at the top 3 ways to protect your skis from theft when skiing at a resort.
Cost of running a ski resort
The first thing that you should note is that running a ski resort is expensive. Of course, you will either need to buy land or lease. Then there is the cost of the infrastructure which includes the lifts. There is also the staff and the cost of power.
Don't forget the cost of maintaining the operations and all these may cost millions.
Also note that while it is very expensive to run and maintain the ski resort, keep in mind that you will not be in business throughout the year. You will be in operation for the utmost 6 months.
To supplement their income, ski resorts will offer mountain biking, hiking, and trekking activities in the summer.
Small ski resorts will often be gobbled up by large companies that have a lot of money behind them while others may be forced to change to non-profit corporations to maintain operations.
Ski resorts are now turning to snowmaking machines owing to climate change. This increases the costs of running and operating the ski resort companies.
And if you want to buy a ski resort, it will cost millions and even billions of money. Occasionally you might hear one that goes for less but the overall costs of maintenance and operations will probably be more annually than the price itself.
If you are planning on night skiing make sure you read through the night ski guide.
Globo Surf Overview
Ski resort owners are large companies that have the financial background to run highly expensive operations. Some may be owned by individuals or a group of investors. Others may be community held and function as non-profit corporations.
More Snow Reviews:
Source
Who owns ski resorts, newtoski.com