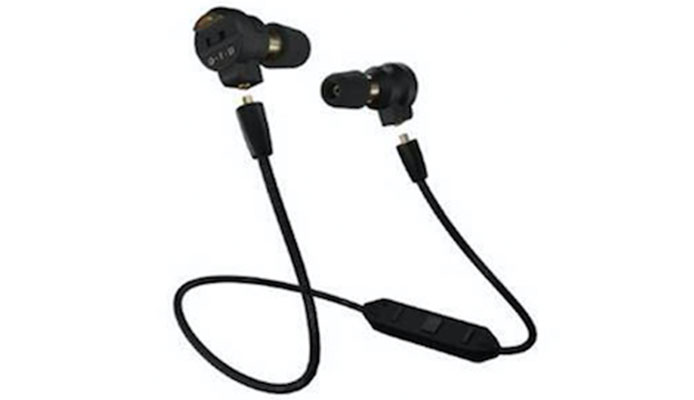 Pro Ears have been fine-tuning electronic hearing protection for more than 25 years. The Pro Ears Stealth Elite earbuds provide top-notch hearing protection and also have noise isolation, audio pass-through, and amplification settings. They also come with a lanyard that can talk with your smartphone via Bluetooth so you can use the earbuds to listen to music and receive calls. 
These versatile sound attenuation in-ear buds let you choose what sound you would like blocked and what you would like to hear depending on the activity you're engaging in. If you're in the wild hunting, the amplification mode will amplify low sounds around you while protecting your ears from the deafening sound of your hunting gun.
If you're running or cycling, the awareness mode will compress loud noises such as vehicles hooting while still letting in ambient sounds so you stay aware of your environment. When you want to tune out completely and focus on something, the isolation mode will block all kinds of noises.
As for fit and comfort, the earbuds are compact, lightweight, and come with small, medium, and large ear tips. Like with all Pro Ears hearing protection products, the Stealth Elite is hand-made using high-quality materials and components to offer long-lasting hearing protection. It can survive bumps, rain showers, and sweat. To learn more about these hearing protection earbuds, read our full review below.
Features
With over 25 years of experience in the industry, Pro Ears have perfected their sound compression technology and offer advanced electronic hearing protection. Their hearing protectors are used by professional shooters and hunters, the police, and the military among other professionals.
With the Stealth Elite, they set out to create a versatile hearing protection solution that would suit various applications and also be used to listen to music and talk on the phone. In addition to providing sound attenuation, it also has noise isolation, audio pass-through, and audio amplification functionalities.
They also designed the in-ear buds to fit comfortably and stay put even when active. Here are the features that make the Stealth Elite comfortable and effective in protecting hearing in all kinds of situations:  
Three in one hearing protection earbuds with three modes of operation 

Sound compression with a noise reduction rating of 28

Amplification mode magnifies faint sounds making them audible

Isolation mode blocks all sounds letting you focus or sleep well

Awareness mode shields your ears from sounds while still keeping you aware of your surroundings

Foam tips for superior noise reduction and silicone tips for a secure fit when active

Windshield composed of an external blocker, foam dampener, and software

Bluetooth lanyard you can attach to the earbuds to play music or receive calls

Bluetooth 5 for speedy and strong connectivity and a longer range

High-quality inline microphone for quality sound when speaking on the phone

The speaker that emits high fidelity sound

Hybrid digital/analog circuits for clear and natural sound

Soft and high-density foam and silicone ear tips

Lightweight and ergonomically designed for comfort

Quality handmade craftsmanship

Ability to withstand sweat and splashes
Specifications
Sound Compression: Hi/Low DLSC Compression
Noise Reduction Rating (NRR): 28
Sound Amplification: Up to 5x
Battery: #10, 80+ Hours Working Time
Bluetooth Lanyard Battery: USB-C Rechargeable, 5 Hours Working Time
Bluetooth Technology: 5  
Ear Tip Sizes: Small, Medium, Large
Weight: 28g
Water Resistance: IPX6  
Warranty: 1-Year  
Package Contents: 2x in-ear buds, 3x sets of foam tips, 3x sets of silicon tips, 3x sets of ear hooks for a more secure fit, 4x #10 batteries, 1x MMCX Bluetooth lanyard cable and USB-C cable for recharging it, and a carry case.
User Experience
Fit and Comfort: A comfortable and secure fit is essential for in-ear hearing protection. Each set of the Stealth Elite earbuds come with ear tips in three sizes. No matter the size of your ears, you will be able to find a size that will fit comfortably snug in your ear canal. Three sets of ear hooks are also included for when you need an even more secure fit. 
The earbuds are compact, lightweight, and ergonomically designed to fit comfortably snug in the ear canal, blocking dangerous sounds without weighing you down or causing discomfort. The foam ear tips are super soft while the silicone tips are designed to stay put even when engaging in intense activities such as running or dancing.   
Hearing Protection: Pro Ears provides one of the highest quality hearing protection available on the market. The Stealth Elite uses advanced sound compression technology to bring down loud and dangerously loud sounds to a safe level for our ears.
The foam tips provide a 28 dB NRR while the silicone tips have a 20 dB NRR. This is adequate hearing protection for shooting ranges, hunting, and even painfully loud industrial environments with the operation of heavy machinery.
If you're running, driving, or riding a motorcycle at speed, or talking in a windy environment, this in-ear protection also has a windshield that cuts wind noise and reduces crackle using an external shield, a foam dampener, and software.
Audio Isolation, Amplification, or Pass-through Functions: The Stealth Elite has three settings: amplification, awareness, and isolation. The amplification model makes faint noises from a distance audible while still protecting your ears from super-loud sounds. It can amplify low sounds up to five times their normal decibel but not louder than the safe level of 84 Db. This is the ideal model of operation for hunting. It lets you hear faint movements and sounds from a distance while protecting your ears from the sounds of your hunting gun. 
If you want to shield yourself from loud noise but still want to be aware of what is happening in your surroundings for safety or hear if someone talks to you, the awareness mode will block really loud sounds while letting you hear ambient sounds. If you're running, cycling, or skiing while listening to music or talking on the phone, this mode will protect your hearing from annoying car hooting and gun sounds.
For moments when you want complete isolation, just select the isolation mode and the Stealth Elite will drown out all noises and let you focus on what you're reading or listening to or just have a peaceful nap without distractions.  
Bluetooth Lanyard: Also included in the package is a Bluetooth lanyard you can attach to the earbuds and sync with your phone via Bluetooth to listen to music and receive calls. It utilizes Bluetooth 5, the latest Bluetooth technology for a strong connection and a longer transmission range. controls on the lanyard you can control music and phone calls without having to pick your phone.
While the primary purpose of these earbuds is to offer hearing protection, their sound quality in all three modes of operation is also top-notch. They are equipped with a high-fidelity speaker and miniature hybrid (analog/digital) circuits that ensure clear and natural sound output.     
Quality and Durability: Build quality is a top priority for Pro Ears. Their hearing protectors are handcrafted in the USA using premium materials. The Stealth Elite is built for use in even the toughest environments. It features a tough and durable housing sound cone. The foam tips are made of high-density foam and the lanyard is made of braided cloth material for strength, tangle resistance, and durability. With a water resistance rating of IPX6, it can withstand splashes, sweat, and even accidental drops in a bucket of water.
Pros
Top-level heating protection in even extremely loud environments

Versatile hearing protection for all kinds of activities

Let you choose what you want to hear and what to block  

Reduces wind noise and crackle

You can use them as regular Bluetooth earphones  

Comfortable and secure fit in-ear

Tough build that can handle tough environments
Cons
The earbuds stick out of the ear slightly more than regular earbuds

The earbuds use disposable batteries that can't be recharged

  
Overall Rating
Hearing Protection: 95% – With an NRR of 28, these earbuds offer a high level of earing protection sufficient for even extremely loud environments such as outdoor shooting ranges or factories operating heavy machinery. It is even equipped with an effective three-part windshield.
Design: 90% – The design of these sound attenuation earbuds is on point. They are compact, lightweight, and ergonomic for a comfortable and secure fit. Since they have many components, they do protrude from the ears a little but this doesn't affect their function and comfort. 
Price: 100% – Quality electronic hearing protection is expensive but worth it. With the meticulous handmade quality, premium-quality hearing protection, three modes of operation and the stellar reputation Pro Ears have, you would expect them to charge an even higher premium. This is not the case though. Pro Ears offer electronic hearing protection at affordable prices and the Stealth Elite is accessibly priced.
Overall: 95% – We like that the Pro Ears Stealth Elite earbuds have noise isolation, sound amplification, and awareness settings. This makes them versatile and suitable for all kinds of situations including hunting, shooting ranges, racing, spectating, construction, running, cycling, mowing lawns, skiing, and any other loud environments.
Globo Surf Overview
If you're exposed to dangerously loud sounds, it is vitally important to protect your hearing as extremely loud sounds can damage your hearing. If you work or play in a dangerously loud environment, the Pro Ears Stealth Elite will have your hearing properly protected while letting you choose whether to drown out all sounds, let some sounds pass through, or amplify ambient sounds. A bonus is that you will also be able to listen to music or receive calls with the earphones when you attach the Bluetooth Lanyard included.
More Water Gear Reviews: